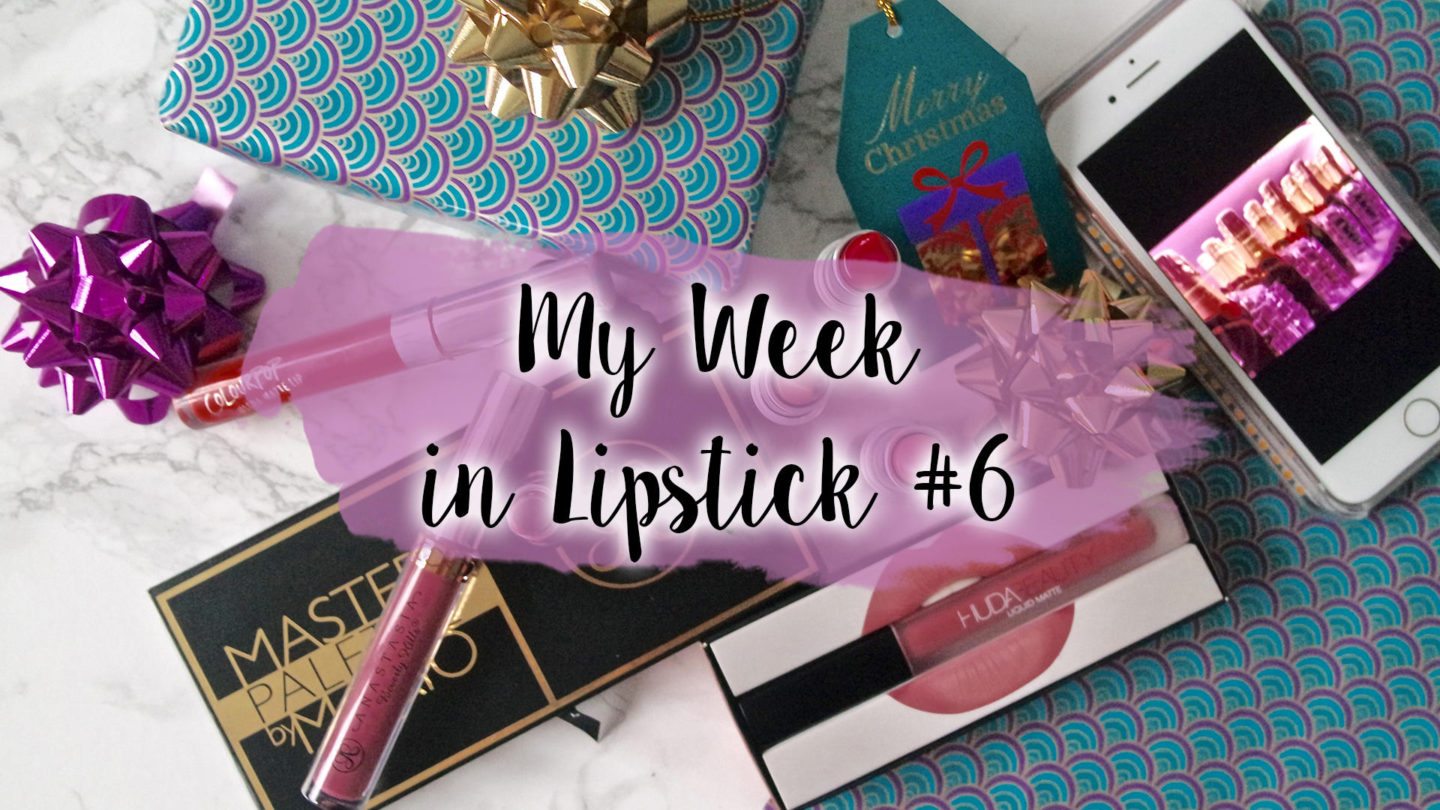 As I finish up this weeks post, I've got a bath running and a cup of tea on the go. Originally, as I'd just got back to having a diary on Saturday I wondered if I should still write these. However, I've found the responce to be great (thank you, you lovely lot!). Plus I've been making more of an effort to not be a lipstick repeater. Oh, and to get me to actually look through and use more of my collection. Anyway, another week another week in lipsticks and boy, it's been busier than I thought..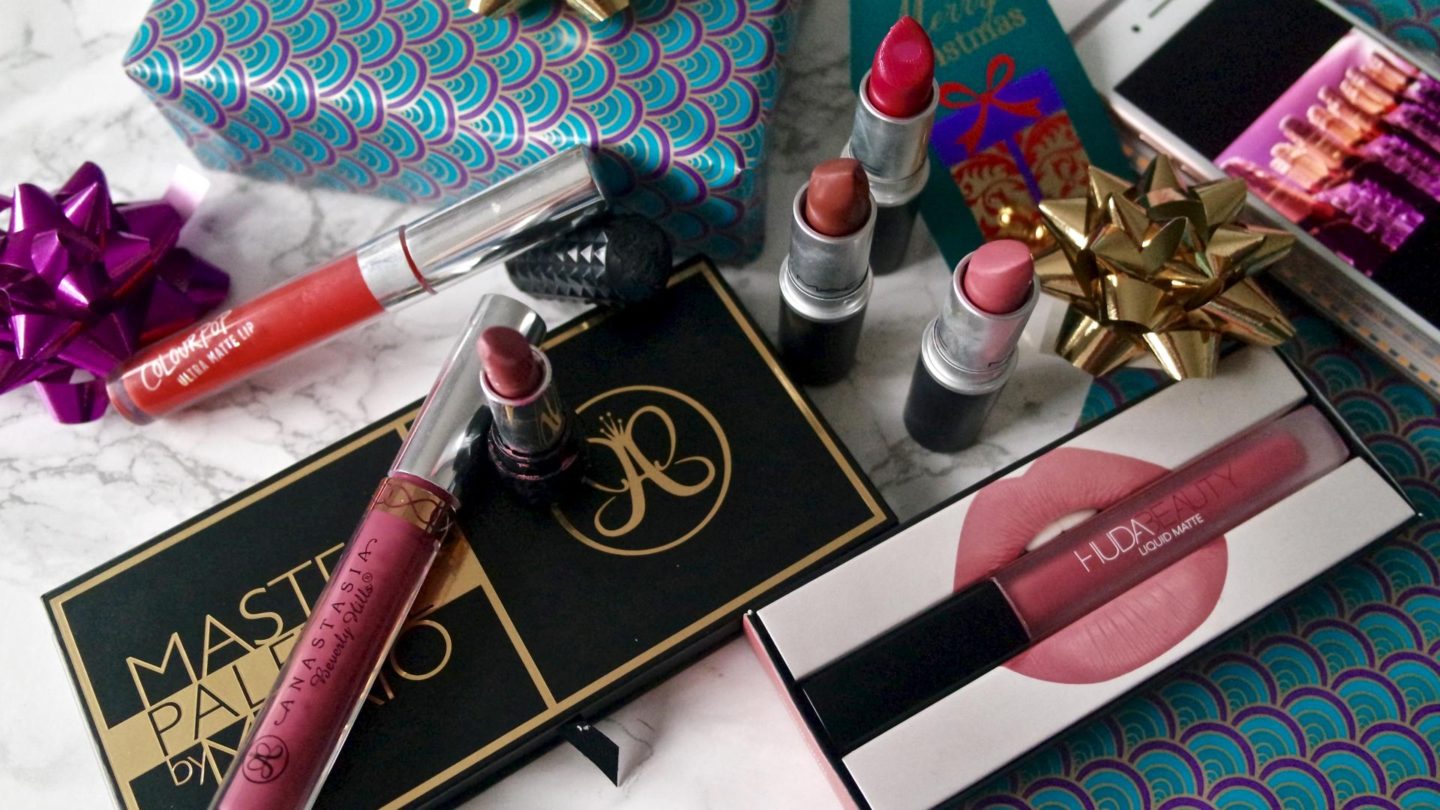 Wednesday – Huda Beauty Liquid Matte Lipstick in Gossip Gurl. Since buying Gossip Gurl, even if it was on impulse, there hasn't been a week I haven't used it. The quality is fantastic and I managed to get snap happy with it on Saturday; so there should be a review on it soon.. Anyway, after finding out last week that I had 5 days of holiday to use up before the end of the year and an invite for a preview of Kaleidoscope's SS17 collection landing in my inbox I booked a half day for the Wednesday. I got to check out the gorgeous new ranges. Some of which I'm already hankering after adding to my own wardrobe. Plus I got to have a great nights sleep, bonus!
Thursday – ColourPop Ultra Matte Lip in First Class. All Bar One is one of my favourite chains. Mostly as I know, no matter what city or area I'm in I can get reasonable priced food and drink. Oh and of course, the quality is always consistently good. (Plus, they do a pretty awesome brunch.) So when I was lucky enough to be invited along to the opening night of their new Leicester Square branch on Thursday evening, I was excited to attend. I went for a classic orange toned pink with the power to last through a cocktail or six. This little beauty reminded me just why ColourPop's Ultra Matte lips are great value. (& had me considering another haul soon..).
Friday – MAC Matte Lipstick in Please Me. Despite it technically being the night of payday drinks (& me organising them). By the end of Friday I just wanted to curl up in my PJs. So rather than swapping out my pinky nude matte lip for something a little more bold and heading for a glass of wine or three, I headed home and spent the evening watching Ru Paul's Drag Race. A much-needed evening to recharge.
Saturday – Anastasia Beverly Hills Liquid Lipstick in Catnip. On Friday, I came home to a card from the postman letting me know my MyMallBox parcel had arrived. After my initial excitement, I also realized this card stated a £13.00 customs charge with it. Which I had to pay, in cash, when I picked it up. Oh, and I had to do this before midday when the office closed. I got up bright and early, treated myself to a hot chocolate from Costa then headed to the post office. As I wanted to try them straight away, I was busy snapping pictures when I got a text from Pippa asking if I fancied joining her at the Sky Garden as Sophie was too unwell to go. So I thought I'd try out Catnip, a soft plum coloured liquid lipstick out for size.
Sunday – Kat Von D Studded Kiss Lipstick in Magick. As Saturday was such a busy day, I enjoyed spending a lazy morning at home. I caught up on reading some of my favourite blogs with copious amounts of green tea. When I did finally get dressed and ready, it was for a walk around the local shopping centre and picking up a cappuccino for myself and some bits for the #BloggerBoxAppeal. I'm a great believer in giving something back, especially at Christmas. So I'm looking forward to helping out at the event next week. Anyway, as I'd only put makeup on when my mum suggested we went out for a Nandos. I went for a natural look. Magick is one of my favourite day time colours, & as I've mentioned before ,one I will be repurchasing in full size.
Monday – MAC Cremesheen Lipstick in Flowerscope. With a "to do" list as long as my arm for work, I thought it was best to wear something that left me feeling confident. Flowerscope is a red-pink colour with blue undertones. Released as part of the Veluxe À Trois limited editon collection last year. If I happen to run out, I would repurchase if it was available at the time, but if not it is pretty similar to the original Miley Cyrus Viva La Glam lipstick.
Tuesday – MAC Matte Lipstick in Whirl. The second half day of the week and I could easily get used to these. This one was a far more relaxed than the last. I woke up, made my parents breakfast and then took a few more photos for up coming posts. (The background of these lipsticks might give you a clue as to what..). I also finally got to try out a few looks with my Urban Decay Naked Ultimate Basics palette. Which by the way, is absolutely fantastic and you can expect to be on the blog fairly soon. As I'd gone for a matte smokey eye, I though it would be best to team it with a nude lipstick, namely MAC's Whirl. I did say when I reviewed it I'd be using it more as the winter months roll around..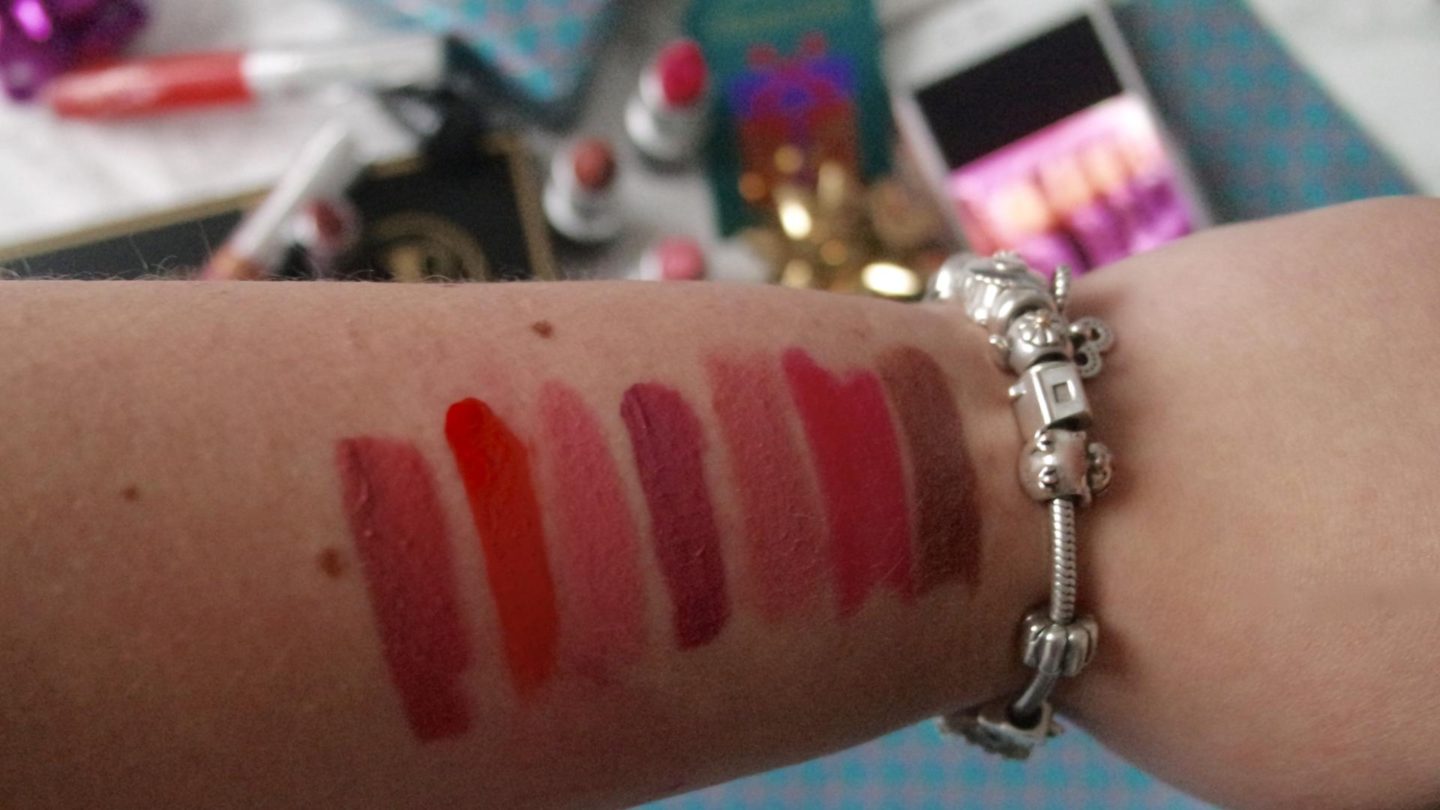 Swatches
This week, yet again, I went for a few current favourites while rediscovering ones I loved previously but somehow ended up towards the bottom of my lipstick basket. Oh, and trying out one new lipstick. But at least I didn't buy it this week right? I kept up the selection of bright colours but next week I'd like to try and make my picks a little more autumnal.
What lipsticks have you been loving this week?
Find me on;
Bloglovin' | Twitter | Instagram