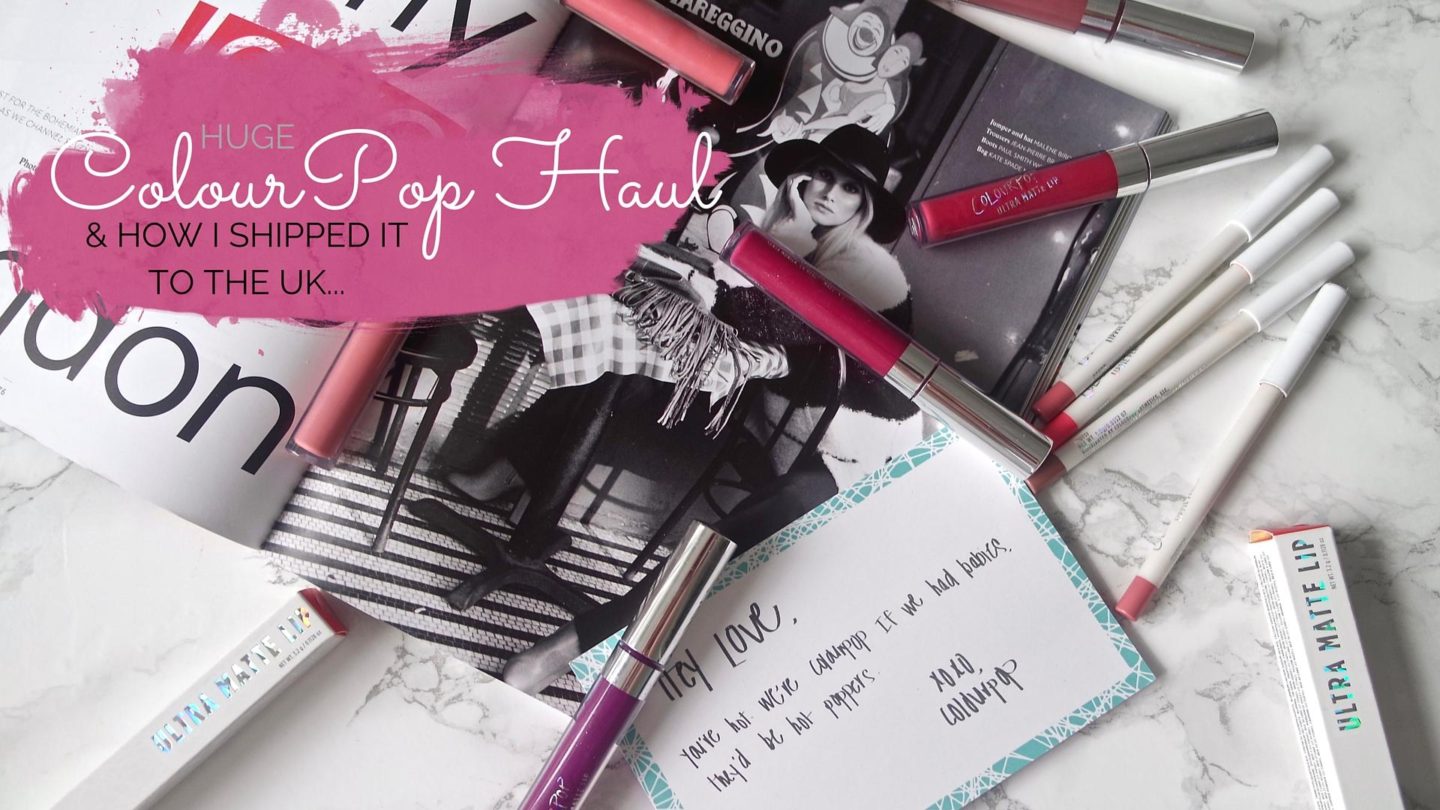 Picture the scene; it's the first Monday after payday and the day of the Kylie Cosmetics restock. I'm posed ready with my phone and laptop on the site. My heart set on getting my paws on Candy K and Posie K. After waiting for what feels like forever I manage to get them both, plus Kourt K in my basket. I'm on a complete high and just about to text my friend the good news when the devastating "some products became unavailable and your cart has been updated" to appear with all of them showing as sold out. *insert all the broken heart emojis here*. So logically my next step was to Google "Kylie Lip Kit Dupes"..
& one name that kept popping up (pun totally intended) was ColourPop and their Ultra Matte Lips. In my heartbroken state I went a little wild and eight of them plus four liners accidentally somehow ended in my basket..

But how did you ship ColourPop to the UK?!
Sadly for us British beauty lovers, ColourPop only ships to the USA, Canada, Australia and New Zealand – but fear not there are ways round it. After looking at various different sites which offer you an American PO BOX address I settled on using
Shipito
. It may sound like a complicated process but it was surprisingly simple, Shipito provide you with a selection of three free to use addresses (two in the USA and one in Austria), you simply pick one and when you place your order enter this at the checkout. Once it's been delivered into the warehouse Shipito send you an email and you can log into the website or app to see a photo of your parcel.
Once you're logged in you confirm if you want insurance, the parcels value and then comes the more confusing bit;
the shipping options
. With various prices and options (with some of them being
very
pricey) I started to panic, I worried if I chose the cheapest my parcel may be lost, not tracked or take months to show up. In the end as it was almost £10 cheaper than any other option I decided to risk it and chose
Airmail Economy
. Despite my initial worries, around two weeks later my parcel arrived and in good condition,
result
!
So, what did you pick?!
After much deliberation I settled on:
Ultra Matte Lips
Top row
More Better
– A rich wine colour with violet undertones.
Bad Habit
– Described as a dusty mauve pink this swatched a little darker than expected.
Zipper
– One of my more
brave
choices, a deep blackened purple.
Teeny Tiny
– Another that swatched darker, this is a greyed out plum colour that I'm unsure I suit.
Bottom row
Clueless
– Named after one of my favourite films this dusty mauve pink was a must buy.
Donut
– A bright sweet peach which I think I'll be wearing a lot more when the summer finally rolls around.
Trap
– ColourPop use the term "greige" for this (greyed out beige) but for me being pale it looks like a killer nude.
Solow
– The netural nude pink is possibly my favourite of the bunch, a great daytime shade.
Lippie Pencils
Tootsi
– Like Trap, this is described as "greige" making them the perfect combination.
Rocket
– A bright corally pink which works like a dream with Donut.
Bound
– You can't have enough nude lip liners right? This one, much like all my favourite nude lipsticks is pink toned.
Contempo
– I've been teaming this dusty rose colour with Clueless in the day and it's a fantastic combination.

Were they worth the wait?
I'll go more into depth on individual colours once I've had a chance to properly test them out (
so there may be a few reviews over the next month or so
) but my first impressions are that for the price point the quality is fantastic. However, they do look different on or swatched than in the bottle so look at swatches before you order, for example Teenie Tiny came out a lot darker and more brown toned than I expected. Anyway, on to my thoughts on the products; the Lippie Pencils are soft, don't drag and are light wearing which is everything you want from a lip liner. Although if I have one complaint it's that because they're so soft it's easy to make a mess when you put the lid on which if you're a bit of a perfectionist like me, you may find yourself constantly cleaning them with baby wipes. However at $5 a piece they're phenomenal value and I can certainly see my collection growing sooner rather than later. On to the Ultra Matte Lips, as with any liquid to matte lipstick they are drying but the staying power is insane and in my mind worth the extra time to add balm. They've lasted unscathed through days at work drinking vats of coffee and nights out where I've had a few too much. When you factor in the $6 price tag, it's no wonder I've been itching to order some more..
What really impressed me though? I met my friend
Leah
who'd been lucky enough to get her hands on some of the much coveted Kylie Lip Kits and when we compared her reaction to both the lipstick and liner was "
Oh my gosh they're exactly the same!
" and as she's one lady who knows her stuff I'm almost glad I missed the payday restock..
Have you tried ColourPop before? What did you think?
Find me on;
Bloglovin' | Twitter | Instagram