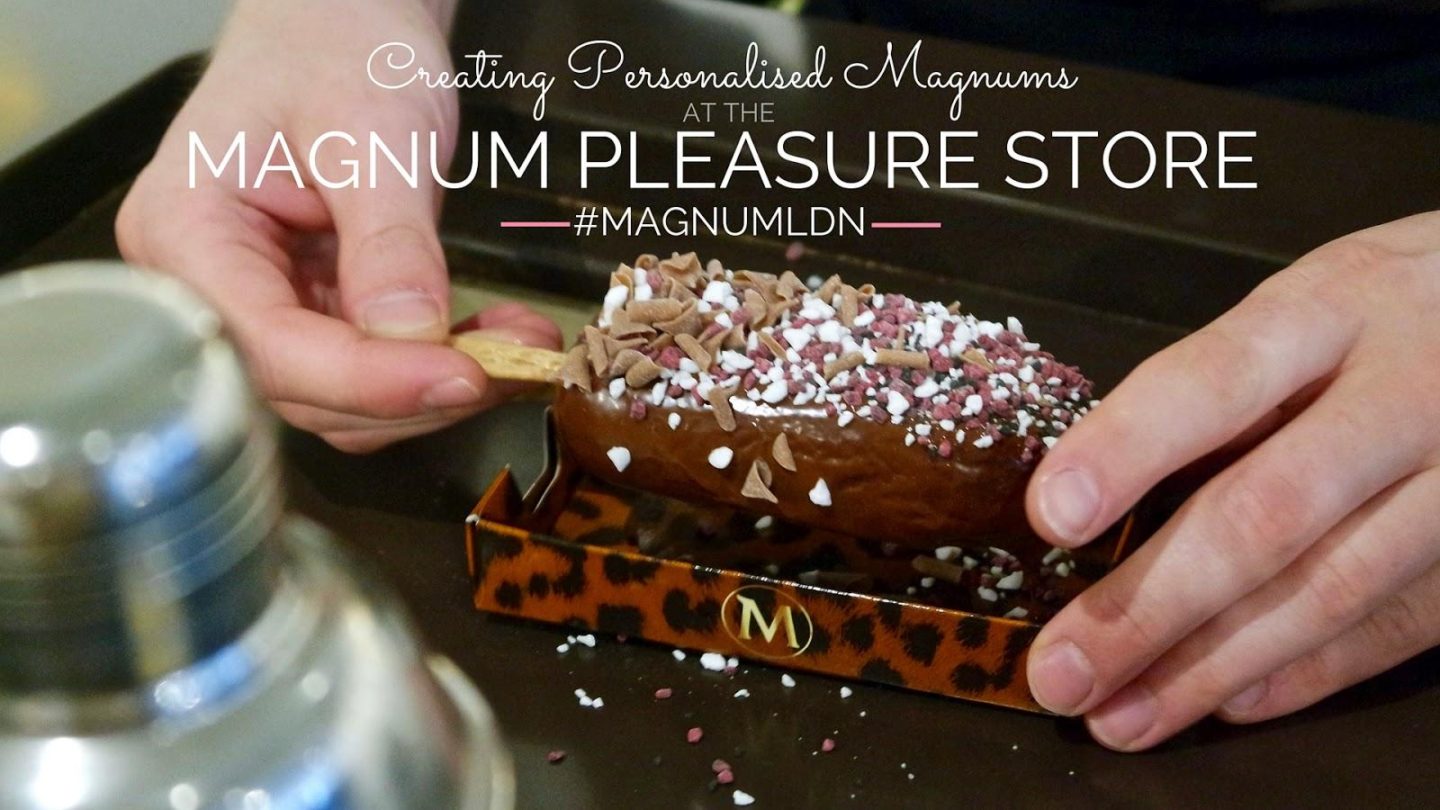 You know how almost every time I write about a pop up or exhibition in the city I remind you all that one of my favourite things about living in London is that there's always something new and different to do? Well, I thought I'd get that out the way early and dive right into to talking about my trip to Magnum's latest central London pop up which I visited last weekend. The Magnum Pleasure Store is located on South Molton Street, a short walk from Bond Street station. Much like their previous summer installations at Covent Garden and Selfridges, the #MagnumLDN Pleasure Store allows you to personalise your own Magnum with a selection of around 20 toppings, your choice of chocolate coating and if you "dare to go double" you can upgrade to a double dip with a layer of chocolate or peanut butter underneath.

We arrived around midday on Sunday when the store opens (we weren't just being eager beavers, my friend had a train to catch at 1.30) and there was already a group of around 8 people in front of us. Having walked past later that afternoon it's worth mentioning that on popular weekend times you may be in for a bit of a time in line. Despite our albeit short wait, the staff kept those of us queuing in great spirits and were happy to talk though the process in detail for us and show us a list of the available toppings to help us make up our mind.

"From a sprinkling of rose petals to a dusting of black lava sea salt, how would you decorate your dream Magnum?"
The above quote from
Magnum
's website says it all. The first step in the process is picking your three toppings. with so many to choose from it was harder than it looks. In the end I decided on blackberry crunch, marbled chocolate curls and silver pearls (
it was the queens birthday celebrations after all!
) while Becky chose meringue, sea salt and caramel curls. We both then opted for a double chocolate dip.
As we'd opted for the double dipped Magnum, they had to be dipped in a thin layer of chocolate to seal the ice cream before extra dip. I didn't realise that due to choosing double chocolate (or peanut butter!) meant that you don't get to chose the outer layers chocolate and it's milk by default. It turns out the extra dip chocolate needs to be a different texture to set so worth baring in mind if like me you were thinking of a white chocolate or dark dip. Anyway, the gentleman behind the counter dipped them in the chocolate, shook our toppings and added them to the top of the ice cream. We then got to choose between a white, dark or milk chocolate drizzle with a milk or white "M" logo button to finish.

We took our finished Magnum's and grabbed a seat, as we were advised they may take a minute or two to set we decided to have a look at the various art work around the venue. One wall is covered by three large photos of Kendall for her campaign with the company with slogans such as "Dare To Go Wild" while the other has the word "London" along with the iconic London Eye made out of ice cream sticks which looked fantastic but had someone sat in front so I failed to get a picture oops. Once both our ice creams had set, it was safe to say we made short work of them. For me the combination of chocolate and blackberry is always a favourite and this was no exception. Although it was a fairly rich (and very sweet!) treat, it was thoroughly enjoyable, tasty and all round a great experience to create and eat.


If you fancy designing your own Magnum, the #MagnumLDN Pleasure store is at 56 South Molton Street until mid September (the end of the summer) and is open daily from 11am until 9pm with reduced hours of 12pm to 6pm on Sundays. Standard personalised Magnums are £4.50 each or £6.50 when upgraded to double dip. While it was a pricey way of buying an ice cream, it was certainly worth it for the experience.
What toppings would be on your dream Magnum?
Find me on;
Bloglovin' | Twitter | Instagram