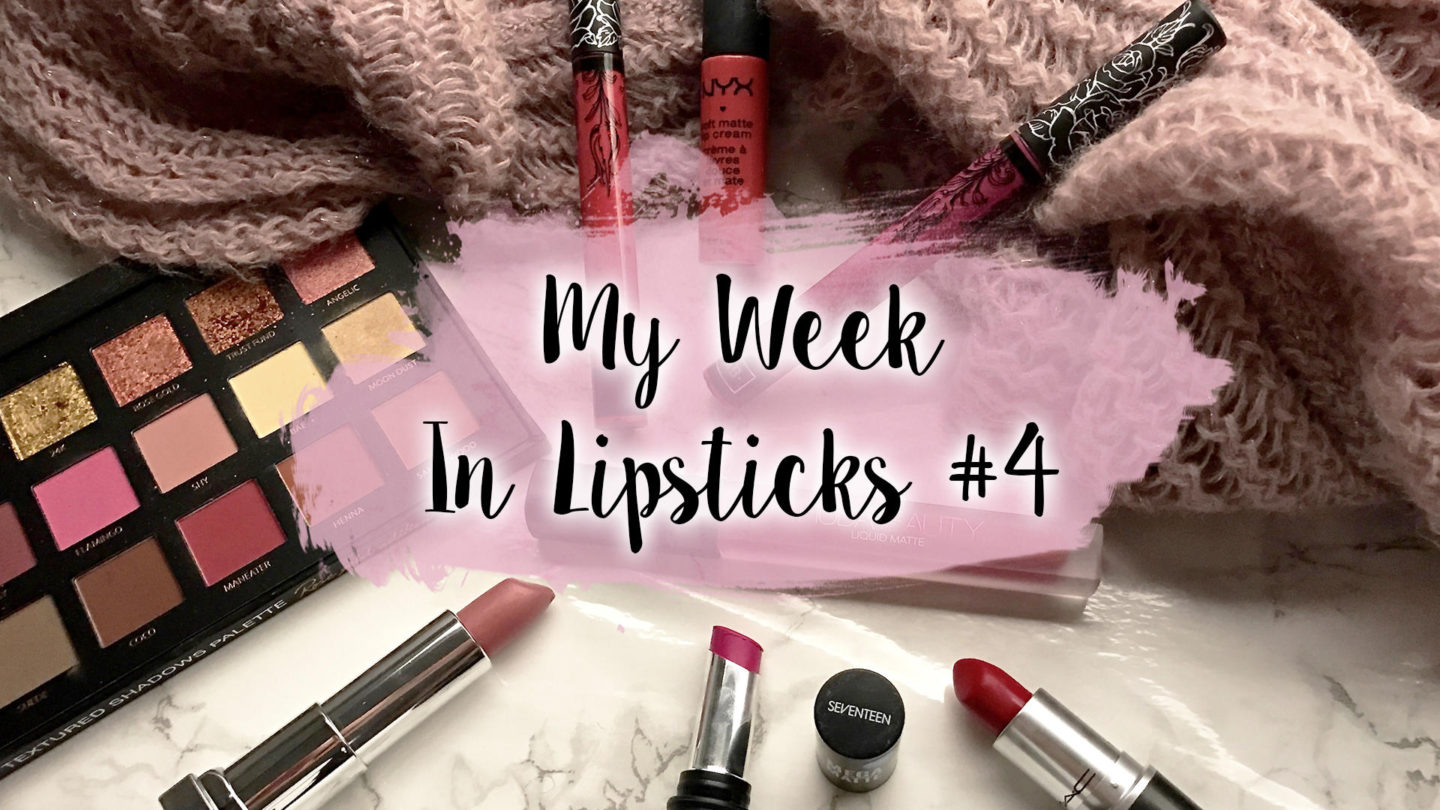 This week was another super busy one. But surprisingly, I managed to get a little further ahead in regards to my blog "to do" list. (Watch me typing that jinx me and all my motivation go…) Anyway, if you fancy reading about what I've been up to and what lipsticks been keeping me company this week, here's my week in lipsticks;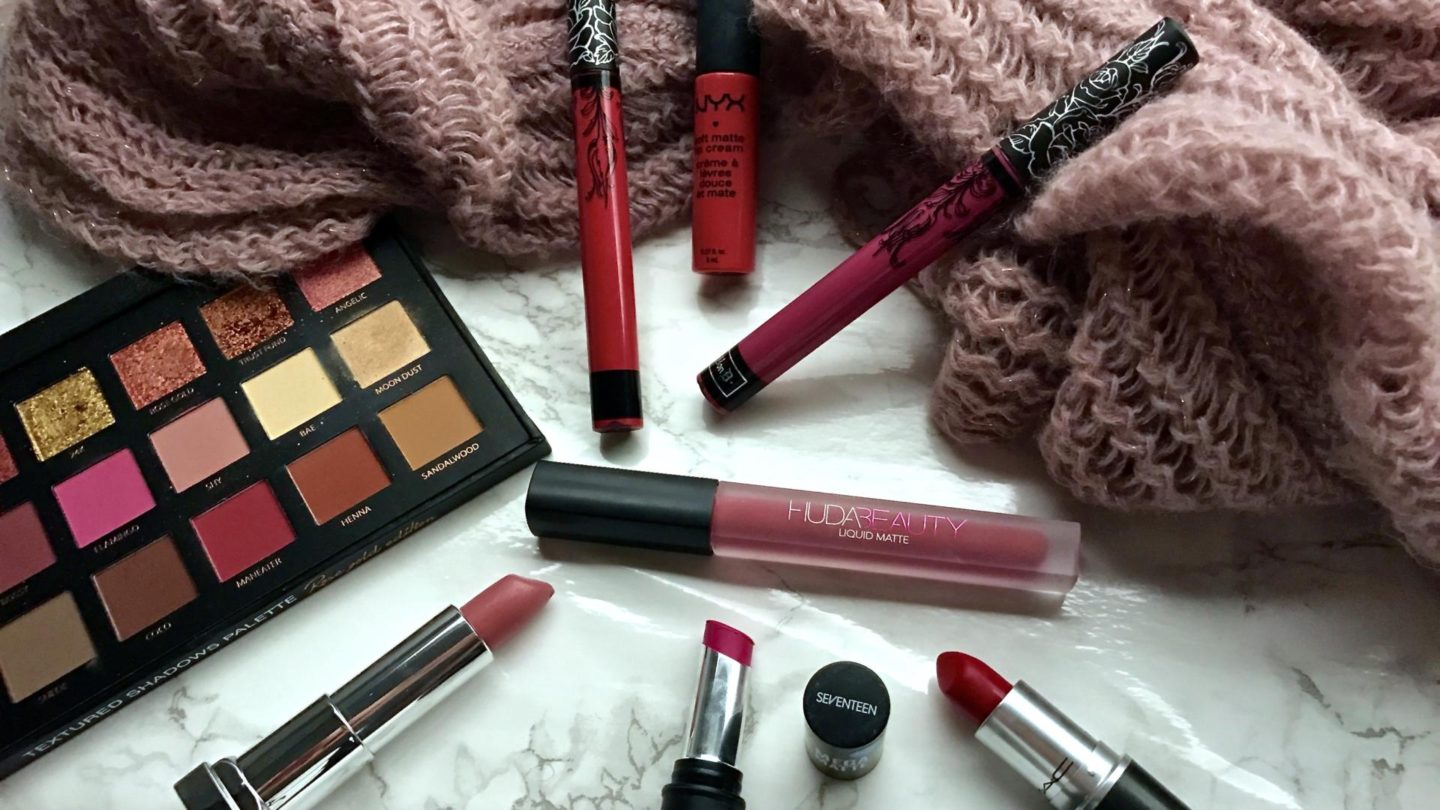 Wednesday – Kat Von D Everlasting Liquid Lipstick in Berlin. When I woke up on Wednesday morning I felt absolutely grim. While I'd put down my lack of energy over the previous days down to having a busy weekend, turns out I may actually have still been unwell from Saturday. Oops. Either way, I dragged myself to work and, in a bout of good timing, as I left for my lunch I got an email that my Debenhams order had been delivered. One of the items included was this Kat Von D lipstick in Berlin, so I went to the toilets, did my makeup and with this bright pink toned red on my side I decided I was not gonna let feeling a bit pants ruin my day.
Thursday – Seventeen Mega Matte Lipstick in Back To The Fuchsia. When I slept through two alarms on Thursday morning, I didn't have high hopes for the day. That was until I checked my diary and realised that it was the Midori cocktail making masterclass that evening. So, after work, I headed over to The Light Lounge in Soho to learn a little more about both the Japanese Melon liquor and some tips on mixology. I picked up some fantastic recipe ideas that I'll be sharing with you lovely lot soon. While I was super impressed at the cocktails we made, I was equally as bowled over that after applying Back To The Fuchsia at my desk before leaving, it didn't need topping up even after I was three drinks down. If you fancy reading my full thoughts on the range, I reviewed them here.
Friday – Kat Von D Everlasting Liquid Lipstick in Mother. You know how I mentioned that cheeky Debenhams order I got on Monday? Well, this was another part of it, along with Berlin. While most of the UK team at work was planning to go out for drinks after work; I decided to head home and get some rest. (What can I say, I had The Apprentice to catch up on before I inevitably saw spoilers!). Although, not before having the honour of doing one of the last ever beer'o'clock runs for the office. This dusty mauve pink was the ideal companion while I delivered drinks to the various teams. Not only did it make me feel super confidence delivering drinks with a smile, it lasted until I went to take off my makeup at home that evening. Result!
Saturday – NYX Soft Matte Lip Cream in Ibiza. Saturday was the busiest day I've had in a long time. After getting an early appointment to get my nails done, I headed off to Harrods to meet Chloe for lunch at Pan Chai. I had possibly the best sushi I've ever had (post coming up on that over the next few weeks!) and lovely girlie afternoon. Once we'd finished lunch, we couldn't resist a look around Harrods. Where I ended up spying a Huda Beauty stand. And I think we all know what happened next..
Anyway; After we parted ways, I headed over to meet Lola and Pippa for a girls night in. This NYX Soft Matte Lip Cream was the ideal companion for the day. After applying it on the train to Knightsbridge, I didn't need to top up until I was on the move again heading out to Essex. I didn't realise until I swatched this though, just how similar to my much loved San Paulo this deep rose pink was though.. Oops.
Sunday – Huda Beauty Liquid Matte in Gossip Gurl. After picking up this gorgeous pink in Harrods the day before I couldn't wait to wear it. Well, after spending the morning having a Catfish marathon. After saying goodbye to the girls, I headed over to Covent Garden to meet my mum. A few glasses of wine and a Nandos later, this lipstick was still going strong. Impressed doesn't cover it, so I'm looking forward to adding more of the Huda beauty range to my collection soon. (Also, I'll be reviewing this in the coming weeks, if anyone is interested!)
Monday – Maybelline Blushed Nudes Lipstick in Pink Fling. This colour, along with a few other goodies, landed in my mailbox last month. While this cute pink may not have the lasting power of some of the others I've been wearing this week. It was the perfect Monday morning colour.
Tuesday – MAC Satin Lipstick in MAC Red. It may be a little early but I spent Tuesday night getting into the Christmas spirit wrapping gifts. (& having my first mince pie of the season.). Before you judge me too harshly, let me just add, this wasn't me being over prepared. I spent the evening helping Marks and Spencer wrapping gifts ready for their yearly donation of presents to Great Ormond Street Hospital to help make Christmas a little better for families spending it in hospital. Obviously, as it was Christmas, I went for a red. Namely, one I haven't worn a little while, MAC's self-named MAC Red.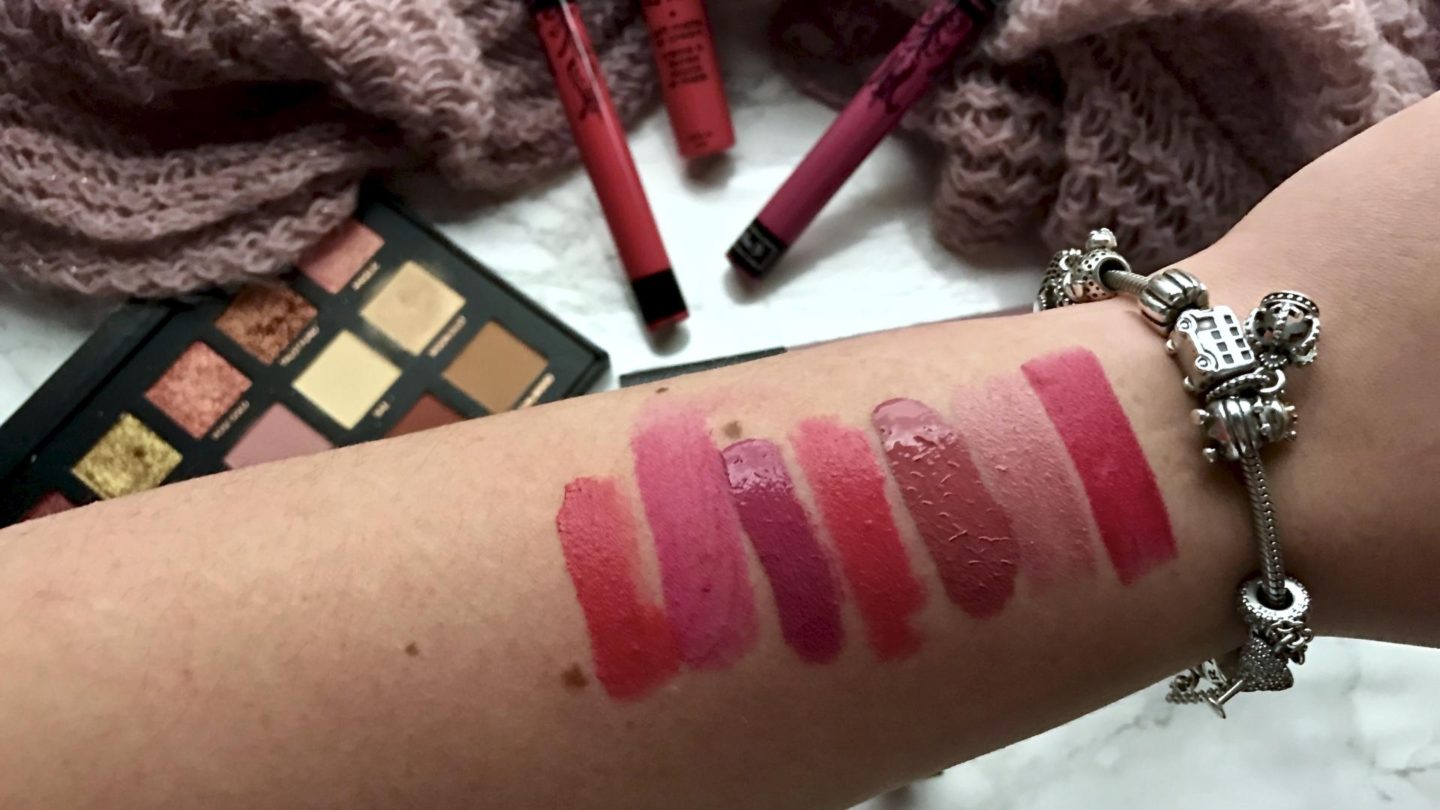 Swatches
This week has been all about the matte lip. I love the selection of colours from this week. Although admittedly, I do feel a little guilty it contains more new additions than not. Especially this close to pay-day..
What lipsticks have you been loving this week?
Find me on;
Bloglovin' | Twitter | Instagram