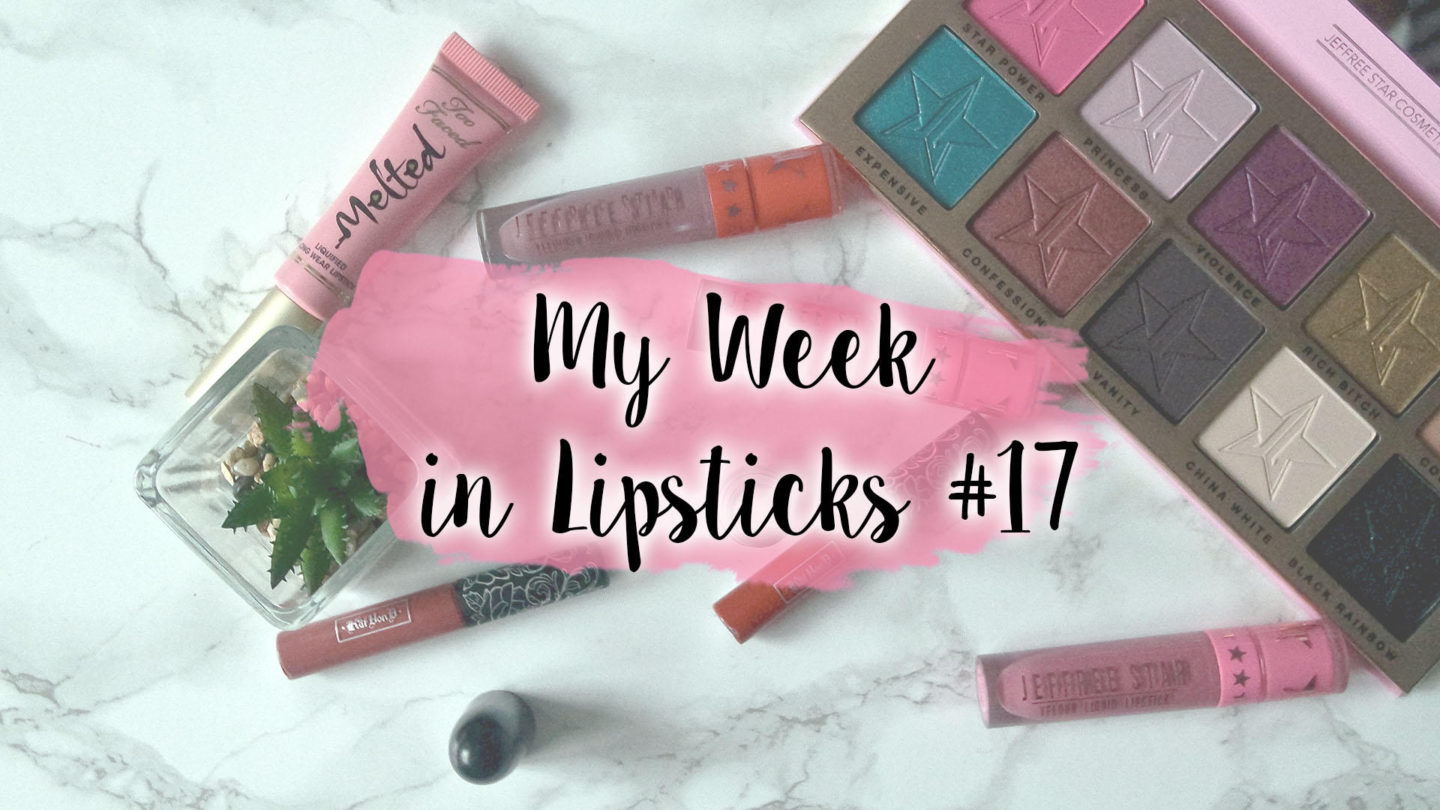 I turned 26 this week, so the last seven days have been full of celebrations. I honestly am so grateful for the friends and family I have and this week reminded me exactly why. Anyway, before I get all emotional here's my week in lipsticks!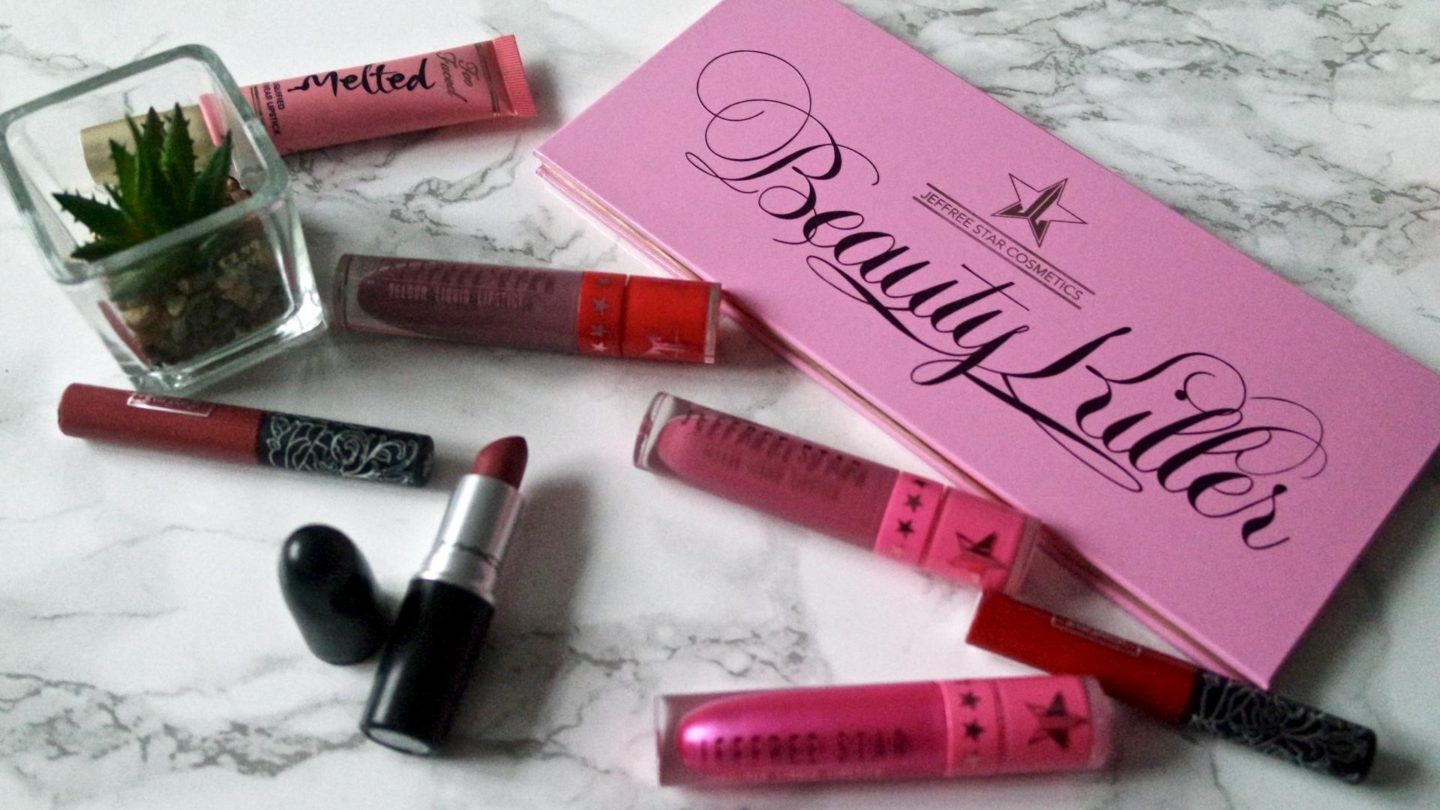 Sunday – Jeffree Star Cosmetics Velour Liquid Lipstick in Dreamhouse. After a lazy Saturday, I was up and ready earlyish to head over to CitizenM Bankside to treat my mum to lunch in their CanteenM restaurant. As it a massively photogenic venue (& the food was pretty darn yummy!) I got a bit snap happy meaning you can expect a post up this week. As the Bankside hotel is only a short walk from the Southbank. We spent the rest of the afternoon taking in the sights before returning home to meet my dad for a Nandos. As I'd received part of my Beauty Bay order the night before, I thought it was the perfect time to try out Dreamhouse a metallic pink by Jeffree Star Cosmetics. I was so impressed I treated myself to a few more as an early birthday gift.
Monday – Kat Von D Everlasting Liquid Lipstick in Double Dare. Mondays aren't exactly meant to be exciting are they? But this one wasn't so bad I guess. I wanted a long lasting nude colour so I decided on an old favourite, Double Dare.
Tuesday – Too Faced Melted Lipstick in Melted Frosting. You know how I mentioned I got part of my Beauty Bay order on Saturday? Well the next part arrived on Tuesday. Namely two more Jeffree Star liquid lipsticks and the Beauty Killer palette I picked up when it had 30% off. After a long day full of meetings it was a real pick me up. Anyway, I released with my newest Too Faced Editions from the Merry Kissmas set, I hadn't used any others in a while. So this candy coloured pink was my pick for Tuesday.
Wednesday – MAC Matte Lipstick in Mehr. Wednesday was my last day at work before a four day weekend. So with a lot to do I decided that another favourite, MAC's Mehr, was the best bet. I have a real soft spot for this dirty blue pink. If only they made a liquid matte version..
Thursday – Jeffree Star Cosmetics Velour Liquid Lipstick in Doll Parts. Happy birthday to me! On Thursday I turned 26, so to celebrate my parents took me to see The School Of Rock – The Musical followed by grabbing a quick dinner at MOD Pizza. The School Of Rock was absolutely fantastic and I'd highly recommend going to see it for yourself. (On which note, I may well do a cheeky review of it this week!). I wanted something that could last through the day and one too many wines so this was a great shout. I can see this becoming a favourite of mine.
Friday – Jeffree Star Cosmetics Velour Liquid Lipstick in Sagittarius. Originally, I'd planned on spending Friday morning taking blog photos.. However, the miserable weather and lack of natural light instead meant I opted to have a lazy morning watching Netflix instead. My day wasn't all bad though, on Friday evening I headed out to meet Sophie for cocktails and gossip at TGI Fridays. So I got glammed up, complete with my new Sagittarius lipstick. A fantastic evening with great company!
Saturday – Kat Von D Everlasting Liquid Lipstick in Outlaw. I decided to, for no reason really, get myself up and ready to go explore locally. I'm really glad I did as I discovered a really cute local wine bar that I had no idea existed. (Although I'm not sure my bank account is as happy as I am!). It was also an excuse to wear a bold red lipstick in the day, because, who really needs an excuse?!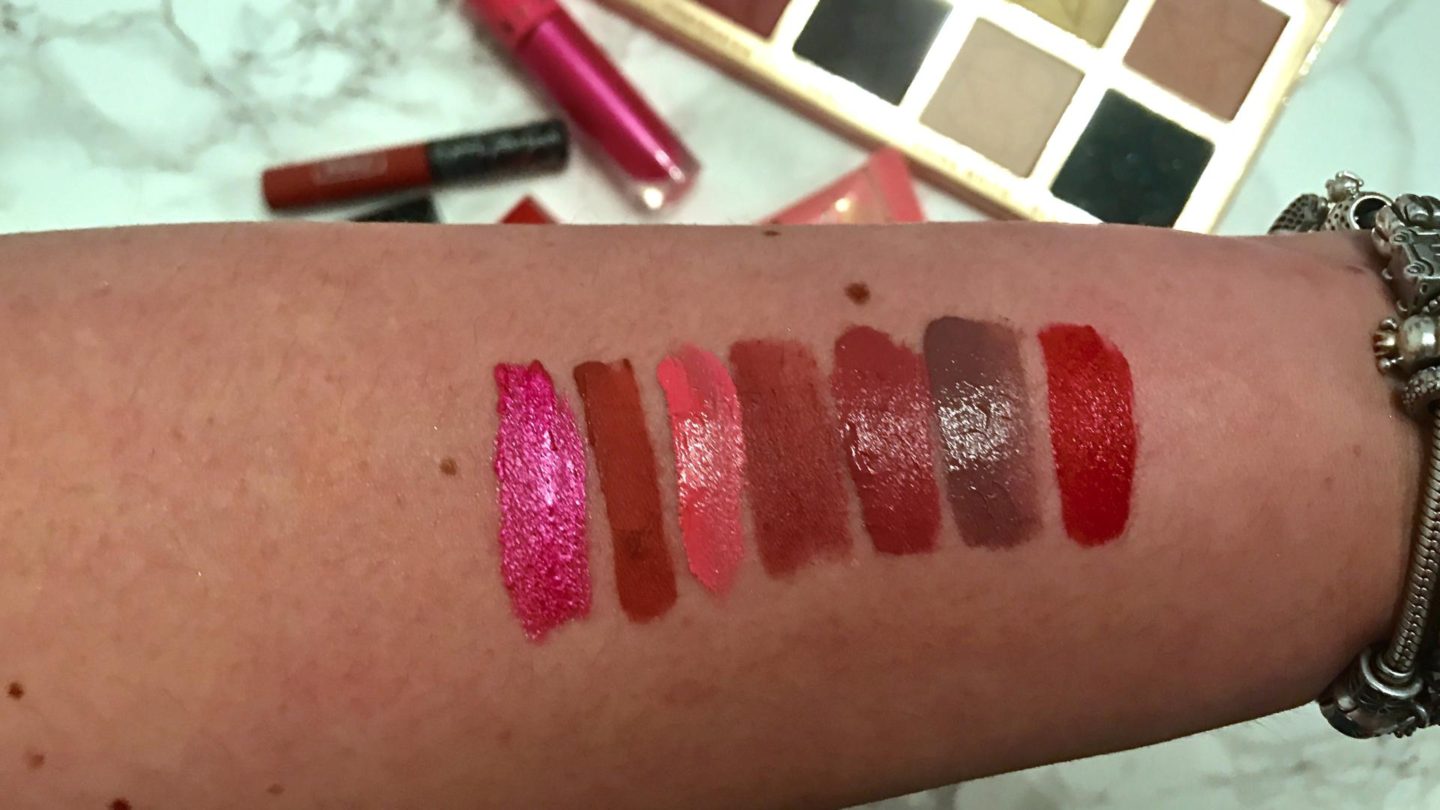 Swatches
With a week of celebrating and discovering new brands it's needless to say that there's been a lot of bold colours this week all in all. And a lot from one of my new favourite formulas from Jeffree Star..
What lipsticks have you been loving this week?
Find me on;
Bloglovin' | Twitter | Instagram