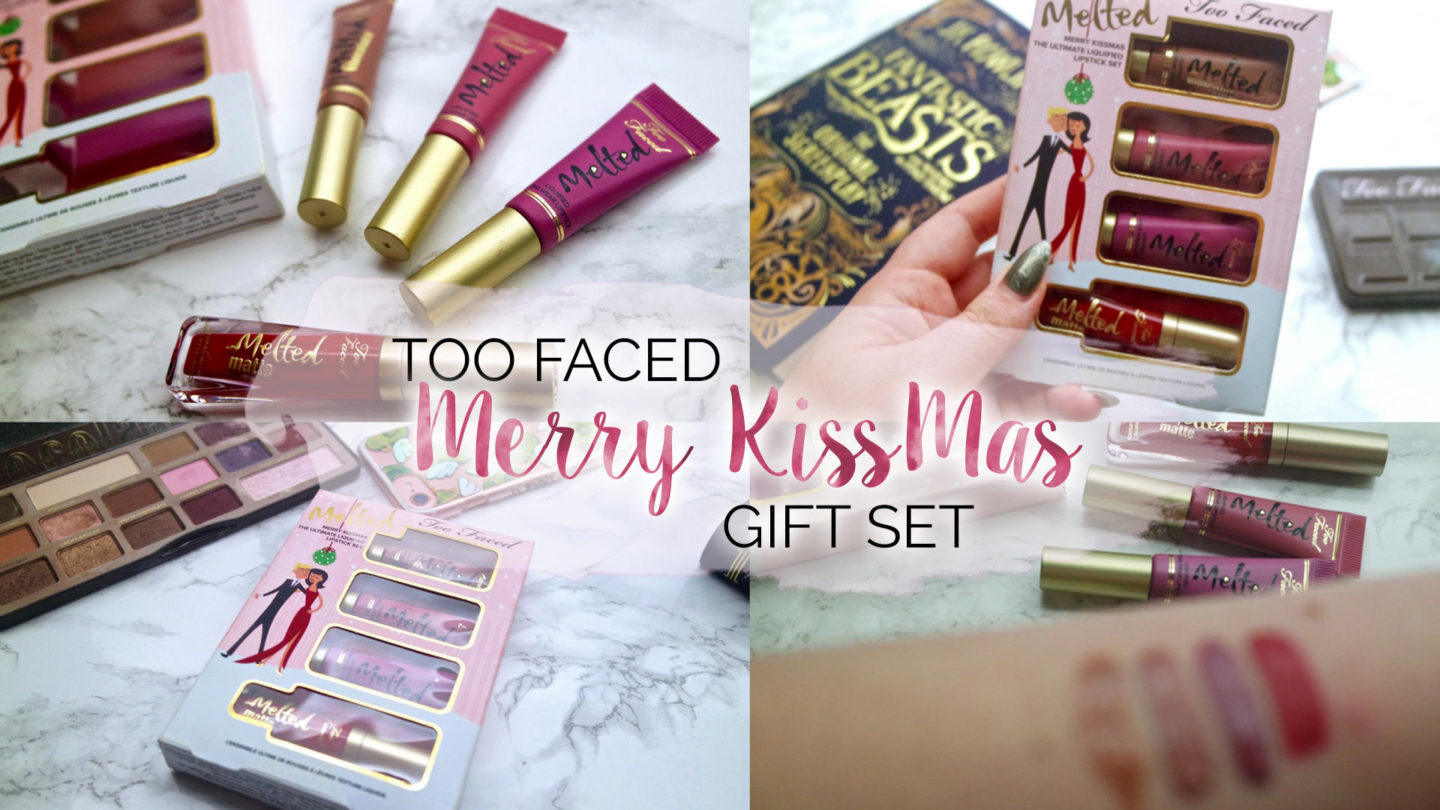 I hate to admit it, but every year I look forward to scoring a few bargains in the Boxing Day / January sales. However, after deciding against waiting in the lush queue for their half price sale and avoiding picking up any of the Boots gift sets I thought that I'd made it through the sales without spending a penny. Unheard of for me. But all that changed when I went onto the Debenhams website to replace my foundation and spotted this cute little Too Faced set in the same. Merry Kissmas contains four deluxe minis from the iconic melted range including one from the Melted Chocolate range and one of the newer Melted Matte liquid lipsticks. The saving wasn't huge per say, down 10% to £19.80. But for 4 deluxe samples? I didn't think it was too bad..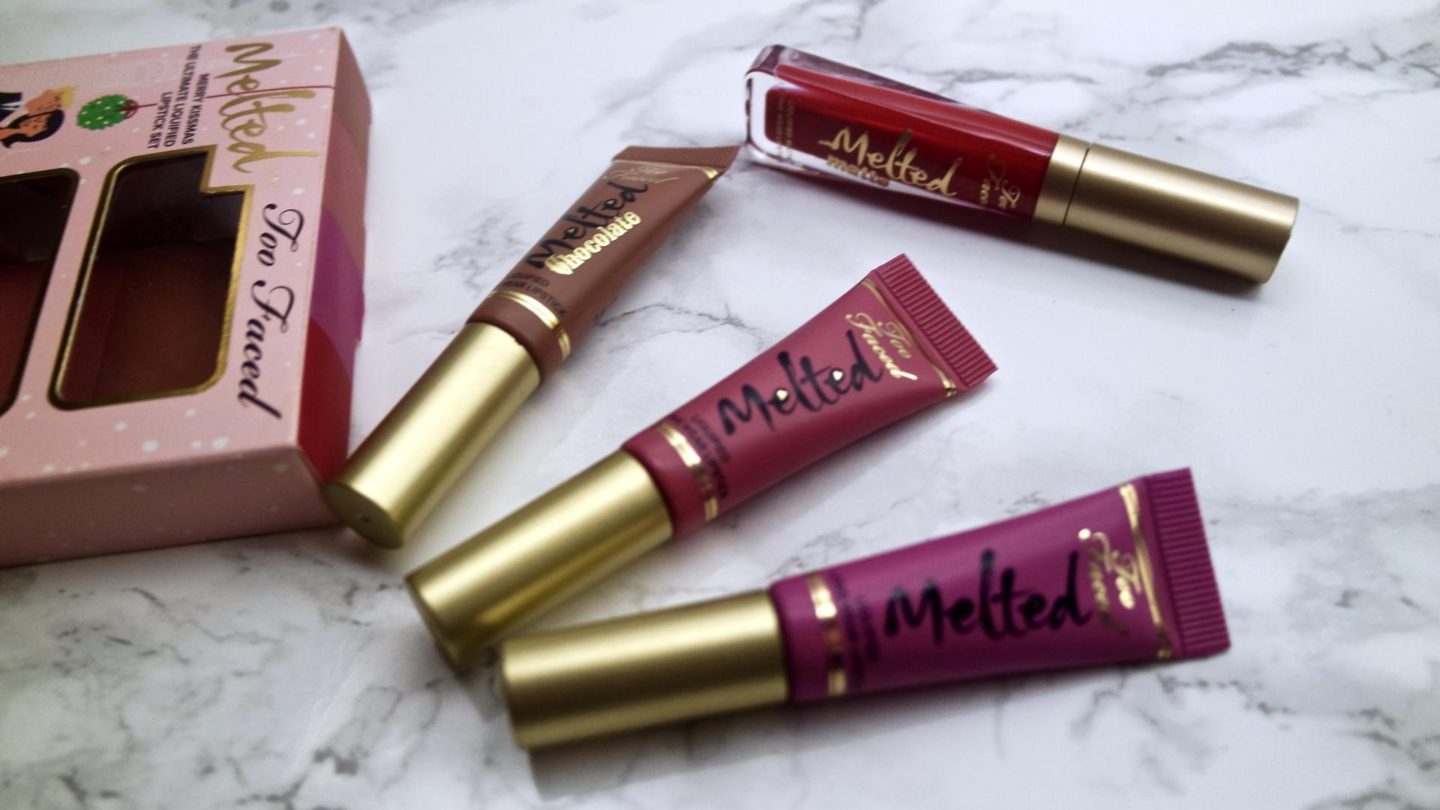 Too Faced "Merry KissMas" Gift Set
So what's inside the "Merry KissMas" gift set? Well, inside the pretty pink packaging you'll find Melted lipsticks in Chihuahua and Fig, Melted Chocolate in Honey and Melted Matte in Lady Balls. I hadn't tried the Melted Chocolate or Melted Matte ranges before, but I realised when I checked the packaging that I actually already had Chihuahua. (It came in a set I picked up on my last Sephora haul). However, don't worry I'm sure I'll find the one from this set a good home. Because they're the (pretty generous) deluxe sample size, they're all ideal to pop in your handbag for on the go.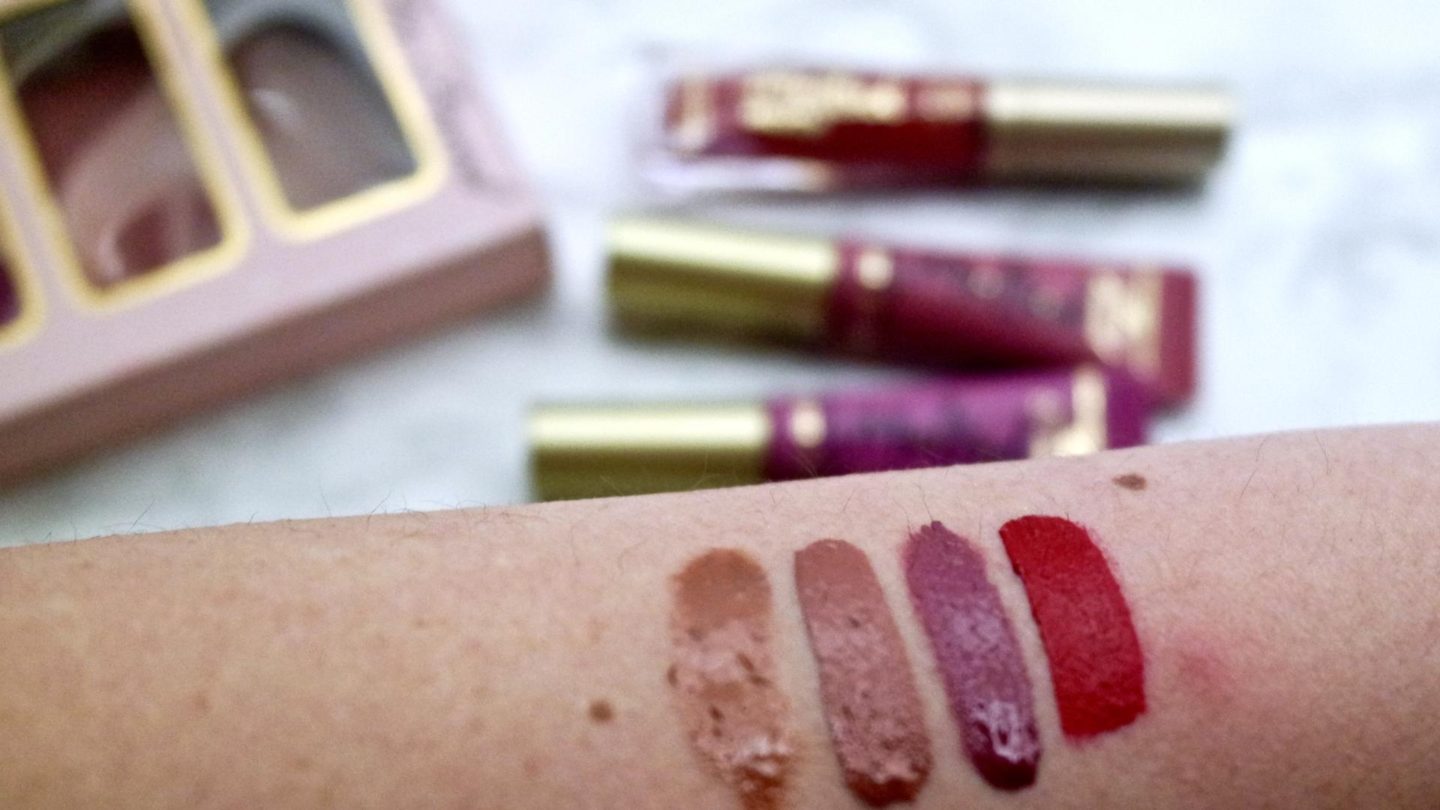 From left to right: Honey, Chihuahua, Fig & Lady Balls.
Merry KissMas Swatches
Can I just say that I love the range of colours that Too Faced have picked for this set? There really is something for everyone. With the peachy brown nude of Honey, Chihuahua a dusty mauve, the rosy orchid Fig and the bold true red of Lady Balls – Too Faced have you covered. Usually in sets like this there's one "dud" or a colour that I'll never wear. However the team have really knocked it out the park on this one.
As you'd expect from Too Faced's iconic Melted range, Honey, Chihuahua and Fig are all highly pigmented without being drying. With the help of a good lip liner, these don't need much in the way of topping up – only after food or drink. However, for me the real star of the show was my first product from the Melted Matte collection. The lasting power is fantastic, and the formula reminds me of a slightly less drying version of my much loved Retro Matte Lipcolour by MAC. I can definitely see me adding another to my collection in the coming months.
Merry Kissmas is still available from both Too Faced's website and Debenhams. However at the time I published this it was back up to £22.00.
What goodies did you pick up in the Christmas sales?
Find me on;
Bloglovin' | Twitter | Instagram