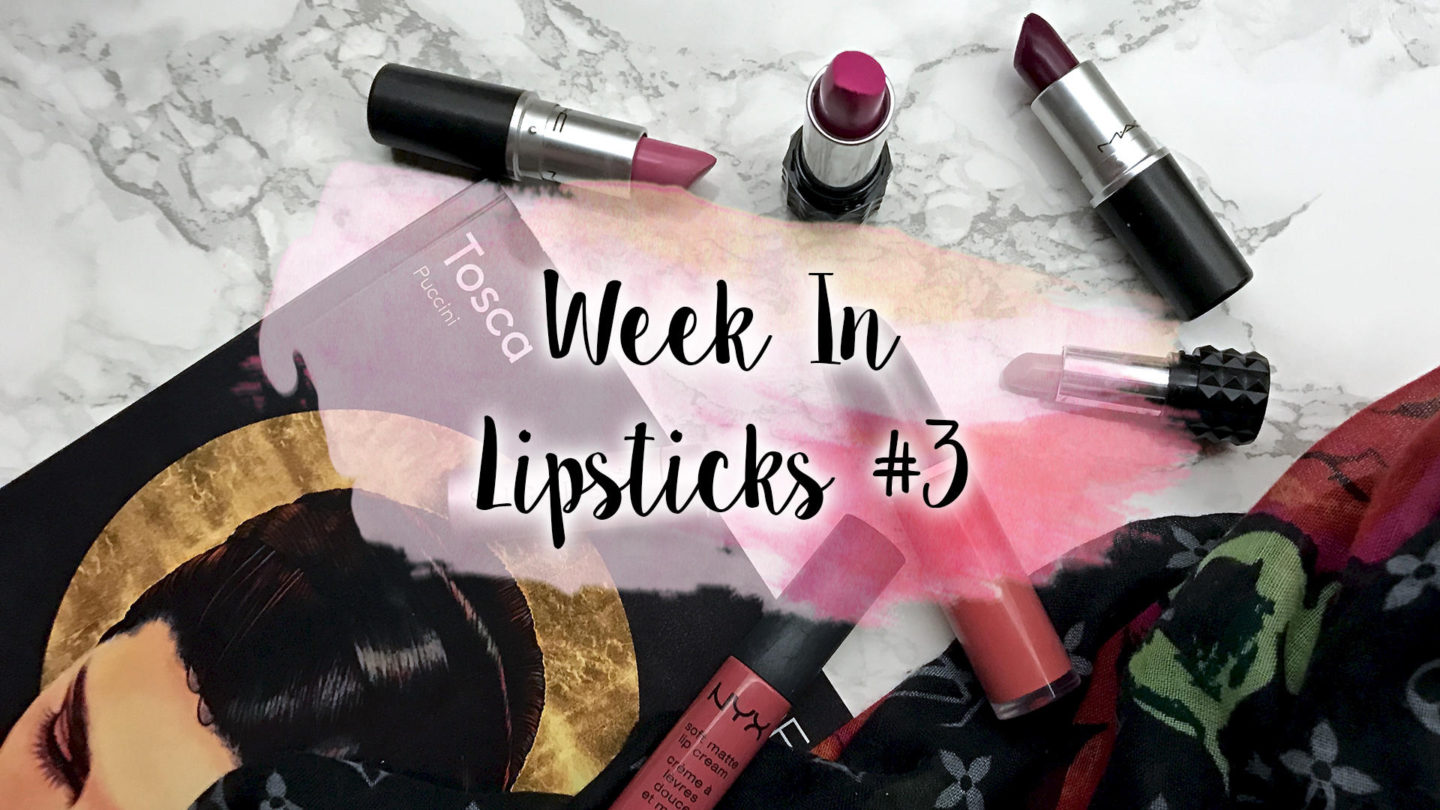 Another week, another week in lipsticks. This week I've been trying to introduce yet more products that I haven't used in a while. I discovered some peices in my MAC stash I hadn't used in a few weeks, and as it was another super busy week, I had plenty of reasons to get glammed up. Who can complain about that?!
Wednesday – NYX Soft Matte Lip Cream in San Paulo. Wednesday evening was spent watching Puccini's Tosca at the London Coliseum. I'd never been to an opera before, so was unsure what to wear. I played it safe with this berry toned rich pink. It wears well (so even after a few glasses of prosecco it still stayed in place) and has a gorgeous sweet scent went applied. A total winner of a lipstick for a total winner of an evening.
Thursday – MAC Satin Lipstick in Rebel. Aside from spending my commute catching up with The Great British Bake Off from the night before, Thursday was my colleague Renah's leaving dinner. We started in the department at the same time and went through training together, so it will be sad to no longer have her around. A group of us headed off to Negrill in Brixton for some gorgeous Jamican curries and a few drinks. As I'd had my nails done the previous lunch and chosen an autumn ready red, I went with the plum colour of MAC's Rebel to continue the autumn vibes.
Friday – Kat Von D Studded Kiss Lipstick in Magick. I was up bright and early on Friday ready to get ready, pack and head over to meet Robyn and Tanya to start our journey across to Longleat Center Parcs. I had toyed with the idea of wearing a bright, bold colour but while doing my makeup at 8am, I just wasn't feeling it. So instead I went for Kat Von D's Magick lipstick, which is currently one of my favourite nude colours. Comfortable and long wearing, just what you need on a long car ride right?!
Saturday – MAC Rich & Restless Retro Matte Liquid Lipstick. Sadly, although we'd made plans for dinner and drinks on the Saturday night, I wasn't feeling too well. In an effort to perk myself up, I put on MAC's Rich & Restless. I wanted something that was bold, but not too much so and this was just the ticket. The pinky coral colour used to be one I wore all the time, and now I'm honestly wondering why I stopped. If you fancy a few more details, you can read my full review here.
Sunday – Kat Von D Studded Kiss Lipstick in Backstage Bambi. On Sunday, although I felt a little better than the previous evening, I still wasn't quite right. So with an evening of bowling at the Plaza planned, I put on the boldist lipstick I'd bought with and went on a hunt for a Starbucks. It's amazing what difference a bright lip and an iced green tea with honey can do for a girl. Although, I wish it did the same for my bowling skills as it did my mind set..
Monday – Fresh Sugar Rosé Tinted Lip Treatment. When I originally picked up the "Gimme Some Lip" kit on my last Sephora Haul, this was one product I didn't see myself using much. However, as I was travelling back to London this little tube fit perfectly in my handbag. Although I still don't see myself spending the £18 on the full sized. It did give my lips the break they very much needed.
Tuesday – MAC Lustre Lipstick in Real Doll. I picked this up when the "MAC is Beauty" collection launched. Although I used it quite heavily that summer; When autumn came around this ended up towards the bottom of my lipstick box. However, while organising said box the evening before, I found this little beauty again. I thought it would be the ideal day time shade for my first day back at work after the long weekend. Sadly though, I forgot to put it in my handbag. With it being a Lustre finish, I needed to top up by the time I got to the office. Not ideal, but I'll have to try this in another situation.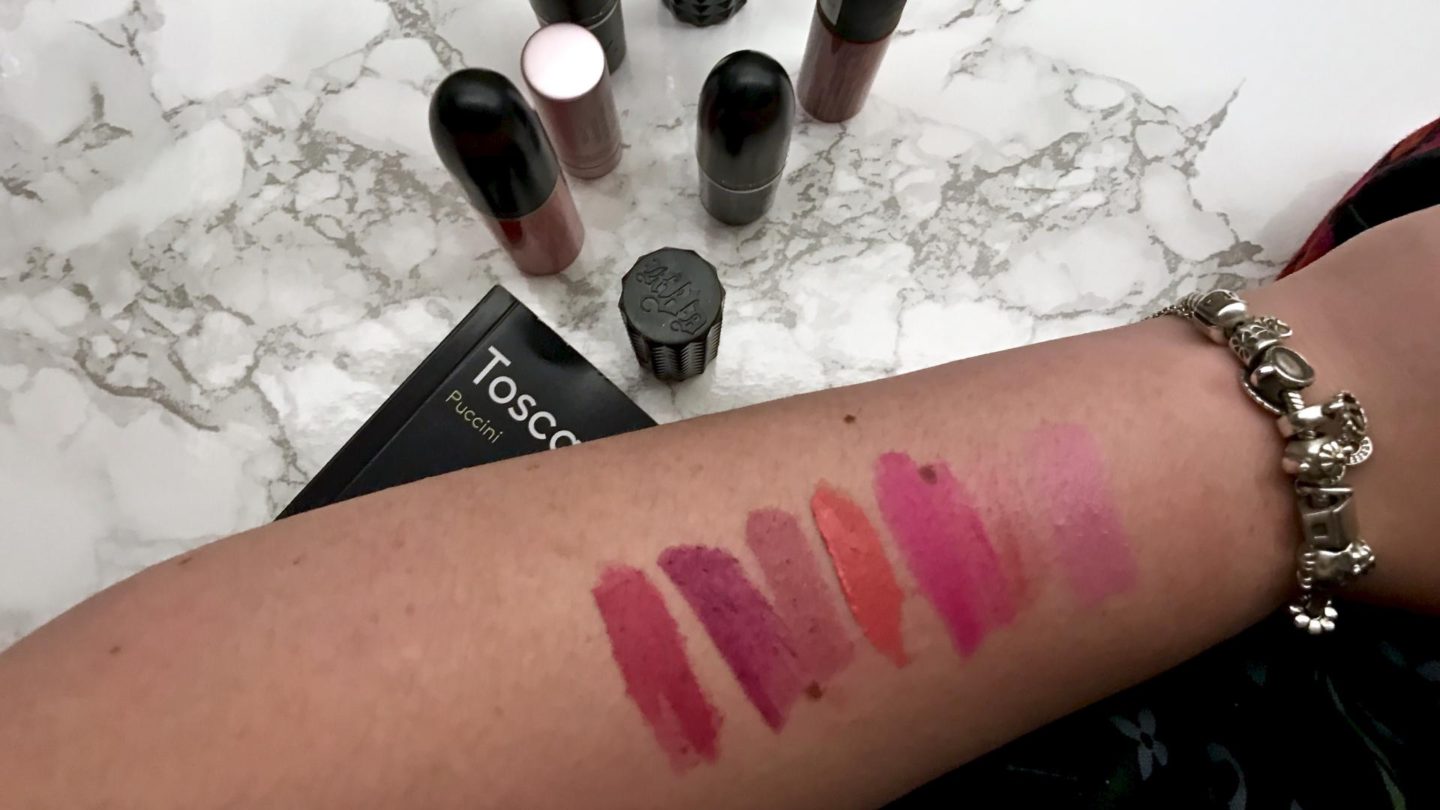 Swatches
When I was swatching these, I thought, would anyone be intrested in me saying what liner I used with? Anyway.. I managed to bring a few more bright colours into the mix this week. But, I couldn't quite say no to my much loved nudes and "your lip but better" colours now could I?!
What lipsticks have you been loving this week?
Find me on;
Bloglovin' | Twitter | Instagram