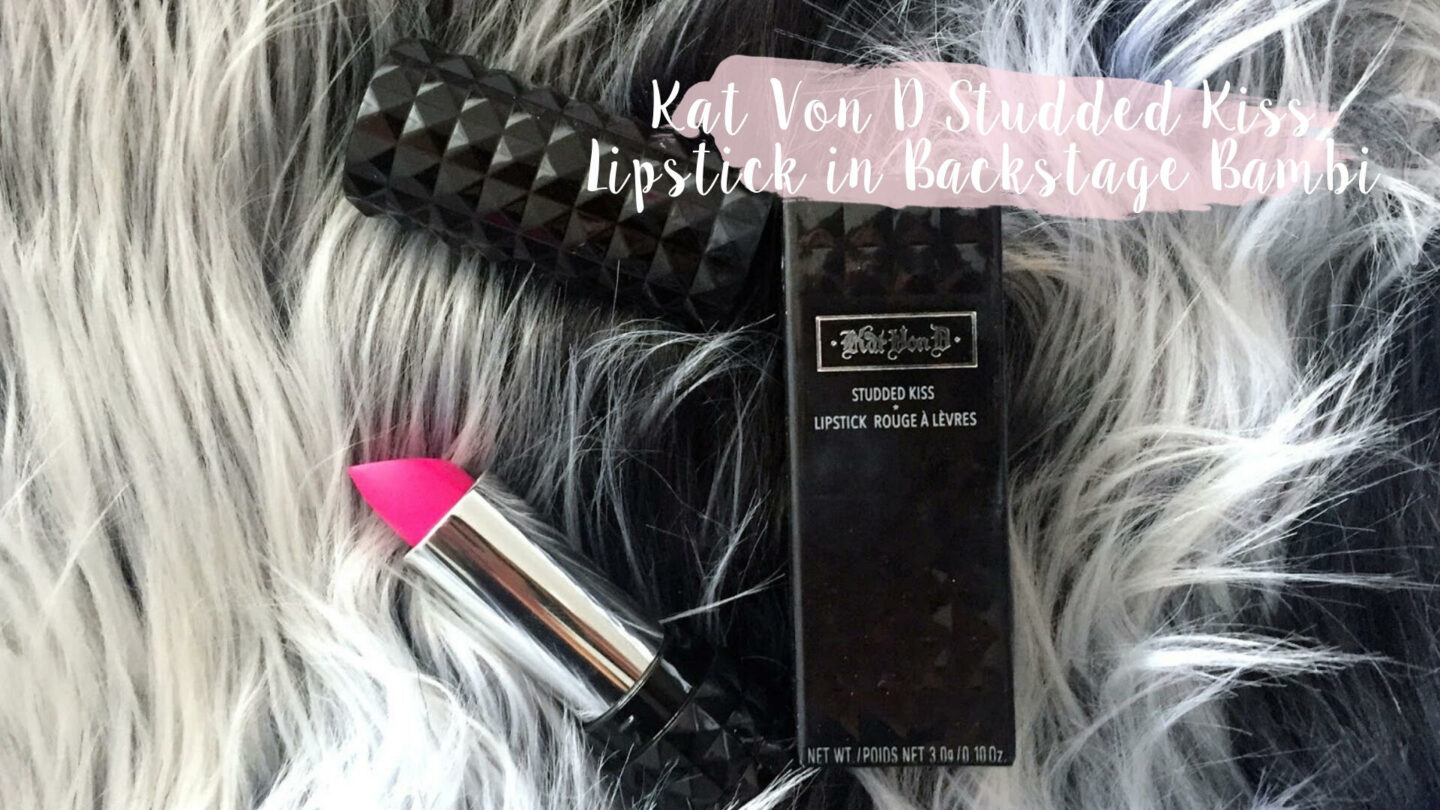 So, as you may have seen on my twitter, I've recently placed my first ever Sephora order and I planned on doing a haul post… However, I couldn't resist trying out this little beauty before managed to photograph everything. Is it just me or is it nearly impossible to buy a new lipstick and not at least swatch it?! In fact, I believe this very topic sparked me and Hayley from TheGlasgowGirl.com having a half hour long chat about favourite MAC lipsticks at #BloggersFestival two Saturdays ago… Lipstick addict problems huh?! Although all of Kat Von D's makeup range looks amazing, I had to pick this signature bright pink lipstick in Backstage Bambi.
Alongside having almost rebellious looking studded packaging the whole range has names like Hexagram and Hellbent which adds to the whole feel of the lipstick being very rock and roll and well, very Kat Von D. I think that's part of the appeal of Kat Von D's entire makeup range, not only do the products seem pretty fantastic but it's certainly a way to buy into the whole LA Ink culture without having to set foot in a tattoo parlour or fork out the major $$$ for their albeit fantastic work.
Kat Von D Studded Kiss Lipstick in Backstage Bambi Review
So how does it perform? Well, the swatch below was put on my hand the morning before a charity day where I spent the entire day cleaning a river. But let's not go into that… At the end of the day not only had this swatch hardly budged but my lipstick was still almost as bold as when I left the house. I know matte formulas are normally known for being longer lasting than creamer lipsticks but never the less this one really outdid my expectations. It wasn't too drying either which can be a problem with a lot of matte lipsticks.
Was it worth the splurge? At $21.00 excluding taxes, it works out around £16.00 all in so a similar price to a MAC lipstick. However, to order from Sephora there is a £75.00 minimum spent to get the £6 shipping rate which means it's only really worth it if you are making a large order. Would I buy another? Yes, if I placed another large Sephora order then I'd love to pick up another along with trying some of Kat Von D's other products. I would love it if it was stocked in the UK so I could pick one up as a more affordable treat.
Have you tried any of Kat Von D's makeup range yet? What did you think?
Find me on;
Bloglovin' | Twitter | Instagram