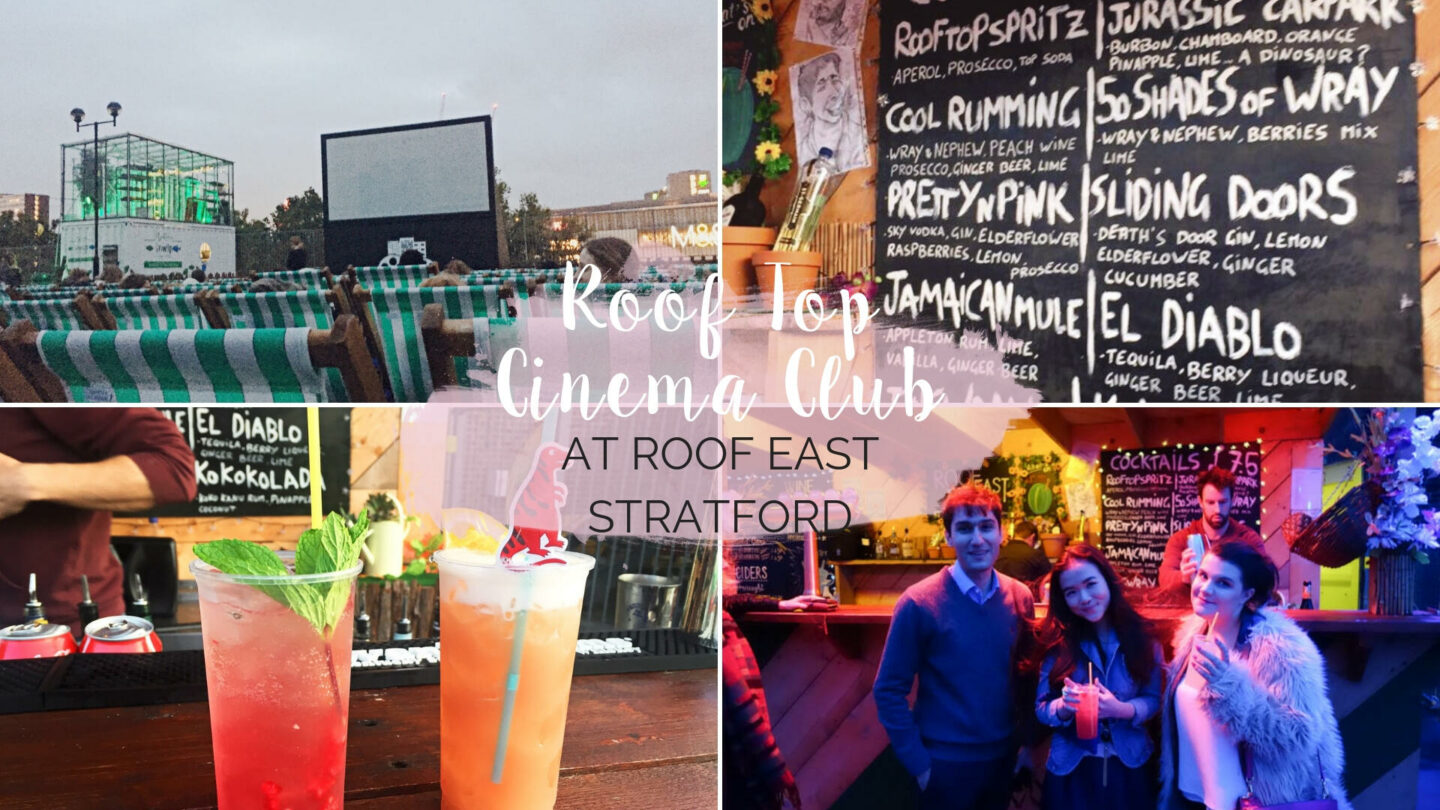 One thing I love about London is that there is always something to do, even on a rather cold Tuesday evening like the one where I attended the Roof Top Cinema at Roof East in Stratford along with the lovely Michelle at AlexandraLuella.com thanks to Nuffnang. Roof East is located on top of a multistory car park above Stratford Shopping and only a short walk away from the station and is home to a cocktail bar, street food and of course, an outdoor cinema screen. So, without further ado, here's what we got up to on that slightly cloudy evening;
Roof Top Cinema Club at Roof East, Stratford
How cool are these movie-themed cocktails?! That's a Pretty n Pink and a Jurassic Car Park (hence the dinosaur…) and they were both super yummy. I love the fact they played into both the location and the popup itself!

So, we grabbed our drinks and popcorn and headed over to take out seats ready to watch Crazy Stupid Love. As it was a rather cold evening, Roof East provided everyone with blankets alongside the noise cancelling headphones to watch the film with. I mean, Ryan Gosling and being snuggled under a blanket is every girl's dream right?!


To describe the feeling of being sat on a deckchair, watching a film with headphones on in one word it would be surreal. Although one I'd love to do again especially if the weather stayed dry like it luckily did for us. If you can't quite make it over to Stratford, there are also locations in Kensington, Shoreditch and Peckham. Rooftop Film Club runs throughout the summer in all four locations.

I was invited by NuffNang to attend the Roof Top Cinema Club at Roof East, who kindly provided us with free tickets and popcorn. As always, all views are my own.
Have you been to Roof East or Roof Top Cinema Club before? What did you think?
Find me on;
Bloglovin' | Twitter | Instagram