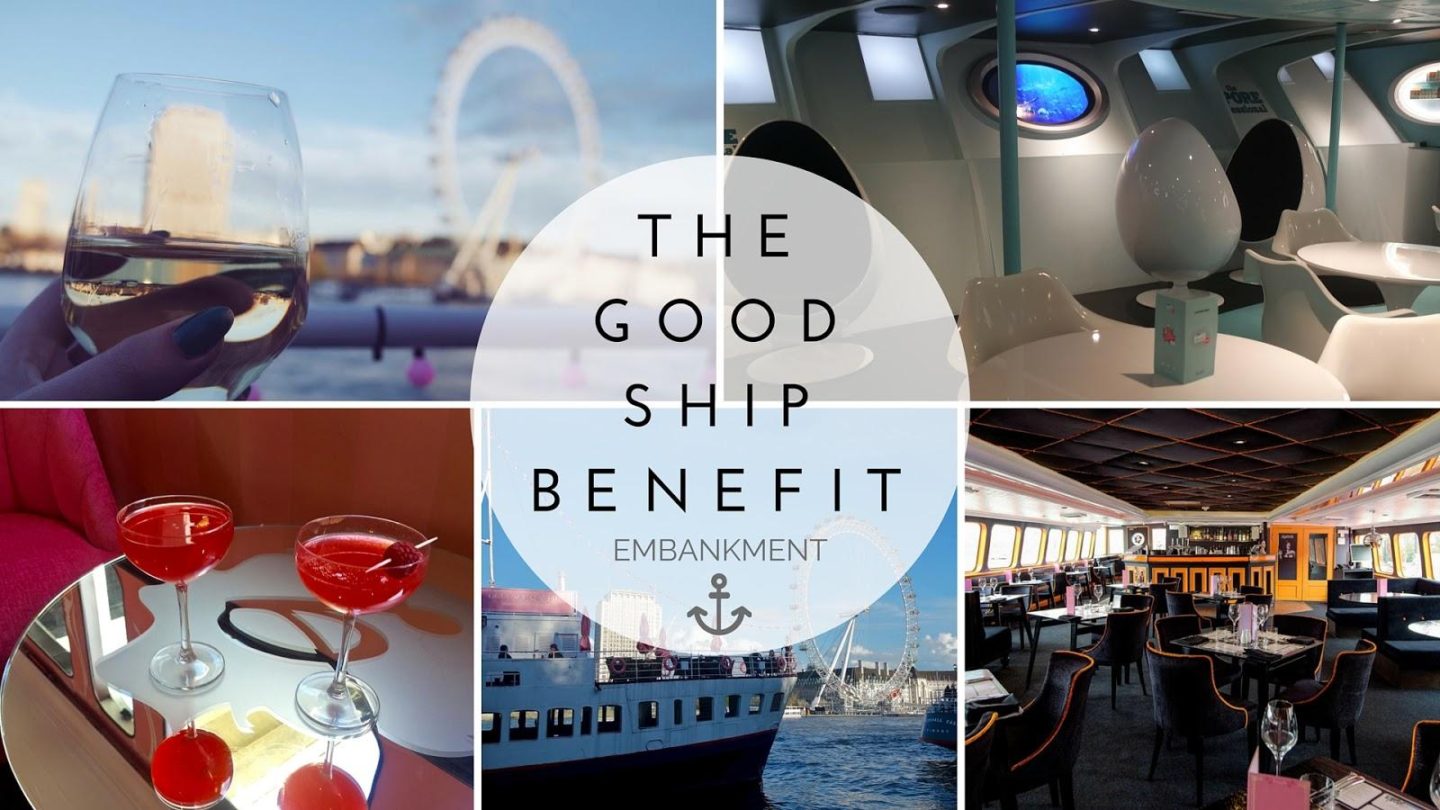 When it comes to making even the most simple releases special, Benefit Cosmetics are experts. From creating a huge hype by collaborating with Elle Magazine to include a sample Roller Lash before the full size was released, which had beauty lovers such as myself hunting high and low for a copy to "air mail"-ing samples of their Air Patrol eye primer to people who registered on Twitter, they really are hard to beat. Following their seemingly constant stream of clever and quirky releases over the last few years with fun social campaigns alongside, Benefit have managed to blow all of these out the water (pun kinda intended..) with the Good Ship Benefit docked near Embankment. A few of you may remember back in the summer of 2014 when Benefit held pop-up pub "Gabbi's Head" in honour of the World Cup; showing all the games in pink pub with a selection of cocktails and beauty treatments too. Well, following on from their month long takeover of the Dury Lane venue, this time Benefit has revamped the entire R.S Hispaniola into a pink paradise with entire rooms and areas dedicated to cult products.

Let's just say the Good Ship Benefit is instantly recognisable, if the pink signs didn't give it away; the pink bunting, life savers and parasols certainly do. When you enter you are greeted by a member of staff who will ask if you've been before, and if it's not busy, will normally offer to show you around the ship's three floors. I was lucky enough to be shown round by the "captain" and I had to say I felt pretty special.
Photo Credit – Benefit Cosmetics
Photo Credit – Benefit Cosmetics
Photo Credit – Benefit Cosmetics
Pinkton Parlour, Benefit Boutique & Brow Lounge
On the first floor of the Good Ship Benefit you'll find, in my opinion, an absolutely perfect combination of cosmetics, cocktails and cakes to enjoy in a place that manages to have almost everything pink without going over the top – in my mind this no small feat. When you enter, you arrive into the Pinkton Parlour with a large art deco bar, photo booth, piano and during evenings a DJ booth. When I first went around 6pm on a Friday evening with Ami and Becky, Hayley it was already buzzing with people, but we made our way through the Benefit Boutique (which aside from selling Benefit's full range and offering brow treatments has 10% off all products") through to the Brow Lounge. The Brow Lounge, while a little less pink than the bar area still carries through the theme. Fitting to the name it's curved "eyebrow" shaped sofas are around to relax on. Talking of relaxing, the Brow Lounge is also home to events such as the female-fronted comedy nights along with afternoon teas and a bottomless brunch.
Me, Ami & Becky in the Brow Lounge – Photo Credit – BeckyBedbug.com
Photo Credit – Benefit Cosmetics
Lashitude Bar and Restaurant & The Hoola Decks
When you first head upstairs you're greeted by two doors, one to the Lashitude bar and restaurant and the other to one of the Hoola decks. Unlike most of the boat, the Lashitude area is black and orange in homage to Benefit's famous They're Real mascara. I can't give an opinion on the food as I haven't had a chance to try any but I can say from what I saw it certainly looks pretty tasty. If you go to the rear of the restaurant area, you can exit on to the larger of the two Hoola Decks, complete with its own Tiki-hut bar. The other is to the front of the ship which in my opinion, although slightly smaller offers better views. Much like Benefit's Hoola bronzer, the decks are Hawaii-inspired with a pink twist. Serving a selection of casual food and cocktails, on a warm day, it's the perfect riverside spot. I don't care how long I've been in London, sitting by the Thames on a sunny day still blows me away. While the Southbank, particularly around the London Eye may be a tourist trap, the Hoola Decks are the perfect place to soak in the views without all the hustle and bustle.

The POREfessional Vault
Inspired by their range of primers, the ship's basement is home to the POREfessional vault. Behind the vault door, the POREfessional vault is a 1960's pastel blue and white dedication to the ranges spy girl mascot. With aquarium effect windows and a world map it feels like you've actually escaped to an underwater lair, only with less plotting to save (or take over..) the world and more martinis, including the option to create your own.
Ami, Becky, Hayley and I on the Hoola Deck
The Good Ship Benefit is at the R.S Hispaniola on the Victoria Embankment until the 31st August and I can certainly see myself taking a few more trips, in fact last time Leah and I noticed the bottomless brunch, so there may well be a review on that coming up soon…
Find me on;
Bloglovin' | Twitter | Instagram