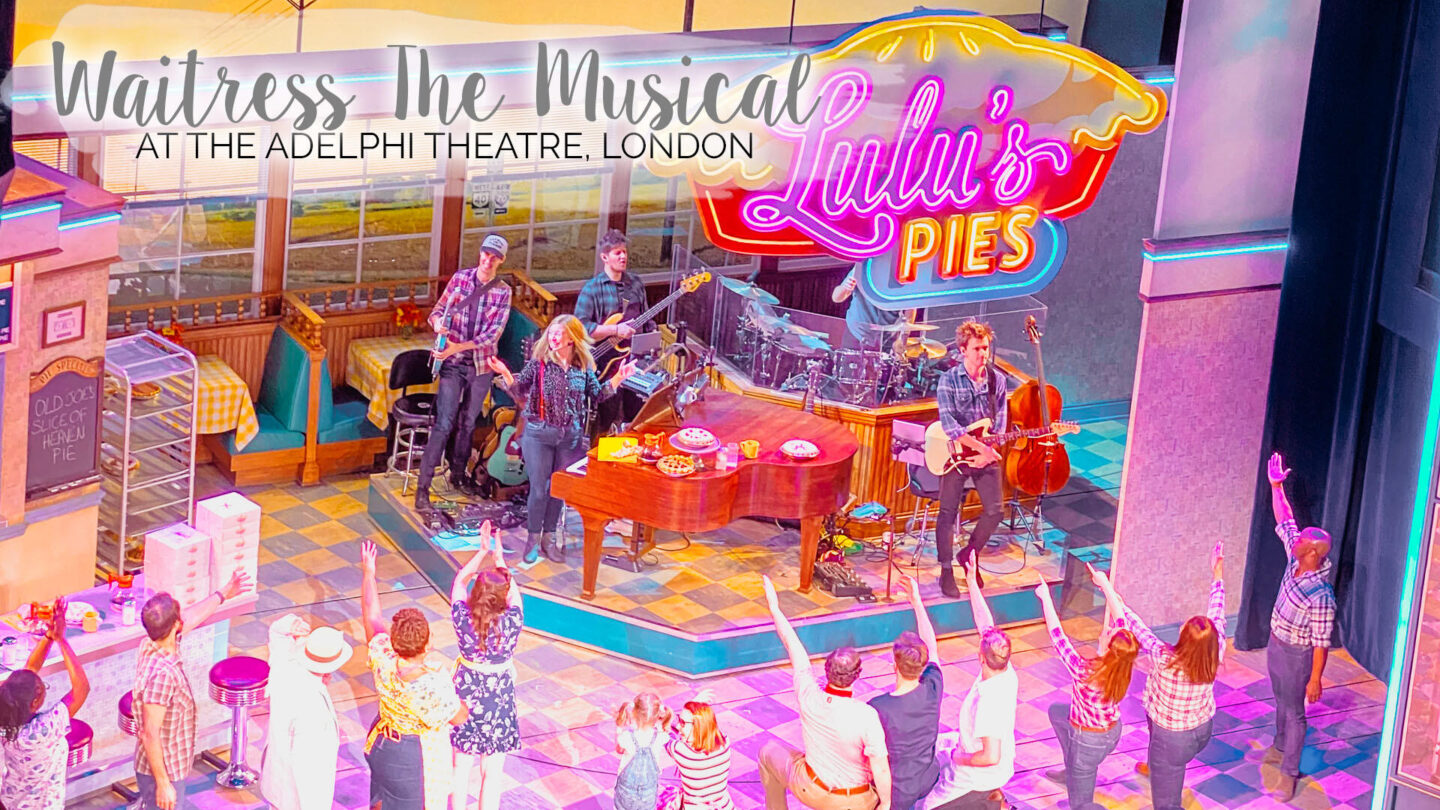 "Sugar, butter, flour… My hands pluck the things I know that I'll need, I'll take the sugar and butter from the pantry. I add the flour to begin what I am hoping to start & then it's down with the recipe & bake from the heart…"
I make no secret of the fact that one of my favourite things about living in London is the vast array of theatre shows on offer each and every week. In an ideal world, I'd get round to seeing each and every production I could. But, alas, money and time are of the essence most weeks. So when back in December my friends Cat & Hannah mentioned getting tickets to a Saturday matinee showing in late February (the last of Gavin Creel's current run at the show), I booked straight away. I'd always heard great things about Waitress, but unlike many productions, I went into this showing without listening to the soundtrack prior. Sadly, due to the pandemic outbreak, it closed early. But it is going on tour across the UK starting May next year. (May 2021)
So, I thought I'd take a trip down memory lane and share my thoughts on Waitress, The Musical in case you fancy grabbing tickets for the tour…
Waitress The Musical at the Adelphi Theatre, London
With music and lyrics by Sara Bareilles and is based on the 2007 film called, you guessed it, The Waitress. The musical tells the story of Jenna Hunterson, waitress and pie baker extraordinaire. With those aforementioned pie skills often used to imagine out any situation she's going through as pie ingredients ready for the specials board at Joe's Diner. In fact, fun little fact about those pies, according to London Theatre Direct, the entire cast of were reportedly taught how to make, roll and bake pie dough. And while playing the role of Jenna, they are required to sift flour, crack eggs and even roll dough on stage all while singing. How cool is that?!
At the beginning of the first act we find out that Jenna is pregnant with her husband Earl's baby. While for many this may be great news, for Jenna it's the opposite. Earl is an abusive drunk and in "The Negative" she curses "one drunk night in that stupid red dress" which landed her in this situation. After a meeting with Dr. Jim Pomatter, a new doctor from Connecticut, she decides that while she didn't want to have a baby, she's going to keep it. She also leaves him a Mermaid Marshmallow pie, which was the previous doctor's favourite.
When the owner of the diner Joe finds out about her pregnancy, he encourages Jenna to enter a local pie-baking contest. With a cash prize that would give her more than enough money to leave Earl and start a new life with the baby. It seems as though all signs point towards this contest being her ticket out of her situation when she yet again runs into the doctor again and he tells her that her pies could "win contests and ribbons and things". What happens for the rest of the first act, and the musical in general, I'll keep a surprise. But it involves an affair, a marriage and a whole lot of pie…
Final Thoughts
Waitress was a fun ride from beginning to end with a soundtrack I thoroughly enjoyed. I loved the inclusion of the daily pies and the sets were really effective. In terms of the characterisation, you found yourself wanting friends like Jenna's fellow waitresses Becky and Dawn. You find yourself warming to the old diner owner Joe. And, most importantly, they manage to make Earl into the villain without making him almost cartoon style "bad". Also, not to ruin the plot at all, but the twist in the second half and how it all ends up. Let's just say it isn't quite how you find yourself hoping at the end of the first act. But it does feel like a much better ending than that indeed… Well, I mean, I left teary eyed with a big smile on my face anyway!
Did you see Waitress when it was at the Adelphi Theatre? Will you be seeing it on tour? Let me know in the comments!
Find me on;
Bloglovin' | Twitter | Instagram