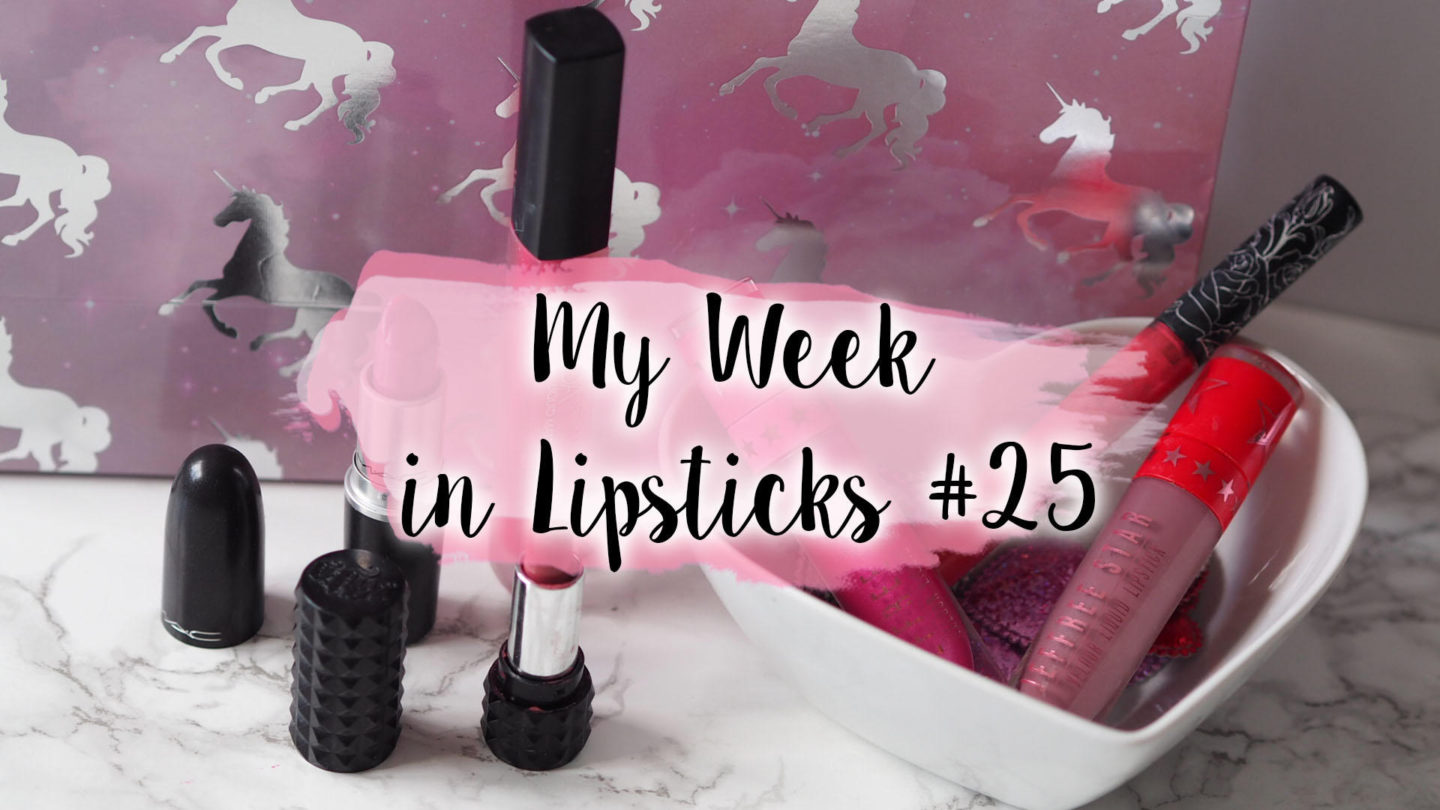 It feels like forever since I last sat down and wrote a week in lipsticks. It's not that I haven't been busy enough. If anything I've been a little too busy! (That and I managed to come down with a dose of flu, which is never fun…). Anyhow, while I'll probably catch you lovely lot up with some of my last months adventures in some up coming posts – here's what I've been up to this week and what lipstick I've been wearing while doing it: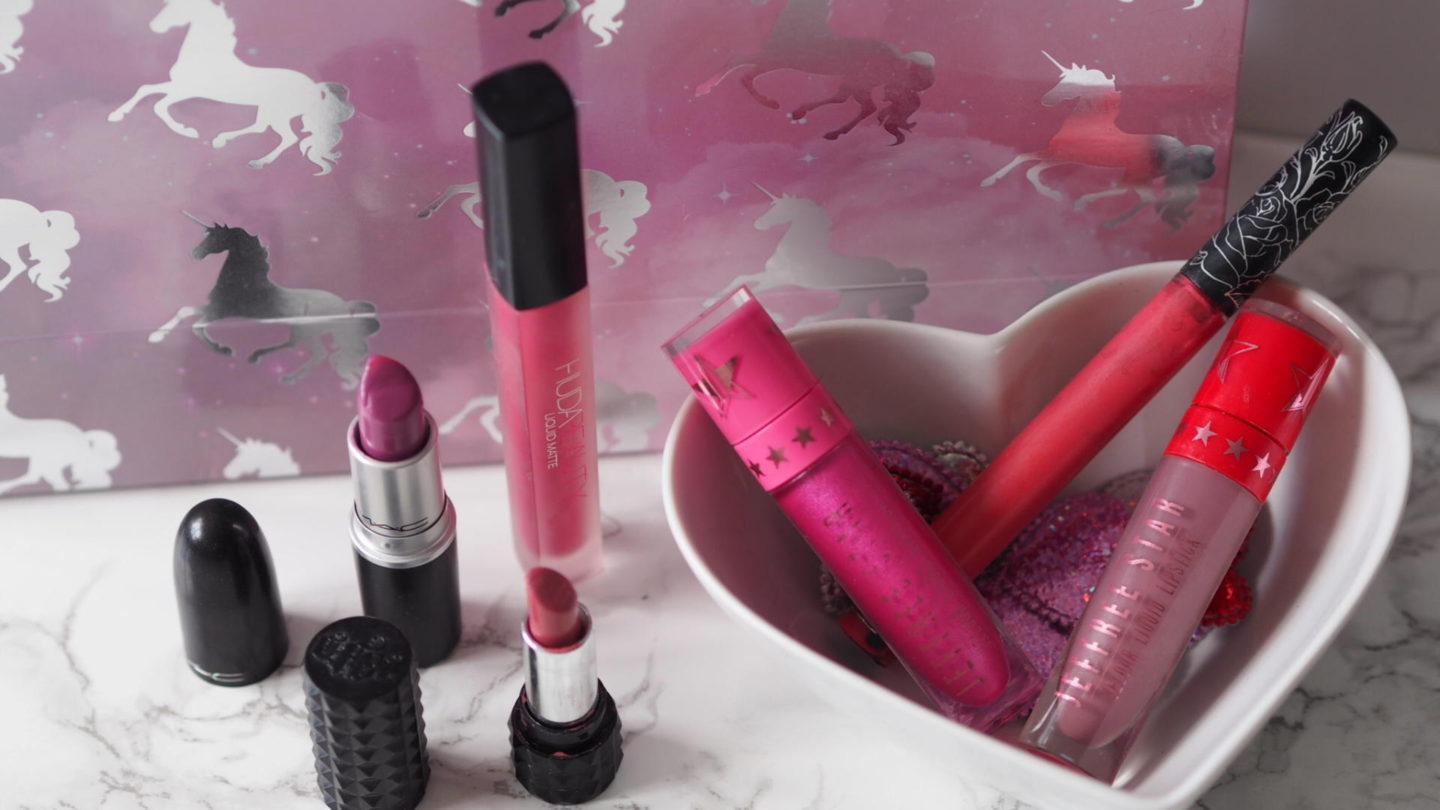 Sunday – Kat Von D Studded Kiss Lipstick in Magick. After a pretty epic Saturday night seeing Courtney Act, I enjoyed having a chilled Sunday. I had a few errands to run but other than that I spent most of my day binge watching the new series of Kimmy Schmidt on Netflix before heading out for a pizza at Santa Maria.
Monday – n/a. If you don't spend most of your bank holiday Monday in your PJs is it really a bank holiday? And I don't know about you but I can barely be bothered to pop on moisturiser never mind lipstick for lazing round the house.
Tuesday – Jeffree Star Velour Liquid Lipstick in Dreamhouse. With Monday and Sunday being such lazy days Tuesday was a complete contrast. I got up at 5:30am to attempt putting on false eyelashes as I was spending the evening at Troxy with friends watching the "Werq The World" tour. With some of my favourite queens including Shea, Shangela and Latrice – I danced, I laughed, I gasped in shock a few times too. It may have ended up with me getting home past midnight but it was well worth it. Due to wearing so much glitter, I paired it with this cute metallic lipstick. It's one of my favourites with good reason.
Wednesday – Kat Von D Everlasting Lipstick in Jeffree. As I'd got two hours to take off work and having a hectic day prior, it only seemed right to take them on Wednesday morning. Surprisingly, I found myself up bright eyes and bushy tailed and even found time to properly apply my makeup before heading to the office. As I wanted something punchy and bright, I went with Kat Von D's Jeffree. Due to a spat with it's namesake, it's been discontinued and doesn't seem to be available in the UK. I'm just hoping Kat releases this under another name as it is one of my favourite pinks for the summer.
Thursday – MAC Amplified Creme Lipstick in Up The Amp. Despite having a rather large stash of MAC lipsticks, with my obsession with liquid lipstick they seem to have been pushed to the side lately. After trying this pink toned lilac I knew it deserved more use than it was currently getting and popped it in my handbag before I headed to work. With the working day over it was time for another busy evening. This time meeting family for a pizza at Santa Maria, which was as always, gorgeous. All before heading over to Clapham to go to another show at Clapham Grand. This time we watched Gia Gunn, Roxxxy, Kimora and Naomi Smalls in a show hosted by Alyssa Edwards. Another late one that ended in me getting in at 3am. Totally worth it though!
Friday – Jeffree Star Velour Liquid Lipstick in Sagittarius. I had, thankfully, booked Friday off ready for another three day weekend. My original plans involved going for coffee, writing and photographing a few blog posts before meeting my friend who was visiting for the evening. What actually happened was I had an epic lie in and watched lots of day time TV. Oops. When I did finally get dressed I popped on this plumy nude colour. Then ended up spending a small fortune in Boots and on sushi from Wasabi. (All though, to be far, most of the spend in Boots was getting my dad a Fathers Day gift.) When I got home I worked on a few post and before I knew it, it was 8pm and I was heading to St Pancras to meet Becky.
Saturday – Huda Beauty Liquid Matte in Video Star. Video Star was a Christmas gift from my parents and since then it has become one of my favourite bright lipsticks. I've already said how in love with the formula time and time again on here; so I won't bore you with that. I was glad for the staying power of this liquid lipstick as it stayed put through a picnic in Hyde Park. But, not just any picnic, one where we got to feed the squirrels!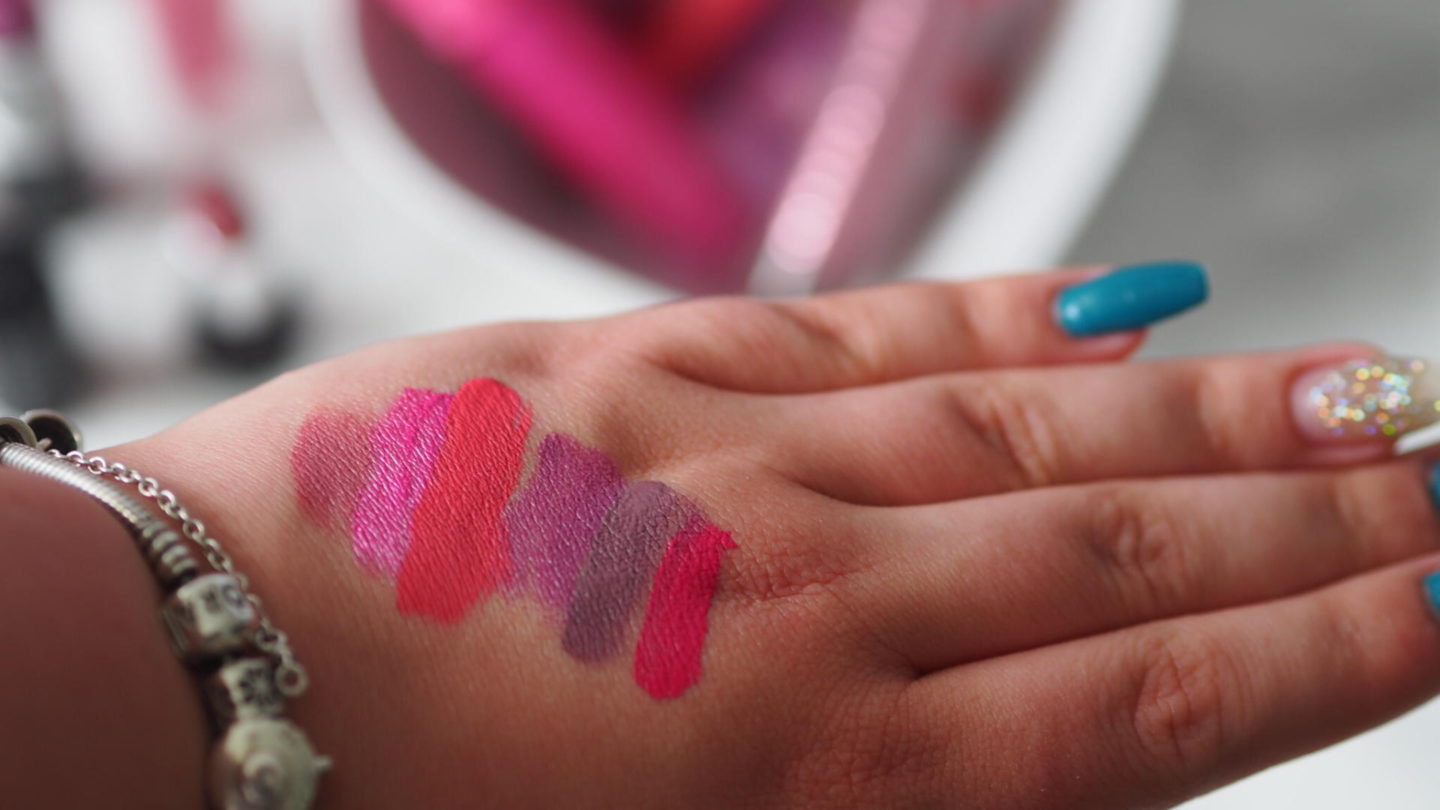 Swatches
Wow – so I sure picked a lot of pinks this week…
Well, with what I got up to I guess it's not a surprise. Here's hoping the next week is just as busy. Well, okay, maybe only a smidgen less busy. After all I've not got a short work week again for a while!
What lipsticks have you been loving this week?
Find me on;
Bloglovin' | Twitter | Instagram