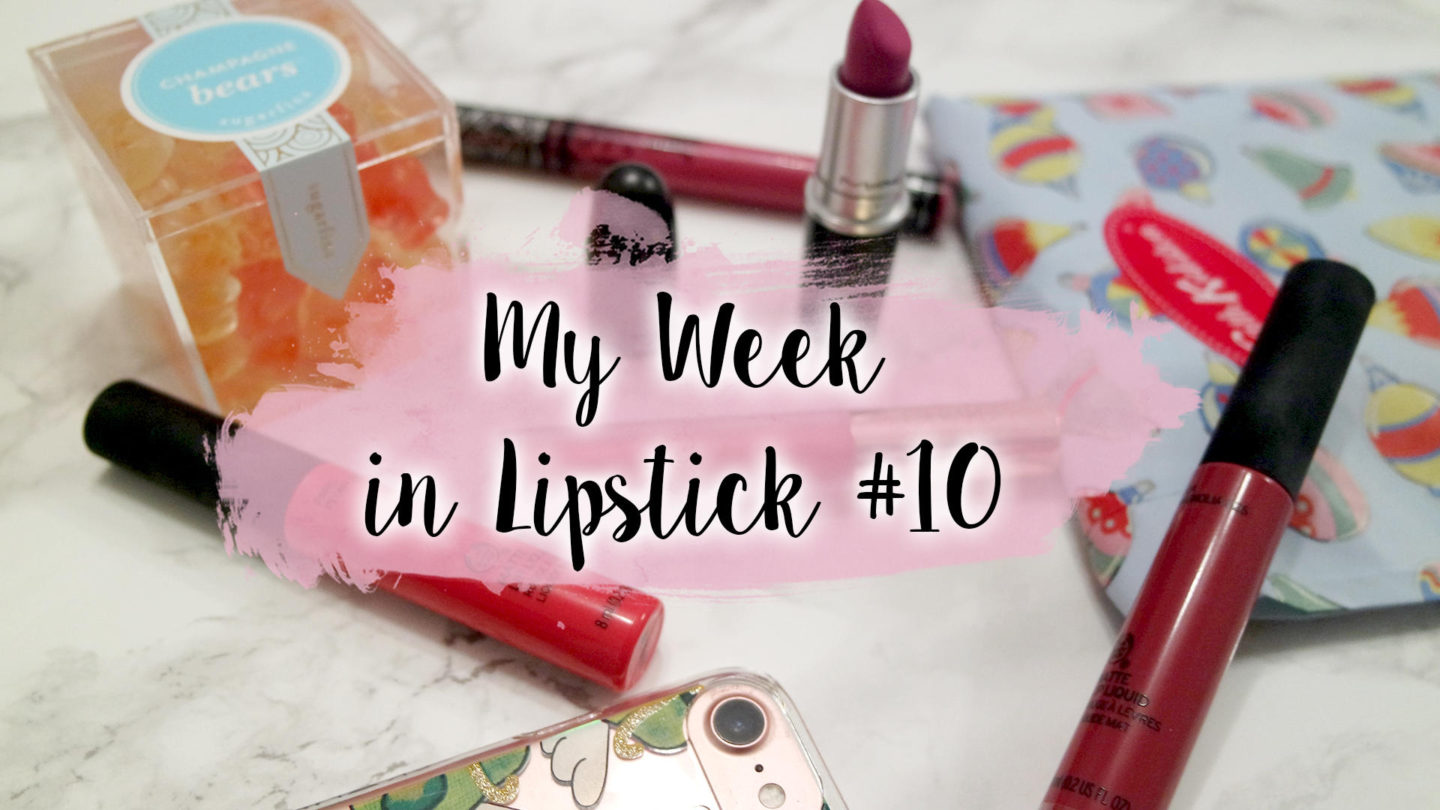 How on earth is my week in lipsticks series in double digits? Seriously.
Anyway, this week has been an unusaul one. Although, yet again, I've been a busy bee – I've also found myself getting run down and ill for a few days not so fun. Even though I've not been feeling like I'm on my A game, I've still had a fun week. So on which note, here's what I've been up to!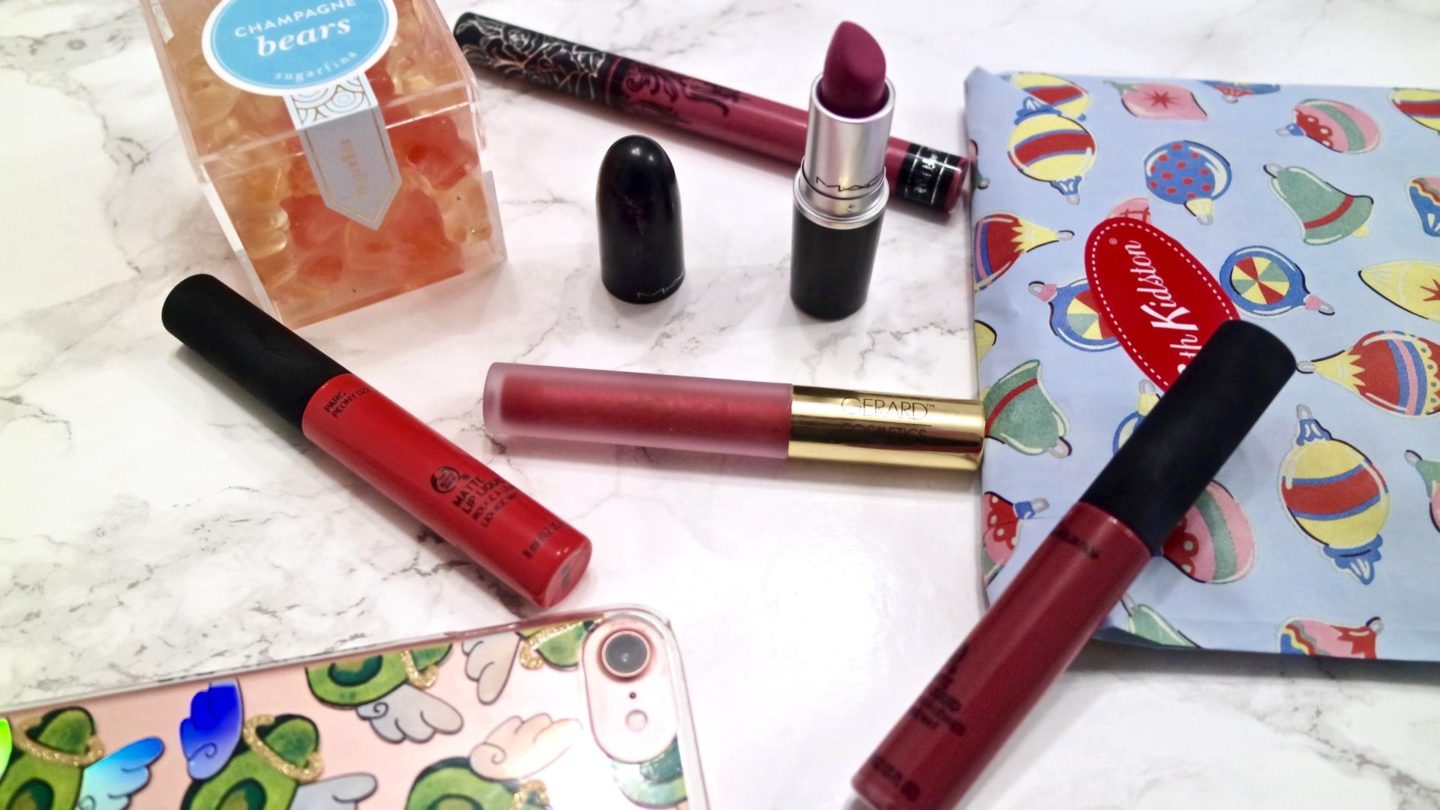 Wednesday – Kat Von D Everlasting Liquid Lipstick in Mother. As always is the case with the last working day of the month, Wednesday was a bit of a mad rush. I had a lot of work to do so I needed something I knew could help last me through a stressful day. Kat Von D's Mother is one of my favourite colours, and one normally found in my handbag for good reason. Apart from looking gorgeous, the lasting power meant even though I had a few things to stress about, well my lipstick certainly wasn't one. (Decided not to use a Jay-Z 99 Problems pun here and now, looking at it kinda regretting it.)
Thursday – The Body Shop Matte Lip Liquid in Goa. Did you know that The Body Shop did a range of liquid to matte lipsticks? Well neither did I until I was tempted in by the 3 for 2 offer on Wednesday lunch time. As you can probably guess, I picked up three (& you can expect my review on them soon!) and couldn't wait to try them out. I'd booked Thursday off work with the intention of Christmas shopping with my mum and we both managed to finish off the rest of the family gifts we needed to buy. This little magnolia beauty lasted throughout the day, until I went to try on a new lipstick in Charlotte Tilbury…
Friday – The Body Shop Matte Lip Liquid in Paris. When I woke up on Friday morning, to be honest, I was in two minds about if I should have gone into work or not. But, being the start of what is looking to be a busy month, I put on some bright lipstick (& about 60 layers of clothing) and made my way to the office. I thought this bright, punchy pink would be the best way forward. Sadly, even though this made me look a little brighter, I didn't feel well enough to head off to works 1920's themed Christmas party. So, instead of heading off to the speakeasy looking ritzy. I headed to bed early with a cup of tea.
Saturday – Gerard Cosmetics Hydra Matte Metallic Liquid Lipstick in Cherry Bomb. In an effort to perk myself up I decide to wear one of my new Gerard Cosmetics metallic lipsticks. To be exact, the metallic matte red, Cherry Bomb. (My spending ban clearly went well this month, but at least I can write about my haul right?!). I headed to Portobello Road in the morning in an attempt to get some fresh air. But I felt a little shaky so it was home for a nap soon after. Once I'd got up and ready again, it was over to GEM in SoHo to see some of my blogging favourites for the #GEMBlogParty. Sadly though, I wasn't feeling much better so went home and was in bed for 9.30. Very unlike me..
Sunday – MAC Flat Out Fabulous Retro Matte Lipstick. I am a great believer that it's important to support your friends in their ventures. Be it art, music or putting on events. So despite feeling worse for wear, I put on one of my boldest lipsticks and headed to Cambridge for the #ChristmasBloggersBash arranged by Pippa and Sophie. They did a fantastic job. (& I was shocked at how quick the train was!). Then, I met my parents for dinner, but my appetite had gone much like my energy. So I found myself tucked up with a hot water bottle and a cup of tea as soon as I got home.
Monday & Tuesday– n/a. On Monday I finally caved and admitted I was too ill to go into work. So I spent the first two days of the working week in bed watching RuPaul's Drag Race reruns. I managed to feel well enough to go in and get up to some mischief on Wednesday though. But that's a story for next week…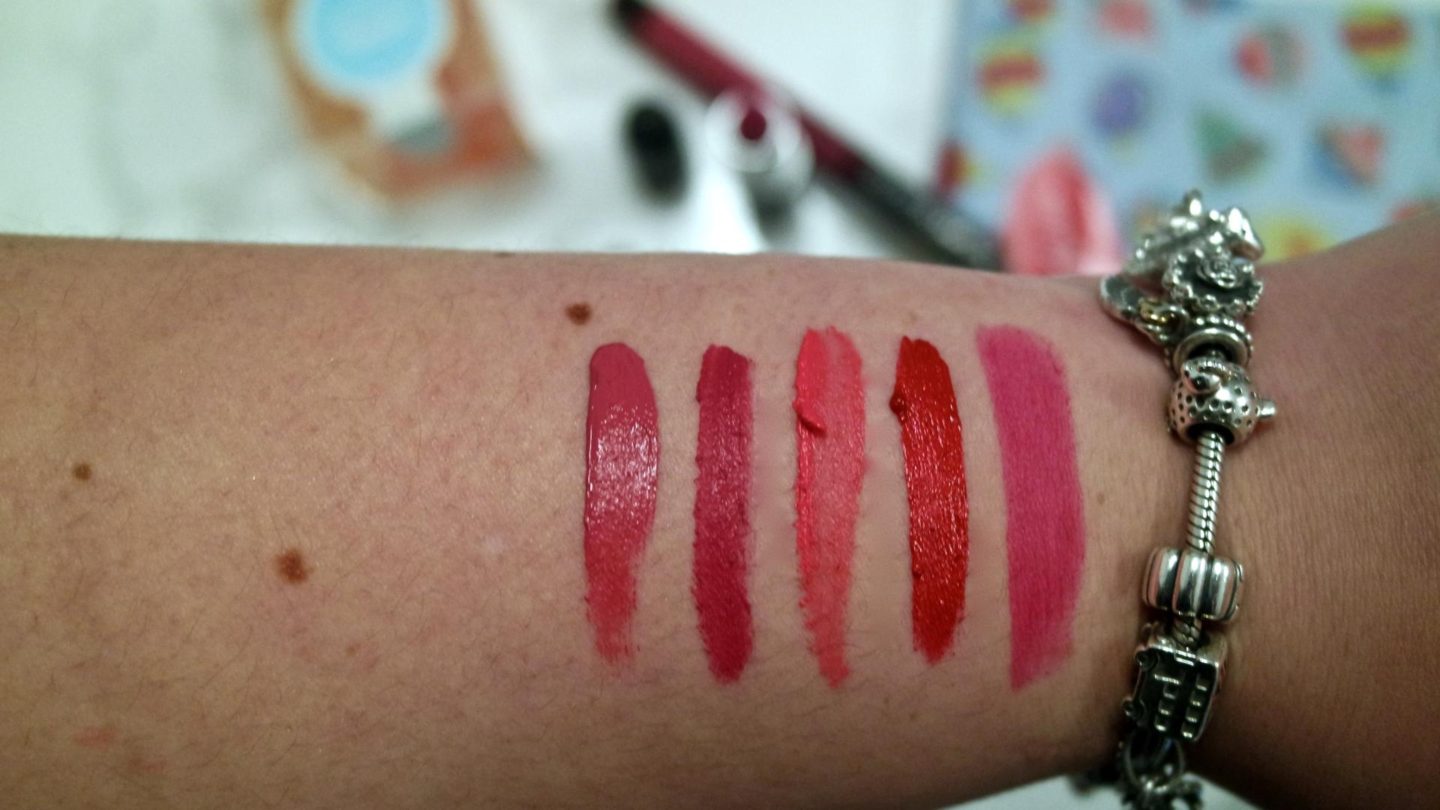 Swatches
In an attempt to combat not feeling so great, this week has been full of bold colours. (It's also been full of new purchases, but let's not talk about that..) I used the bold colours to pick myself up. Even though I admitted defeat in the end, it did work to lift my mood. I'm sure there's some psychology behind why.. But I'm hardly the person to ask!
What lipsticks have you been loving this week?
Find me on;
Bloglovin' | Twitter | Instagram