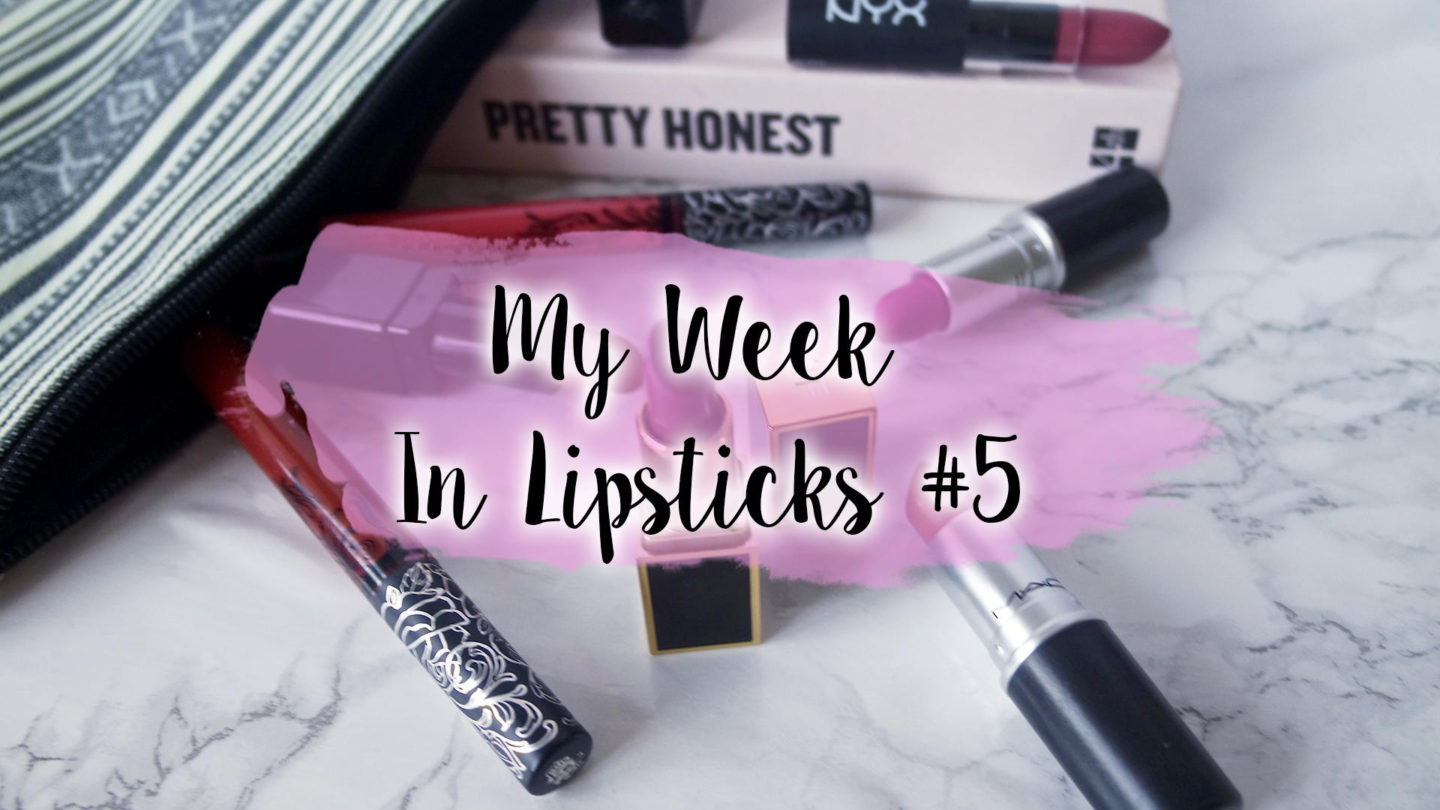 It's Wednesday, it's been another manic week, so I guess I'll continue on with my tradition of writing my week in lipsticks, huh? I made a point of organising my collection and much to my friends reaction of "now Fran, this is why you should start a depop", I instead just got overly excited over how many shades that were just perfect for wearing over the upcoming festive season. Anyway, here's what I've been up to (& what lipstick I've been rocking) this week;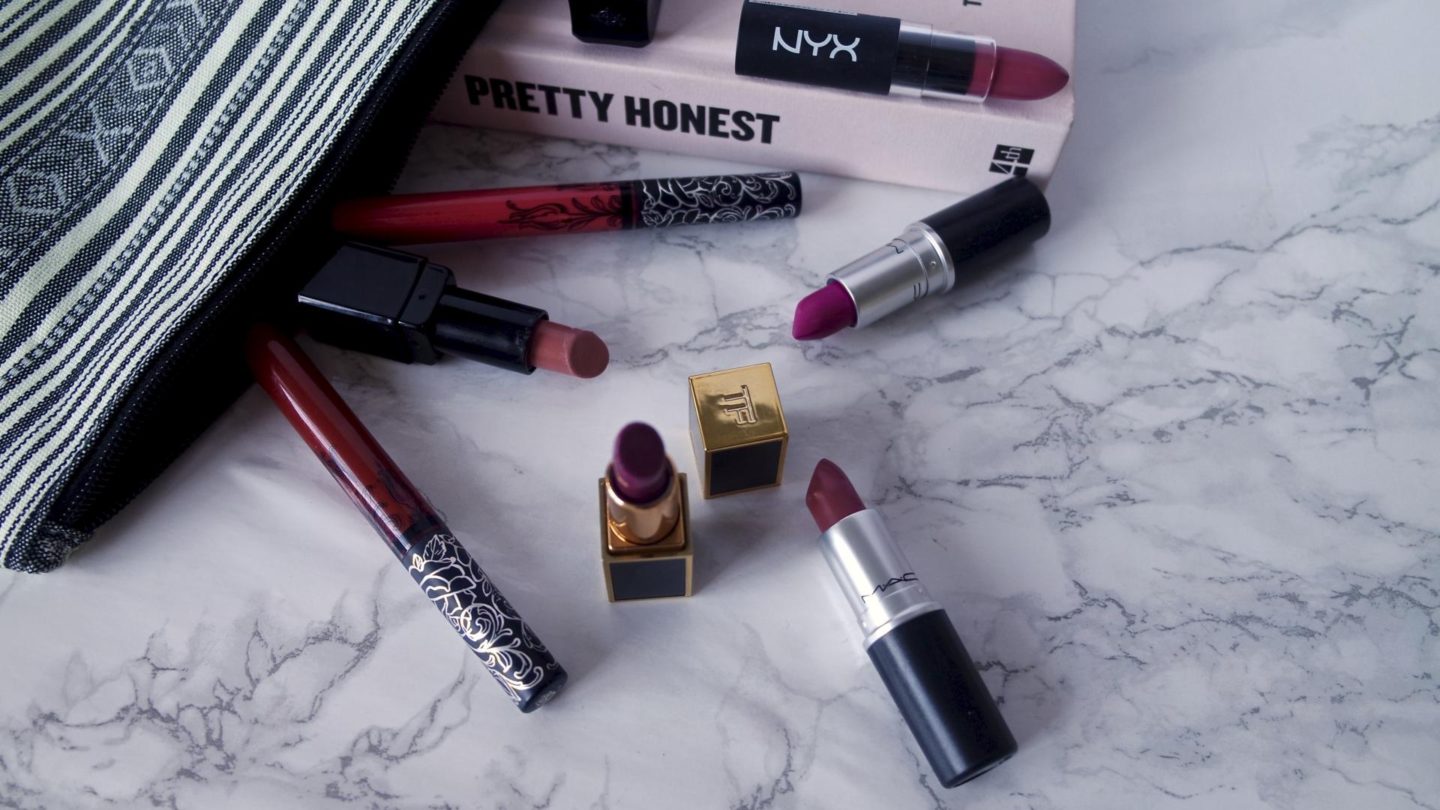 Wednesday – Kat Von D Everlasting Lipstick in Berlin. The same lipstick as this time last week. What is about Wednesday and wanting to wear something that makes me feel more confident?! Well, it may have has something to do with this long lasting bright pink toned red being the perfect companion as I was invited along by Mona to the Sistaglam x Jess Wright event a the gorgeous Park Plaza Westminster. Where I got to meet Stacey Solomon. (& fangirled a lot. Oops.)
Thursday – NYX Matte Lipstick in Tea Rose. Although I've always had a soft spot for NYX, since my local Boots store got a rather large counter. Well, my collection has grown considerably, to say the least. When people think of NYX Matte lips, they tend to think of the Soft Matte Lip Creams. Which, although they're an excellent product are not the only matte lip range you can pick up by NYX. This cutely named mauve-pink matte lipstick was picked up a few weeks back when I needed to spend a few pounds more to collect a points bonus. Although this said, I really do love the colour and I'm glad I picked it up as it's a really comfortable matte lip.
Friday – MAC Matte Lipstick in Mehr. At the moment, this is quite possibly my favourite day time nude lip colour. Friday was a few of my colleagues leaving drinks, and while this "your lips but better" colour was meant to be more of an "I'm only staying for one" shade. Well, we started playing "heads up" around the table and I was having such a laugh that it was four hours later that I found myself heading home. While my lipstick wasn't perfect when I left, Mehr put up a good fight and wasn't completely gone after a few wines. If you fancy reading my full review, it's here.
Saturday – Tom Ford Lips & Boys Lip Colour in Drake. If you don't go a bit more bold than normal with your lipstick for a Halloween party, did you really go to a Halloween party at all? This gorgeous purple was a birthday gift from one of my best friends. Teamed with an over the top smokey eye, it was perfect for Laura's epic Halloween party.
Sunday – Illamasqua Glamore Satin Finish Lipstick in Rosepout. I picked up this neutral pink brown last year in a beauty box, although for the life of me I can't remember which. After buying a navy blue lipstick from Illamasqua in my teens, I wasn't in a rush to re-live that look. However, this gorgeous nude shade got me to give the Glamore lipsticks another chance and boy I am glad I did. It feels gorgeous on and I'll be trying some more soon.
Monday – MAC Retro Matte Lipstick in Flat Out Fabulous. With it being the last day of the month, Monday was even more busy than normal. With the help of this bold, bright plum to motivate me towards my targets. I not only surpassed my aims but also carved our teams pumpkin for the work contest. We lost to a Trumpkin, but still, at least we tried…
Tuesday – Kat Von D Everlasting Lipstick in Project Chimps. Tuesday evening was spend having a traditional Thanksgiving dinner at Food At 52 courtesy of French's. We learnt how to make green bean casserole and traditional potato salad. Then we sat around the table for a hearty dinner followed by pumpkin and pecan pie. Delicious, and I was chuffed to see this brick red matte lipstick lasted me throughout the evening.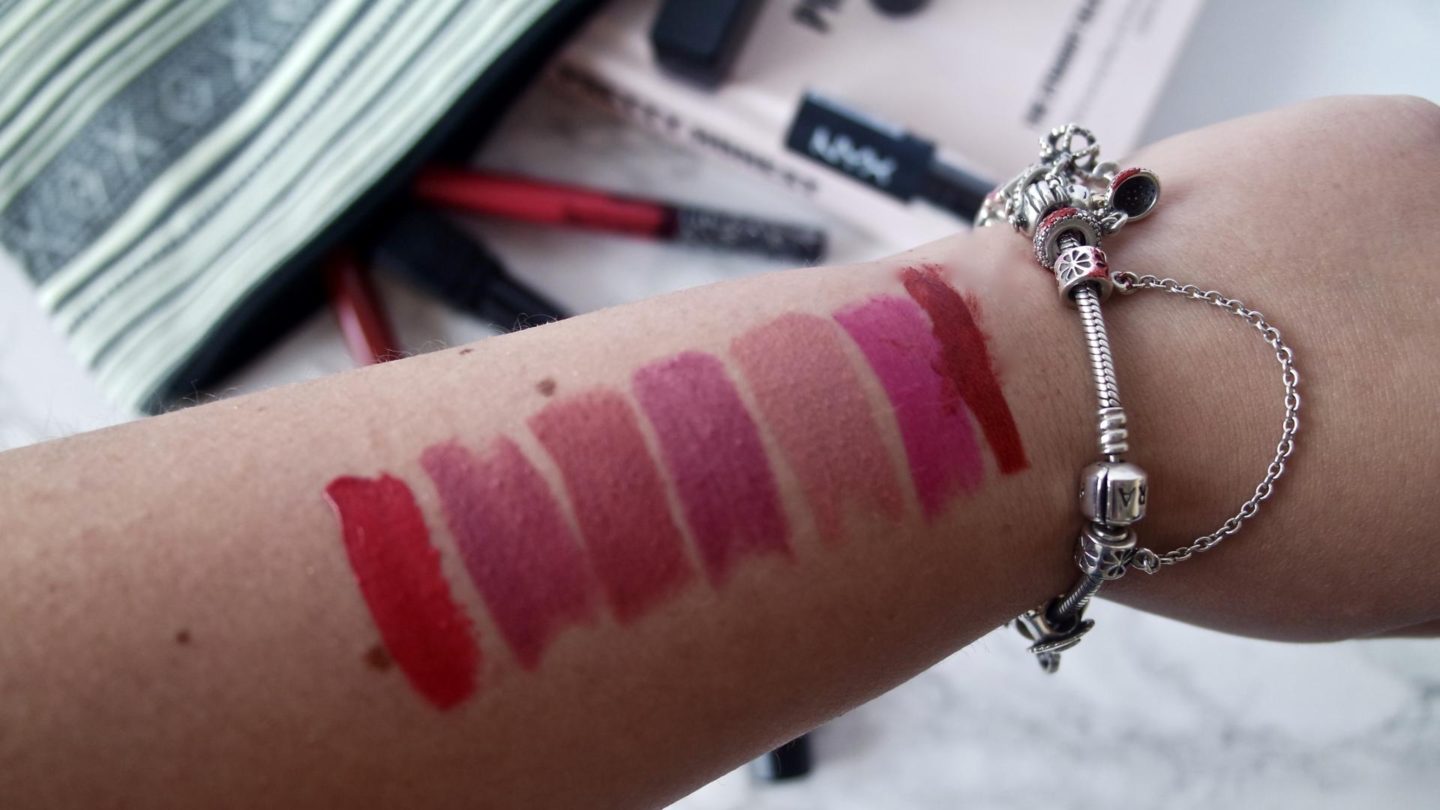 Swatches
This week (despite accidentally buying more lipstick) I managed to rediscover some old favourites and ones I haven't worn in a while in my collection. As I'd had the morning off today, I also made the point of sorting my collection. So hopefully there should be some different ones getting some love next week..
What lipsticks have you been loving this week?
Find me on;
Bloglovin' | Twitter | Instagram