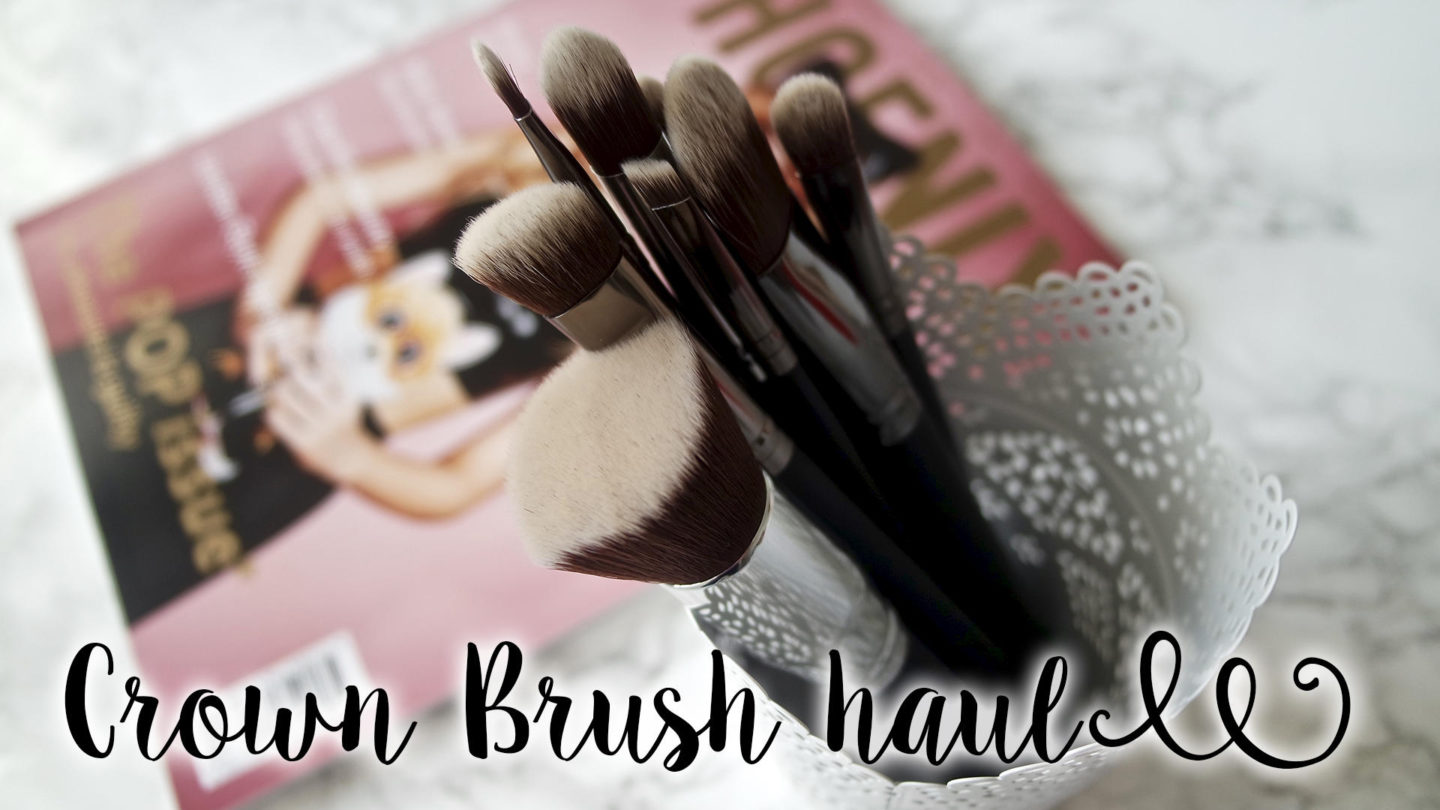 After discovering Crown Brush at the #BigBloggerConference last year, their Deluxe Crease Brush brush has been a daily part of my makeup routine. My makeup skills have definitely improved in that time, and yet I've still found myself reaching for the same brush whenever I want to create a smokey look. So when, as per usual, I spent Sunday morning binge watching makeup tutorials on YouTube I was itching to treat myself and after much deliberation I decided a little update my makeup brush collection was in order. Although I've got what could be described as an extensive collection of brushes, but when I was browsing Crown Brush's website I still managed to find lots of new cuts and styles. No mean feat to say the least. Eventually eight new brushes ended up in my basket.
Waiting patiently for the postie to arrive, I hoped that I'd love them just as much as my Deluxe Crease Brush. I thought I'd share with all you my thoughts on my haul..

C452 – Flat Foundation / Bronzer
A little larger than I'd normally choose for a foundation brush, but this little beauty makes building coverage on flatter areas like my cheeks and forehead a dream. Made with synthetic fibres, it's not only feels beautiful but is vegan too! RRP – £13.96.
C454 – Angle Contouring
Much like C452, the Angle Contouring brush is vegan and just as soft and gorgeous. While the Flat Foundation / Bronzer is ideal for larger spaces, this is fantastic for contouring the smaller, more precise places like the sides of your nose and hollows of cheeks. RRP – £5.36.
C466 – Infinity Oval Foundation
You can never have too many flat foundation brushes right?! This one is lovely and firm without being too stiff. I've found it ideal for applying more liquid foundations. RRP – £8.27.
C456 – Pointed Blender
You know I mentioned that I've been enjoying adding a brightening under eye concealer to my daily routine? This is ideal for blending it in. In fact, it's been excellent at making my concealer all together more naturally blended all round! RRP – £6.44.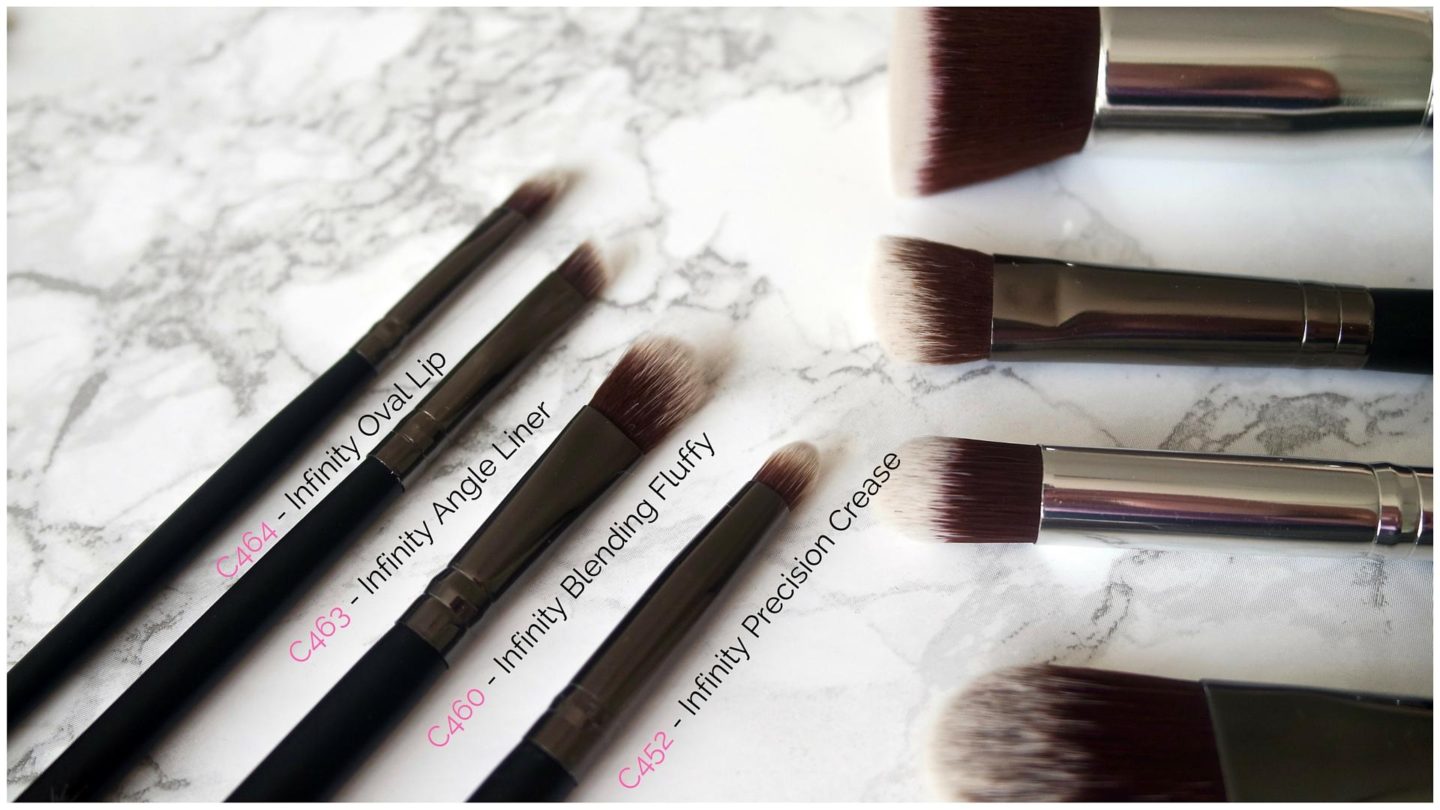 C464 – Infinity Oval Lip
You can't go wrong with a good lip brush right? Rather than my normal retractable one, I've actually found the long handle to be surprisingly easy to use. RRP – £3.21.
C463 – Infinity Angle Liner
Bad blogger confession time.. I've never got to grips with using an liner brush properly. However, as this is small and easy to grip, and while I'm not quiet and expert hopefully I'll have a little more success over time. RRP – £3.21.
C460 – Infinity Blending Fluffy
Much like my most loved Deluxe Crease Brush, this is a dream to work with. It's soft, fluffy and when it comes to creating smokey looks it gives my favourite crease brush a run for it's money. RRP – £5.36.
C461 – Infinity Precision Crease
You know how I mentioned I spent the day watching tutorials? One thing I've always want to perfect is adding the perfect under eye smokey look. While this little beauty hasn't quite turned me into NikkieTutorials yet, it's certainly helping me make a start. RRP – £3.86.
All in all I was, yet again, bowled over at the quality of the brushes. Not only that, most were vegan which is always a bonus. The were all so soft and gorgeous without a single disappointment, which is rare. Normally, whenever I pick up a new set, one gets unused or a little neglected. Maybe this is because I chose them myself? But still!
With each one costing less than £14.00, what more of an excuse do you need to update your collection?
Have you tried anything from Crown Brush before? What did you think?
Find me on;
Bloglovin' | Twitter | Instagram
*I was kindly allowed to pick a selection of brushes from Crown Brush for review. However, as always all opinions and thoughts are my own. For more information, check out my disclaimer.