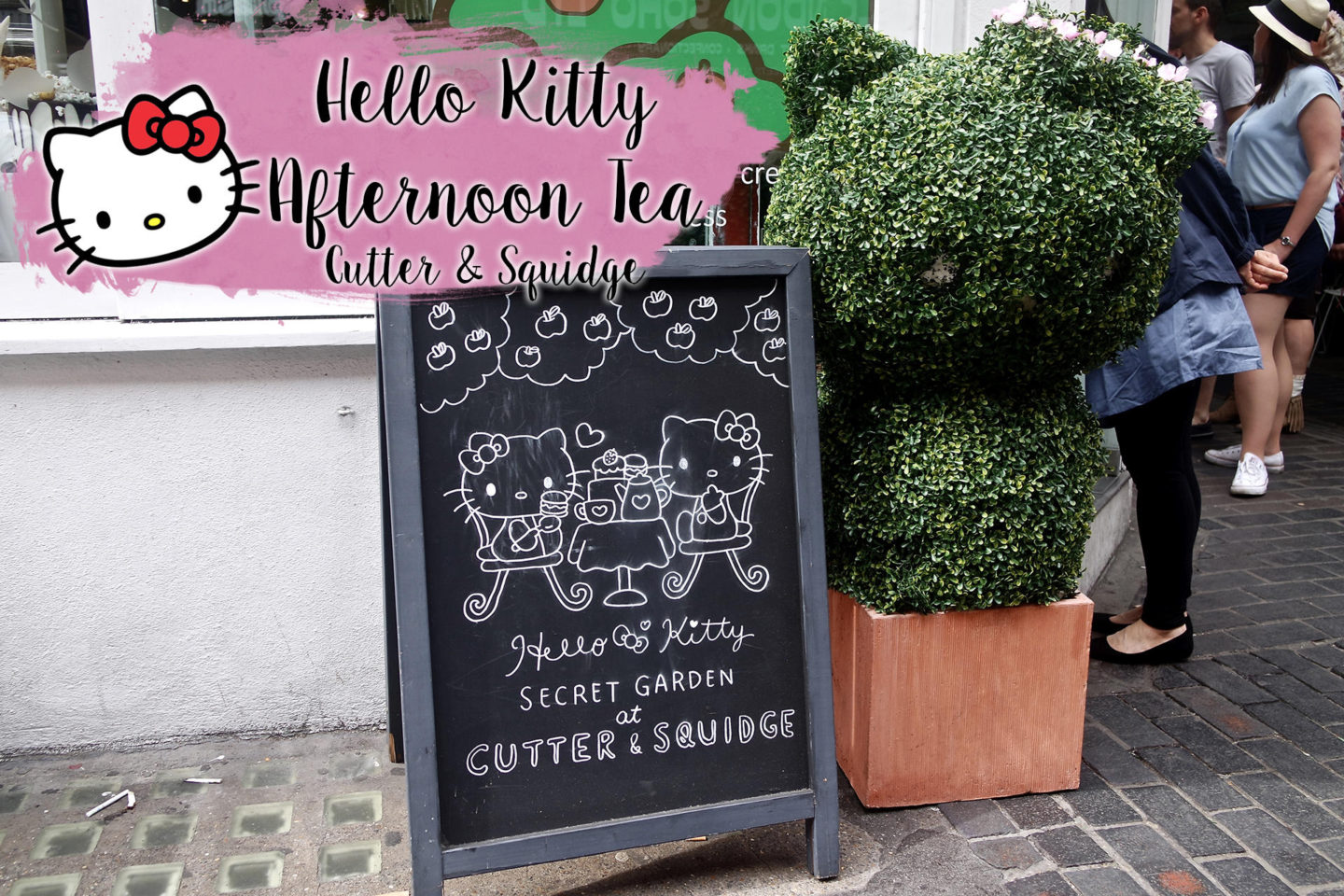 Growing up, I loved Hello Kitty. Now, even though I'm in my twenties, I've still got a soft spot for anything related to Sanrio's most famous feline. This is why, when browsing for another afternoon tea to go on with Amber, I let out an audible squeal when I saw Cutter and Squidge where doing a limited edition Hello Kitty afternoon tea. Thankfully, she was just as much of a fan as me and when we both had a free weekend, we booked a trip. As I'm a huge fan of afternoon tea, I had high hopes. I thought I'd write about if it lived up to my, albeit huge, expectations;

Cutter and Squidge, Soho
Located at 20 Brewer street, a short walk from Piccadilly Circus station, Cutter and Squidge is one of my favourite cafes in London. Best known for their delicious cake creations, soft serve ice cream and their biskies. Biskies, if you're wondering, are unique to Cutter and Squidge. They're a combination of biscuit/cookie/cake filled with buttercream and all manner of lovely things.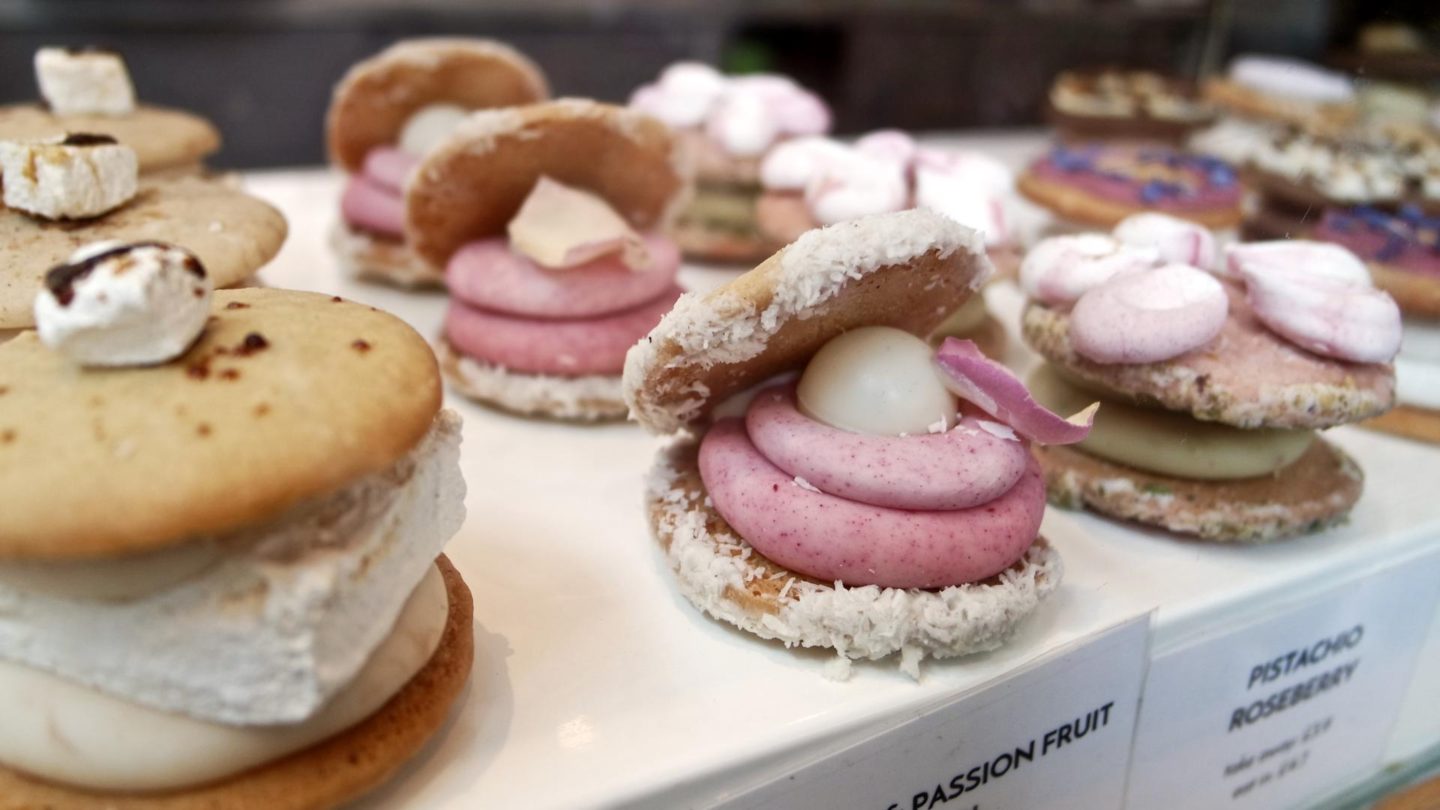 The Hello Kitty Collection
Until August 31st, Cutter and Squidge are collaborating with Sanrio to a whole host of Hello Kitty themed sweet treats to London. This includes ice cream cones, Dream Cakes, special editions of their gorgeous biskies and of course afternoon tea.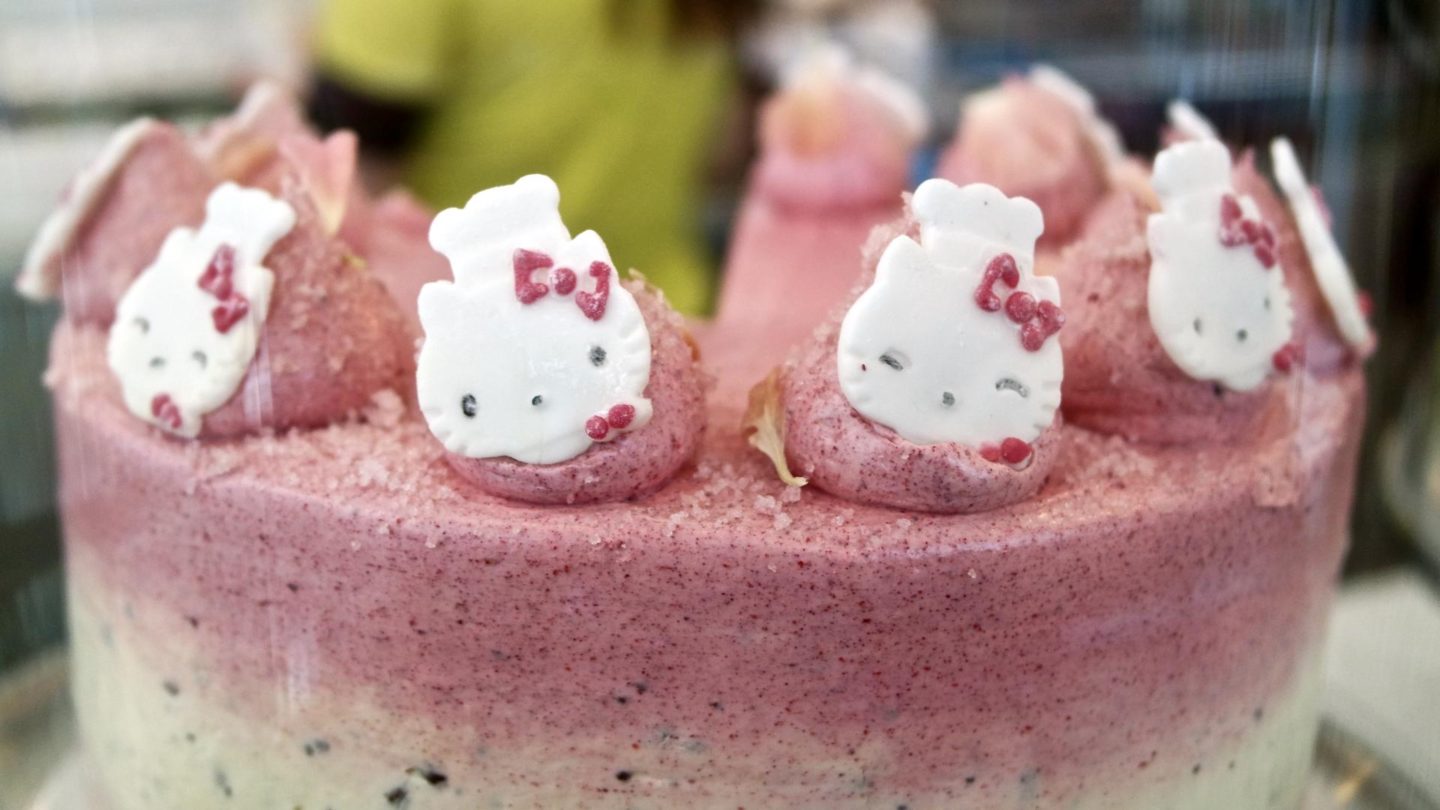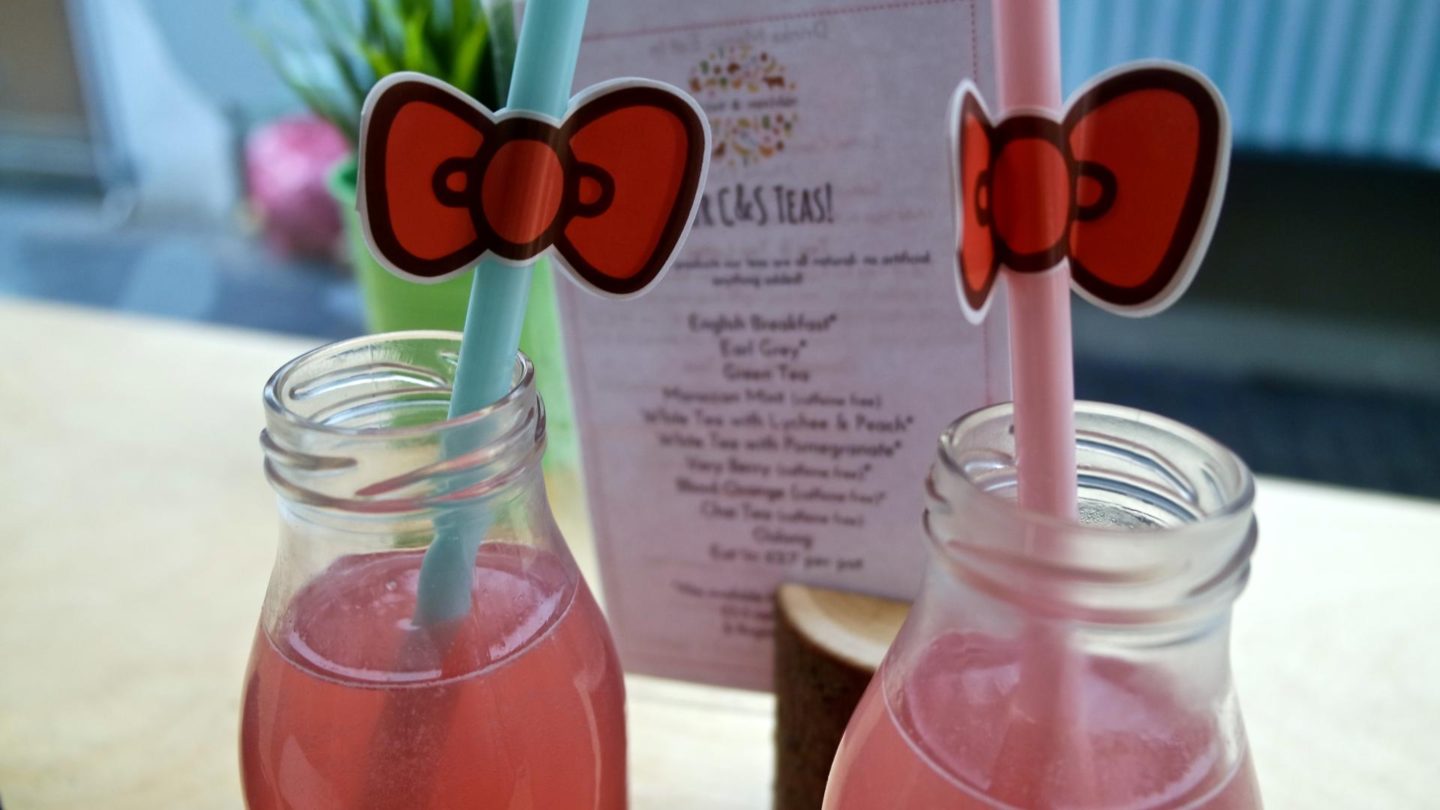 Unlike the other treats that can be ordered to eat in or take out, the afternoon tea is located in the secret garden in the basement. While we waited for our table, we were handed a bottle of pink lemonade. It was the perfect combination of sharp and sweet, ideal for a summer's afternoon. Also how cute are the Hello Kitty bows on the straws?!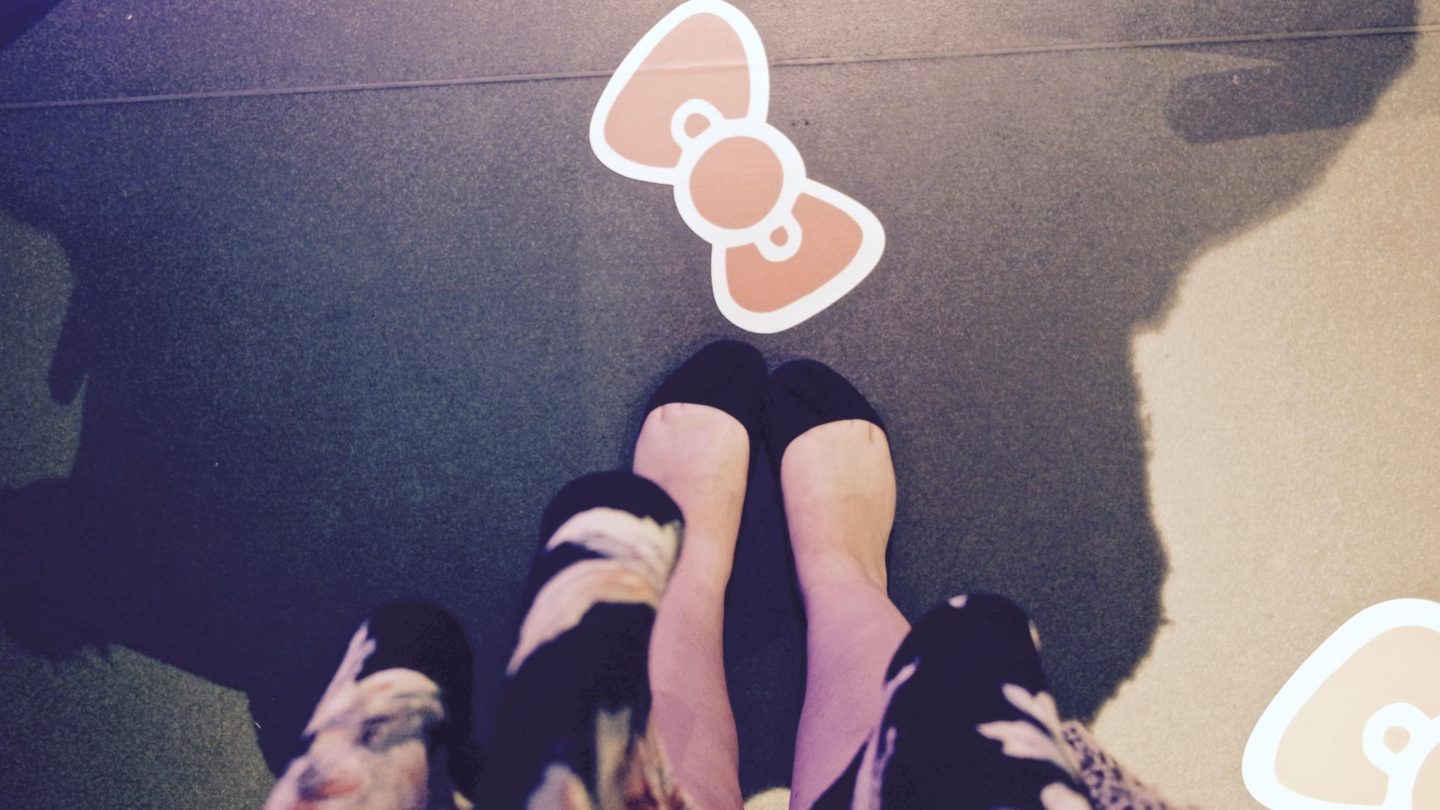 Thankfully, we didn't have long to wait. Before we knew it we were following the bows on the floor down to the secret garden..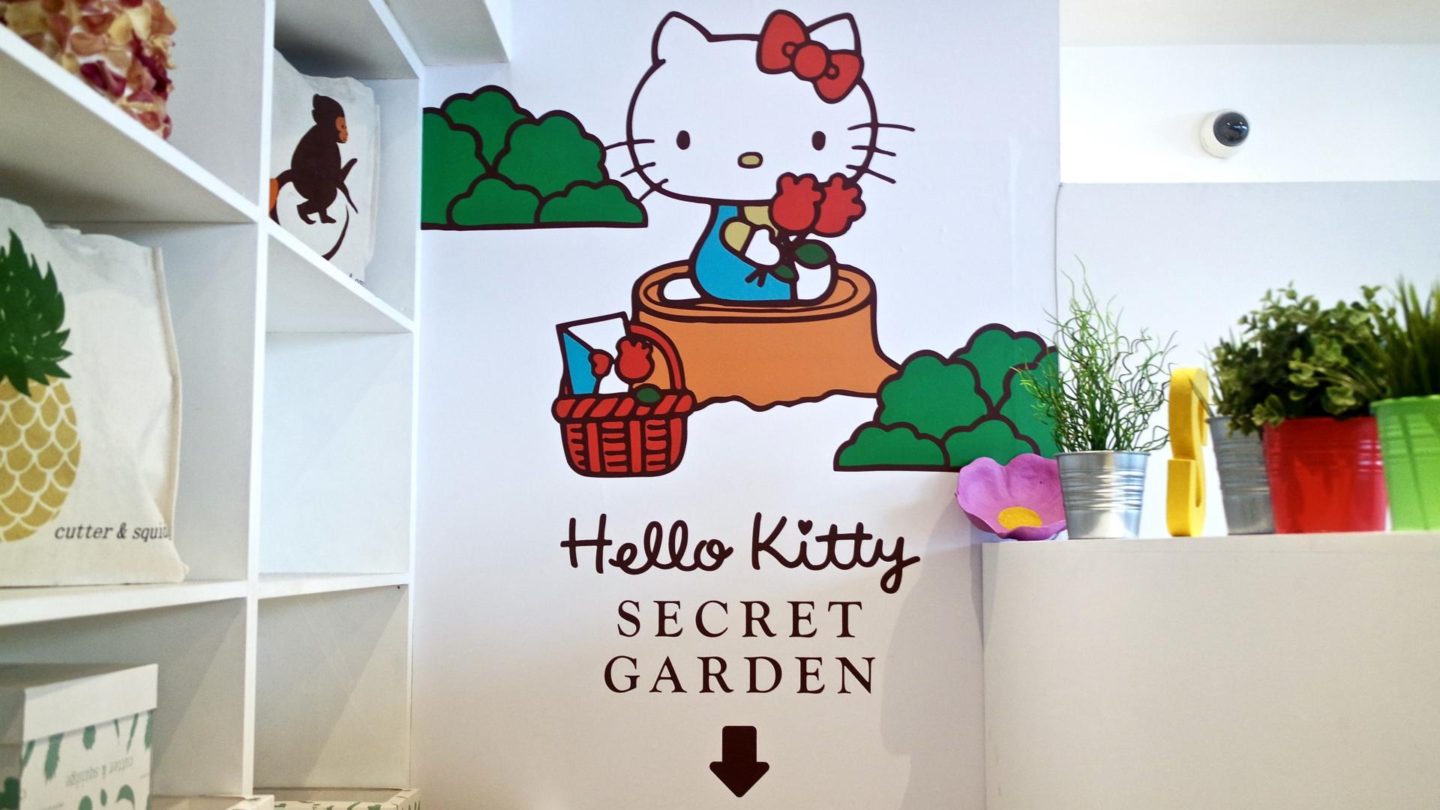 Hello Kitty's Secret Garden
I know when I heard the words "secret garden" I was expecting to be munching on my afternoon tea somewhere pretty, but Cutter and Squidge really have out done themselves. It's a magical area with flowers, fairy lights and of course apples all around the room. It really is a special and well thought out space.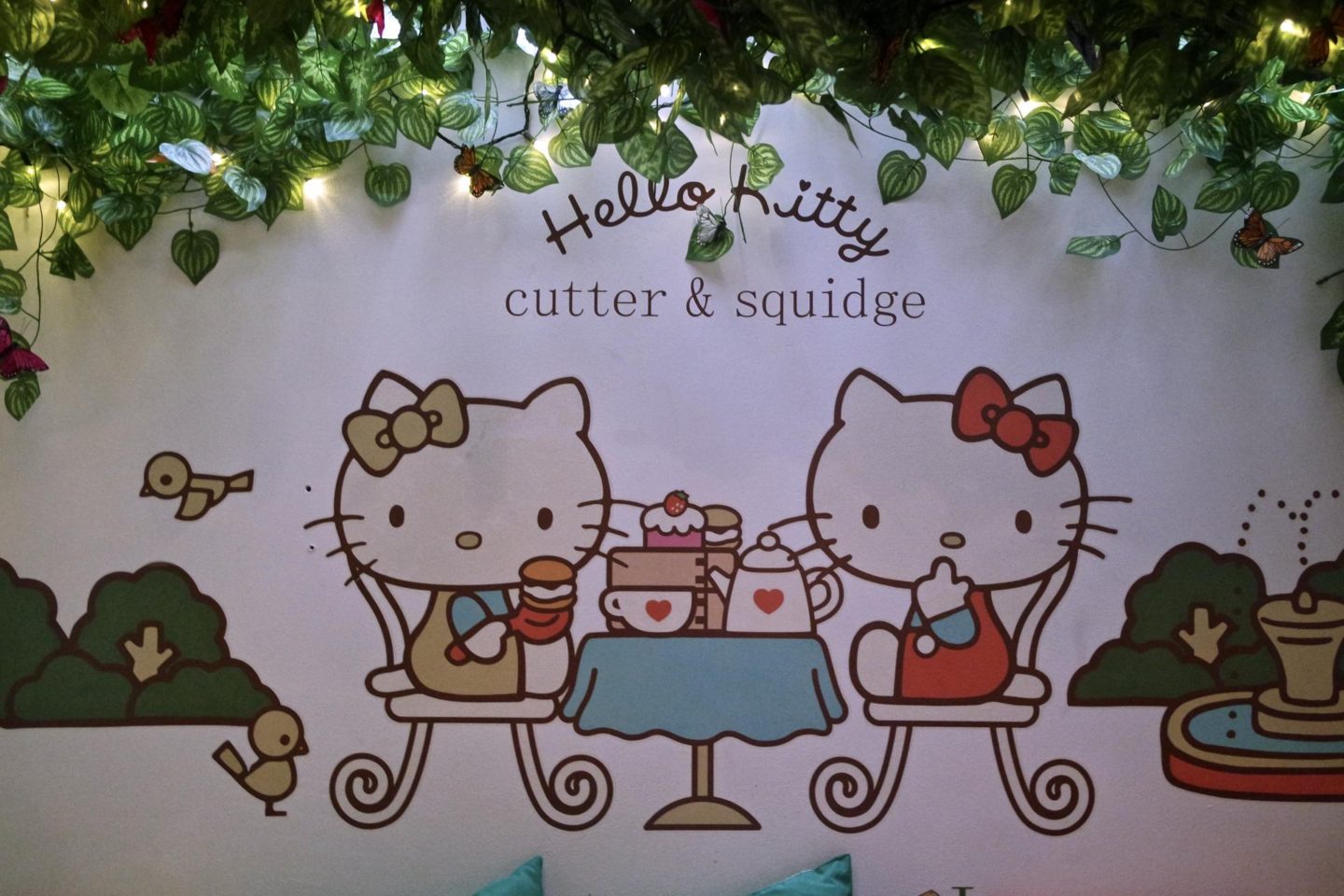 As I'm a bit of a perfectionist and being a Saturday it was busy, I didn't manage to get all the photos of the area I'd have liked to. However, it's an excuse to go check it out again right?!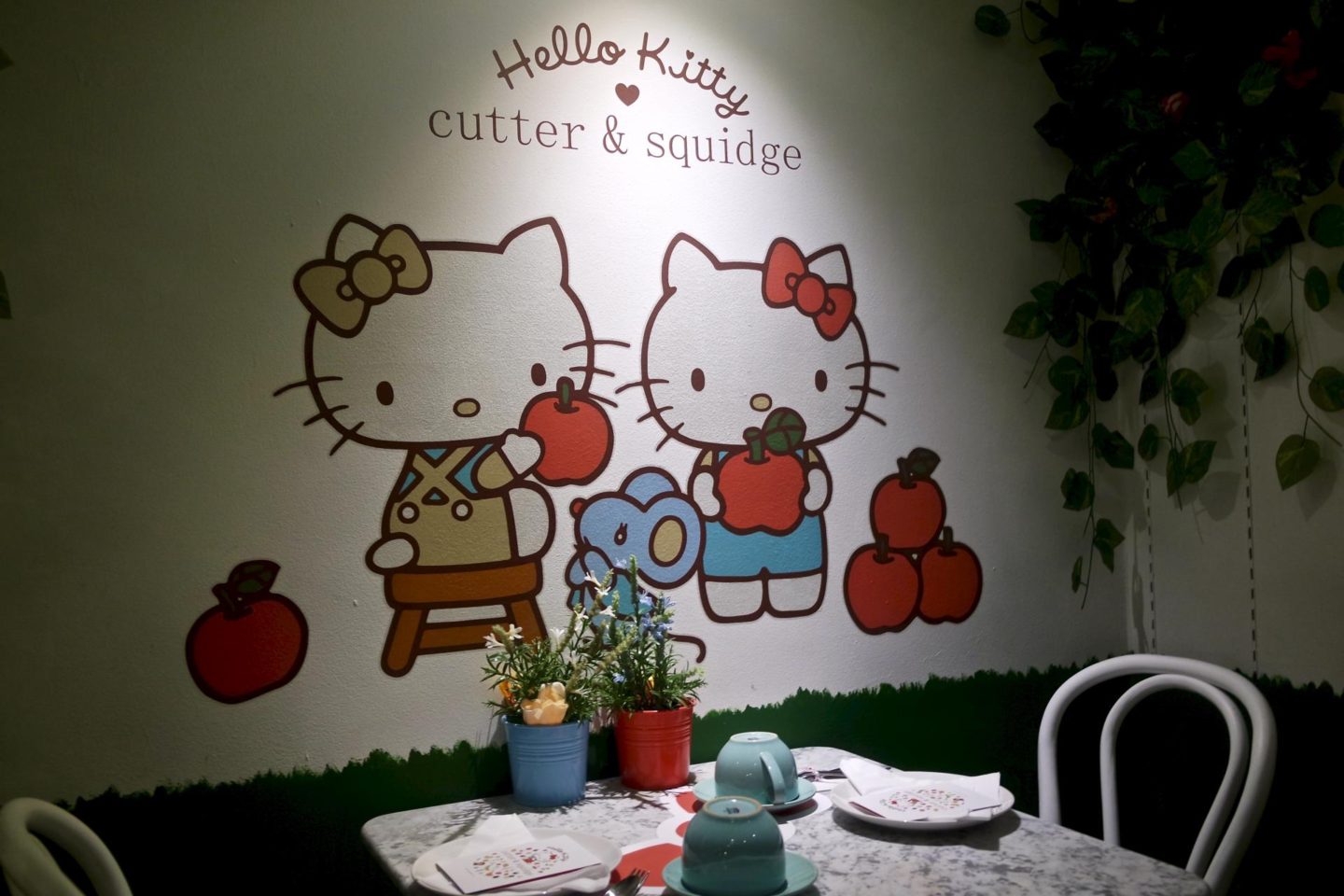 We took our seats, and after the initial "oh my gosh we're having Hello Kitty afternoon tea!" excitement, we looked over the selection of teas. I went for the limited edition apple pie one while Amber chose the classic English Breakfast. Mine actually did get the taste of warm cinnamon spiced apple pie just right, although it may be a little sweet for some people's tastes.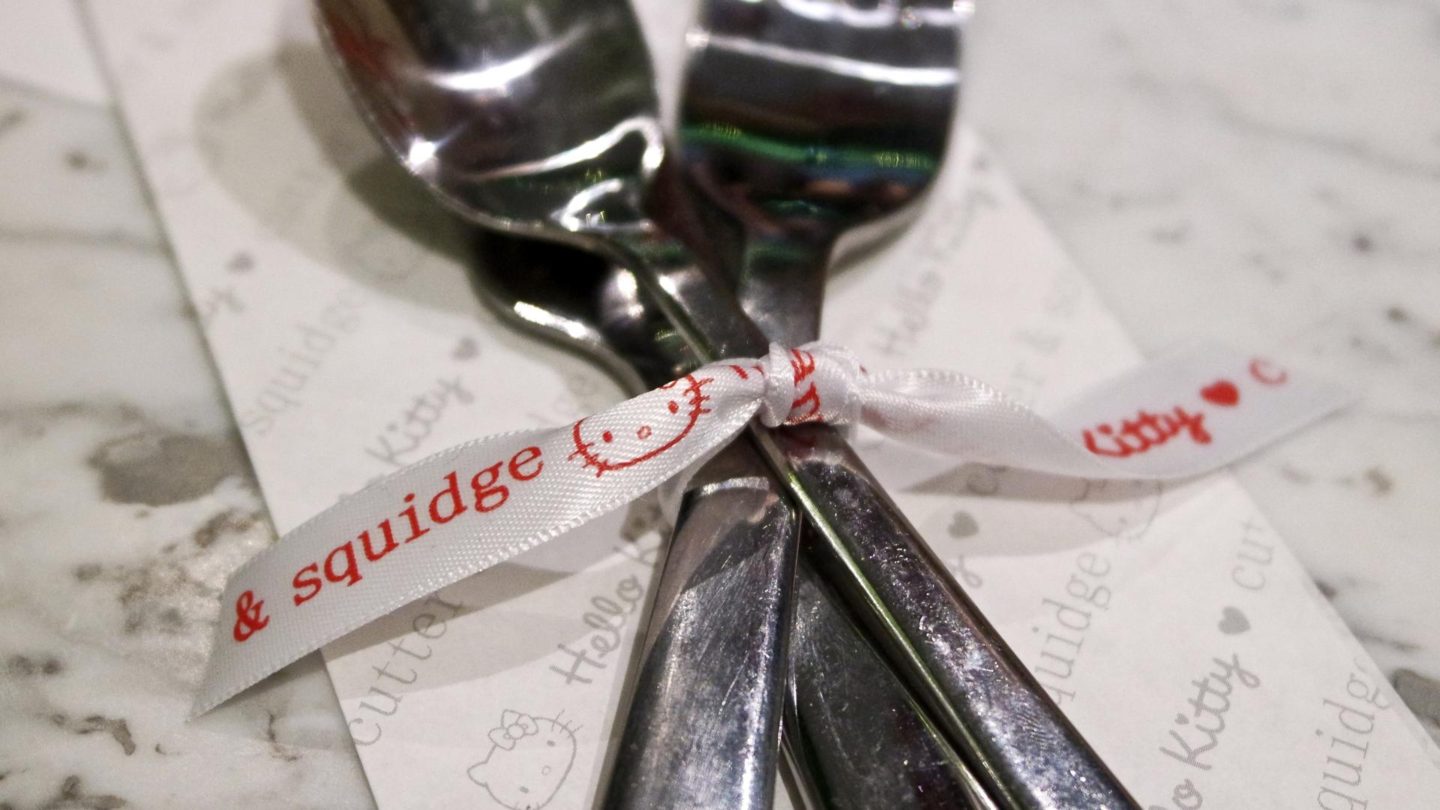 When I noticed that they'd even perfected little details like the bow around the cutlery, I knew we were in for a treat.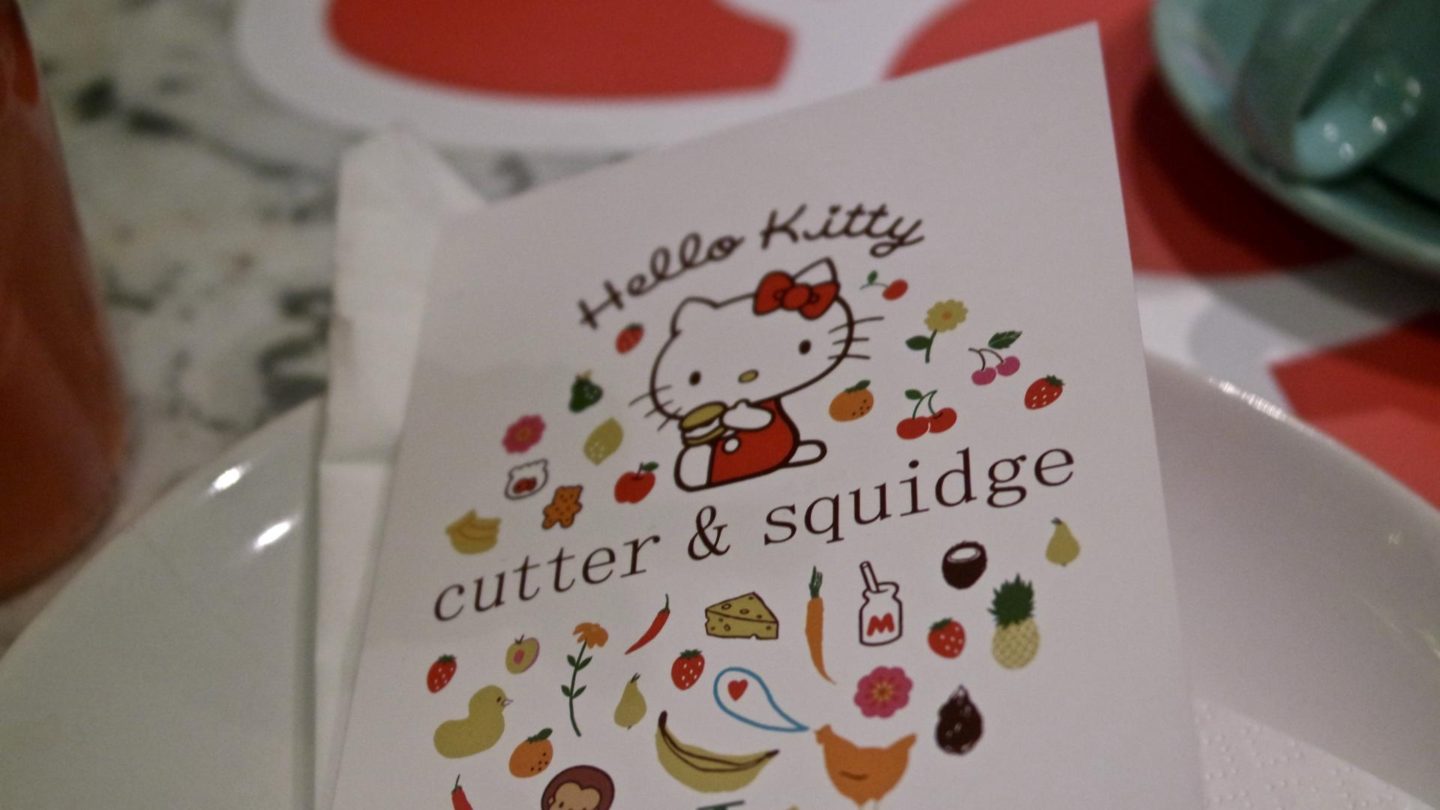 Hello Kitty Afternoon Tea
On to the main event, the afternoon tea itself. It arrived in 5 stacked bamboo steamers with plenty of yummy things in each and every layer. The bottom two steamers will filled with savouries, while the rest were packed full of sweet treats.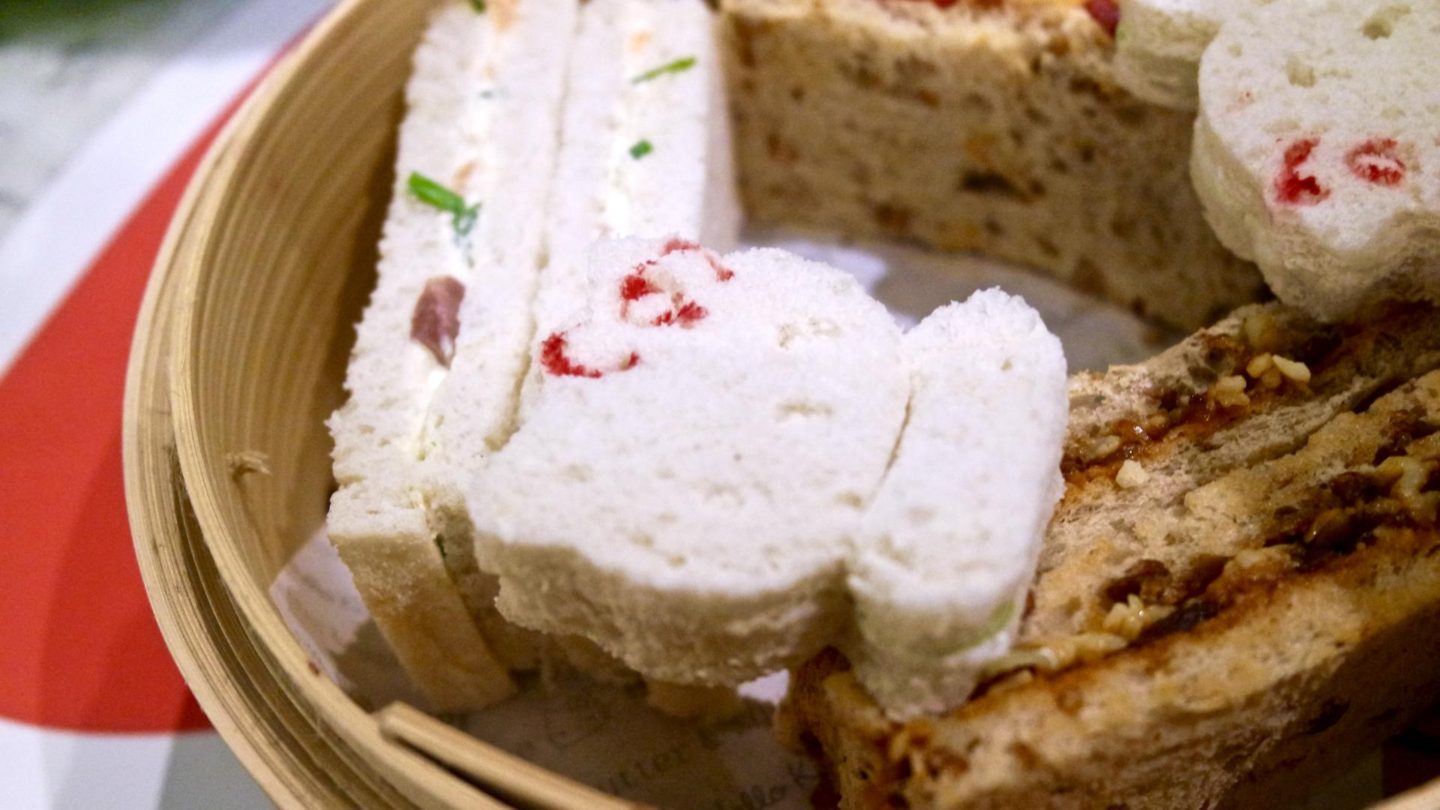 The Savoury;
The sandwich selection was pretty unique compared with what you'd normally find at a classic afternoon tea. (Aside from the way they're shaped..). The bamboo steamer contained a twist on the classic salmon sandwich, combined with chives and an altogether unique hummus and red pepper sandwich. Alongside this, they had the typical cucumber with cream cheese sandwich and cheese with pickle on brown. I've never would have thought to have hummus in a sandwich, but it was my favourite of the bunch.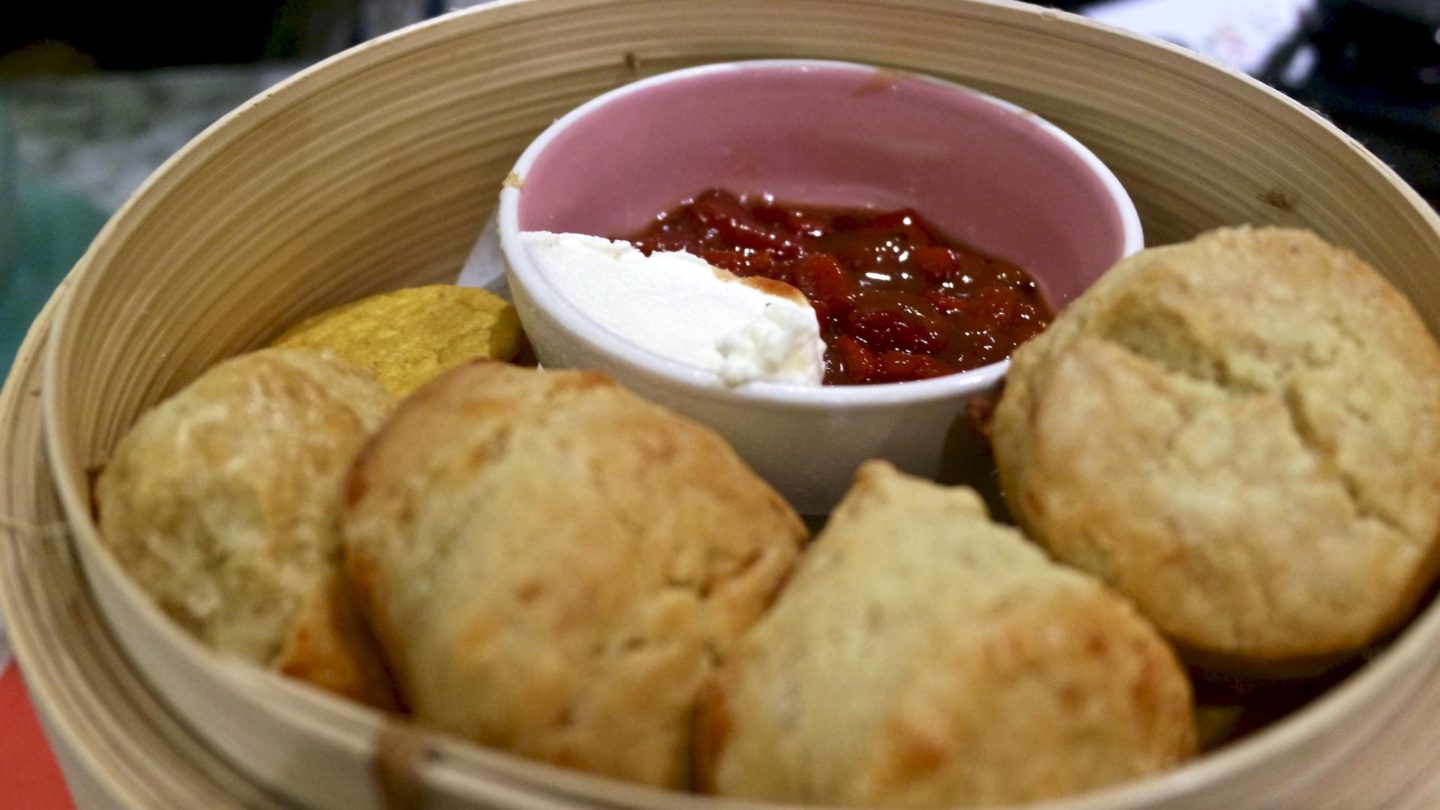 Normally scones are reserved for the sweet section of afternoon team. However, Cutter and Squidge have defied the convention and instead of fruit scones with cream and jam, they've included cheese scones with cream cheese with red pepper relish. Delicious, but still don't solve the age old "jam or cream first" debate. FYI – in my opinion either way is good.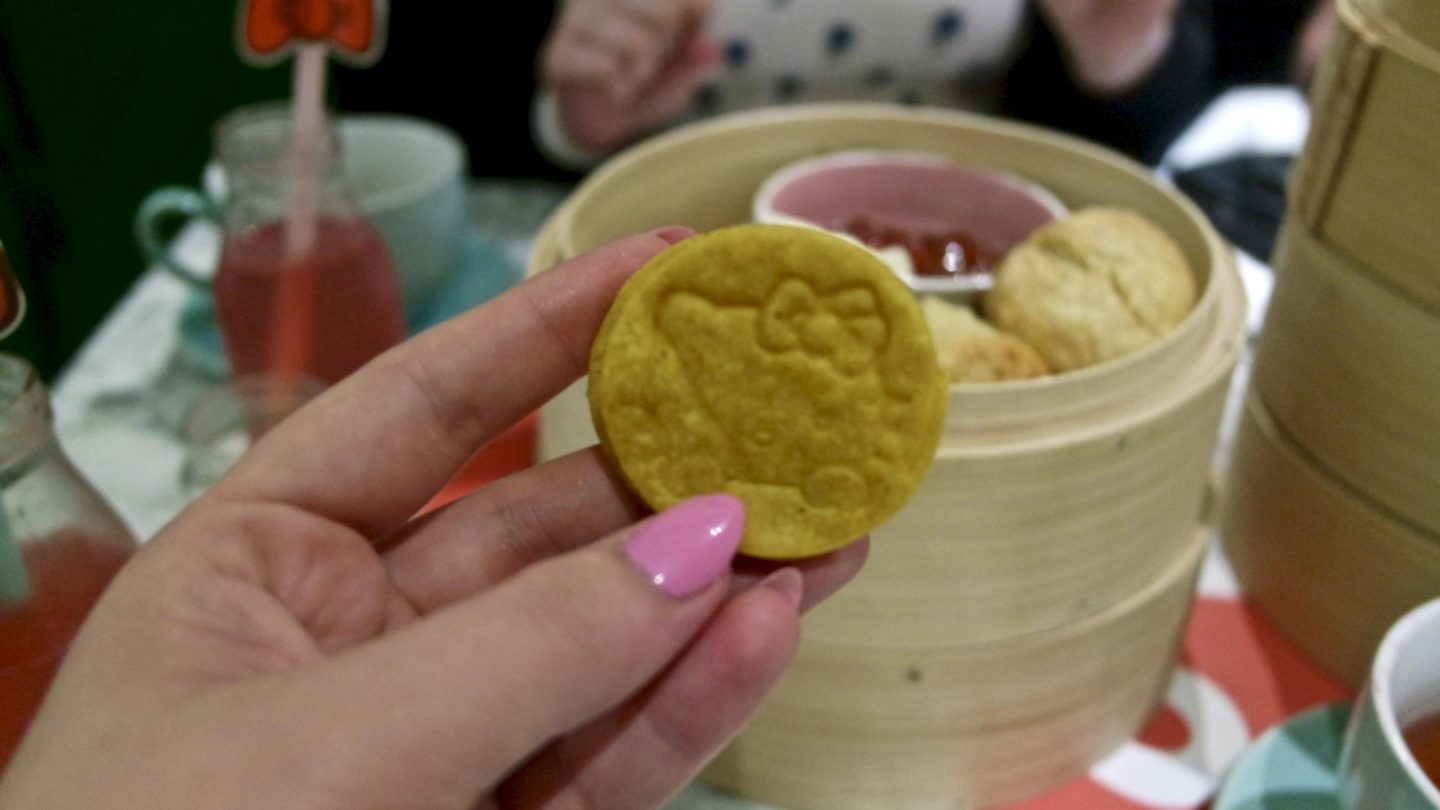 Keeping the scones company in the bamboo box are Hello Kitty stamped coronation crackers. Yummy little bite sized sweet chili and cheese biscuits.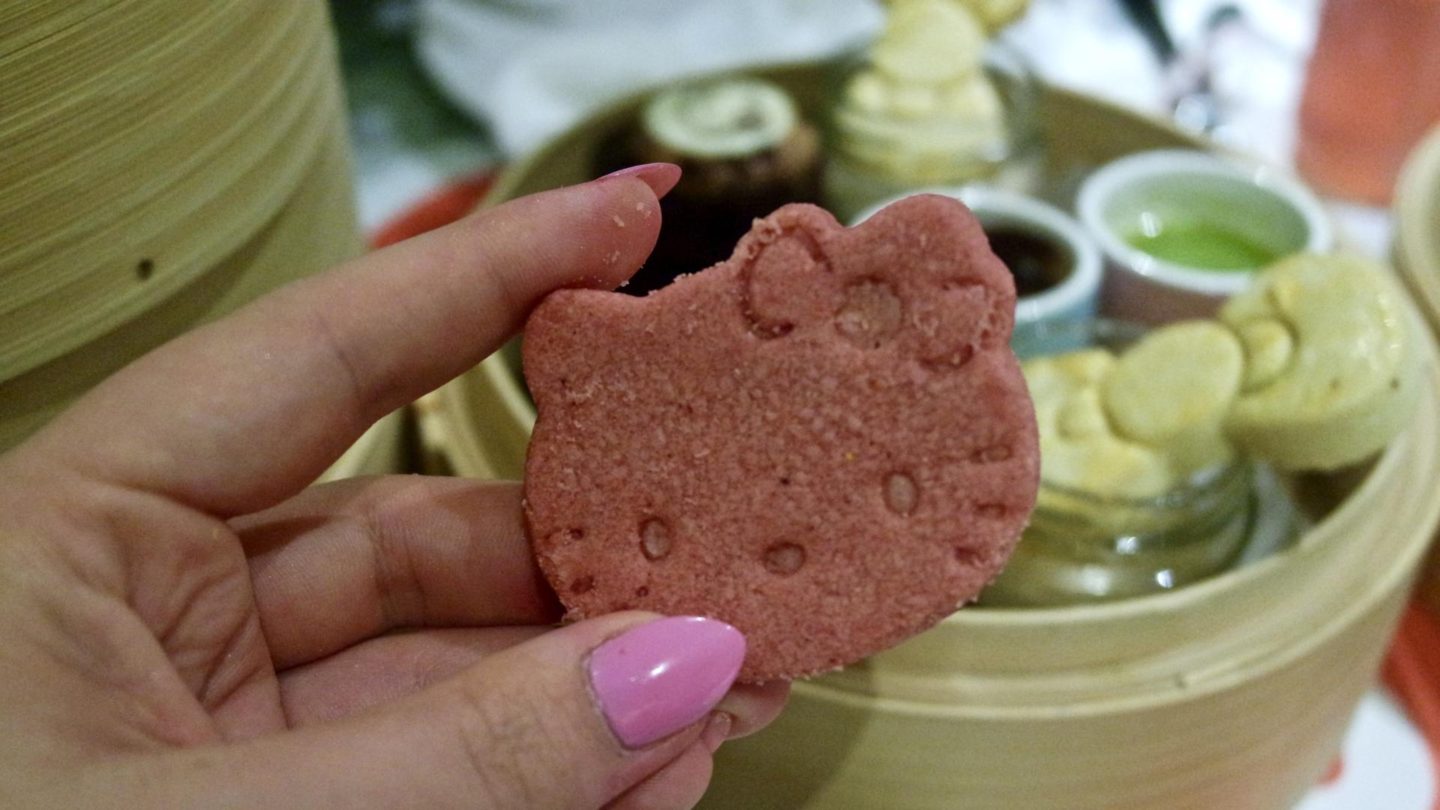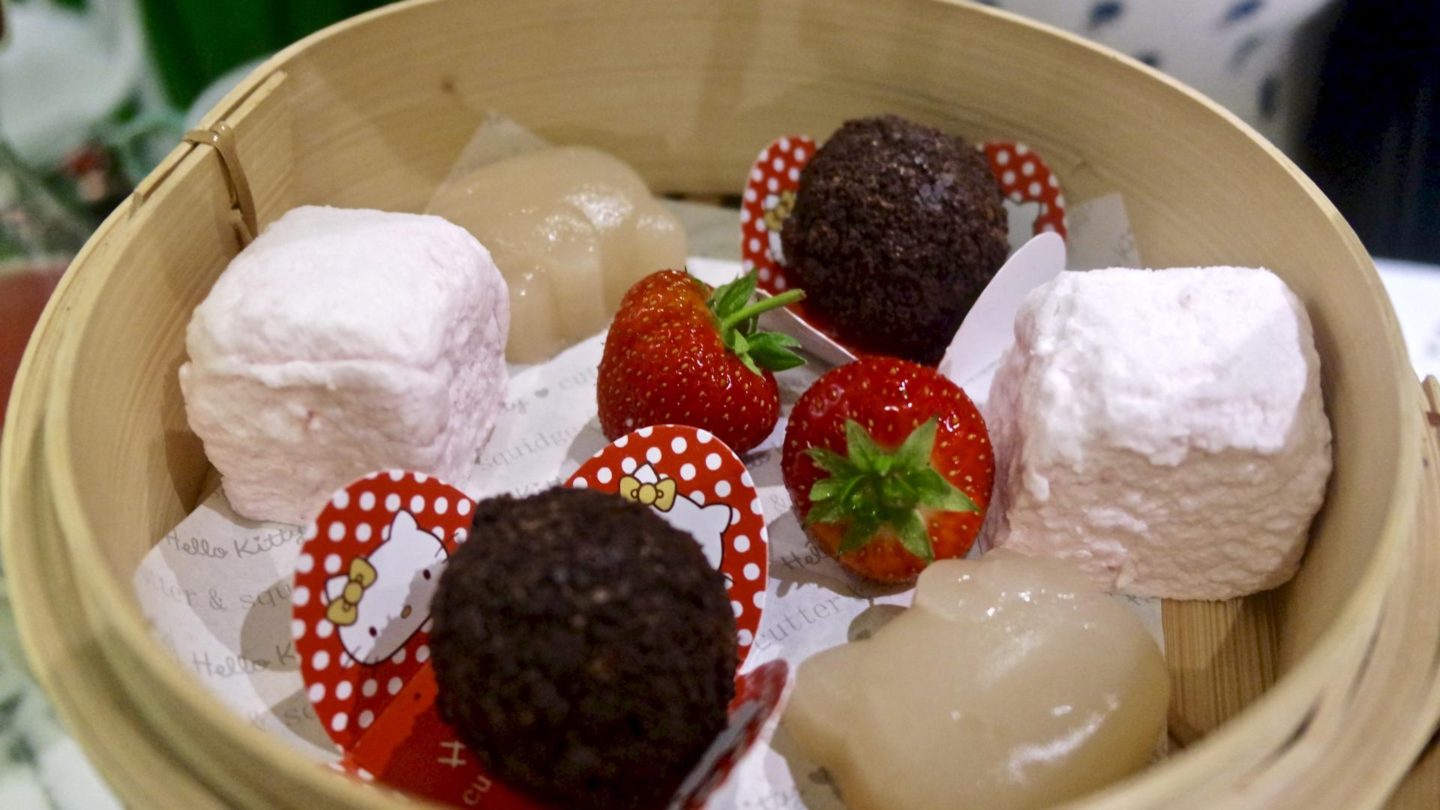 The Sweet;
Arguably, the best bit of any afternoon tea. For the Hello Kitty afternoon tea, Cutter and Squidge had three baskets full of goodies. With everything from pink lemonade marshmallows, chocolate mud pie, to apple pie with cinnamon mousse topped with a biscuit bow.
Even though a few bits (for example the jelly kiss) weren't quite up my street, everything just fitted the theme perfectly. It was fantastic to see editions such as chocolate dips, cookies and of course a Hello Kitty biskie. There really was something for everyone.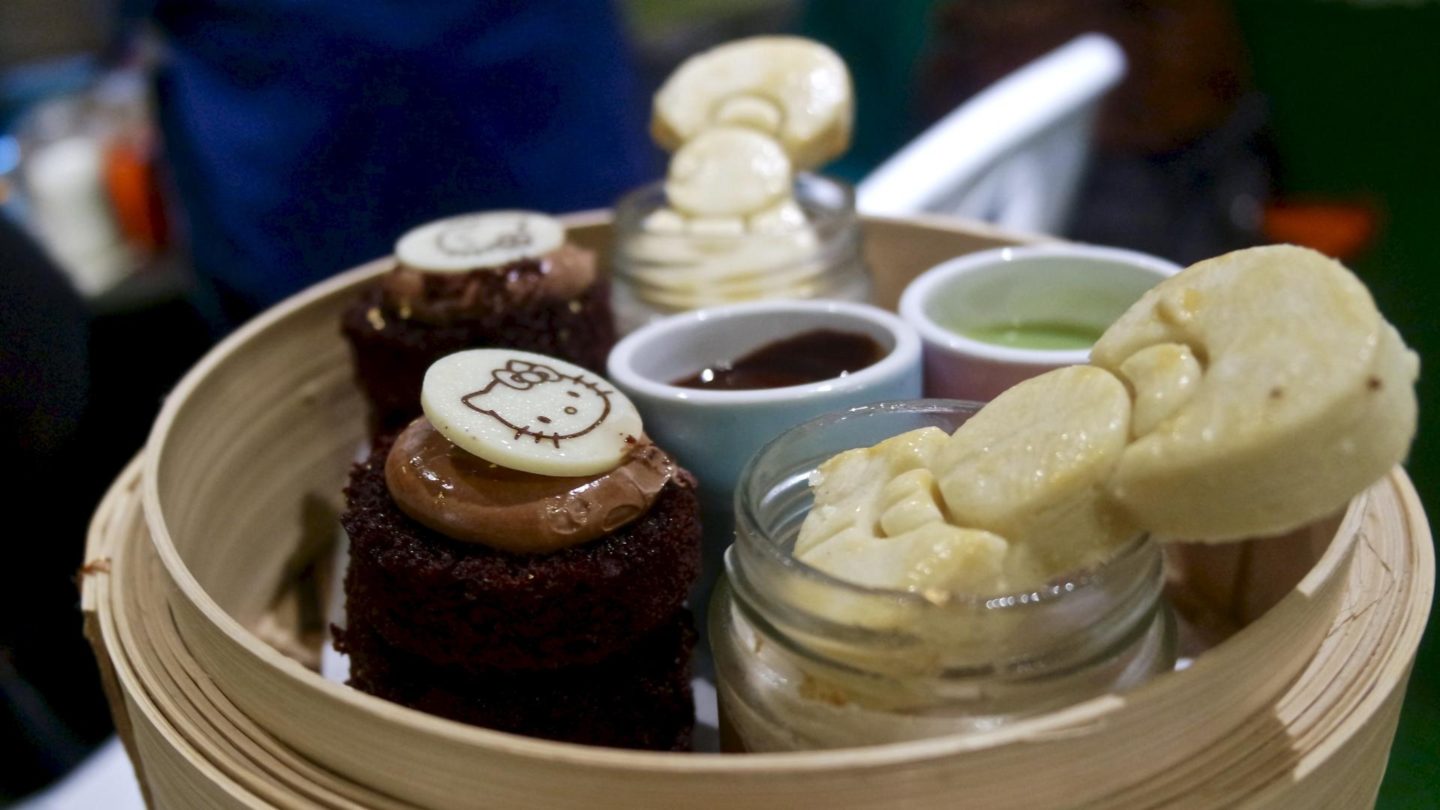 Hello Kitty afternoon tea is on the menu at Cutter and Squidge until the end of August. If you want to try it for yourself, it's £40 per person with unlimited refills. Places are limited to it's advisable to book online.
Where's your favourite place to go for afternoon tea?
Find me on;
Bloglovin' | Twitter | Instagram