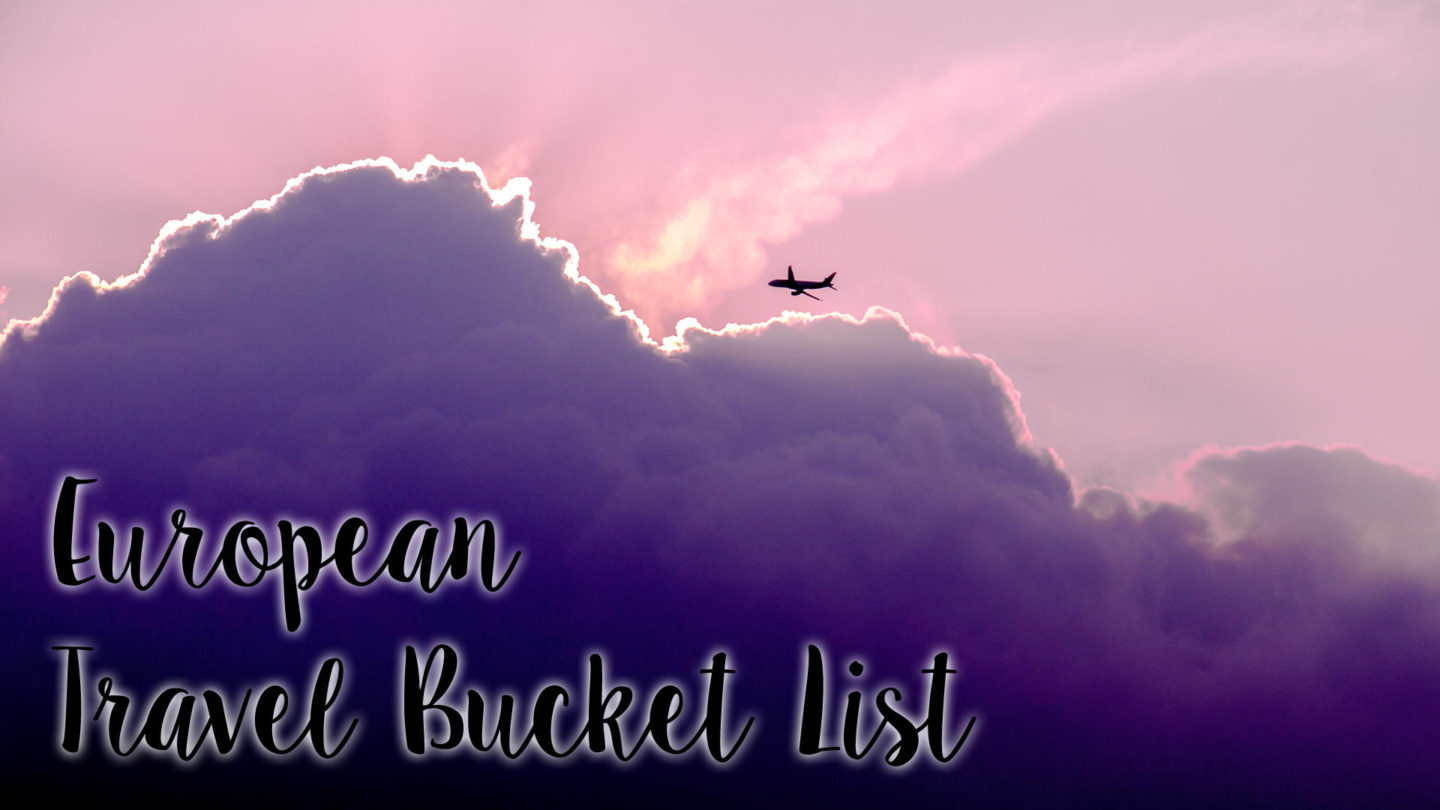 One of my aims for 2016 was to spend less money on material things and more on seeing the world. To be completely honest, with a few unexpected expenses this plan hasn't gone anywhere near as well as hoped and I've found myself spending the first half of 2016 without leaving the UK. Although this originally got me a little down, I recently found out I have around 3 weeks of holiday left to use before the end of the year and that alone has left me itching to book a holiday or two. While my budget currently doesn't quite stretch to long haul flights to the more far flung destinations I've dreamed of going, I thought starting with more local European places may be the best way forward. So, here are five locations I'd like to visit over the next year and why;

Paris – France
Despite being single at the moment, the city of love is still top of my European to do list. I have visited Paris several times as a child but because of my age I never truly appreciated the surroundings (or the fantastic food or wine!). Now I'm a little older I'd love to go and be a typical tourist at the Arc de Triomphe, Notre Dame and of course the top of the Eiffel Tower. As well as exploring the city, I'd like to pay a visit to Disney Land. My last time I went it was a school coach trip and it wasn't all I'd hoped, so I'd like to visit again and experience some of the Disney magic. Plus they have Sephora, which needs no explanation really..

Amsterdam – Netherlands
Another destination on this list that I've visited before. As I mentioned in a round up of my favourite blog posts last month, Ami & Becky's photos from their adventures to Amsterdam has got me itching to book a return trip. My last trip to Amsterdam was on a bargain mini cruise along with some friends from university and the amount of culture we got to experience was minimal. Along with the limited time in the city, my sea-sickness after a rocky crossing put a dampener on things. I'd love to give the city another chance and pay a visit to some of the museums such as Anne Frank's house.

Venice – Italy
Despite being a big fan of Italian food and wine (and prosecco, obviously..), Italy still hasn't made it off my to do list. Although I would love to see Rome, Naples and Milan; one city that really stands out to me is Venice. I adore spending time by the waterside, so I'd love to spend a day or two exploring the city's many canals. Whenever I look at photos, I can't help but notice that the architecture looks truly incredible. As a bit of a property nerd, I spend far more time admiring gorgeous building than I should do. Plus, the idea of a Gondola ride sounds great fun..

Copenhagen – Denmark
As I have family in Denmark, I have been lucky enough to experience some of its wonderful towns and cities before. However, my favourite of these is Copenhagen. The Nyhavn waterfront is just so picturesque that I can't wait to explore there again on a sunny day. Aside from this, the city is home to Tivoli Gardens the second-most popular seasonal theme park in the world. While it's not as full of thrill rides as the likes of Thorpe Park, Tivoli Gardens is a beautifully curated set of gardens and attractions. Unlike most other parks, you can choice to either buy a ticket to the gardens themselves or upgrade for unlimited access to the park's rides. I can't wait to plan a return trip.

Santorini – Greece
I wouldn't be a real blogger if I didn't mention Santorini on this list, would I? After seeing photos of the beautiful white houses and blue sea all over my Instagram feed I've been lusting after a holiday to the Greek island. Despite being a big fan of sunshine filled holidays, I've never visited any of the Greece before. So even if Santorini is out the question this year, I'd at least like to experience some of Greek culture.
Well that's the five locations that are top of my European travel to do list, hopefully I can tick some of these off sooner rather than later. If you've visited any of these locations, any recommendations for areas or things to do? Or I'd love to read your blog posts on them – please link me!
Where's on your travel bucket list?
Find me on;
Bloglovin' | Twitter | Instagram
Due to the nature of this post – stock photography has been used.