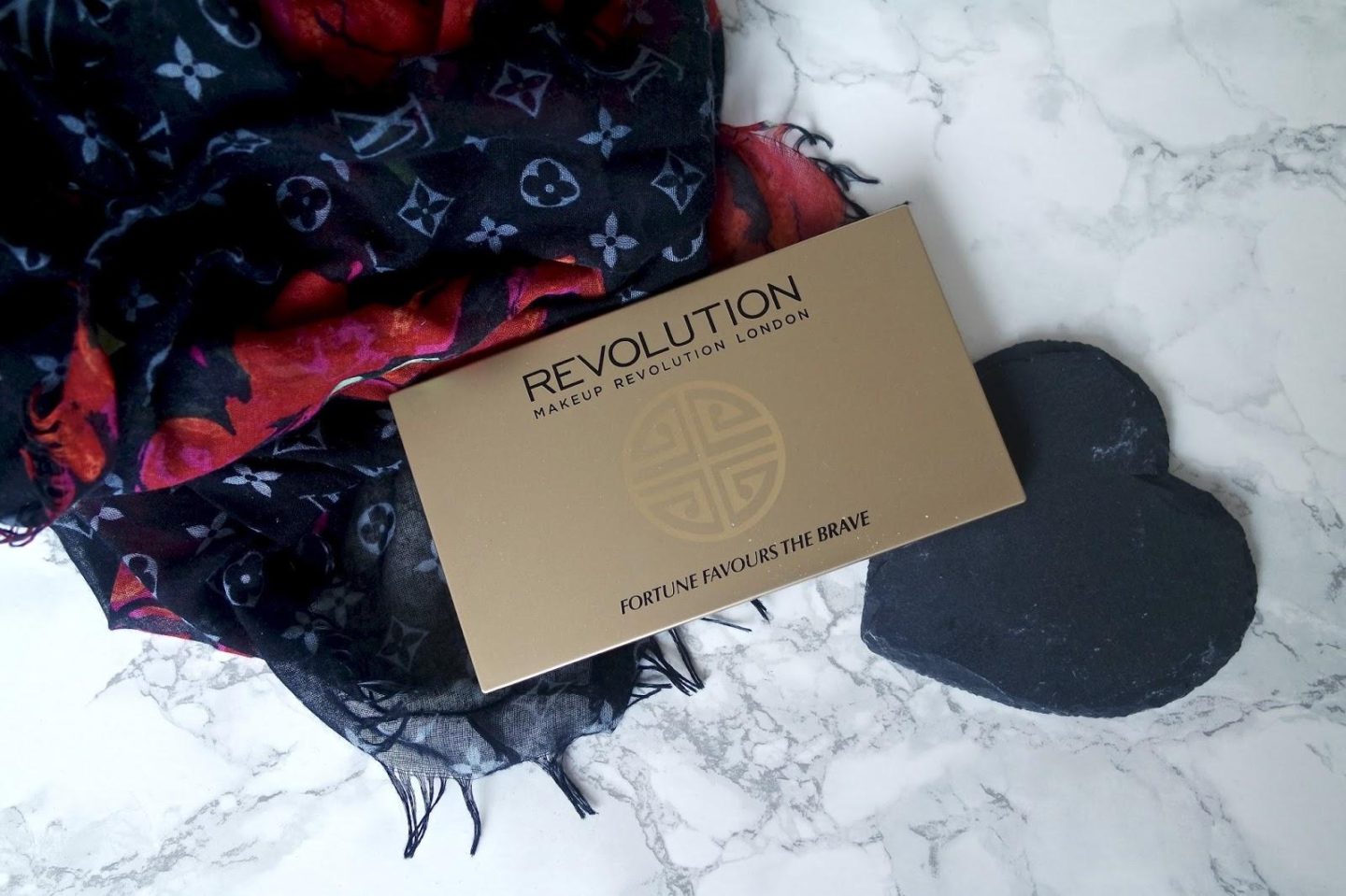 Recently, despite still being a makeup hoarder, I've fallen out of love with budget beauty brands. It's not that I had one particular bad experience but more I realised I'd rather pay thirty-odd pounds for a palette I know I'll love and regularly use, than buy 5 that I risk laying around unused just because they were a bargain. However, when I saw that one of my all time favourite bloggers, Jane aka British Beauty Blogger, had collaborated with Makeup Revolution I knew I'd have to pick it up. The palette, Fortune Favours The Brave features 30 shades hand picked by Jane designed to be suitable for makeup lovers of every age and skin tone.
First things first, the palette looks completely different anything that is currently in Makeup Revolutions arsenal. Rather than the normal black casing and rose gold logo, Fortune Favours The Brave is a dull gold featuring the Chinese symbol for good fortune. Although black and gold is a classic combination, I feel that this has a more premium look to it than previous Makeup Revolution offerings. Although, the outside isn't the only thing making this palette unique; inside the thirty colours surround a double ended gold and black brush that isn't dissimilar in shape to ones found in the Iconic Pro palettes. Normally, their palettes of the same size contain 32 shadows and no brush – personally for the sake of travelling, I prefer to have lost two shades to make room for this.


With the aesthetics out the way, on to the shadows themselves; at around 33p per shadow the value for money is insane, but then again, same could be said with most Makeup Revolution palettes. The selection of shimmers, mattes and sheen shades mean that there really is something for everyone, and a great place for anyone wanting to experiment with creating smoky looks to start. Jane has really done a fantastic job at picking a versatile range of colours and despite there being a few that I can't see me ever hitting the pan on, I have been having a great time experimenting with it. My favourite being the marbled colours which really do pack a shimmery punch. While not every shade is as pigmented as I'd have wanted, namely the matte base shades which need the help of a good primer to be effective, the deeper colours and shimmers certainly make up for what they lack. (Side note: I'm a huge fan of the decision to have lots of greens and purples in mix, they work really well with green eyes and you rarely see such a stand out mix).


Although I can't see myself using Fortune Favours The Brave every day, I'm glad to have it in my collection if only for those gorgeous marble colours. A great one for popping in your bag for a night away, and one I'll be using when I next go on holiday. If there's one negative, despite the shadows included being both blend-able and build-able, they really do only begin to shine to their full potential using a primer or fixing spray (or both). Then again, I rarely miss either of these steps out of my routine anyway. Has Fortune Favours The Brave changed my mind on buying from budget brands? Almost, well it's certainly made me excited to see what collaborations Makeup Revolution have in the pipeline for the future..
Have you tried Makeup Revolution's Fortune Favours The Brave Palette? What did you think?
Find me on;
Bloglovin' | Twitter | Instagram