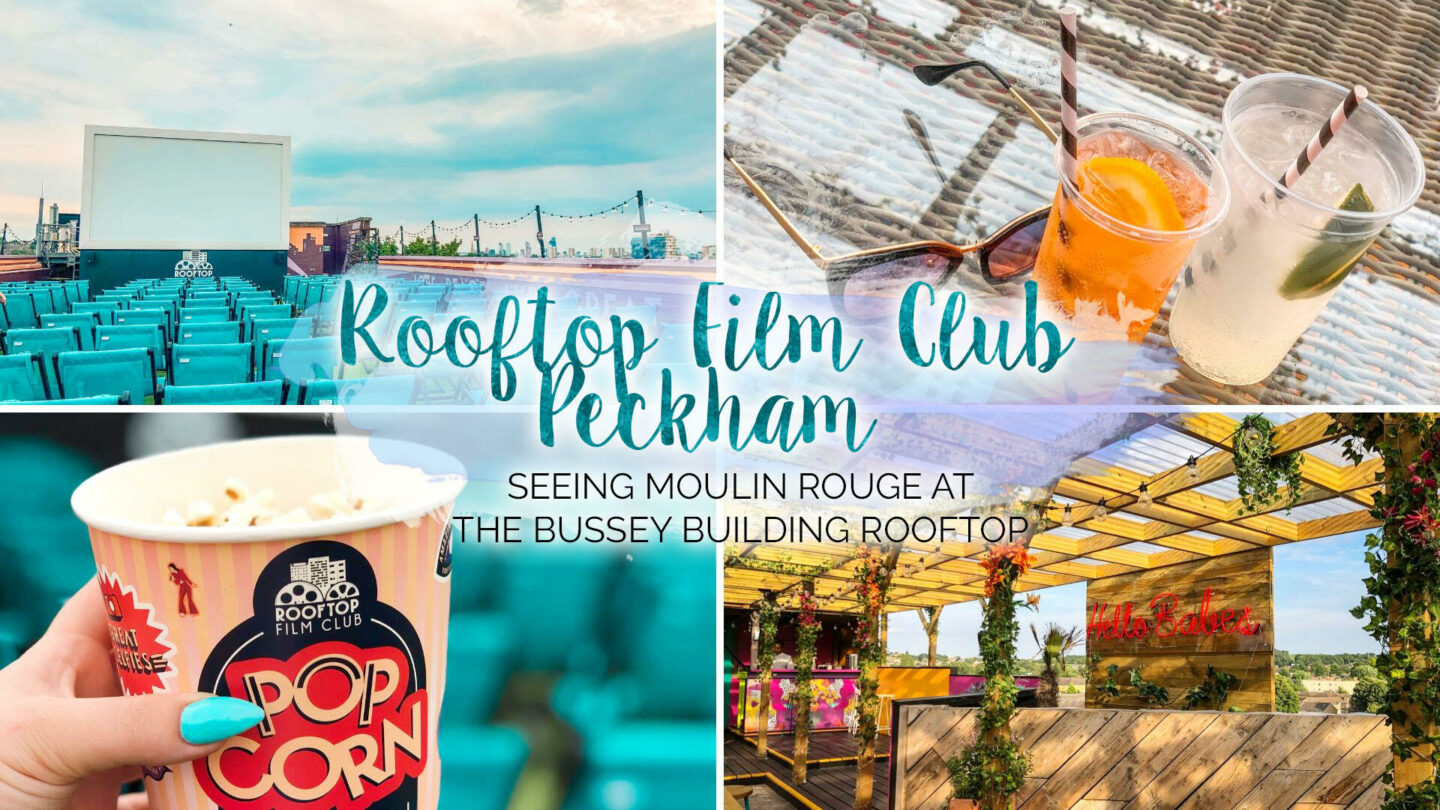 Two years back, my good friend Sophie invited me along with her to see La La Land at the Bussey Building in Peckham. Admittedly, our last visit didn't go entirely to plan, with issues with delays in the film starting combined with our own time restraints. (These were due to both of us living on the other side of London!) But, we still enjoyed ourself so were keen to see what changes and improvements had been made to their Bussey Building site over the past few years. With Sophie soon to be moving out of London and Rooftop Film Club kindly offering her some complimentary tickets. Well, it seemed like a lovely way to spend an evening together!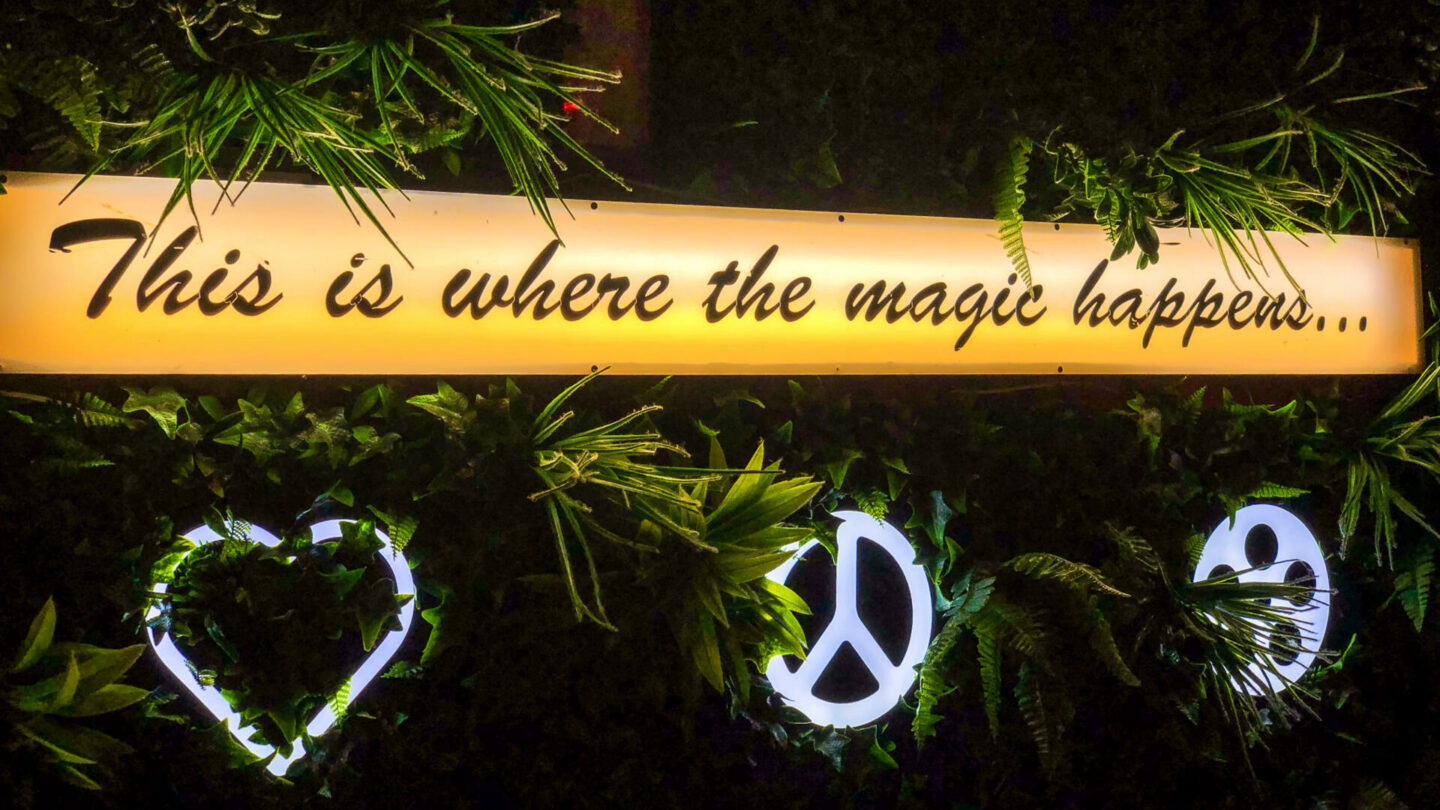 Moulin Rouge at Rooftop Film Club, Bussey Building
As I mentioned in my previous post, the Bussey Building is a short walk from Peckham Rye station. And, in my opinion, fairly easy to find. Previously an arms manufacturing works, then a cricket bat factory, community group Peckham Vision saved it from demolition and helped lead it to a new life as you see it now. As you might guess, you'll find the Rooftop Film Club at the very top of the building, on the rooftop. You can either take the five floors of stairs up or the lift to make your way there. Accessibility wise, it is worth noticing this stops one flight down. So there are a few stairs to contend with. Although, upon checking on the website it does seem that if you inform a member of staff they will be able to assist you in reaching the venue and making it wheelchair friendly.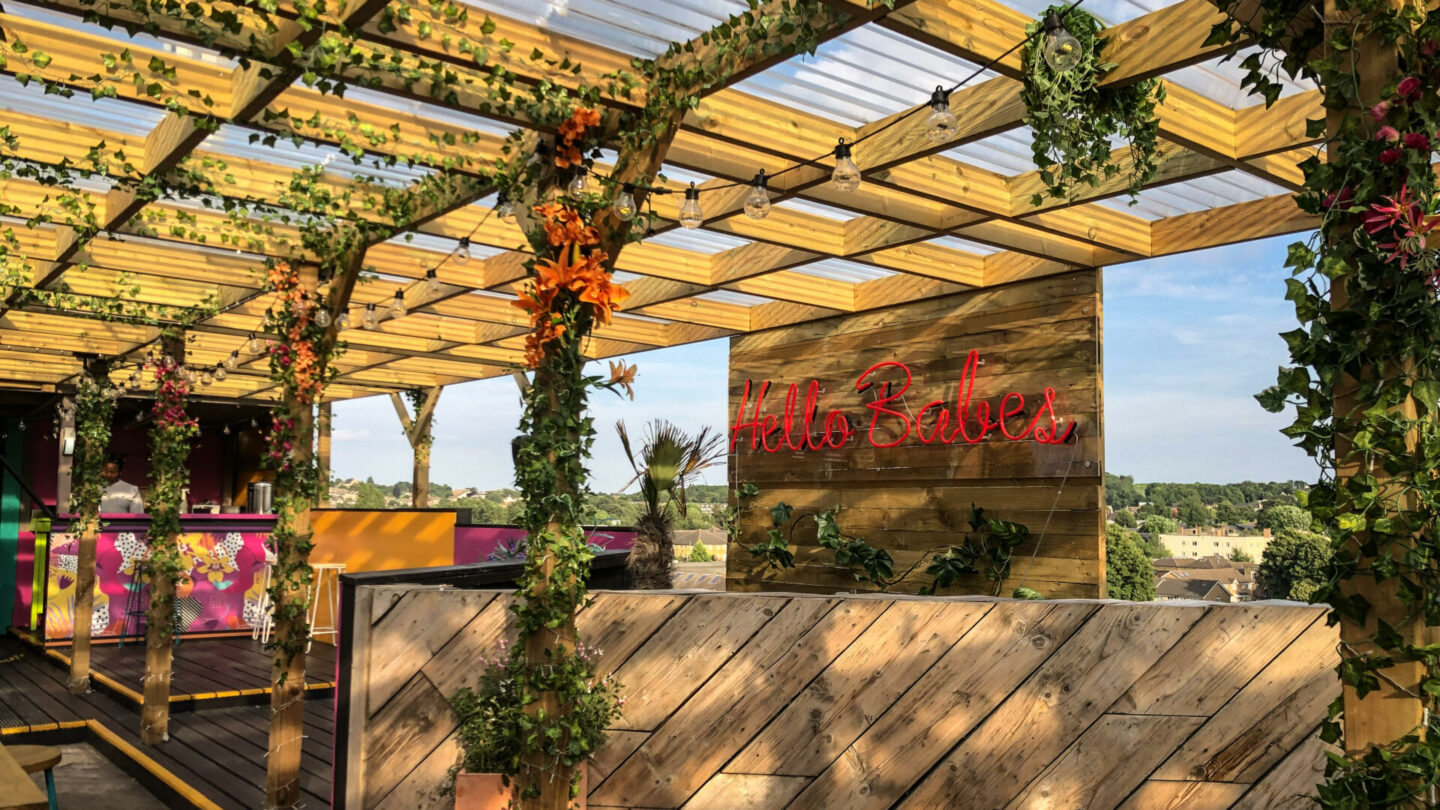 Pre-Film Food & Drinks
Much like on our first visit, the venue is split into two sides. With the right side being home to the outdoor cinema (more on that a little later!) and the left as a rooftop bar. This rooftop bar area has gone through a major revamp since our first trip. Although they've managed to keep a lot of the cool, beachy vibes they've managed to make it even more "instagramable" (and more British weather-friendly too…). We had, along with our film tickets, been gifted some vouchers towards food and drink at the venue. As we arrived an hour or so before the film we thought it would be an ideal opportunity to catch up over some food at the venue rather than our normal habit of going for sushi pre-hand.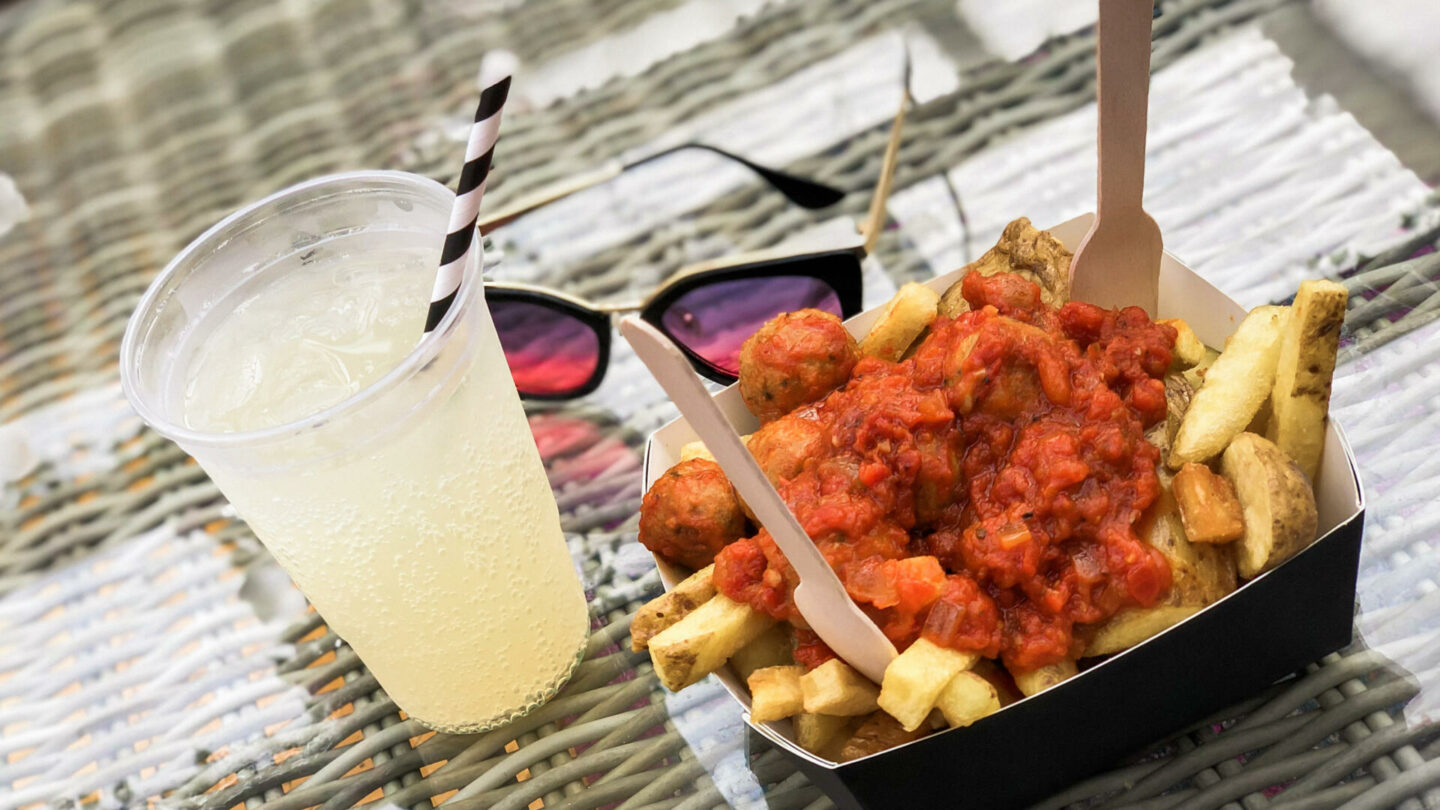 Last time when we went to this venue the Rockadollar street food vendor offered a selection of hot dogs. This time, the menu had been expanded quite a bit. We both went for topped chips. Mine was topped with vegan "meatless meatballs" and Sophie's with steak. We were warned that due to these both being cooked to order, it may take a little while. Mine was done fairly quickly. But, sadly someone seemed to have forgotten about Sophie's order and this lead to it taking 40 minutes from ordering. Will both of our food was cooked fresh and enjoyable. If we'd not arrived in such good time, this could have negatively impacted our timing for the evening.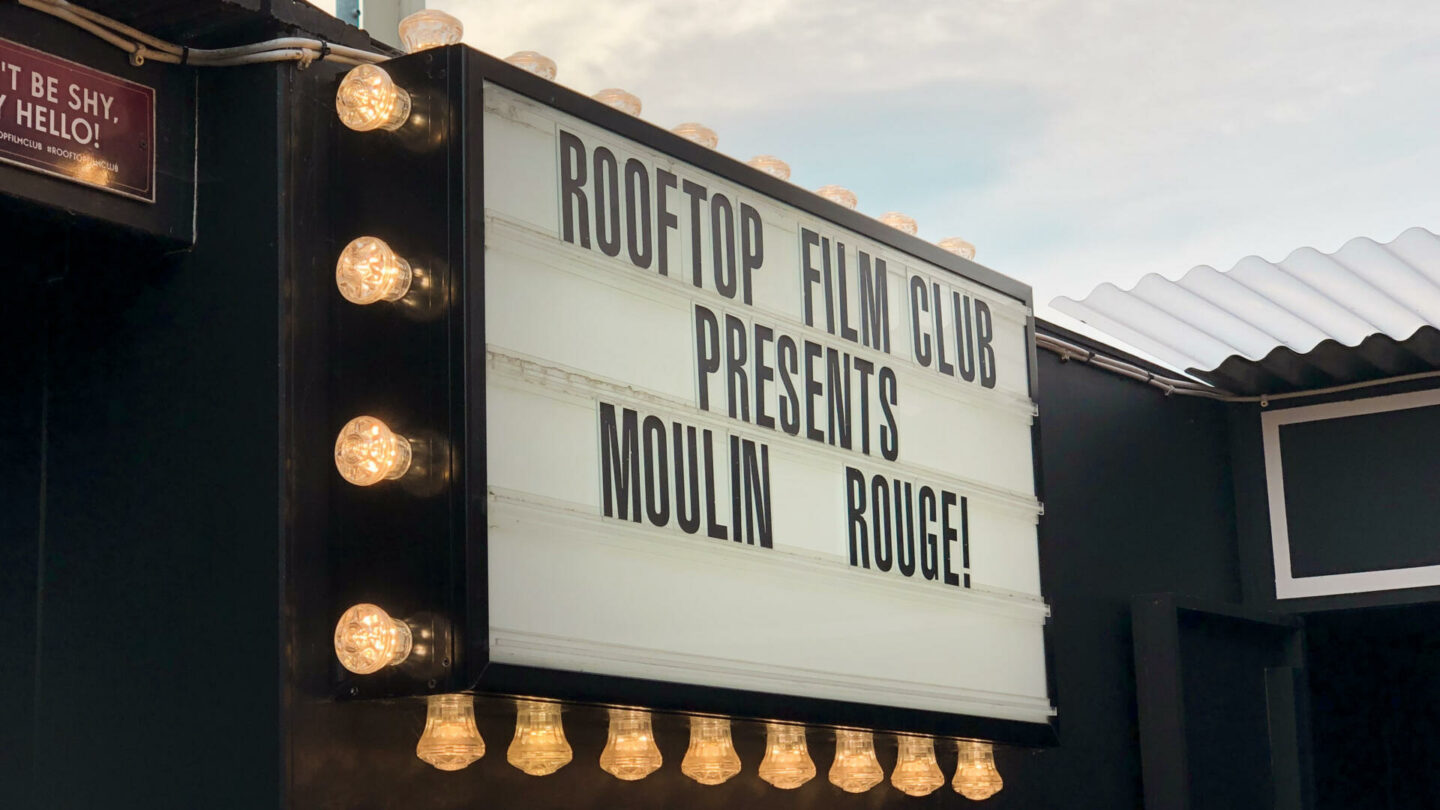 Rooftop Film Club Presents… Moulin Rouge!
So after our catch up over food and drink, we headed across to the film screen ready to watch Moulin Rouge. The staff gave us our wristbands and headphones ready to head in to watch the film. Alongside this, we were also given complimentary popcorn. And, in case it got too cold, blankets. A nice gesture and probably much needed with the unpredictable London weather.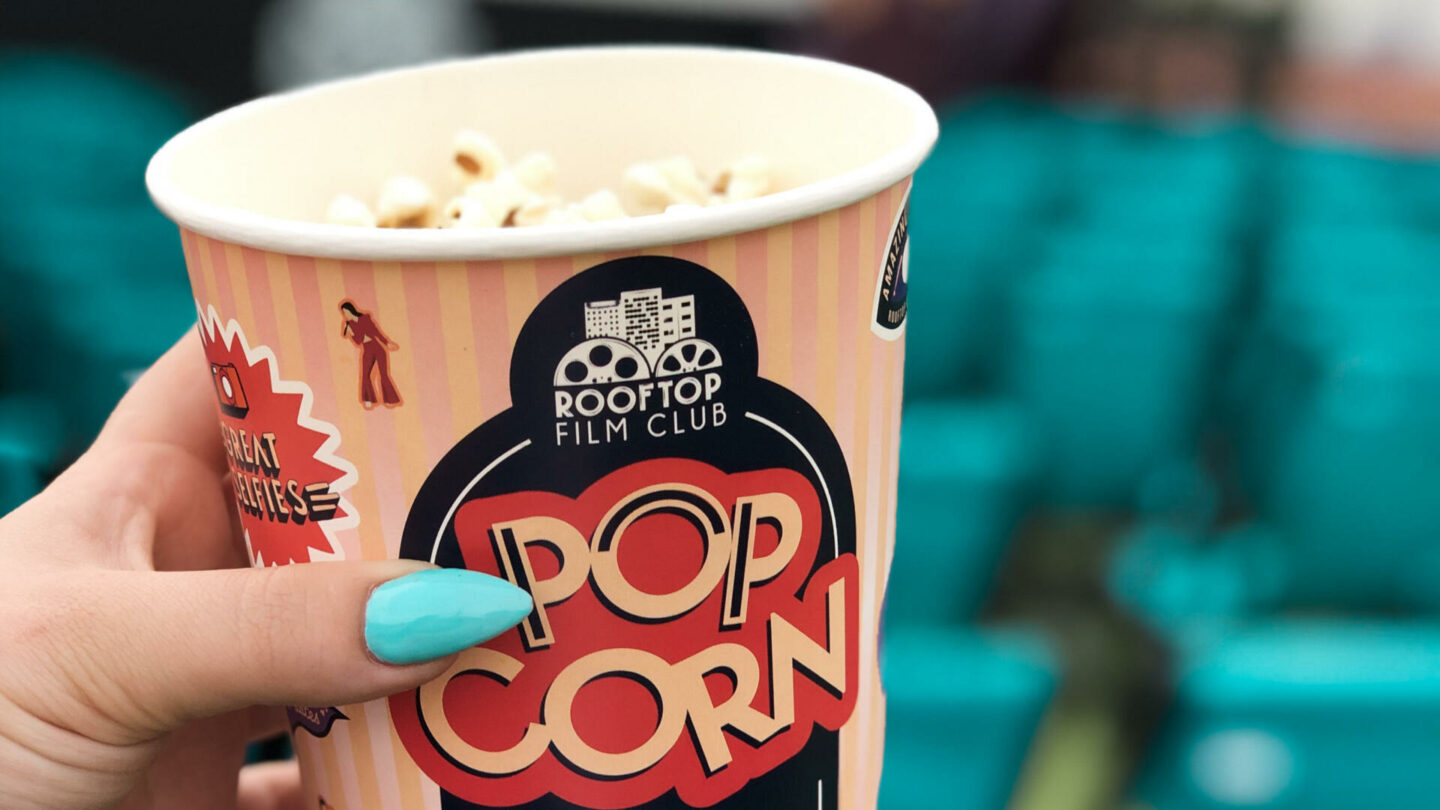 We made our way through to the seats and on to the artificial grass. Here, in front of the screen, there is a sea of brightly coloured deckchairs. You are also treated to a glorious view of the London skyline. While the view was wonderful, you do need to wait until it gets dark until the film can begin. While I understand this is to get the best viewing experience, this can mean the evening can go on quite a bit longer than you may have expected. So, if like Sophie and I, you have a commute to contend with, you do risk potentially cutting your film experience short. Something to bear in mind before booking. But, not anything that would put me off the experience. After all, there's something truly special about watching a film outside in the dark.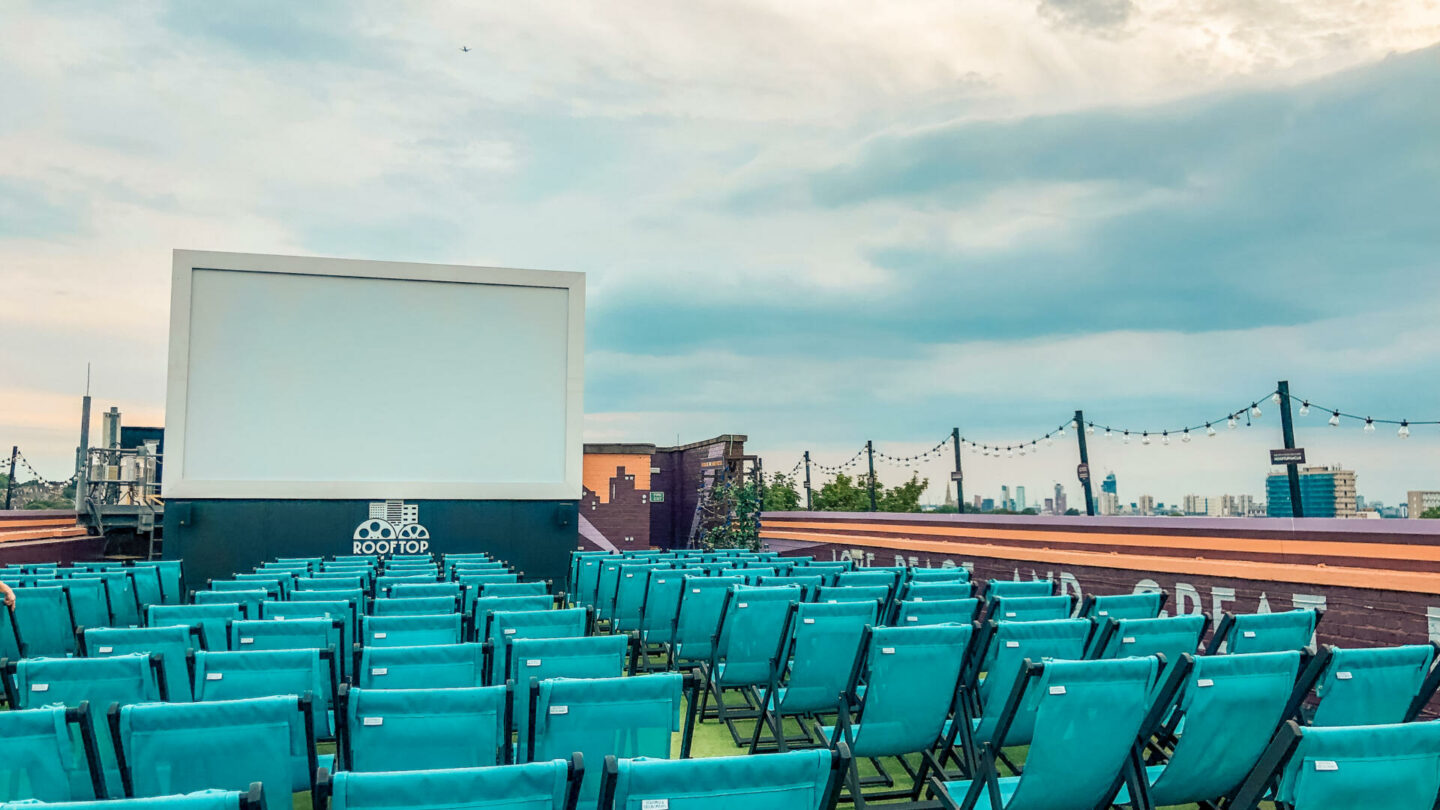 Double Deckchairs with the Premium Package
As I mentioned previously, Sophie was gifted the tickets by Rooftop Film Club, who were kind enough to have us experience their Premium Package. This bundle is available for £26.95 and includes one of these double deckchairs (that you can see me hanging out on below!), unlimited popcorn and a glass of prosecco each. If they continue this offer next year, or, as the case has been in previous years to offer this or similar, I highly recommend it. It was great to hang out and watch with friends. But, I'm also fairly certain those double deckchairs would be wonderful on a date night! (But I'm chronically single, so not sure if you can take my word on that one…)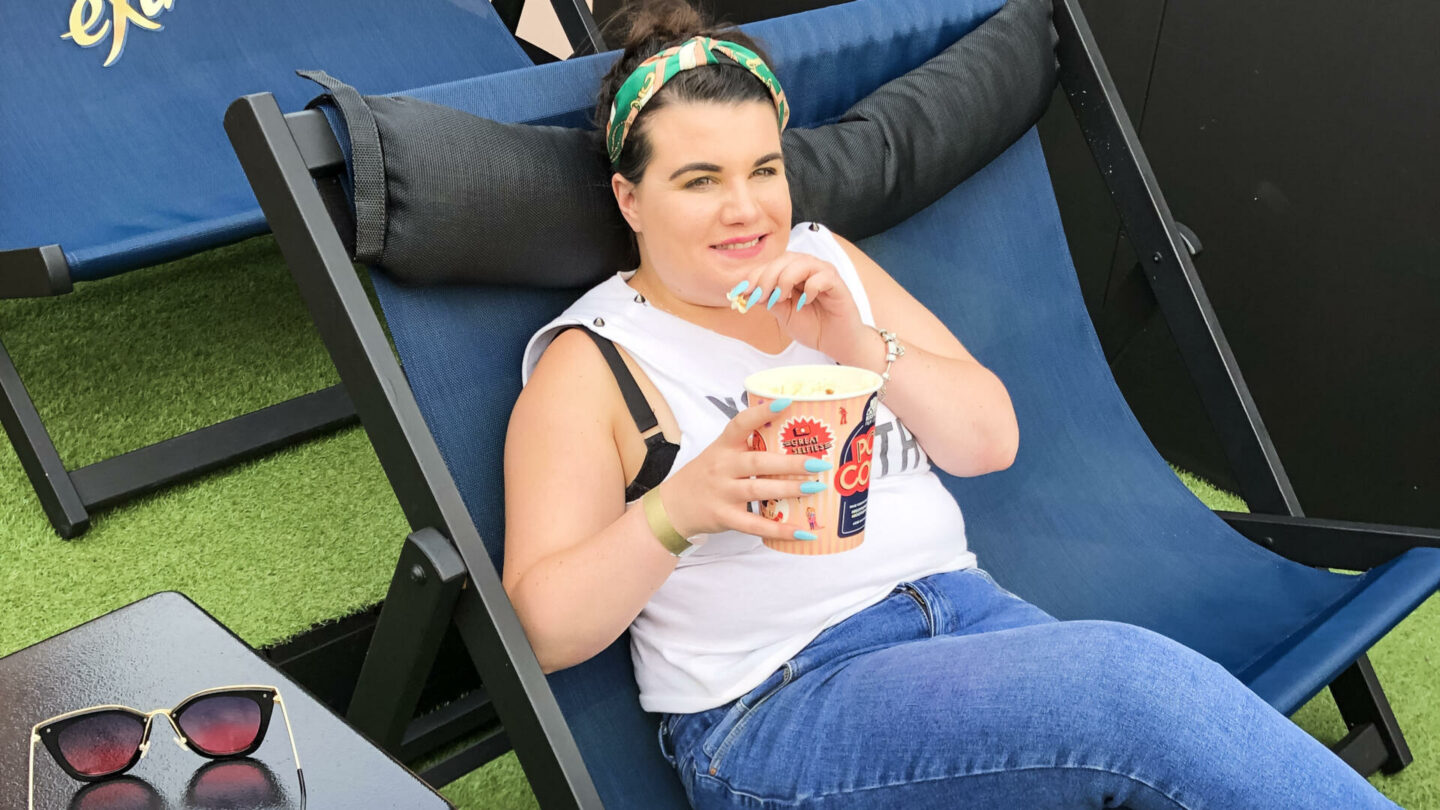 While there were a few issues that could be improved for the 2020 season, I'm excited to see what's next for this Peckham rooftop venue!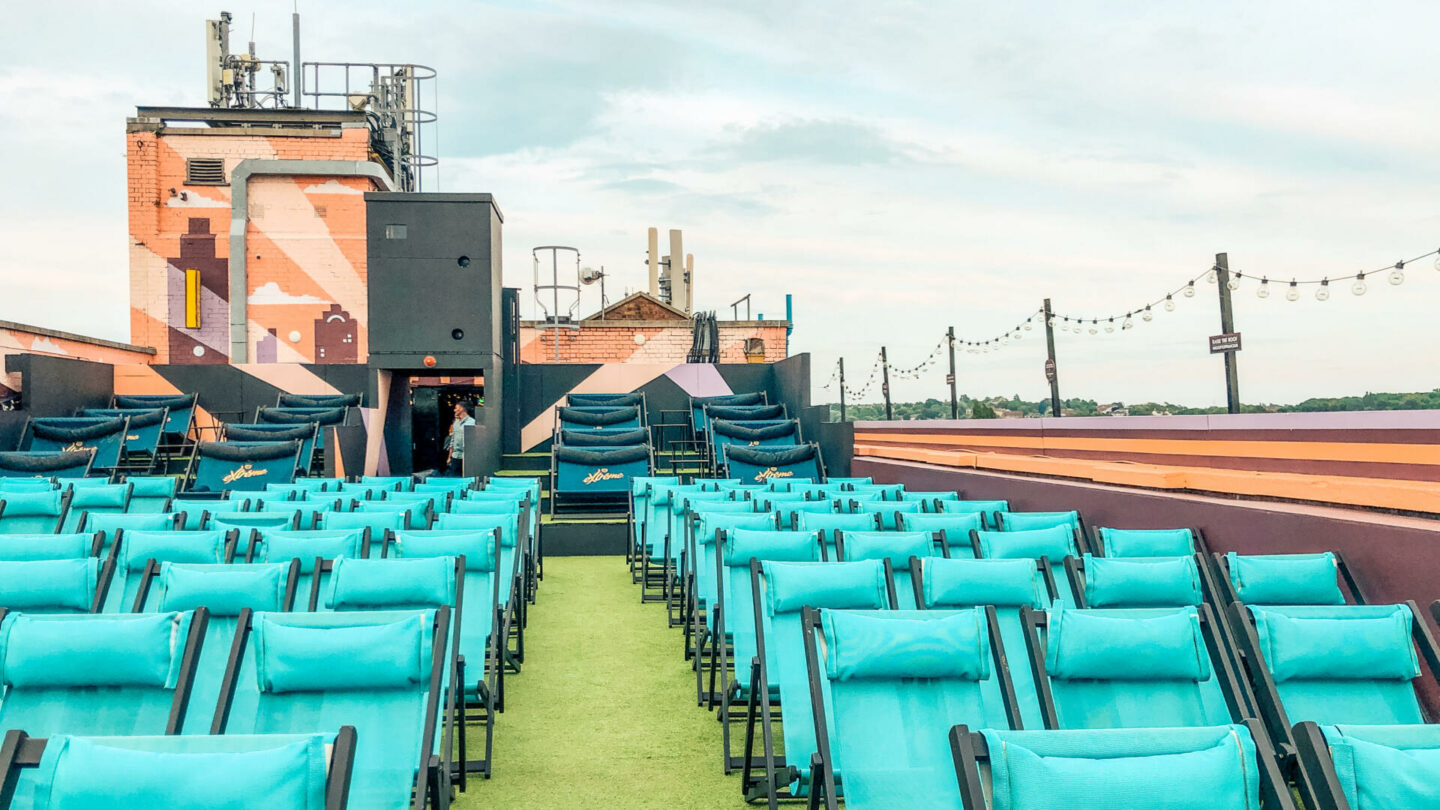 Have you been to any of Rooftop Film Club's three London venues? What did you think?
Find me on;
Bloglovin' | Twitter | Instagram