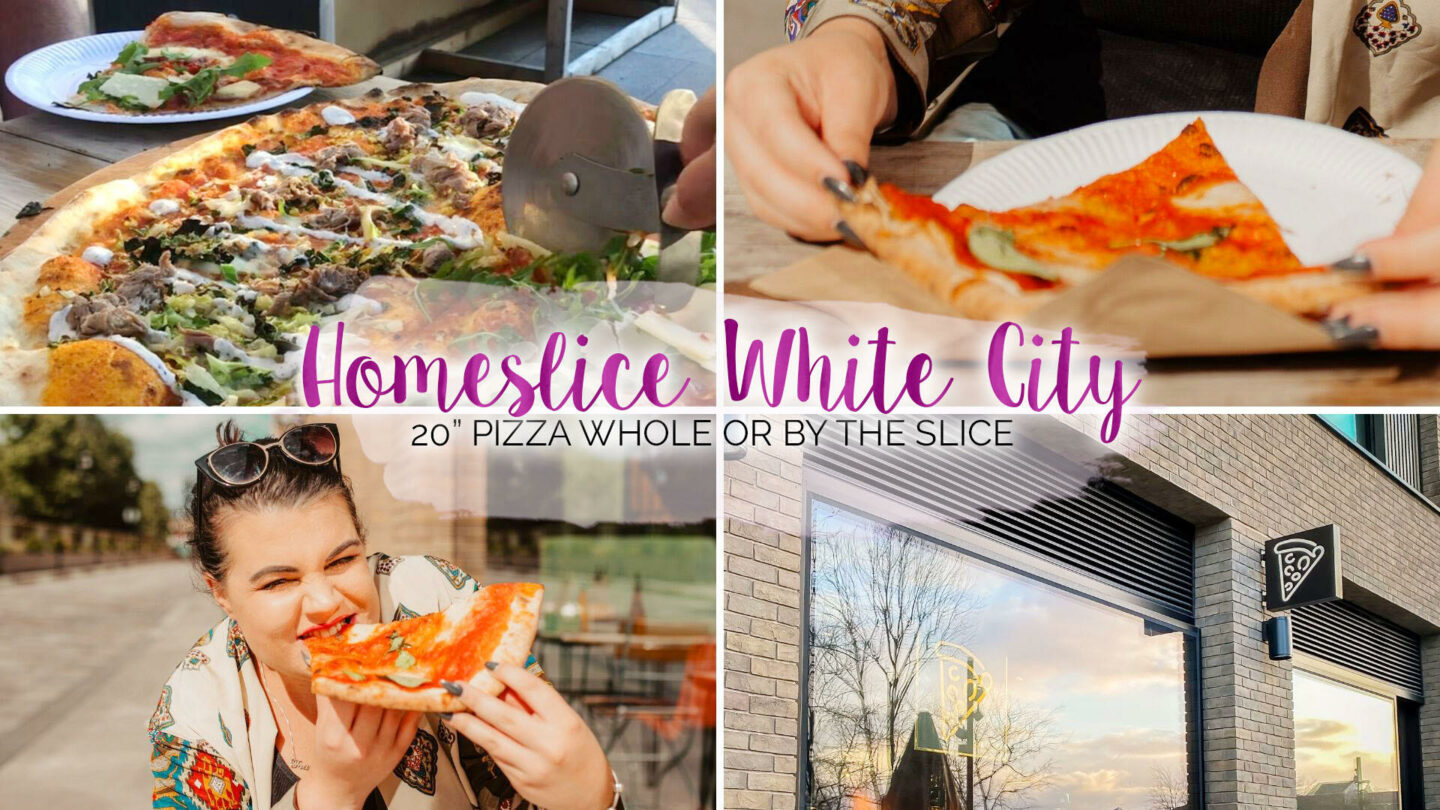 I like to consider myself a bit of a foodie. I also consider myself quite adventurous as I rarely shy away from trying any new cuisine or dish. But there's one thing that is a little bit of a "basic" food opinion and that is that pizza, is quite possibly my favourite food in the entire world. (I mean, really, is there anyone who doesn't enjoy pizza?). I find it hard for somewhere to have a "bad" pizza in my books but I find it equally as difficult for somewhere to have a really great pizza. And, before I moved I would normally frequent one localish place which I found to be excellent. (Santa Maria, in case you're wondering!). So, on a Sunday, I would often hop on a bus back for my pizza hit. That was, until one Sunday when I just simply couldn't be doing with the hassle of the journey. So I hopped on to Square Meal and used their "shortlist" feature to list some local restaurants where I could get my pizza fix. I ended up at Homeslice and thought I'd share my experience checking out their famous 20″ pizza…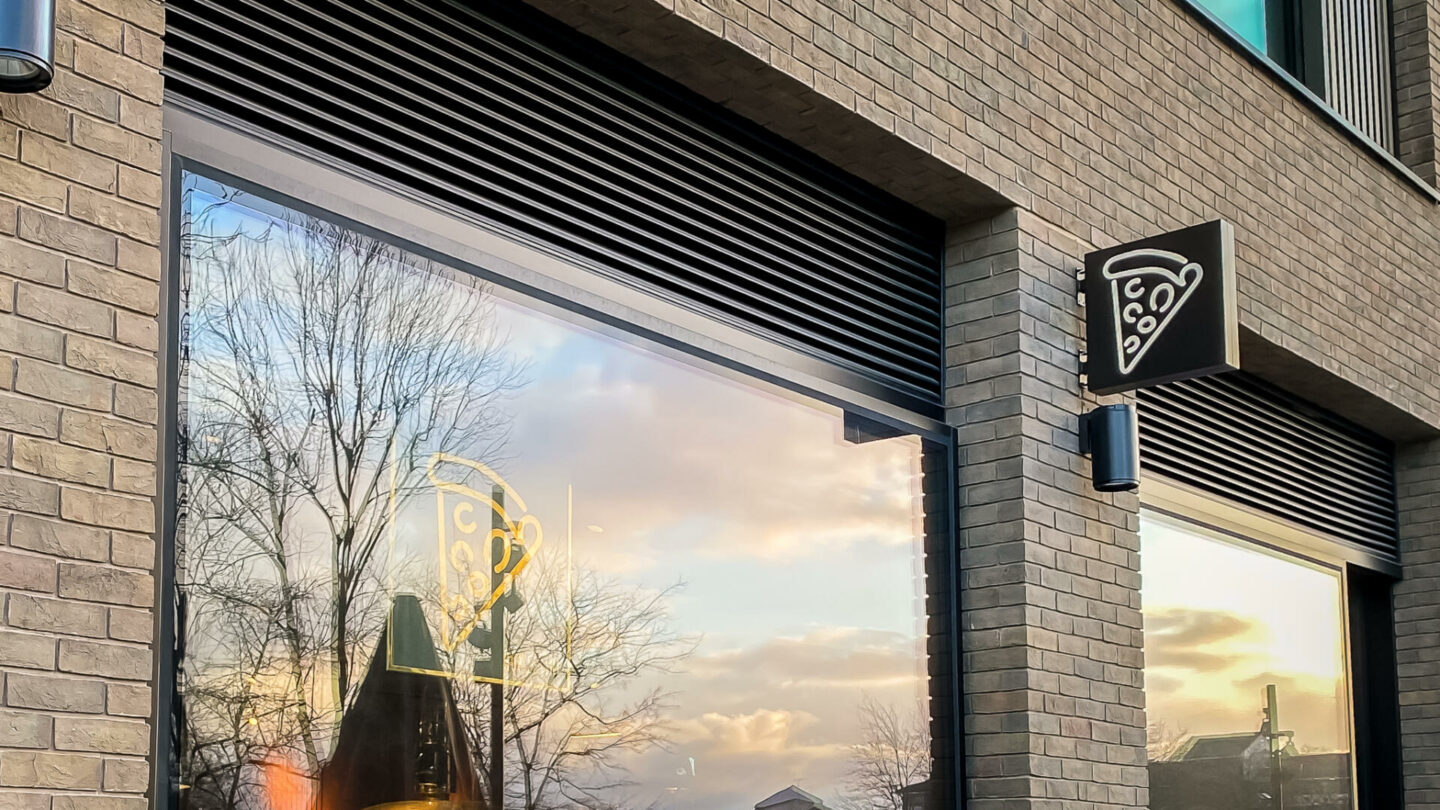 Homeslice White City Review (20″ Pizzas!)
The White City branch of Homeslice is tucked away off the road. In fact, if it wasn't for the large signage pointing down to the side of the building you may not have known it was there. But, if you take a walk down you'll see a lovely terrace area. And, just next to Patty & Bun you'll find Homeslice. The area just feels so effortlessly cool and it makes for a lovely place to grab a spot of lunch or dinner over the summer months.
Anyway, onto the pizza. On my first visit, I went with my parents and to be honest, slightly overestimated on how much pizza to order. (But on the bright side, we did get to try more of the menu I guess!). I went for a slice of Margarita and a slice of the Vegan Mushroom which was an amazing garlic oil base topped with pumpkin seeds, chives, soya truffle glaze and of course, mushrooms. My parents, however, went for a 20″ half and half pizza. (You can get any of their whole pizzas as a half and half, FYI!). They chose half Salami, Rocket & Parmesan which is simply those three on a tomato base with rocket and Parmesan. On the other, they chose the Spiced Lamb with Savoy Cabbage and Sumac Yoghurt. While I don't normally eat meat, these did look fantastic. And, they told me they were absolutely delicious.
A wonderful local find if you ask me, and one to add to our normal Sunday family dinner rotation!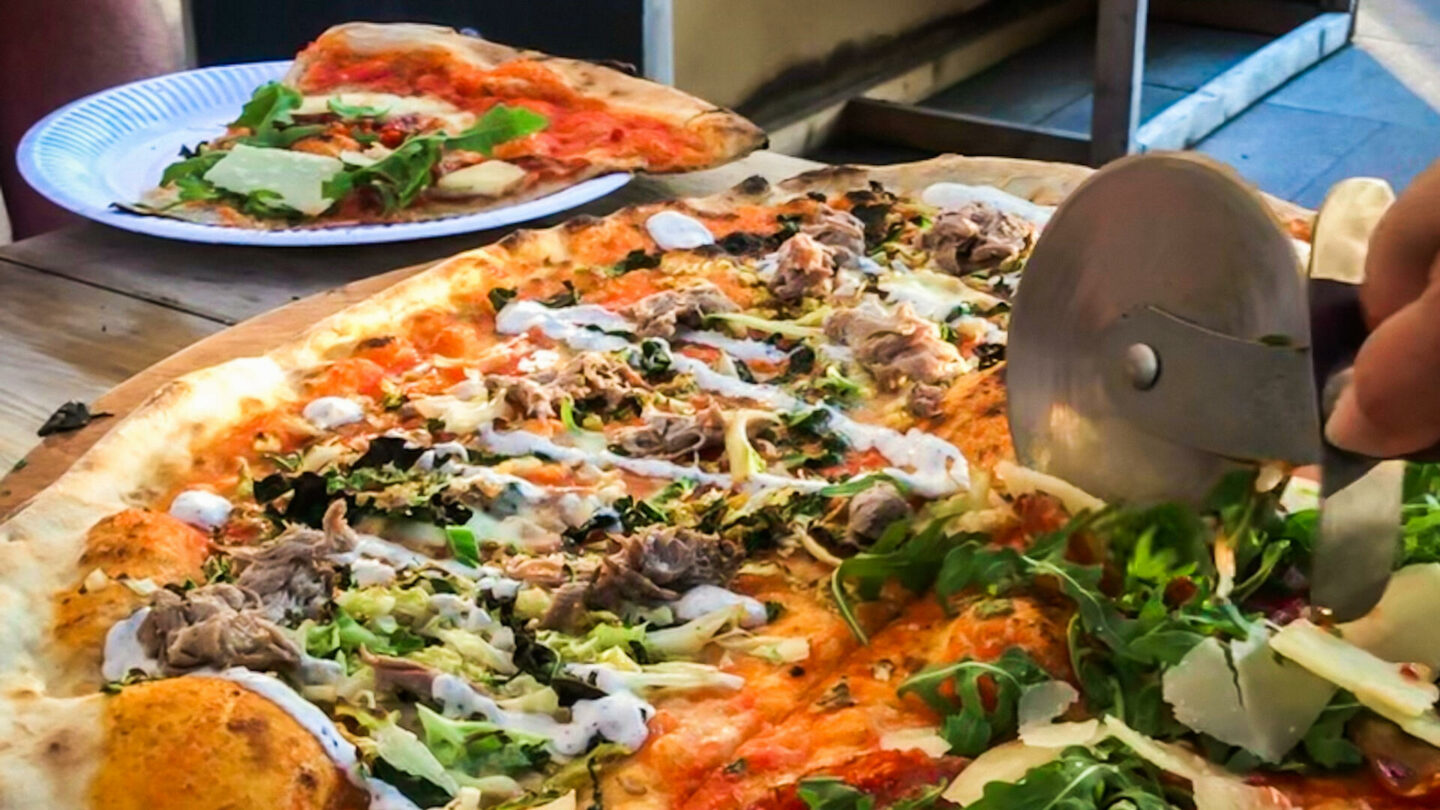 Finding Local Restaurants with Square Meal
As I mentioned, I used Square Meal to make a shortlist of potential restaurants. You simply enter a postcode or location into the side and the search bar and it pops up with a list of local eateries. On this search page, you can also filter by cost distance, cuisine type, allergy options and price. But, alongside this, there are also options for the occasion, ambience and even what type of people you're dining with. (So you'll know if it's child-friendly or better for a date night!) I narrowed down by the cuisine type being either pizza or Italian and shortlisted the ones that stood out to me. If you fancy checking out your local restaurants and hopefully finding a new favourite, click here to head over to their website.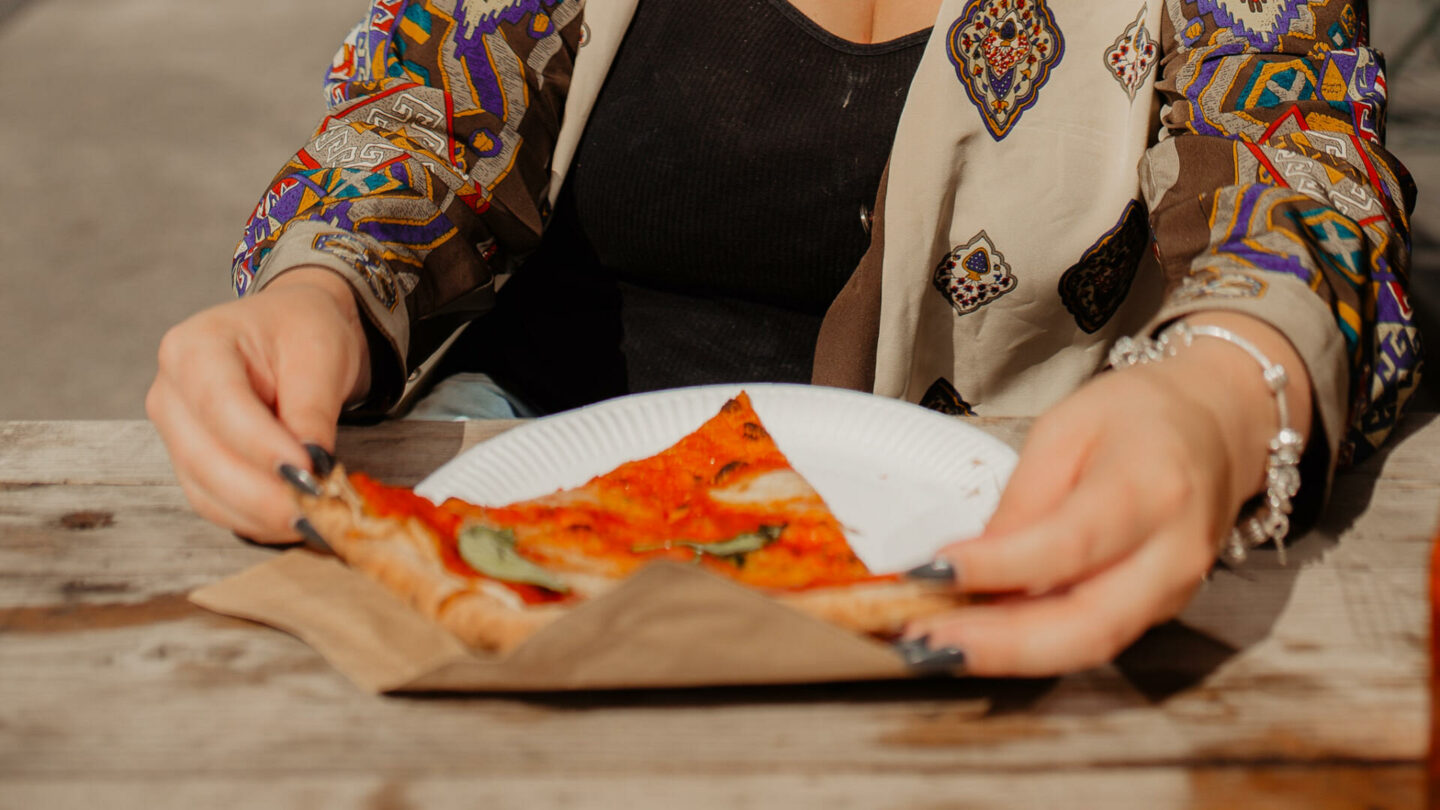 Finding Your Local Homeslice
Homeslice currently has 7 London locations. (Neal's Yard in Covent Garden, Fitzrovia, Shoreditch, City, Marylebone, Earls Court and of course, White City.) These all offer 20″ pizza either whole or by the slice to eat in or take away. They all offer the classics, however, there is normally a monthly and in some cases branch set special. At a reasonable price for such a tasty pizza, I'll certainly be checking out the other London branches soon!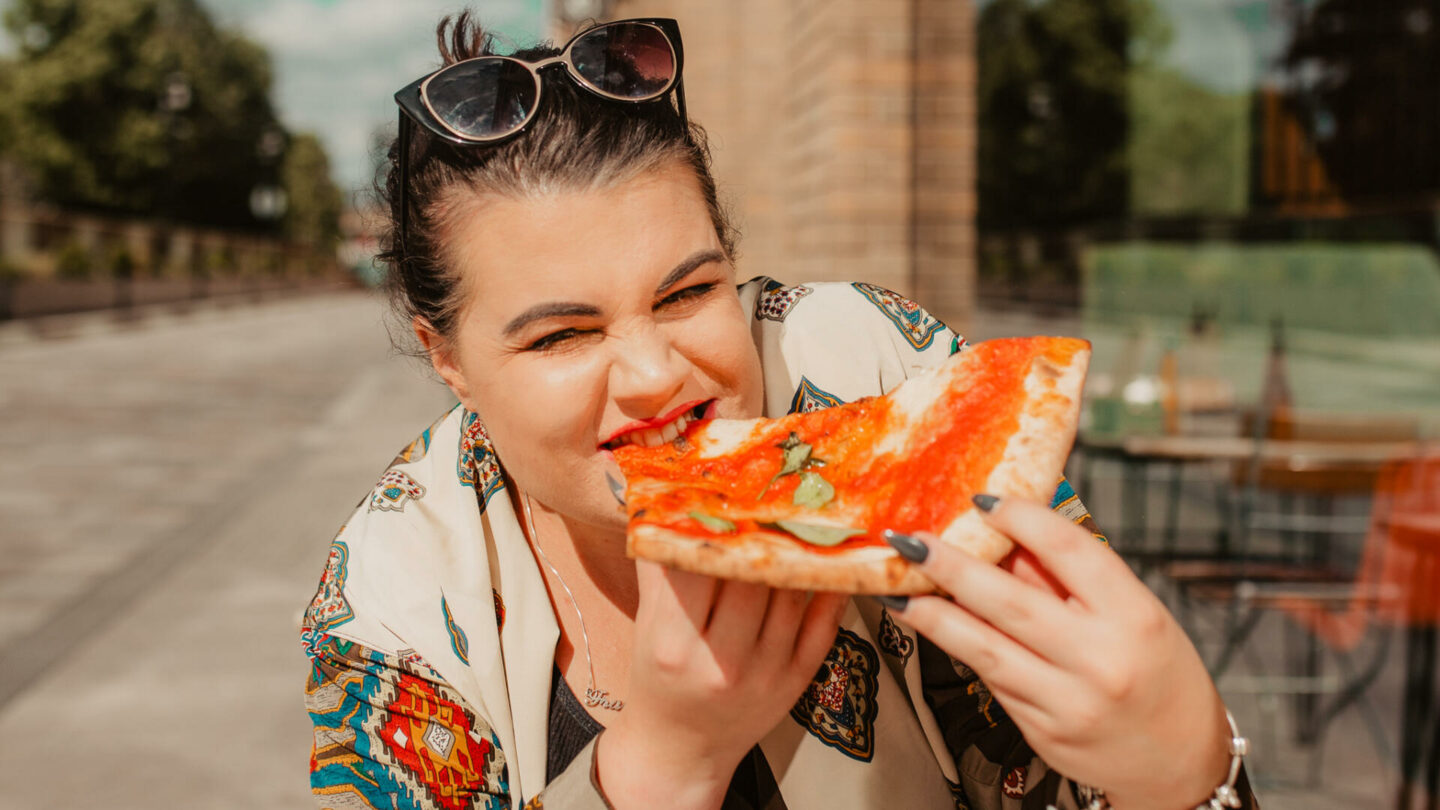 Find me on;
Bloglovin' | Twitter | Instagram