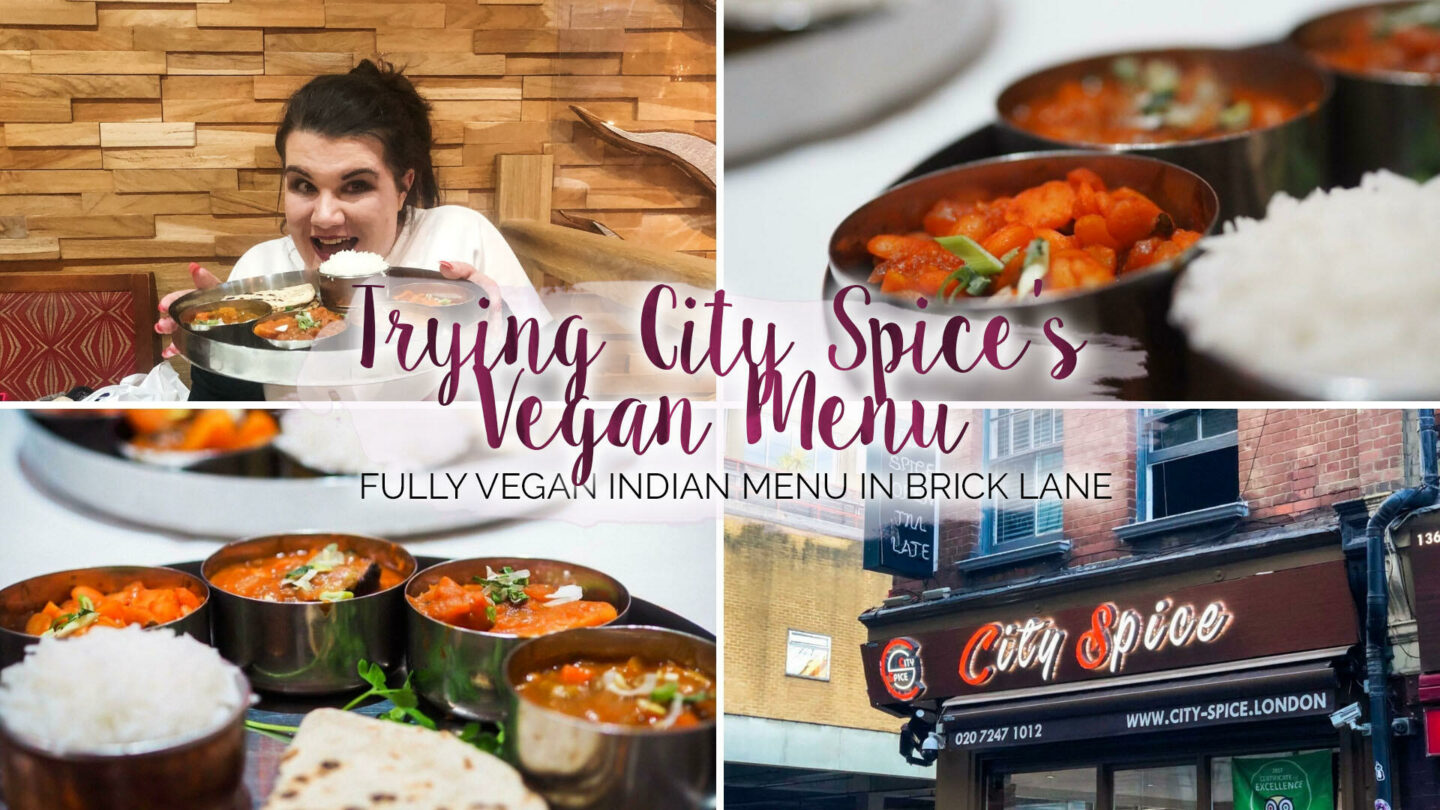 Like many people, over the last year or so I've been trying to cut down my intake of meat and fish. So much so, minus the odd occasion that it can't be avoided, I class myself as being a pescatarian. In fact, for most days of the week, I try and eat a vegan diet. Thankfully, due to so many companies bringing out vegan products and options it feels like there's always some new, animal-friendly, treat to try. (I mean, hello Greggs' vegan sausage rolls! Piers Morgan can say what he wants but even the meat eaters in our office prefer them to there porky counterpart…). With this in mind, when I received an invite from City Spice, one of the best known Indian restaurants on Brick Lane, to check out their entirely vegan menu, I was thrilled. I love Indian food and, with my veggie friend Vrinda, we headed down one evening to check it out. Here's how we got on;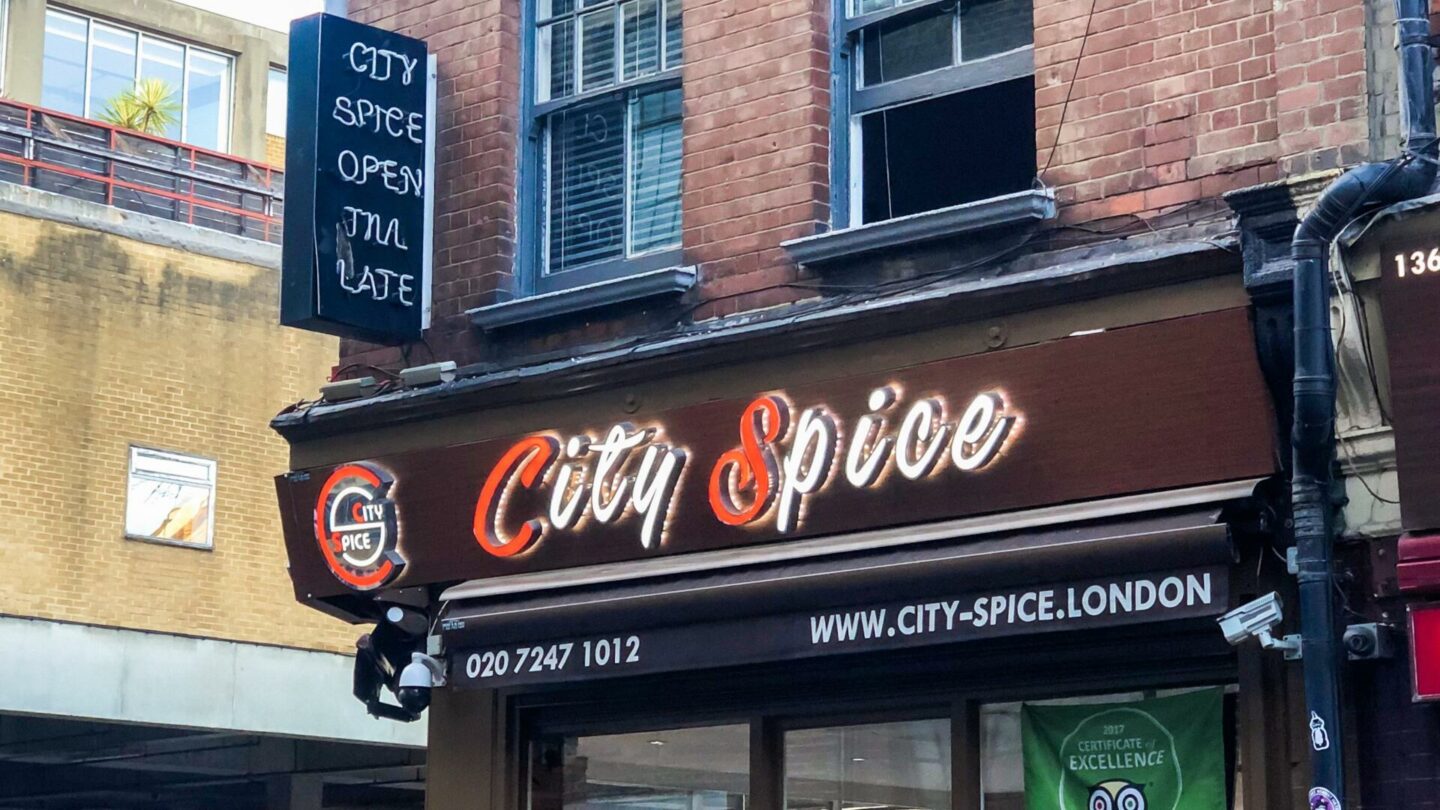 New Vegan Menu At City Spice Indian Restaurant, Brick Lane
Brick Lane is always a full-on experience, in particular around meal times. Being famed for its curry houses, you'll be spoiled for choice. Even more so with various staff outside with special offers to try and tempt customers into their store over competitors. Between the hustle and bustle of this and the delightful smells coming from them, I don't think there's anywhere else in London like it. (Or in the UK for that matter, but I can't say for certain!) City Spice is located at 138 Brick Lane, which is on the corner of Brick Lane and Woodseer Street. A prime location close to The Old Truman Brewery, All Star Lanes, Junk Yard Golf and some of the awesome vintage clothing stores.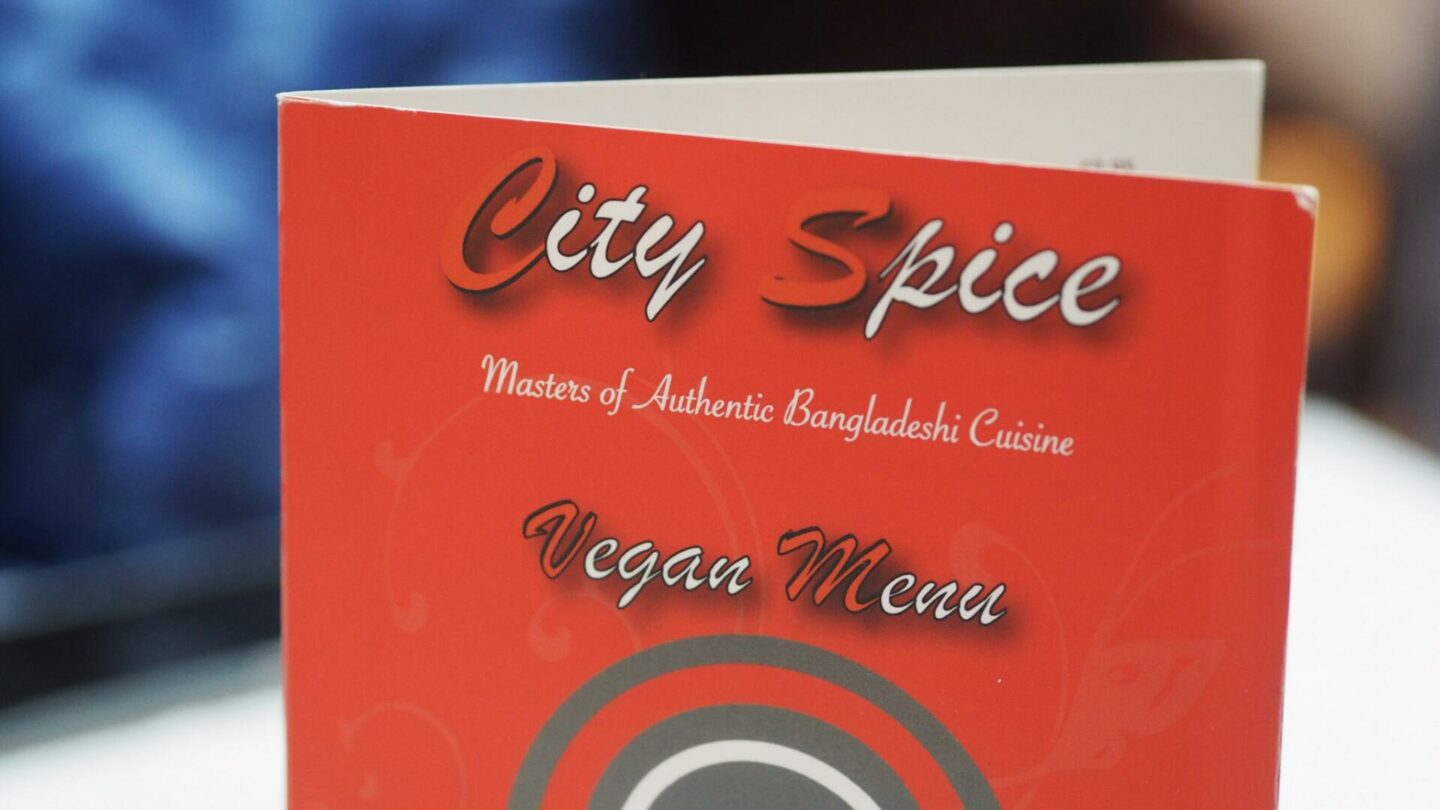 When we arrived at the City Spice doors, it really was service with a smile. Our server quickly got us seated upstairs and told us about how the owner, Abdul was in tonight if we'd like to meet him. We asked for the vegan menu and, much to my surprise, rather than the normal, small section on a menu, we were given an entire menu dedicated to dishes not containing meat, fish or dairy. A really nice touch that saves people looking in hope for a small (v) or (vg) near a dish first and menu options last.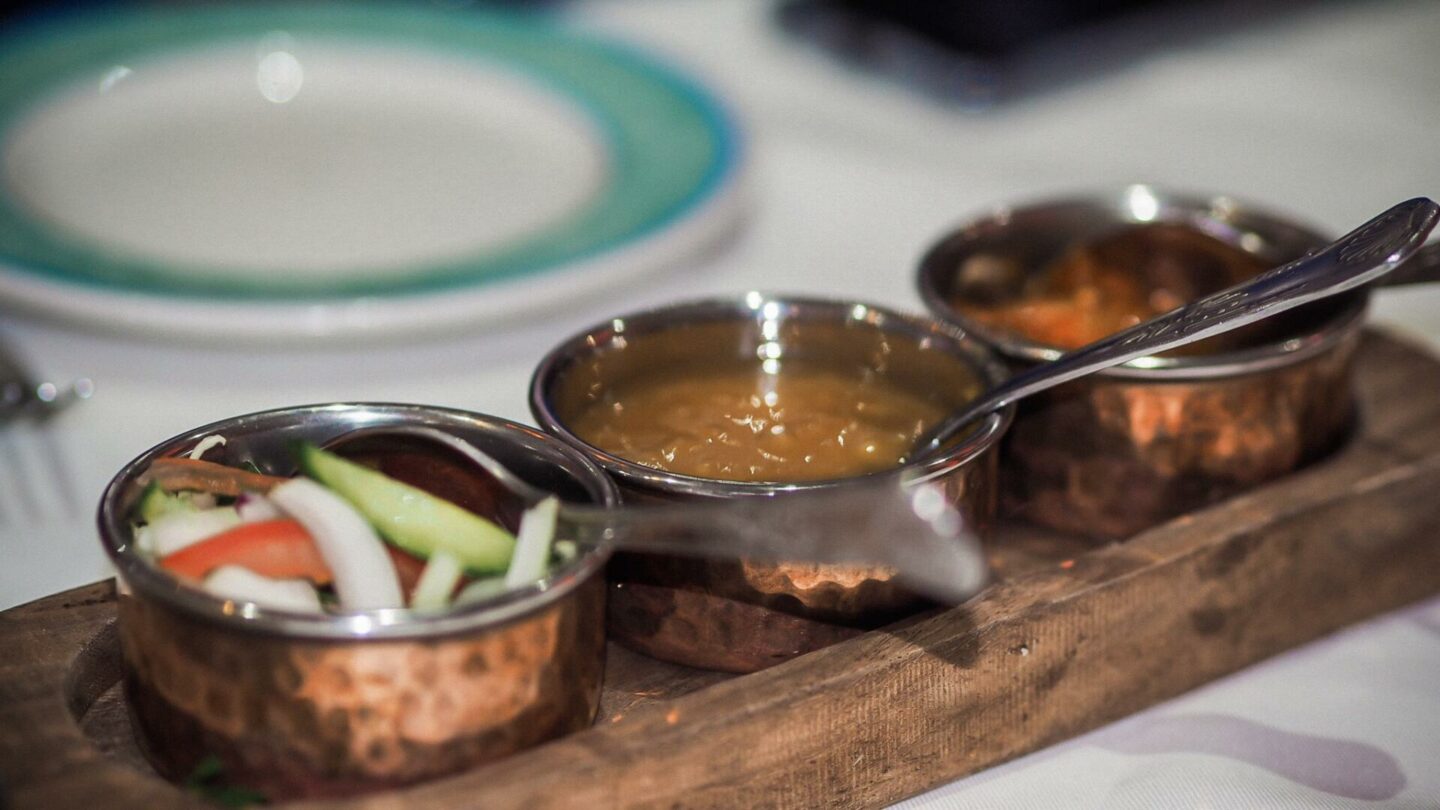 Poppadoms and Pickles
To start the meal, and while we perused the menu, we decided to start with poppadoms and pickles. Whenever I go for a meal at an Indian Restaurant I always opt for them and, I don't think I've really thought too much about them. (Other than them being crunchy and delicious that is!) However, Vrinda knows her stuff when it comes to Indian Cuisine and let me know that these were particularly good ones made with rice and lentil flours. The pickles were lovely too, offering a good mix of sweet and spicy alongside a freshly cut tomato, onion and cucumber mix. While chatting over these about the upcoming company party, we ordered our starters.
Sharing Starter
City Spice's Vegan menu offers a choice of three, and we opted for one of them to share. Admittedly, this was out of curiosity as neither of us had tried a Vegetable Pepper before, but it certainly sounded both delicious and something we could split. We were served a chargrilled red pepper filled to the brim with succulent vegetables in a slight curry served with a side salad. A hearty starter and one we very much enjoyed. While we could have probably attempted one each, it was the perfect size for us to split. I'm always a fan of red peppers, in particular when they're chargrilled. So this was right up my street. Tasty, fairly healthy and vegan. What's not to love?!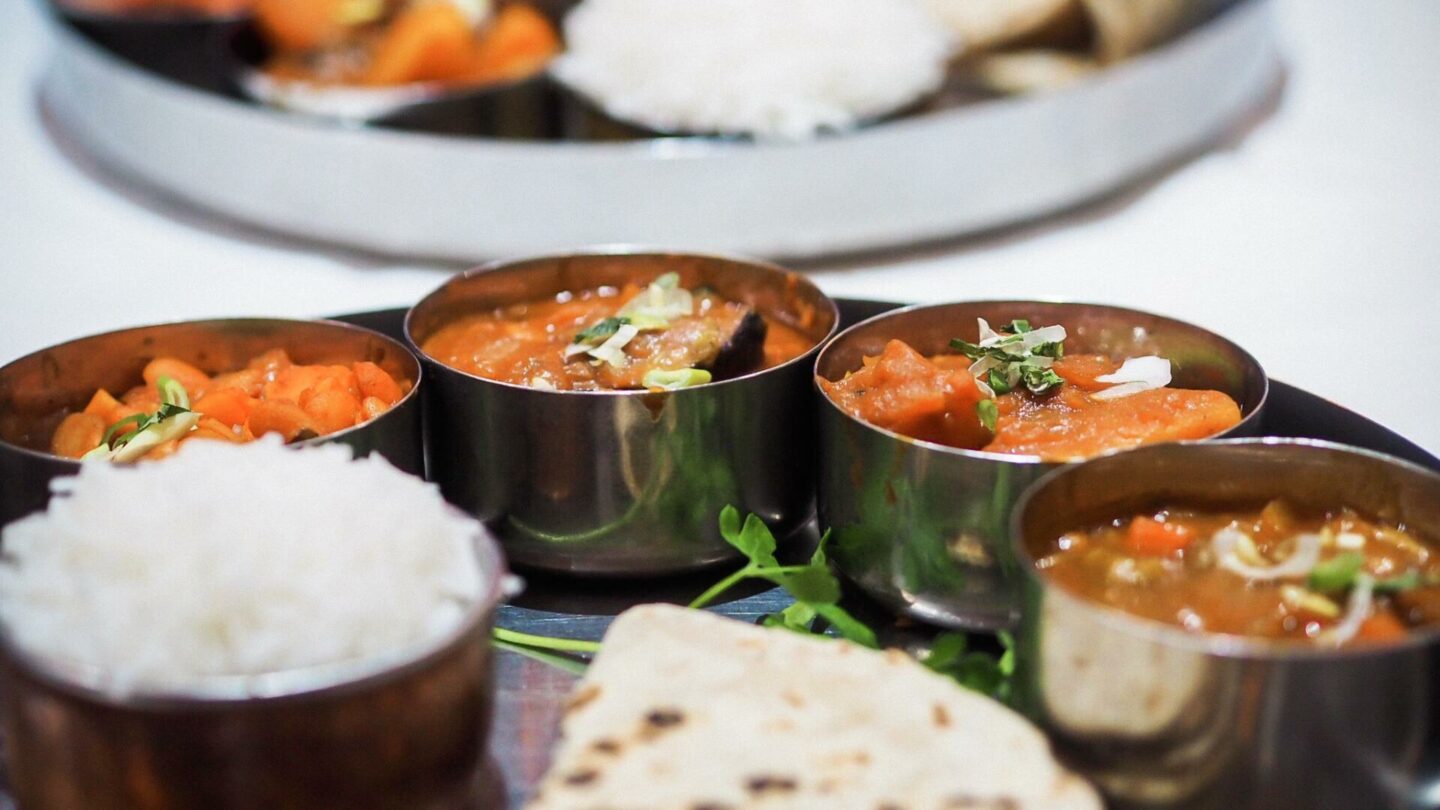 "The Vegan King" – Shahi Sahakari Thali
Let me just start by saying I was absolutely blown away by the range of delicious-sounding vegan curries on offer. With everything from classics like Jalfrezi and Rogan Josh to less familiar names I'd not tried before such as Uribeeshi Gatta we were truly spoiled for choice. But, when we saw on the menu that the name Shahi Sahakari loosely translates to "The Vegan King". Well, I think that made our decision on what to order a little easier. This thali-style platter comes with a mix of dishes along with chappati and rice. So, a great way to try some of the menus' top dishes such as Uribeeshi Biran, Bombay Aloo and Begun Daal Gatta. Each one was wonderful within its own right, and I would highly recommend the Shahi Sahakari Thali to anyone as it gives you a great sample of the menu's highlights.
(In fact, I wasn't sure until Vrinda explained to me what a Thali was, so that's something I'm going to keep an eye out for in future trips to anywhere serving Indian Cuisine in general!) We were absolutely stuffed, and thoroughly enjoyed our evening.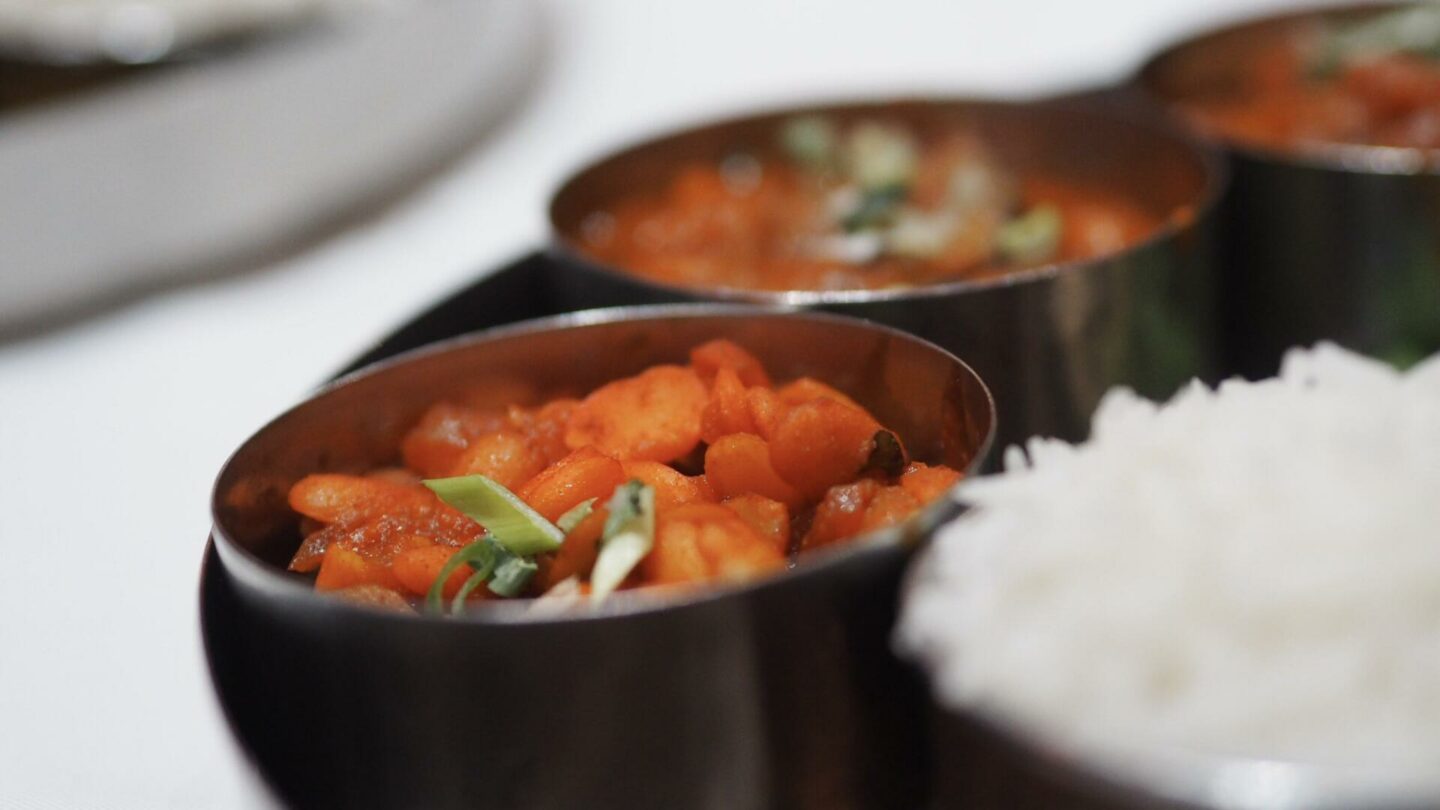 Thank you again to City Spice, not only for inviting me along to try out the menu but also for the absolutely wonderful service. I'm sure I'll be paying a visit next time I'm around Brick Lane!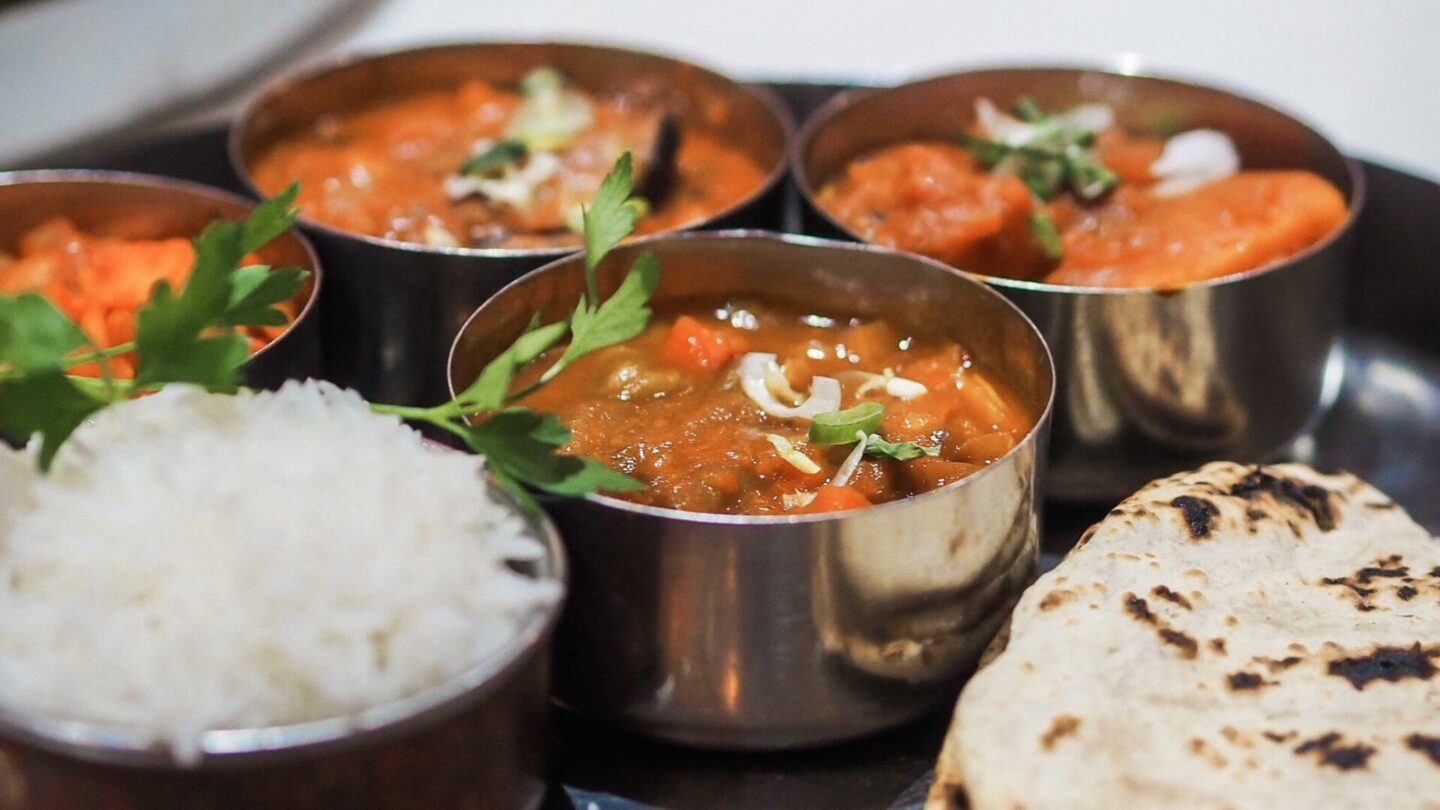 Have you been to City Spice before? What did you think?
Find me on;
Bloglovin' | Twitter | Instagram