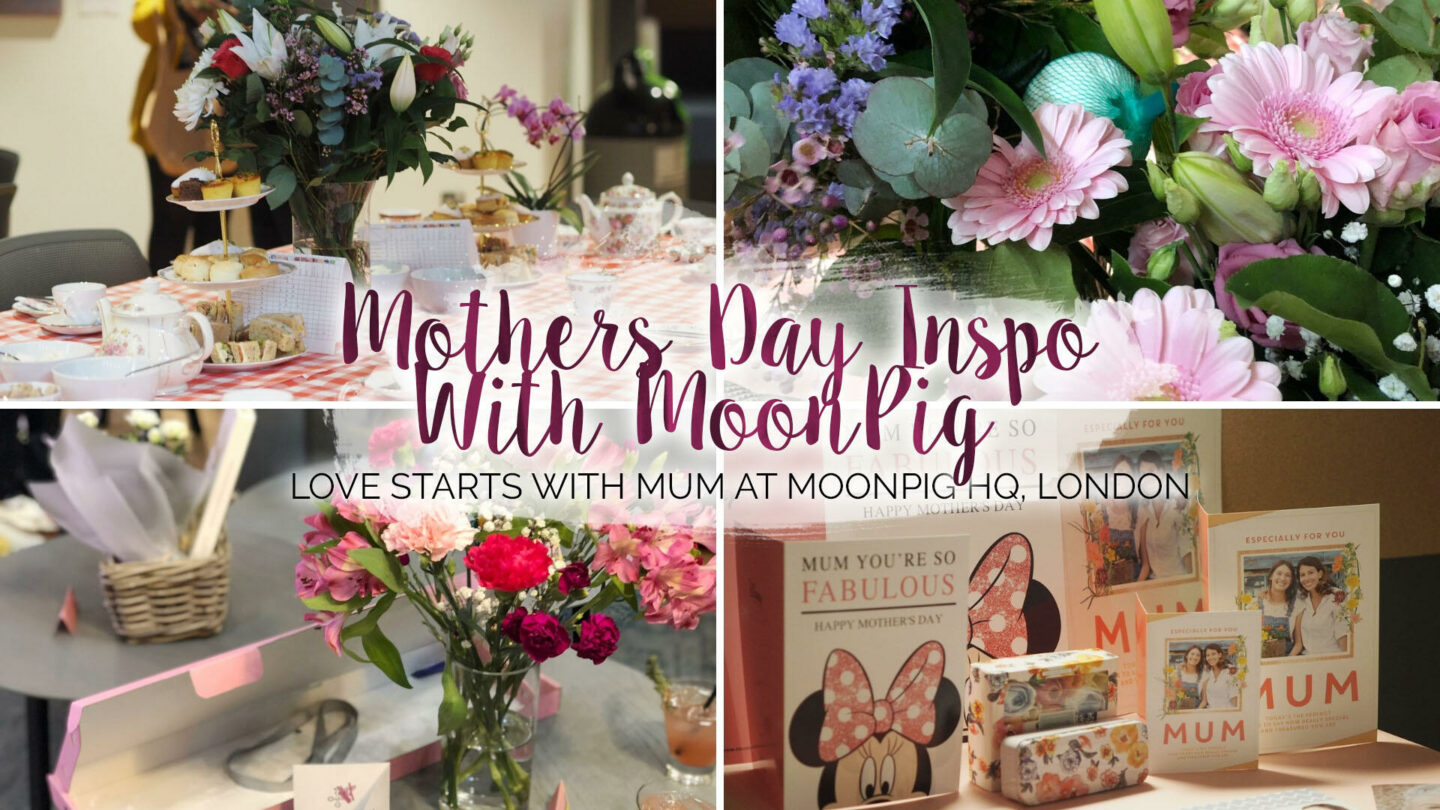 Mothers Day is one of my favourite holidays, after Christmas that is. Why you may ask? Well, my mum is the most selfless person I know and it gives me an excuse to spoil her. So when MoonPig got in touch to see if I'd like to bring my mum along to their head office to check out their Love Starts With Mum advert and have an afternoon tea too I couldn't RSVP fast enough. After all, MoonPig has been a brand I've used no end of times for their customized cards, and more so recently, gifts too. When your best friend lives almost 150 miles away from you, it's lovely to be able to customize a card and send it to them. And, when I lived in Sheffield, it was great to be able to send my parents cards when I couldn't make it home for a birthday until the next weekend. Anyway, before I go on too much. Here's what Mummy Mac and I got up to Moonpig's head office…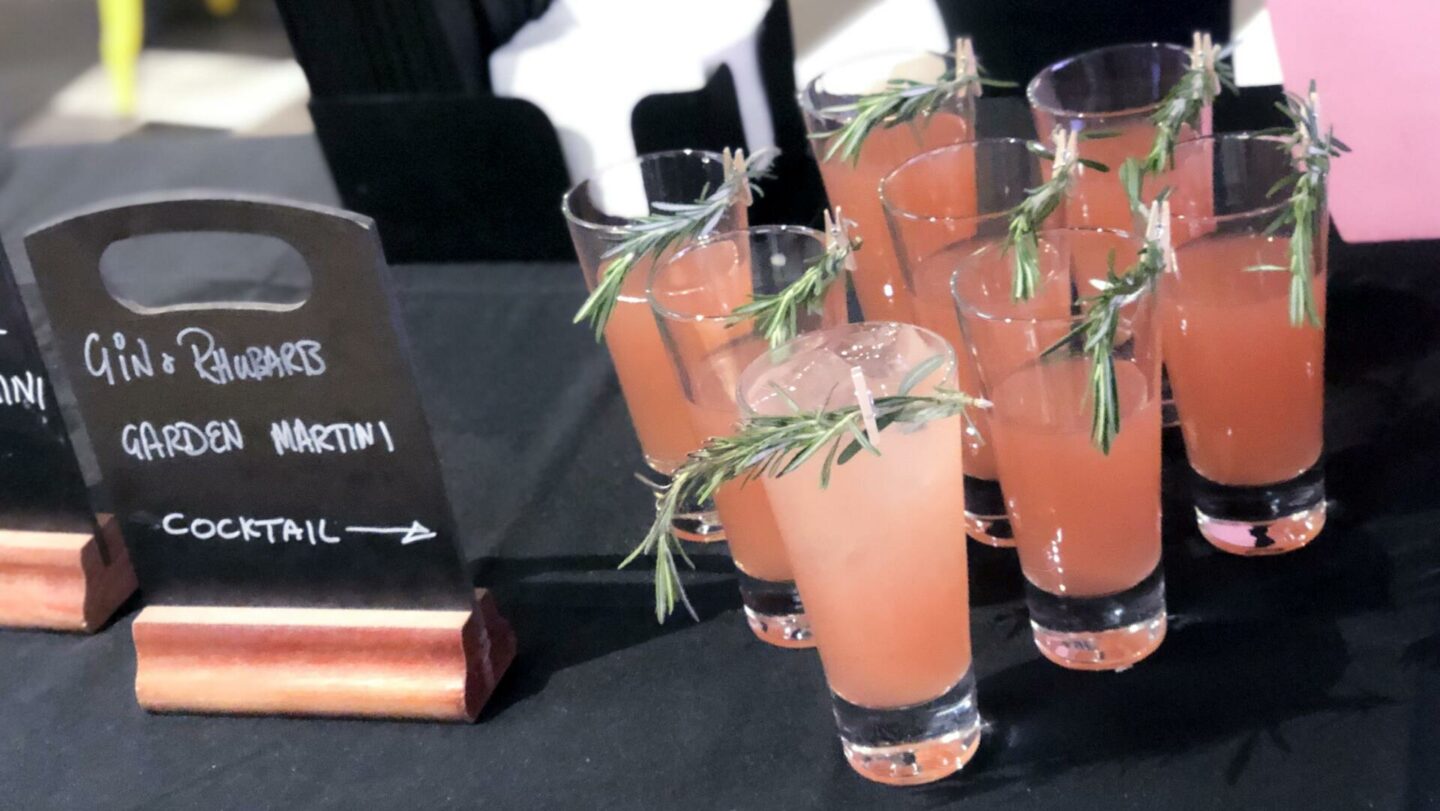 Love Starts With Mum, Mothers Day With MoonPig
To start the day off, we were greeted by some amazing gin and rhubarb cocktails. (I don't know how they did it, but I could have drunk them all day long!) It was time to gather round and find out a little more about Moonpig. Did you know they send around 16 million cards a year? That's about 300 produced a minute! Then we got an exclusive preview of MoonPig's new Mothers Day commercial which goes with the tag line "Love Starts With Mum". I've attached it below in case you've not seen it pop up on your TV screen yet!
A lovely concept and, in my opinion, does really capture why people such as myself love Mothers Day so much. After viewing, we were split into three groups to take part in the day's activities. The first of which was cocktail making…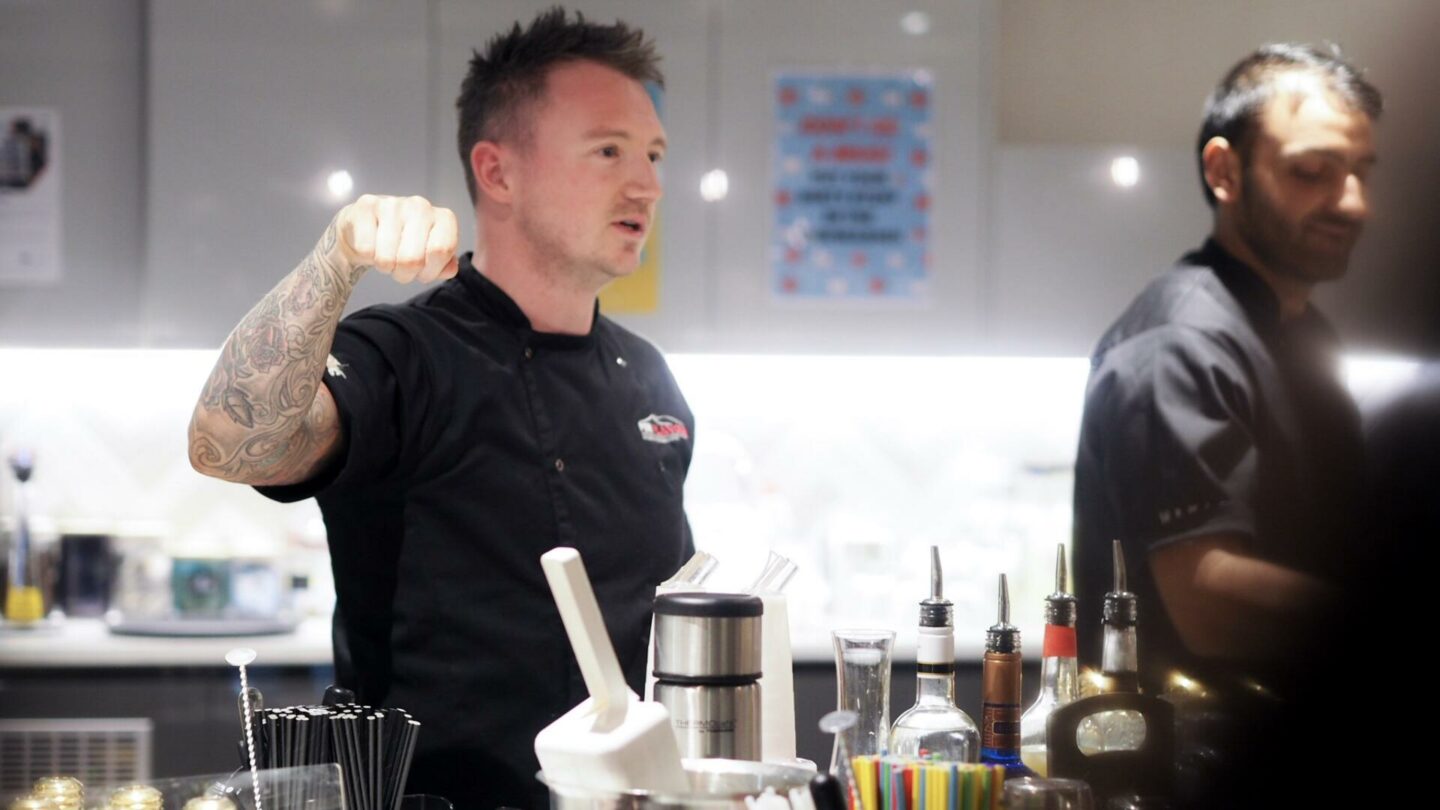 Cocktail Making – Fun At The Fair
Did you know that Moonpig delivers food and drink gifts as well as customised cards? Well, to teach us a little about it, we had a cocktail masterclass. The cocktail making was done on a rotation, meaning each group got to make a unique cocktail. (I'm sure if you have a look at the #LoveStartsWithMum hashtag, you'll be able to see some of the other group's creations!) Ours was called Fun At The Fair and was inspired by, you guessed it, the fairground. Namely, the goldfish in a bag you used to take from a trip to the fair. (My two longest surviving ones where Horris and Fifi, in case you were wondering…). After a quick demo, we were up and making cocktails in teams with our mums.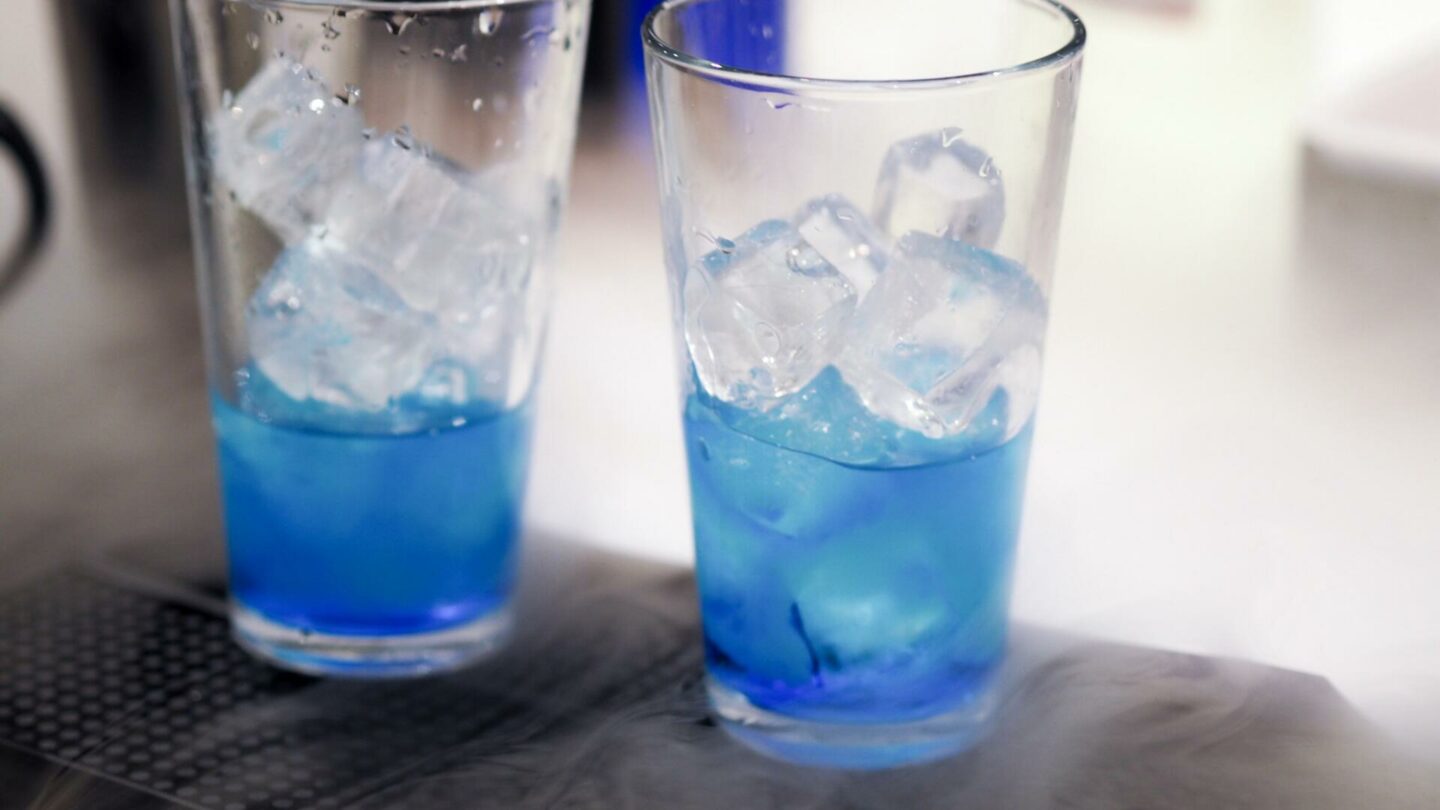 Now, Mummy Mac is not normally a cocktail kinda girl. (Her normal order is normally a Gin & Tonic or Dry White Wine!) Nor has she, so she claims, ever done a cocktail making class before. But the speed and skill she managed to put it together with had me shocked. She's a dark horse when it comes to this kinda thing! If you fancy seeing if you can make a Fun At The Fair cocktail as well as her? Well, I've popped the recipe below!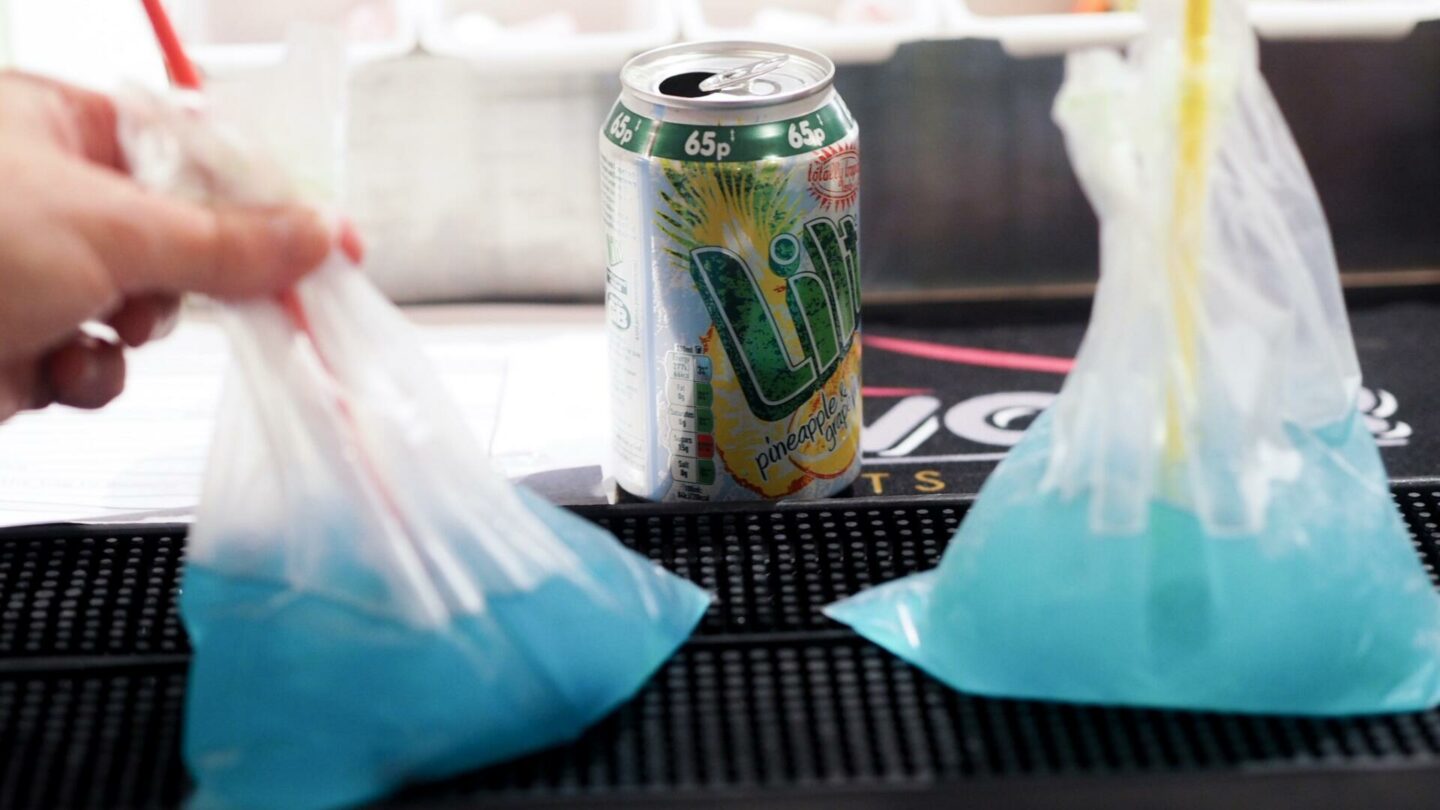 Fun At The Fair – Cocktail Recipe
What You'll Need:
Zip Bag (To Serve)
Ice
Shaker & Strainer
25ml – Vodka
25ml – Blue Curacao
25m; – Lime Juice
25ml – Raspberry Gomme
1 Slice of orange zest
1 can of Lilt
Haribo Fish to garnish
What To Do:
Fill the glass with a good scoop of ice.
Add in the Vodka, Blue Curacao, Lime Juice & Raspberry Gomme.
Shake until you're sure it's all mixed.
Open the zip bag, fill with ice and strain in the mix.
Top with Lilt (about half a can) and then add in your orange zest and a handful of the Haribo Fishes.
Throw in a straw, seal up the bag and enjoy!
An Afternoon Tea Break
After taking a bit of time to take some photos (and of course, enjoy the cocktails we made!) it was time for afternoon tea. Like any good afternoon tea, each stand had a selection of finger sandwiches, mini cakes and of course, scones. Everything I tried was absolutely delicious, but my favourite, as always was the scones. Putting on a layer of jam then thick clotted cream is my idea of heaven. Not only was the food great but I loved the vintage china too. It was an absolute pleasure and made me really glad we hadn't had time to grab a snack before arriving. If we had of, we might not have enjoyed all of these yummy goodies as much!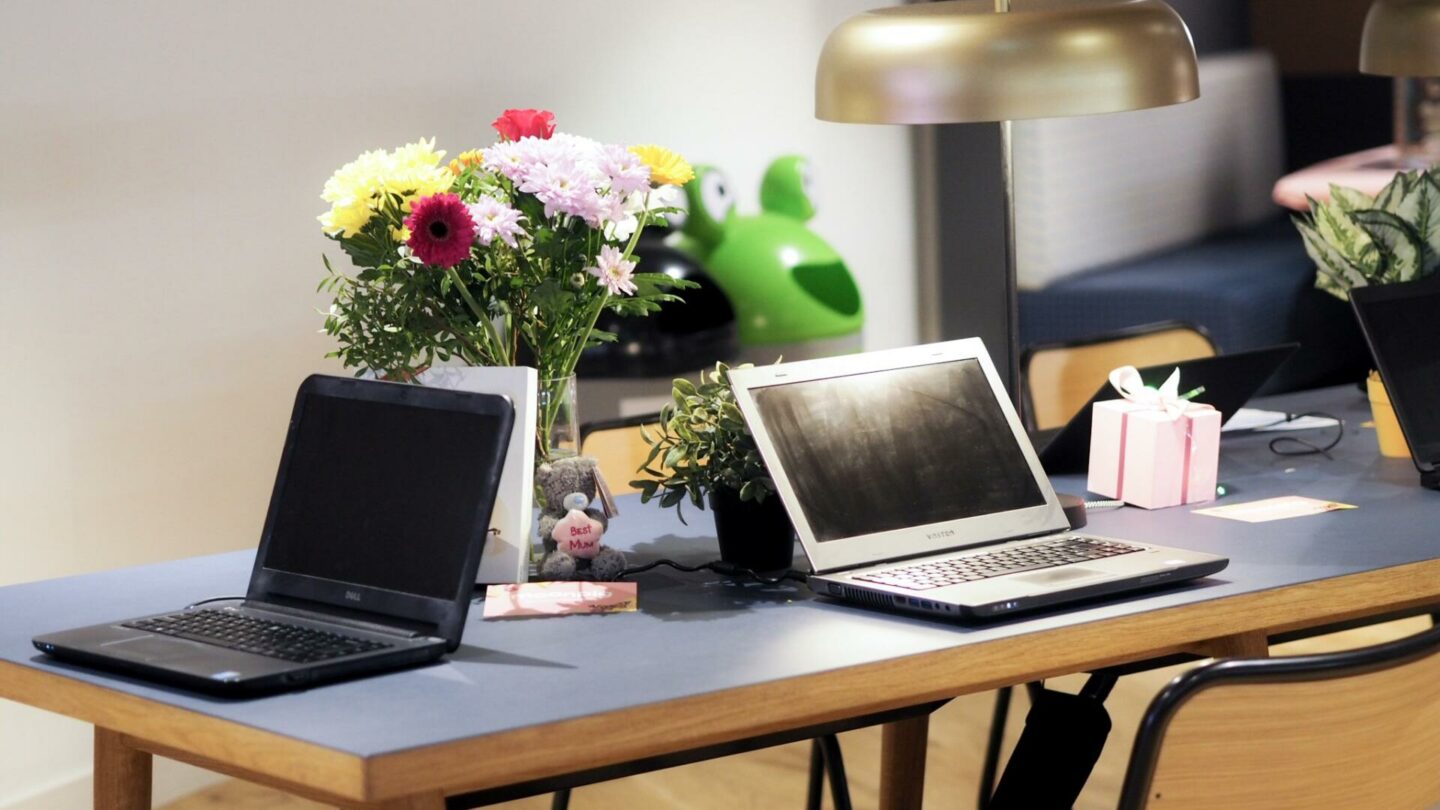 Photobooth Fun & Custom Cards
With full tummies, it was time for our next activity. This time, we'd take photos in the photobooth (props optional) ready to use in creating our own personalised Mothers Day cards! We ended up picking our design and putting an inside joke as the message inside. Something you just wouldn't quite find on the high street or off the shelf. And, well, to be frank, something no one else would find themselves cracking up as much while inputting it in!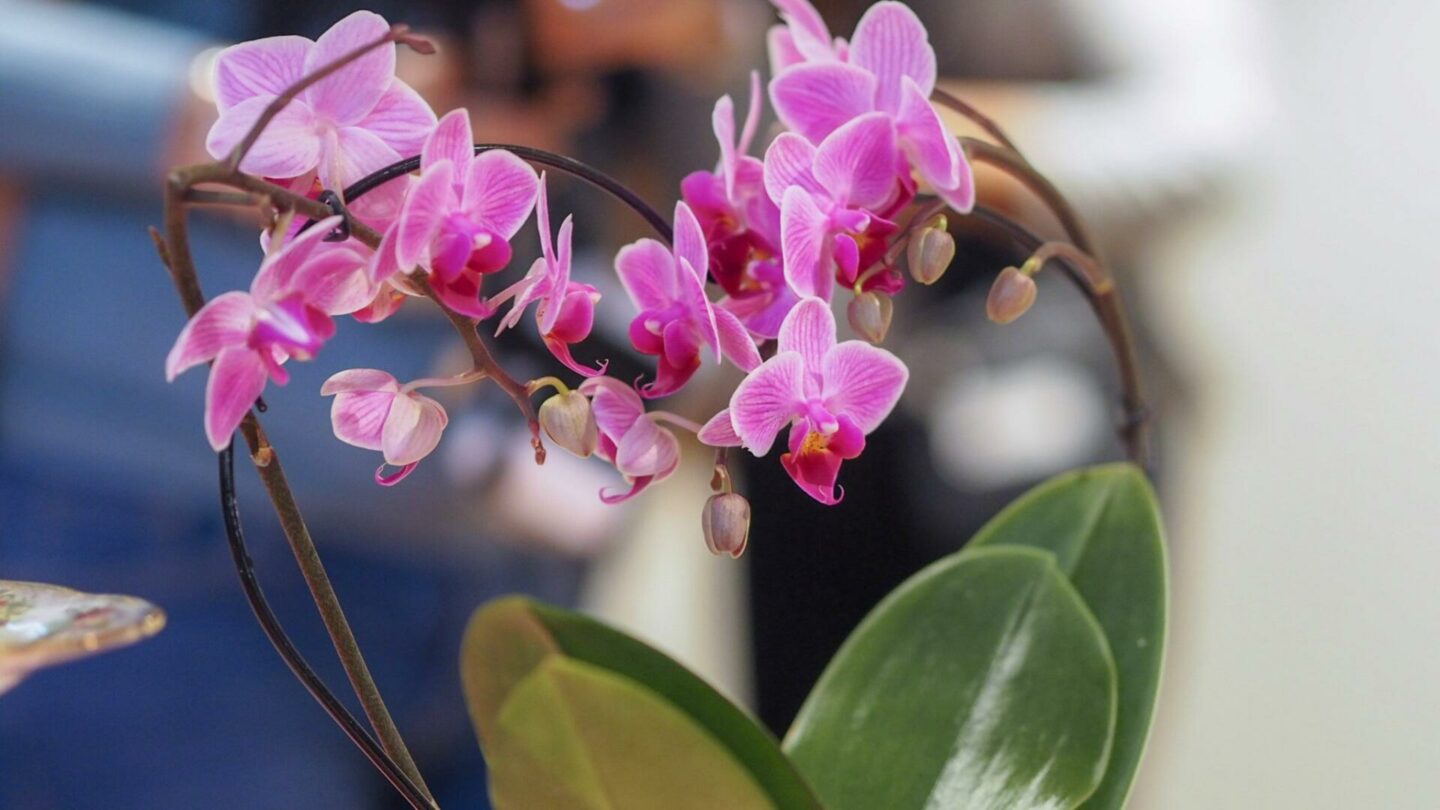 As we'd finished our card quite early, we had time to look over the range of Mothers Day gifts that Moonpig had set up in booths nearby. They have a wide range of gifts no matter what your mum enjoys, they've got you covered. From letterbox gifts (great for if you know they might not be in for delivery!), experiences, balloons, as well as food and drink gifts. They also offer personalised options such as bottles, mugs and shirts. See what I mean about something for everyone? They'll surely have something she'll love. Or, if none of these tickles your fancy for her? They also do a range of bouquets no matter what your budget. Which brings me on to…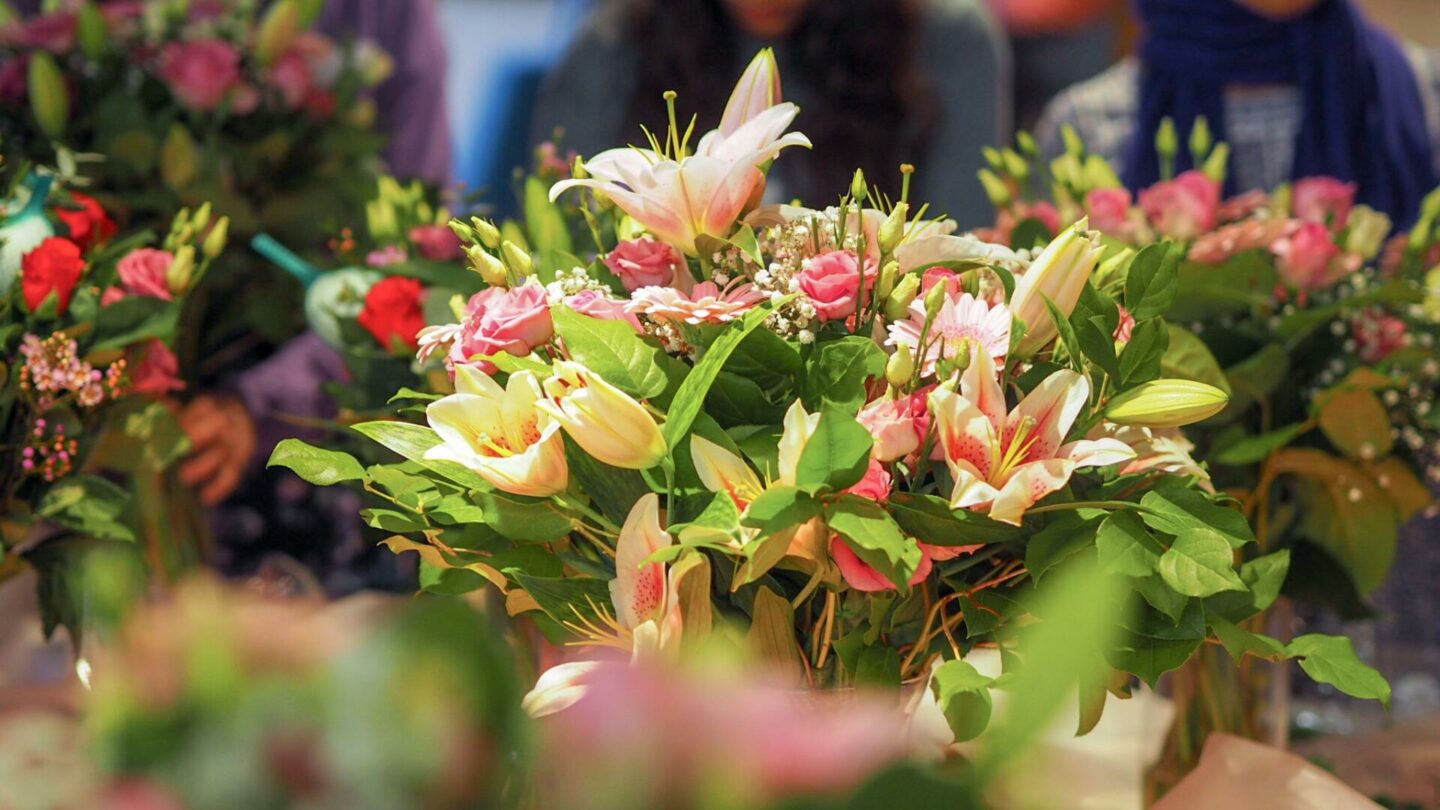 Flower Arranging Class
First of all, can we just take a moment to look at that bouquet? How stunning is that?! And, would you believe that isn't from a branch of florists but instead is delivered by Moonpig. Well, I'm here to tell you that, although I was a little bit surprised by the extent of the gift range offered by Moonpig, I was not prepared for how wonderful the floral offerings were. My mum is a huge fan of having fresh flowers and she was absolutely gobsmacked with the quality.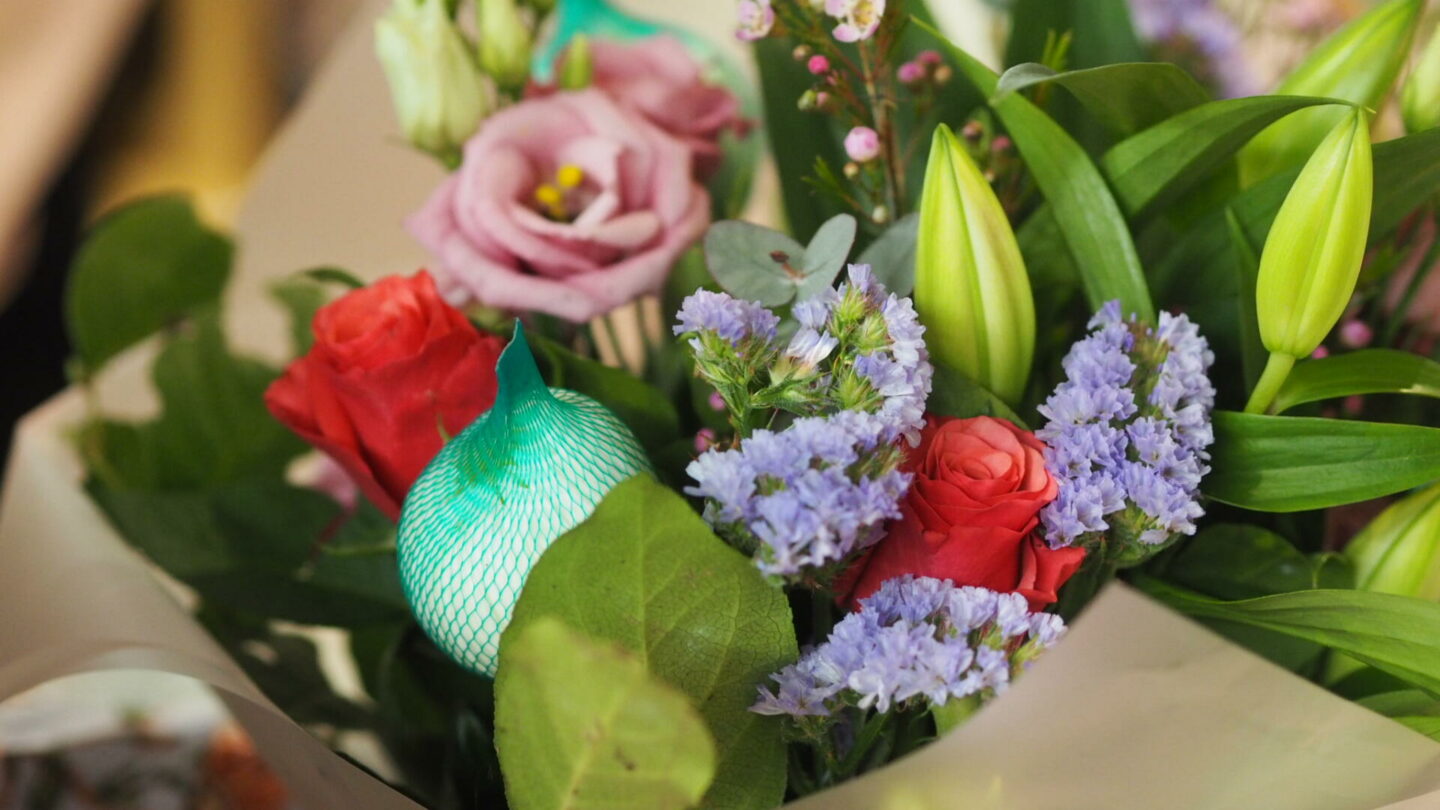 We were given a crash course on how to treat a bouquet from Moonpig and arrange it, so here are a few tips below;
Most bouquets come with a matching bow, don't throw this away with your plastic packaging. Instead, it will look lovely tied around your vase.
Talking of vases, make sure your vase is about half to three-quarters of the size of the stems. (Once trimmed that is!)
When trimming your flowers, do this at a diagonal angle, this means the stems have the best chance of absorbing the food.
When your flowers are a few days old and you change the water, if you don't have any plant food you can use warm water with a teaspoon of sugar. That'll do the trick almost as well. To give them an extra boost, you might want to trim them again too.
Keep them away from fruit bowls as the gasses let off make both the flowers and the fruit turn quicker.
Moonpig recommended they'd last for at least 5 days after delivery and were kind enough to send both mum and me away with a bunch to keep. Ours actually lasted almost 2 weeks. My mum was super impressed and has already been making hints about me ordering her some for Mothers' Day!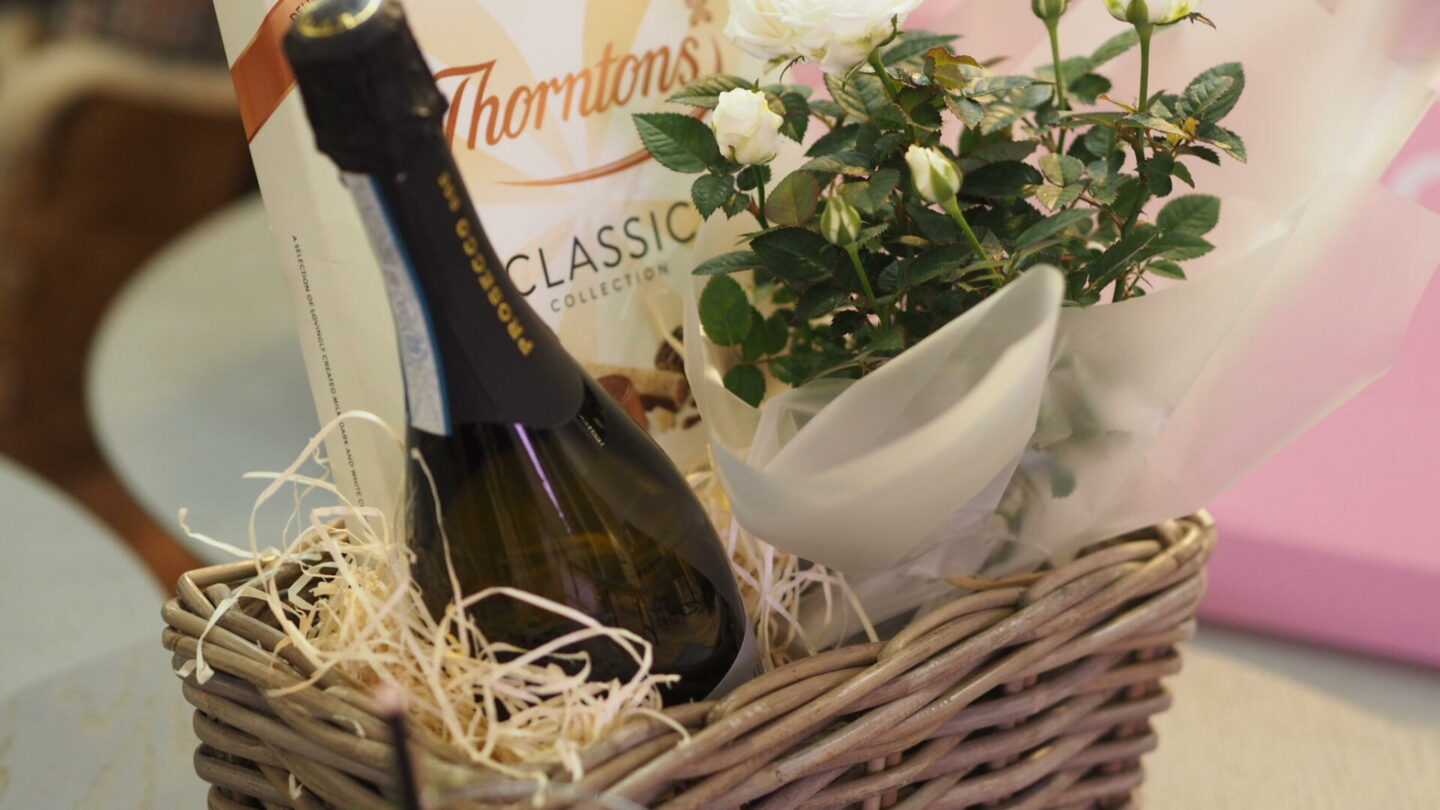 Thank you again to Moonpig for not only giving me a lovely day but for making my mums first time attending a blogging event with me so special.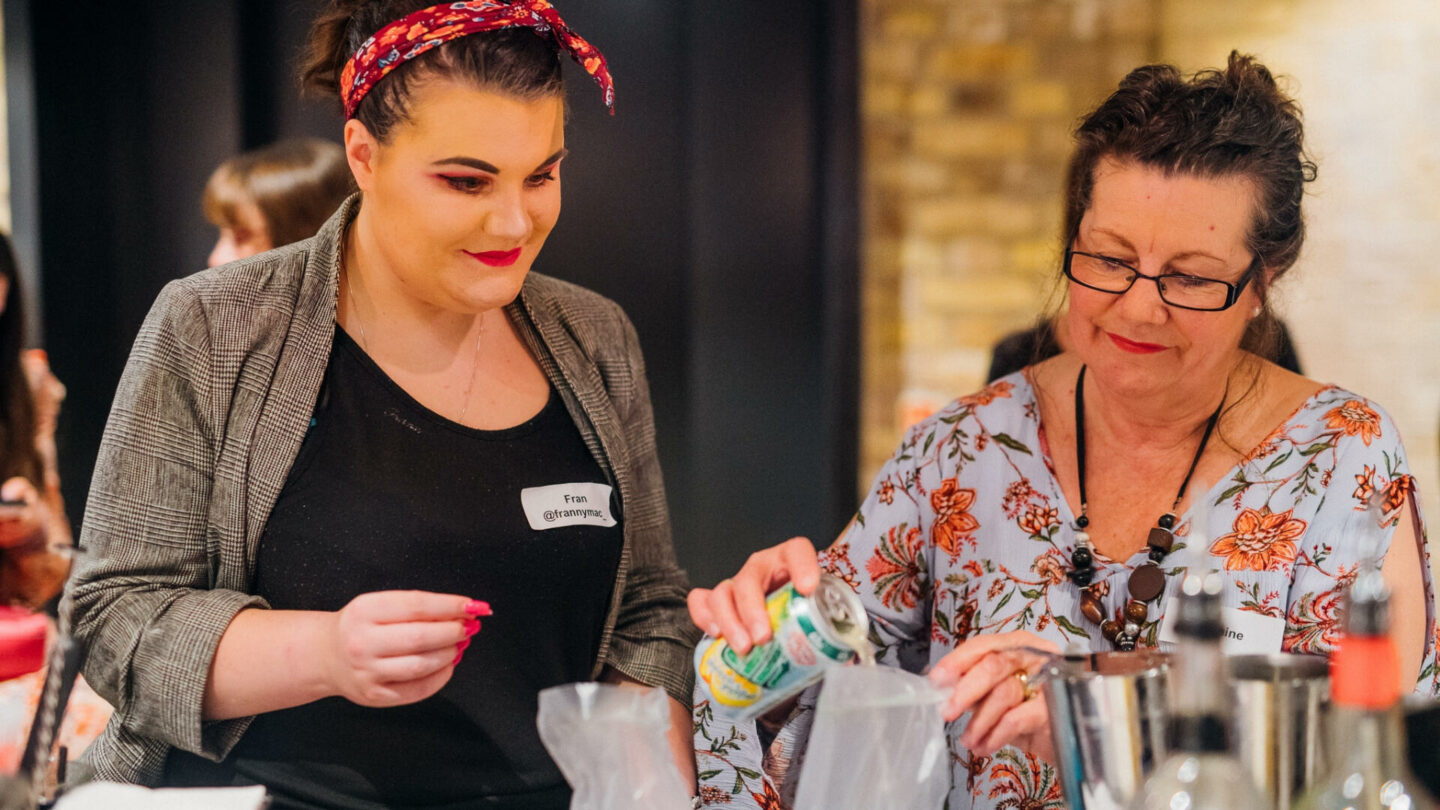 Find me on;
Bloglovin' | Twitter | Instagram