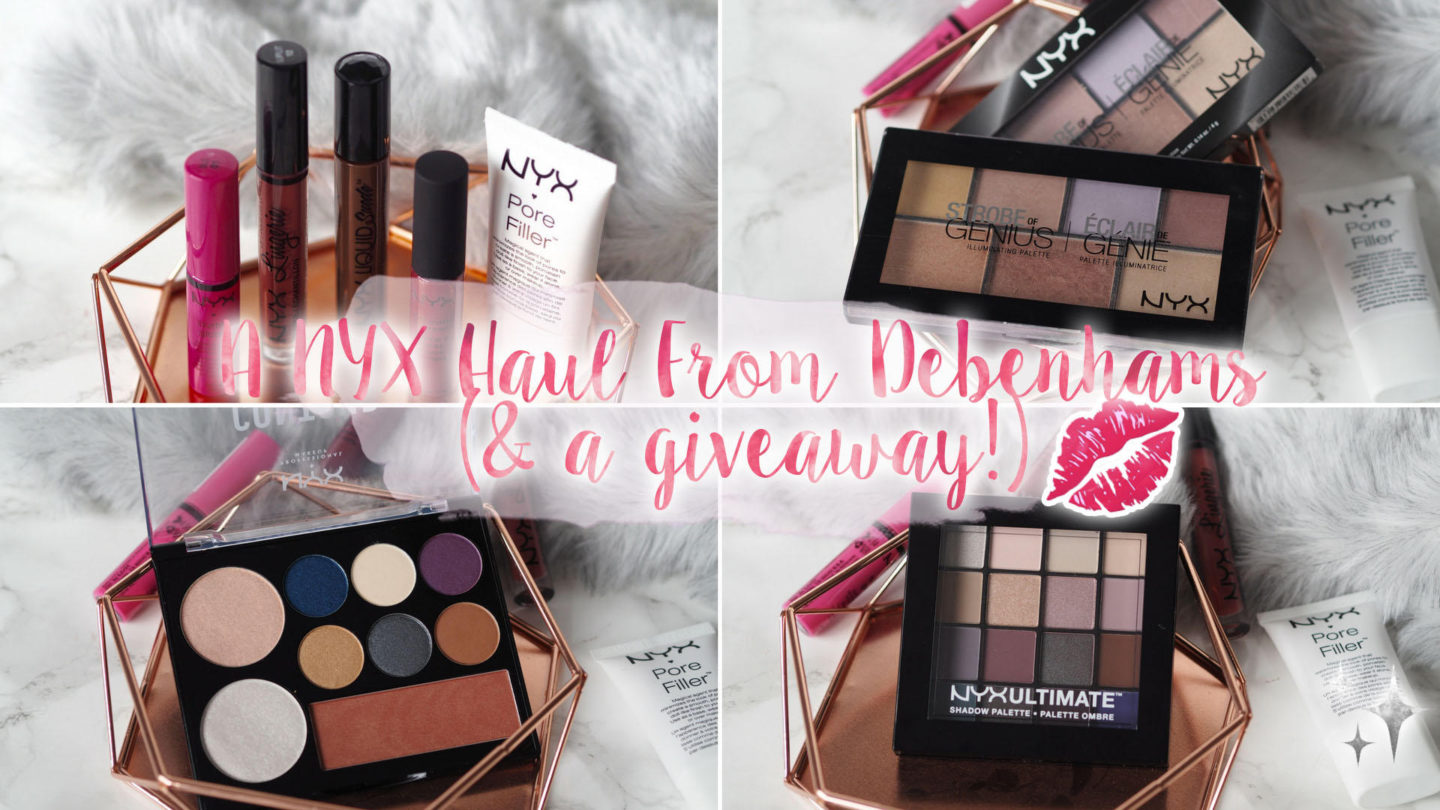 The first product I tried from NYX, it was 3 years ago and I bought it on eBay from America. It was the most gorgeous lilac toned pink and I fell in love. The only downside? The fact it took forever to arrive and because I had just bought the one item it was looking too pricy to buy more. (Back before I discovered shipping sites, a simpler and less spendy time in my life..) So when I saw NYX were launching in the UK, I was beyond excited. Since then, it's became a staple brand in my makeup bag and with good reason too. With that in mind, when I saw Debenhams were to start selling NYX I was excited. They now stock almost all of my favourite makeup brands in one place. (Sephora – eat your heart out!)
On that note, here's what I picked up in my latest NYX haul and a cheeky giveaway so one of you can get your paws on one of my favourite NYX products;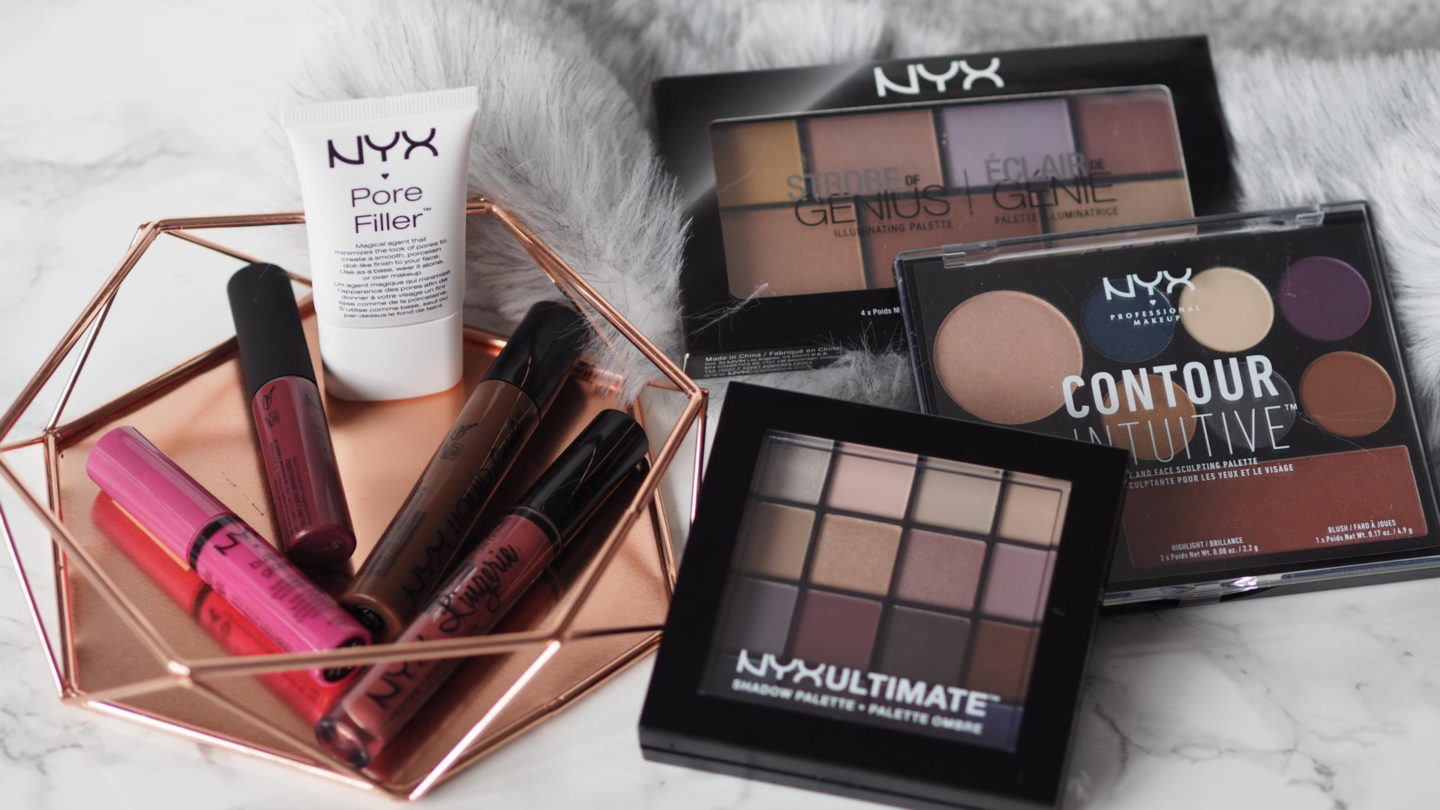 A NYX Haul From Debenhams
With a selection of NYX's best selling products – let's break it down with a few mini reviews eh?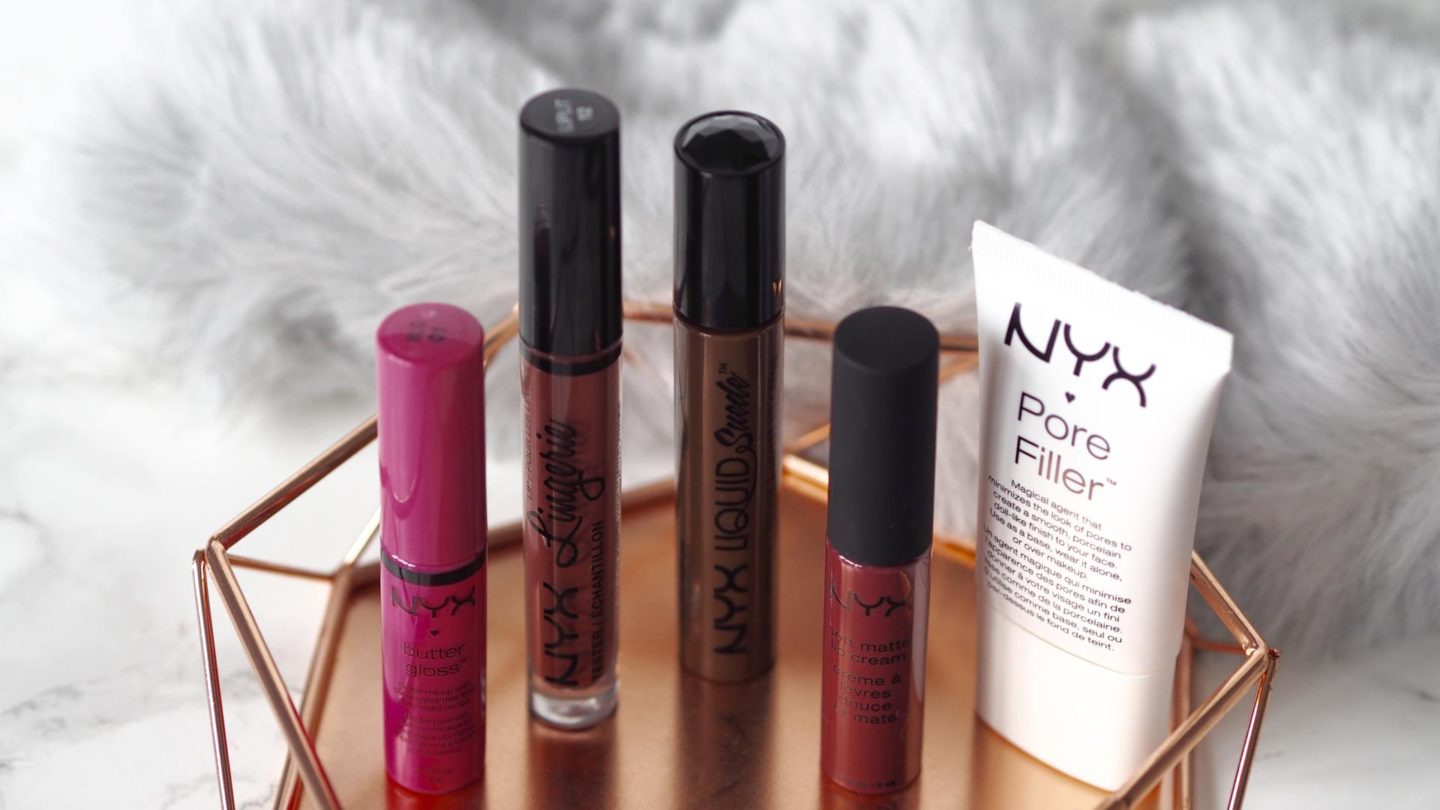 NYX Butter Gloss in Strawberry Parfait. I'm normally a matte lip kinda gal, so I was pleasantly surprised by just how much I liked this gloss.This subtle fuchsia shade has a butter texture (hence the name!) and has a non sticky feel. Best of all, it leaves you with a wet look without the stickiness. I'll definitely be adding a few more of these to my collection!
NYX Lip Lingerie in Exotic. If you hadn't heard of the Lip Lingerie range before, I'd be shocked. It feels like the whole of my twitter timeline went crazy for them last year. People seem to be torn on the formula with some finding it too dry but as I wear matte lipstick almost daily I love it. Exotic is a warm mahogany red which is ideal for autumn and suits me a lot more than Teddy which I'd bought when they launched.
NYX Liquid Suede in Downtown Beauty. This Walnut brown is unlike any other colour in my collection and I was so excited to try it. The formula is thick and long lasting – much like many of my favourite liquid lip formulas.
NYX Soft Matte Lip Cream in Budapest. Another of NYX's products that I've tried previously. These little beauties are great value for money, super pigmented and soft to apply. All of the shades are named after cities, which I think is pretty cool, with Budapest being a deep mauve with a red undertone. A fab colour for autumn.
NYX Pore Filler Primer. I'd actually tried this earlier in the year as I'd heard it was a possible dupe for Benefit's Porefessional Primer. From what I can see, they do have a similar formula and effect. My makeup certainly looked more smooth while using it and once I run out of their Photo Ready Primer I picked up last month, I'll be adding this to my routine again!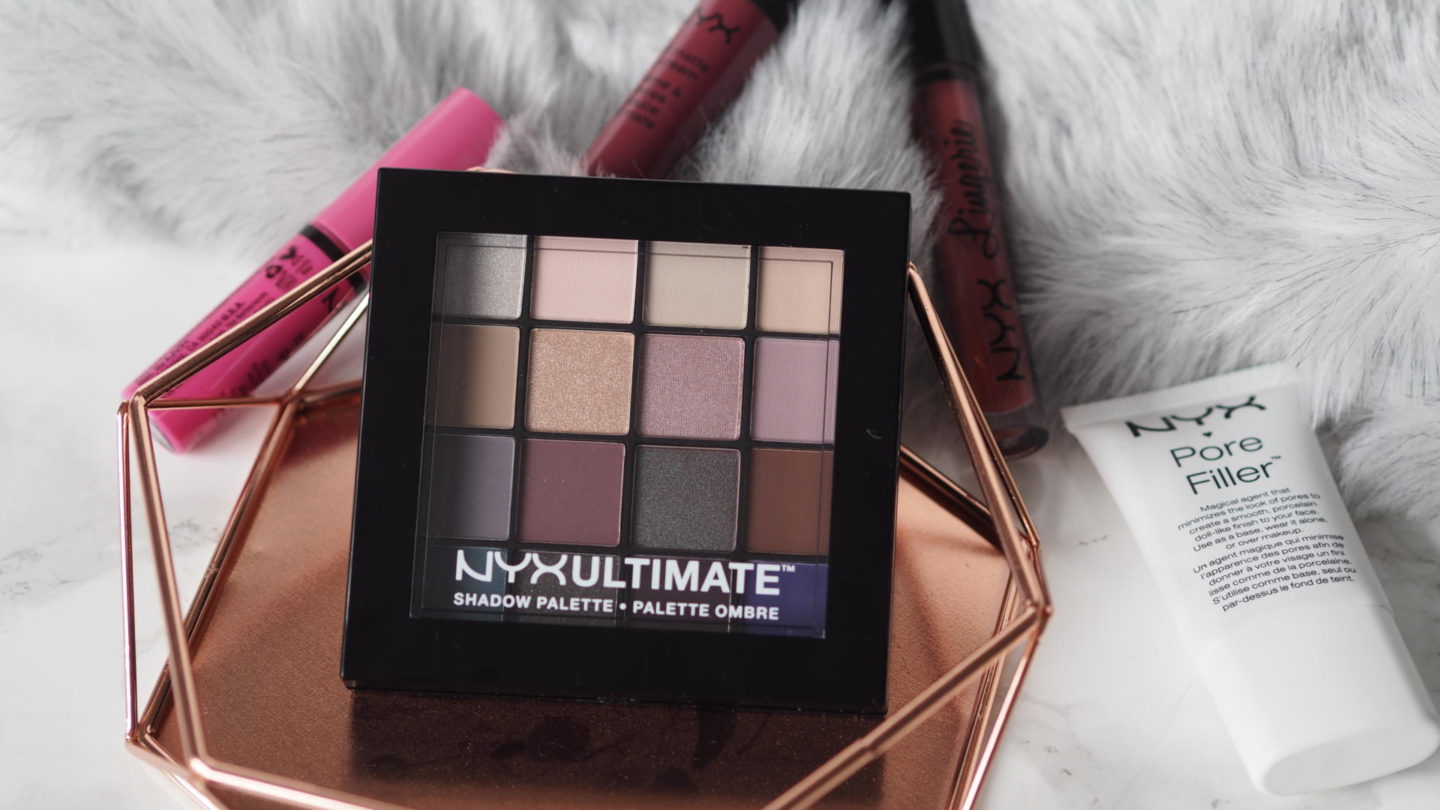 NYX Ultimate Shadow Palette – Cool Neutrals. The NYX Ultimate Shadow Palettes contain 16 shades in a combination of mattes, shimmers and metallic finishes. In my opinion, NYX have managed to nail a perfect day to night palette here. The quality is incredible for the price tag, I'd highly recommend adding this palette to your collection.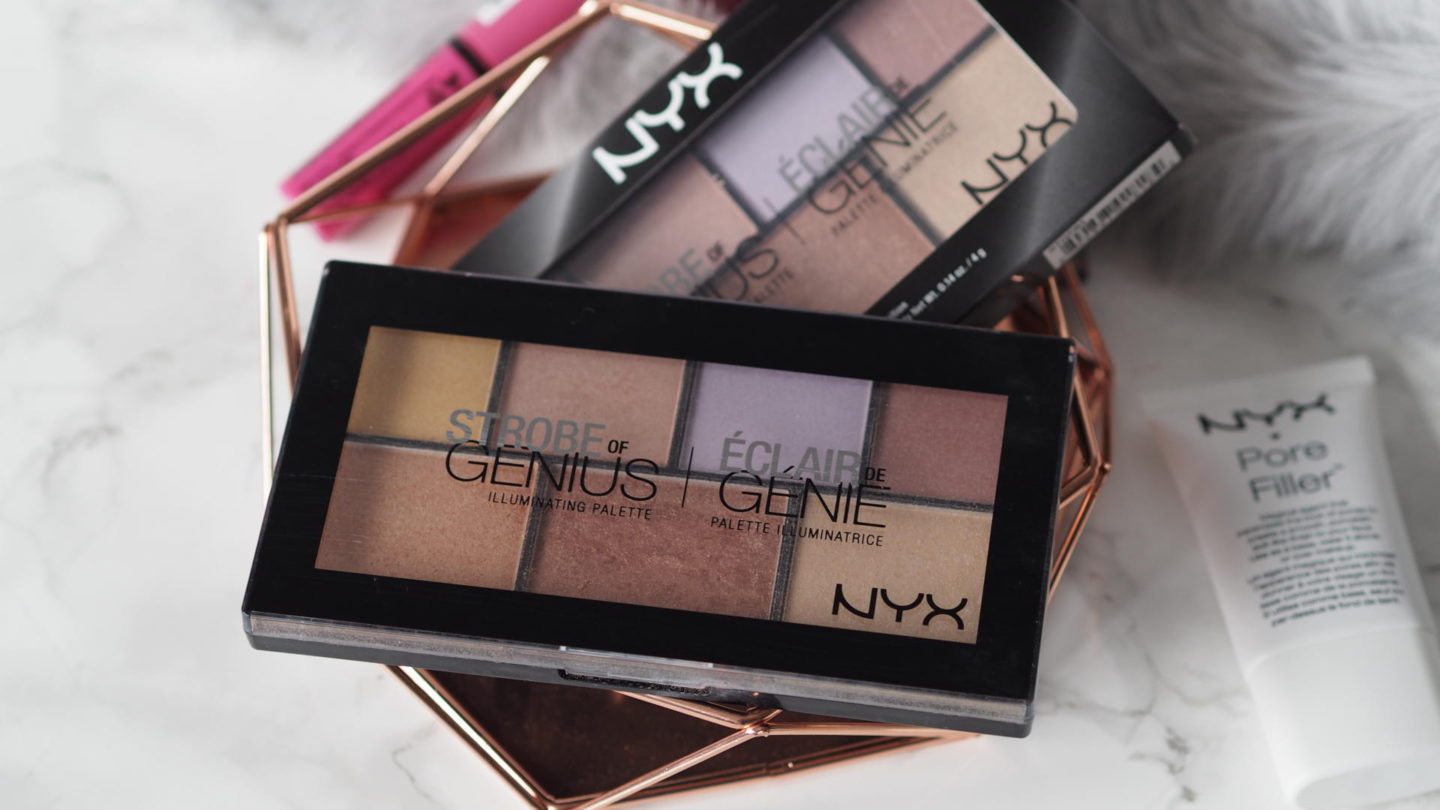 NYX Strobe of Genius Illuminating Palette. If there's one product from NYX you need in your makeup back it's this strobing palette. A selection of seven highlighters that are perfect for any occasion. A little goes a long way and I managed to use this almost daily for around 6 months before hitting the pan on my first one. If like me, you use a powder highlight, I can't recommend this enough.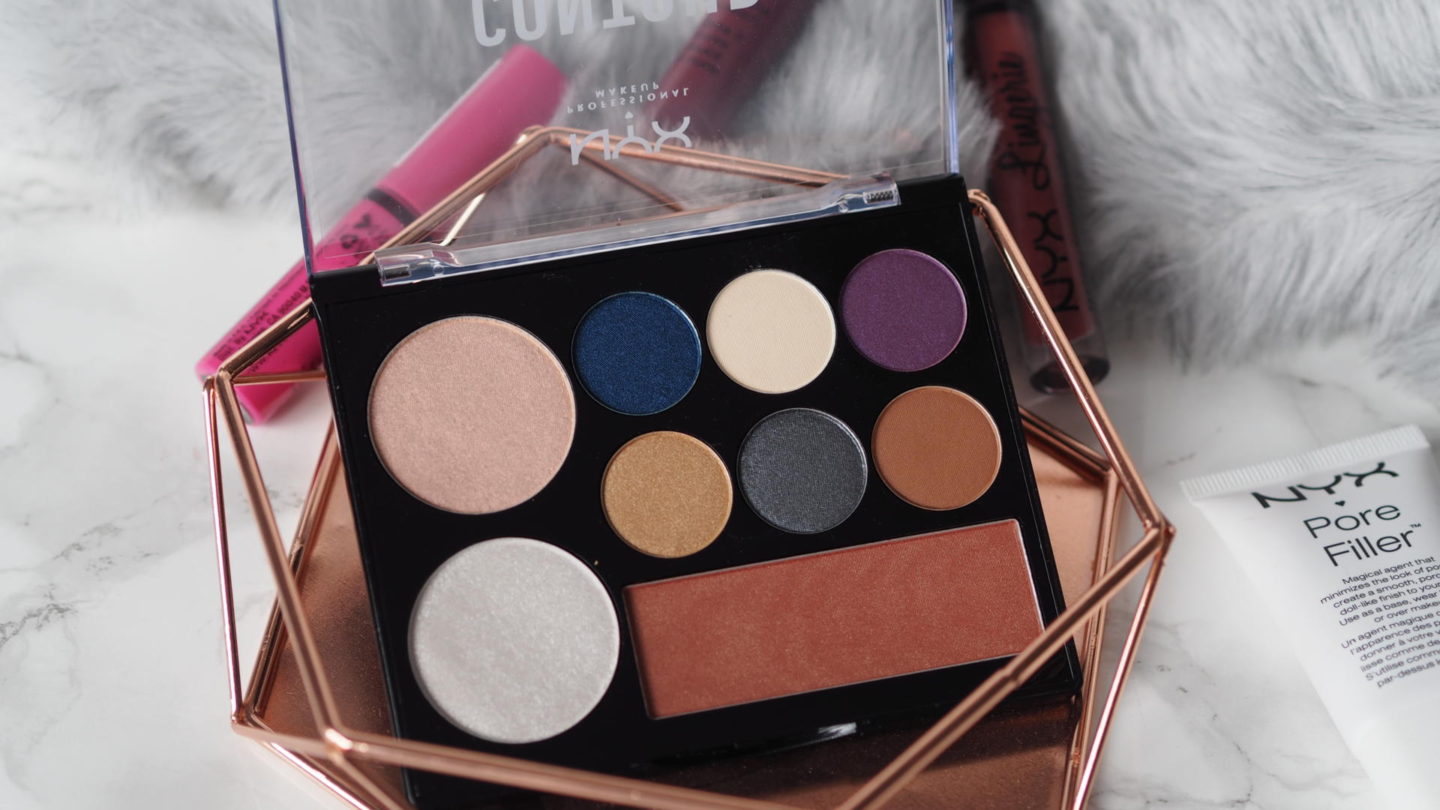 Contour Intuitive Eye and Face Palette in Jewel Queen.The three Contour Intuitive Eye and Face Palettes are actually exclusive to Debenhams, so you won't be able to buy them anywhere else. These sets each contain 6 eyeshadows, 2 highlighters and a bronzer/blush. A real look in a palette product and one that would be perfect for travelling. I know these colours will be ideal for the Christmas party season!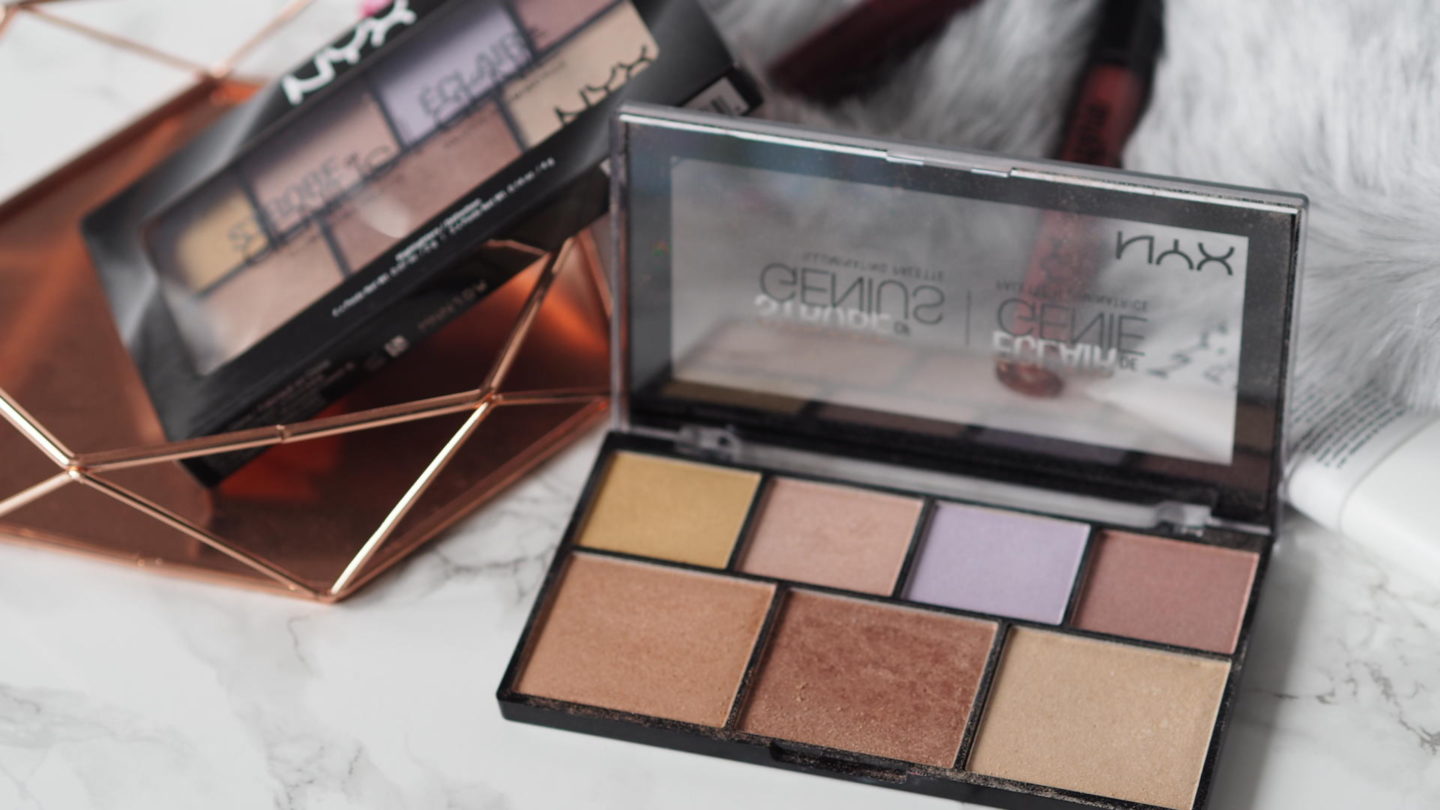 NYX Stobe Of Genius Giveaway
As I mentioned, I already owned (and use almost daily) my own Strobe of Genius palette. In fact, I actually bought a new one a few weeks back as I hit the pan on a previous. So rather than leave this little beauty gathering dust waiting for me to finish the other, I thought I'd do a little giveaway! One, UK based, winner will get a brand new NYX Strobe of Genius palette on me. Good luck!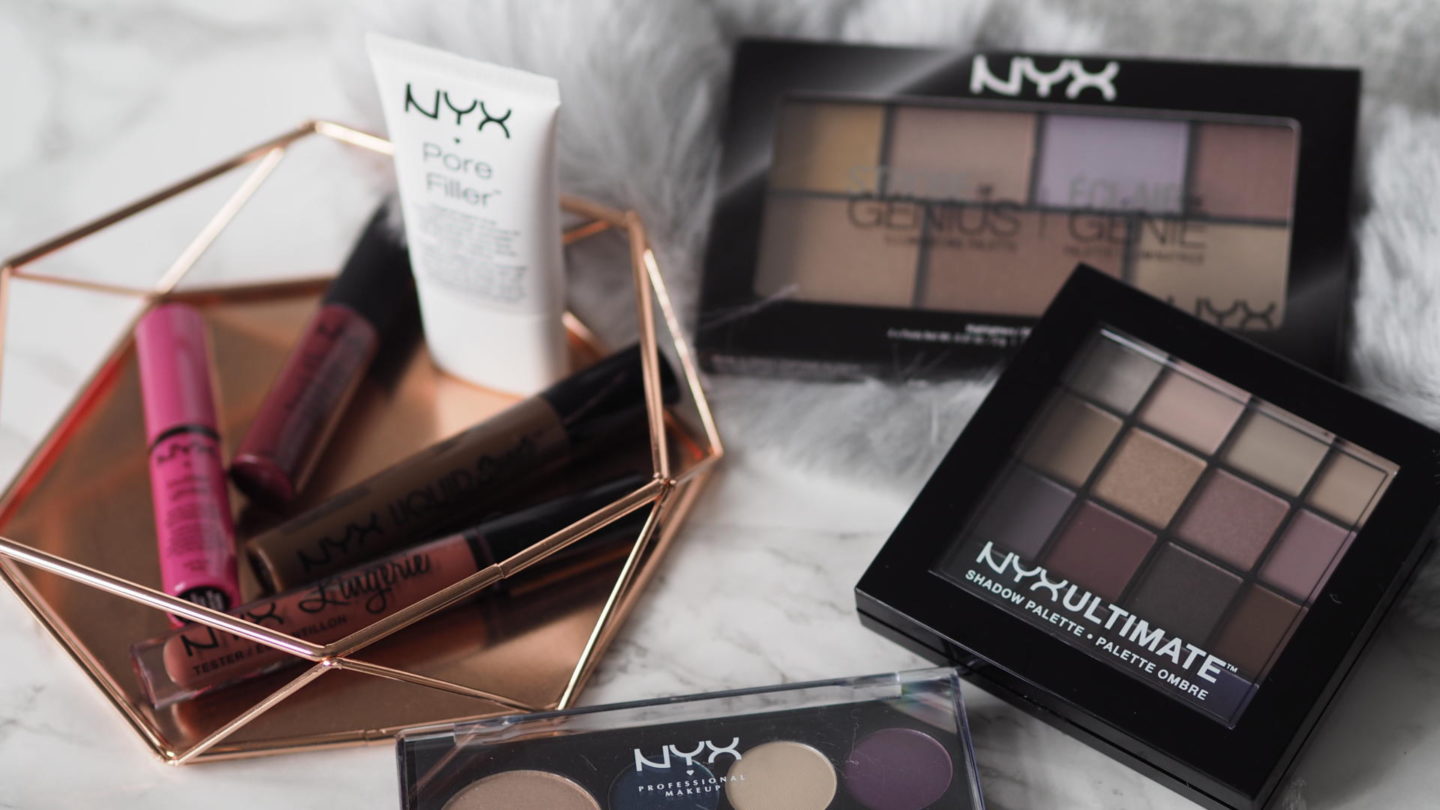 Have you tried NYX before? What products do you recommend I try next?
Find me on;
Bloglovin' | Twitter | Instagram
*I was kindly sent a selection of NYX products by Debenhams to celebrate the launch of NYX at Debenhams. All thoughts are my own.