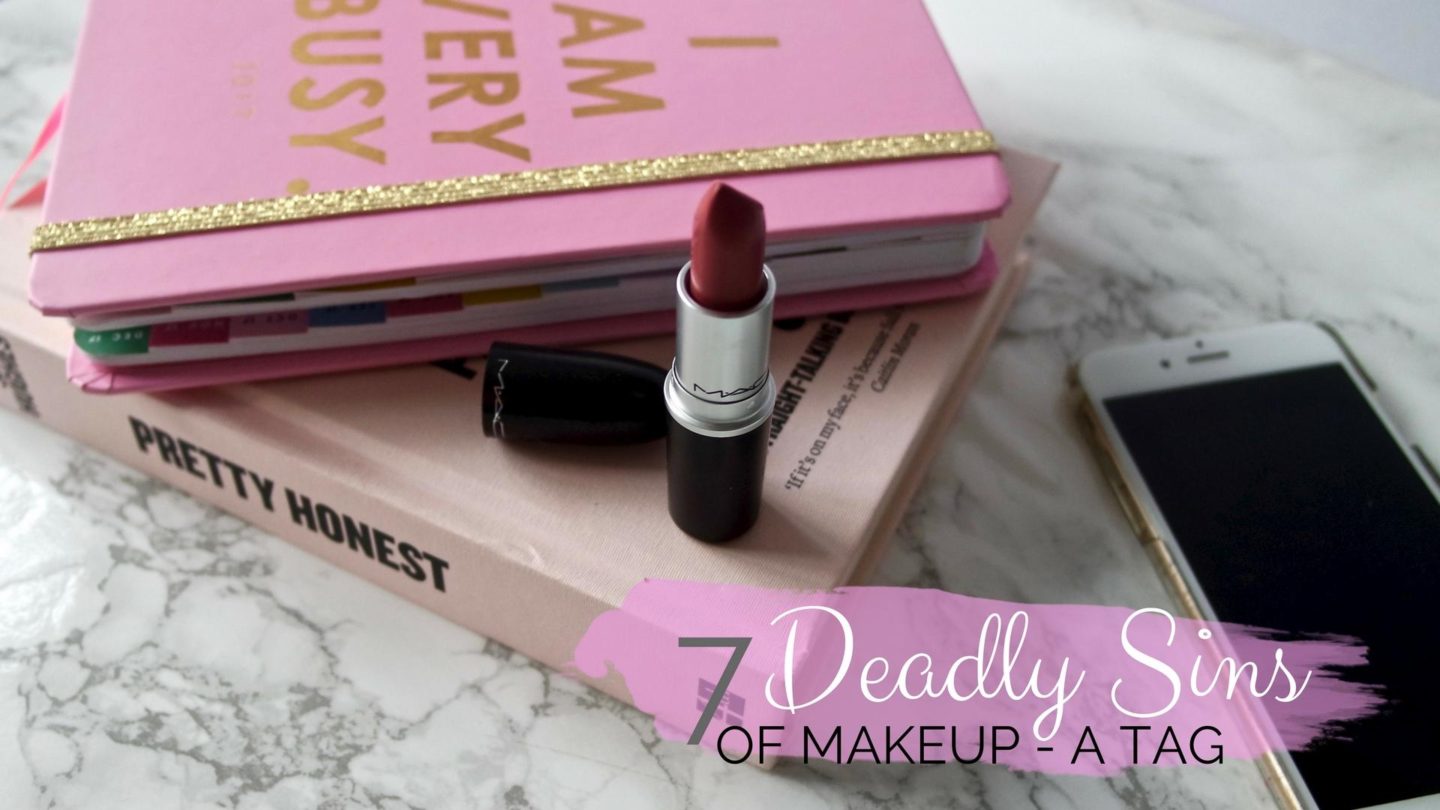 It's been a long time since I last did any form of "tag" post. But after spotting this tag on Rosie's blog I thought it would be a fun one to try out for myself. I mean, it's related to makeup and being a bit naughty with it – which is pretty much me on every pay day.
I won't tag anyone ('cos no pressure guys!), but if you end up doing this one yourself please leave a link in the comments as I'd love to read!
Greed

: What is your most expensive/inexpensive make-up item?

My most expensive item is the Huda Beauty Rose Gold palette, which set me back £56. However, with it having 18 eye shadows that makes them around £3.11 each which is only marginally more expensive than the Anastasia Beverly Hills Modern Renaissance palette. (Look at me over here trying to justify it..). If you're talking individual bits and not palettes then it would have to be my Tom Ford lipstick in Flamingo at £39.

Cheapest product? Probably my Makeup Revolution lip liners at a pound each. Not the best liners I own, but they're certainly not the worst by a long shot!
Wrath

: What product do you have a love/hate relationship with?

False eyelashes. When they work and I've managed to apply them properly I wonder why I don't wear them every day. However when I'm running late and one just doesn't want to stay in place I wonder why I bother and often end up ripping them both off and starting over with my makeup. Not fun!

Gluttony

: What brand takes up the most of your make-up collection?

It's a close call, but MAC takes up the biggest chunk of my make-up collection. For the longest time, their foundation was the only one that I found worked with my skin and having zero will power when it comes to makeup nine times out of ten, when I picked up a new foundation I'd pick up a new lipstick too. Oops. Second place would probably fall to ColourPop. Their $5 lip liners are my favourite formula ever as they're just so pigmented and soft, so I've been guilty of a haul or six over the last year. In fact, I may be making another soon..
Pride

: Which product gives you the most self confidence?

Foundation. I am really conscious about my skin and scaring, so I am rarely found without my full coverage foundation as it really does give me a huge confidence boost. If you're talking colours though? Who can say they don't feel more self confident rocking their favourite red lipstick!
Lust
: What item is at the top of your beauty wishlist?
Now this is a toughie! It's got to be a tie between either the Violet Voss Holy Grail palette (I blame Leah!), the Kat Von D highlight palette or to try some of the Jeffree Star range. I think, just because it's so hard to get hold of Violet Voss comes up on top though…

Sloth

: Which product do you neglect due to laziness?


It used to be that I neglected my skin care routine and would often be found skipping moisturizer or using face wipes to save a few minutes off my routine. However, one of my aims for this year is to take better care of my skin. So, hopefully this won't be my "sloth" sin for much longer.
Envy

: Which makeup look looks great on other people but not on you?

Dark lipstick. I wish, wish, wish I could rock a dark brown or black lipstick but they don't suit my skin tone at all. Which is a huge shame as I love the look on other people. Gosh darn those lucky duckies that can rock a whole range of dark shades, I'd be lying if I said I wasn't jealous…

(Although, if anyone has any recommendations for a dark colour to try that may suit me a little more, please let me know!)
What's your biggest "beauty sin"?
Find me on;
Bloglovin' | Twitter | Instagram