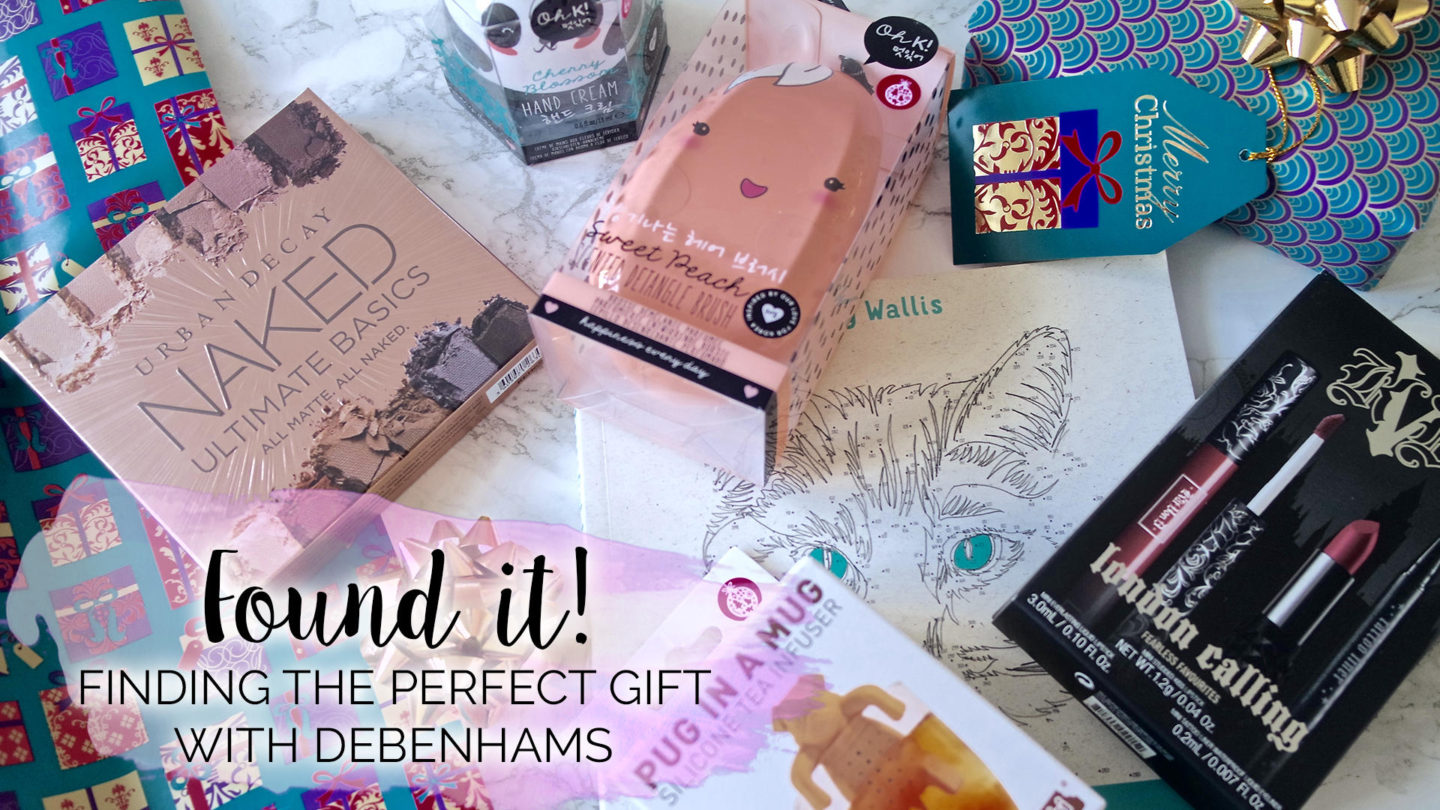 I know it seems a little early to start mentioning Christmas on here, but there are only seven more Fridays to go before Santa Claus is eating those mince pies you left out and dropping off gifts under the tree. Last year, I left buying a few of my main gifts until I got paid on Christmas Eve. Sadly, due to an error with our payroll, the money didn't go in until the 29th. Needless to say, it left me in mad stress. With that, I swore that the next year I'd have all of my shopping done way before the big day. So on that note, thanks to a successful shop at Debenhams, I "Found It" – it is most of my Christmas gifts.
Without giving away some surprises to people who read here, here are some of the gifts and stocking fillers I picked from Debenhams. Hopefully, it'll give you some ideas for when you start your Christmas shopping;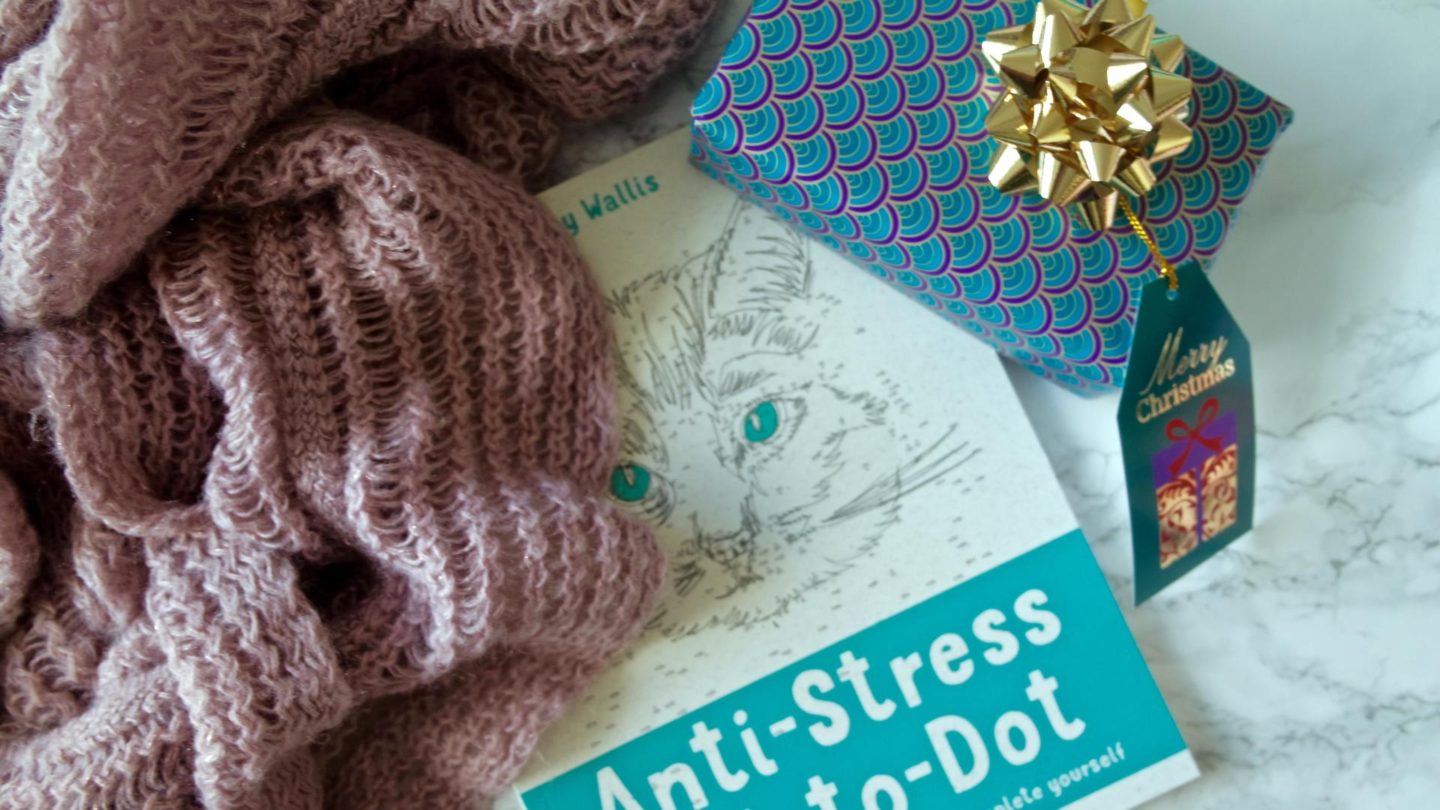 Finding The Perfect Christmas Gift with Debenhams – Found It!
I started my shopping by looking for a gift for my dad. He's a big fan of designer aftershave, so I was spoiled for choice looking for the perfect fragrance for him. Sadly, I can't share quite what I got him. When it comes to Christmas he's worse than a child for trying out find out what we've got him. (Seriously, one year we had to leave his gifts at a friend so he wouldn't snoop and find them.) So his is the one that's already wrapped up and ready to put under the tree.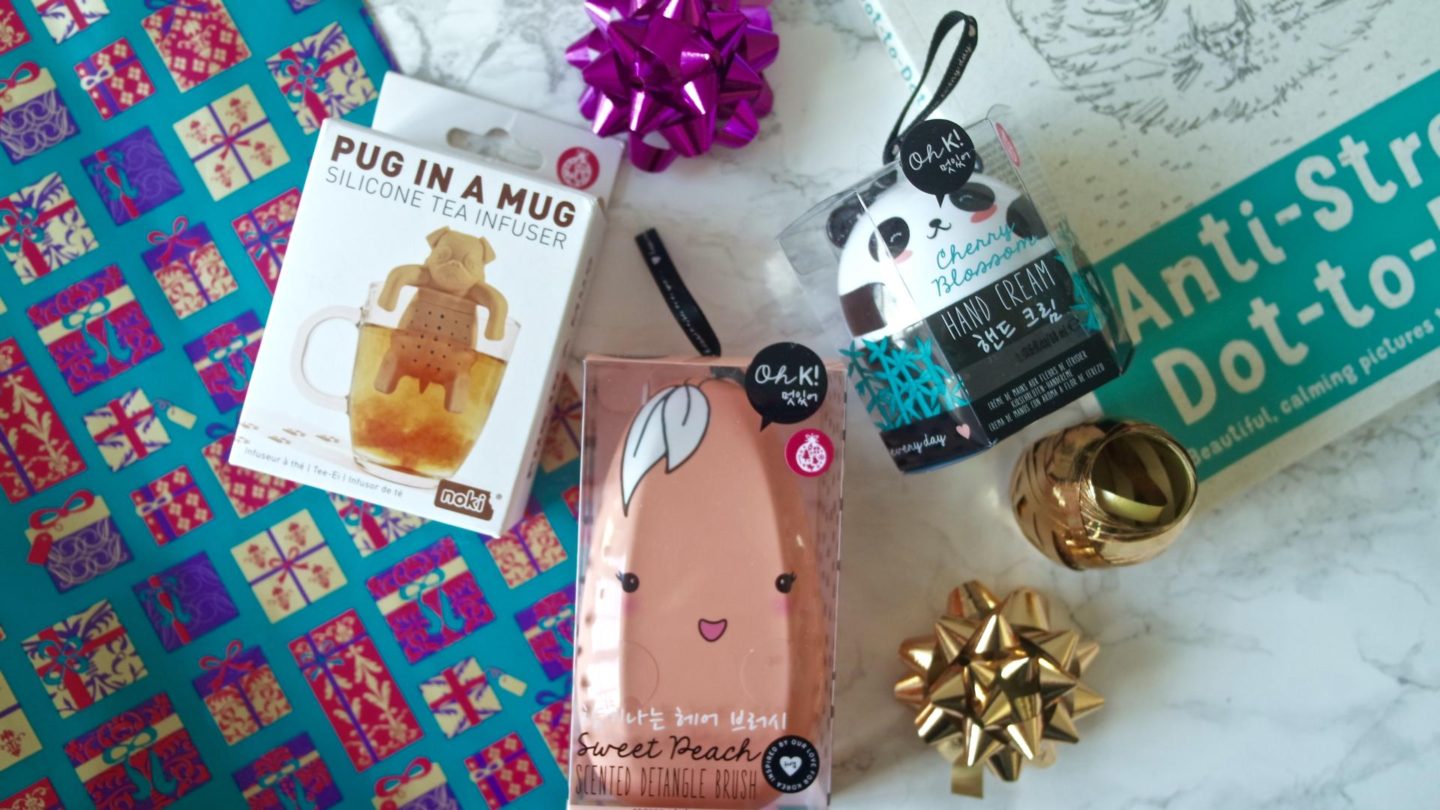 3 for 2 on Stocking Fillers
Not only does Debenhams have a great selection of stocking fillers for every budget, but many of them are also on 3 for 2. Anything with the pink sticker on is in the offer with the cheapest free. I picked up two of the Oh-K goodies, inspired by Korea. Not only are they adorable, but they're also great gifts for any beauty lover. So with a few secret Santas coming up and a couple of beauty addicted friends to buy for, these are a great shout. I know if someone was to pop this sweet peach-scented detangle brush or cherry blossom hand cream in my stocking I'd be over the moon.
Along with this, I picked up this pug in a mug tea infuser on the 3 for 2 offer, ideal for my friend who loves dogs but isn't allowed one in his flat. To add to this gift for my animal loving friend, I picked up the anti-stress dot to dot for when he needs to calm down after a bad day at work. Although, the rest of the gift is a surprise of course!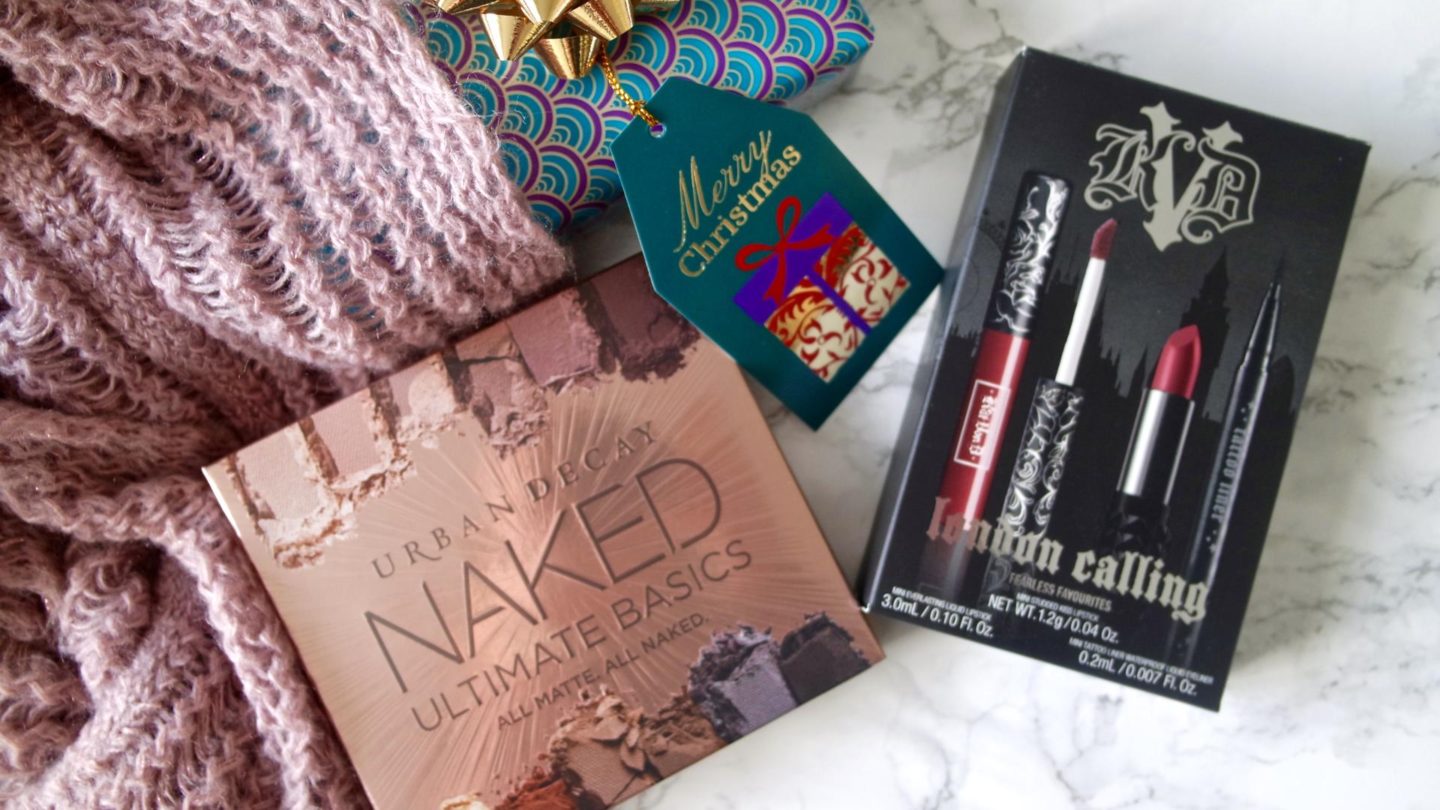 For the one I want to understand my beauty addiction
One of my best friends, despite me telling her all about how excited I was by various launches over the year, still doesn't approve get my beauty addiction. So with me raving about the Kat Von D range launching at Debenhams, I thought the London Calling set of some of her best selling products was the ideal gift. Hopefully, it will get her to see exactly why I was so excited about this launch. (Plus having had the minis myself before, they last a lot longer than you'd expect for a product of that size.)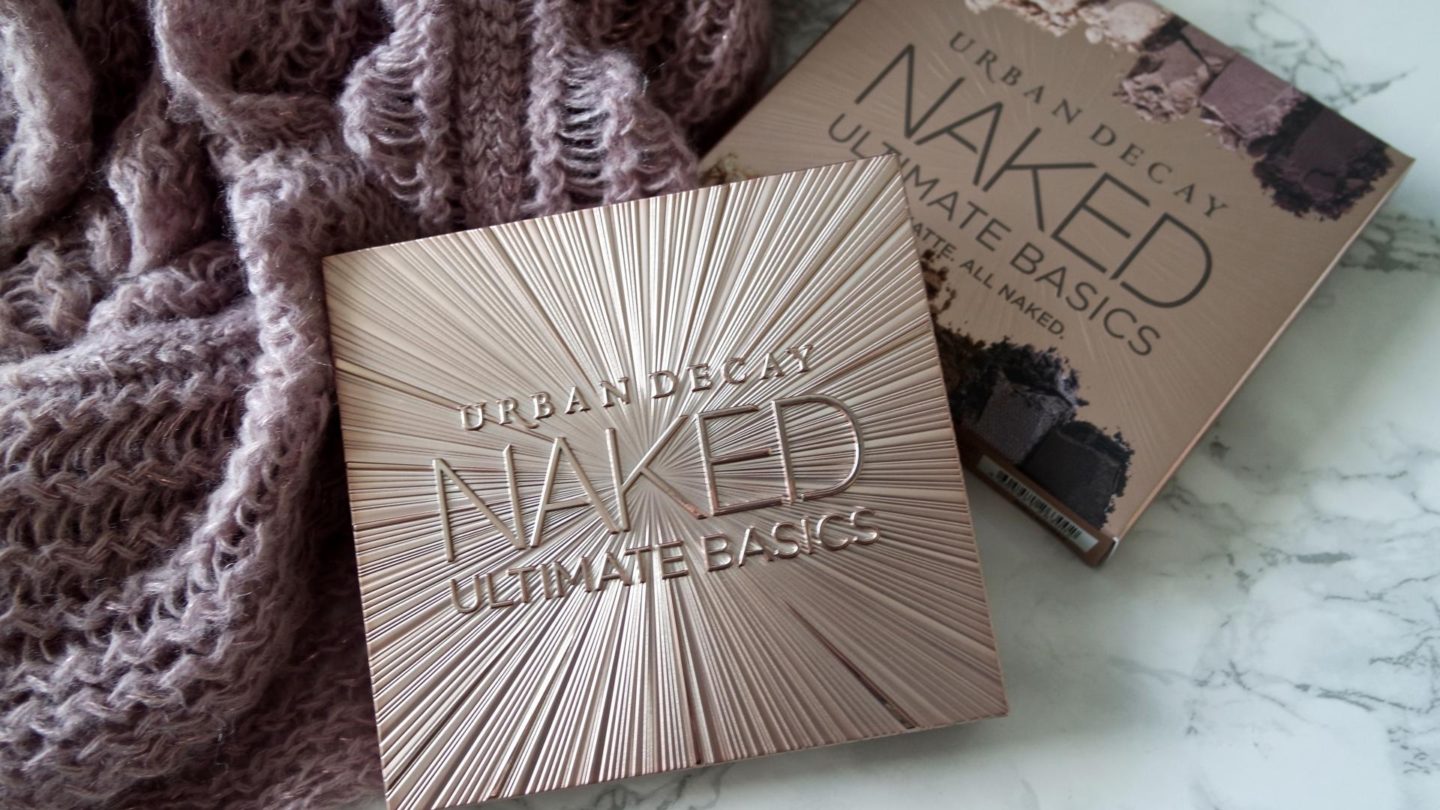 & For me…
After being practically finished with my Christmas shopping, I decided that I deserved a treat. So I bought myself the new Urban Decay, Ultimate Basics palette. Filled with twelve gorgeous matte shades it may well be the perfect nude palette. But more on that in another post…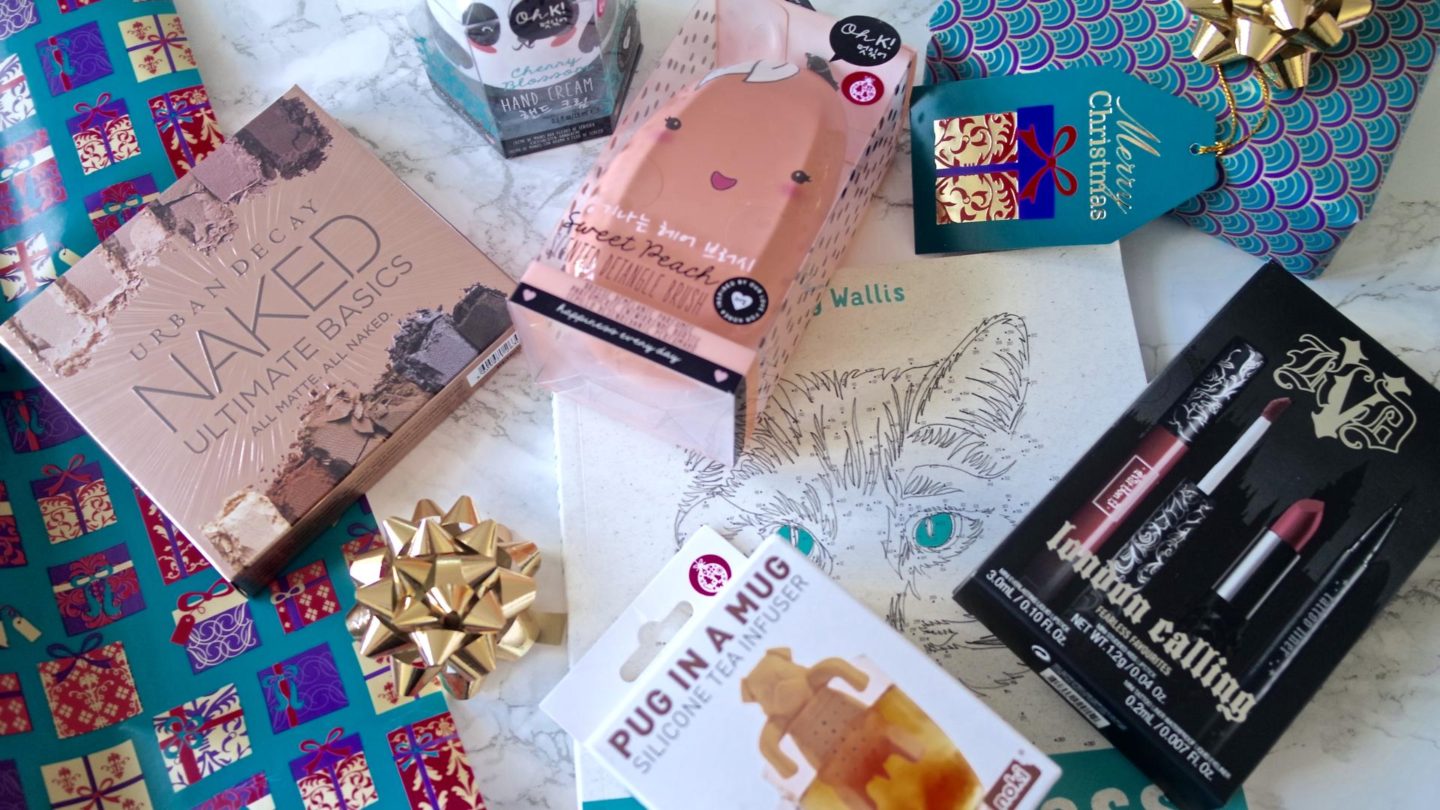 Today, Debenhams has up to 25% off their Christmas lines, so the perfect time to treat your loved ones. (Or yourself..)
Find me on;
Bloglovin' | Twitter | Instagram
*Debenhams kindly send me and Leah a voucher to spend on their Christmas range, although as always all opinions are my own.