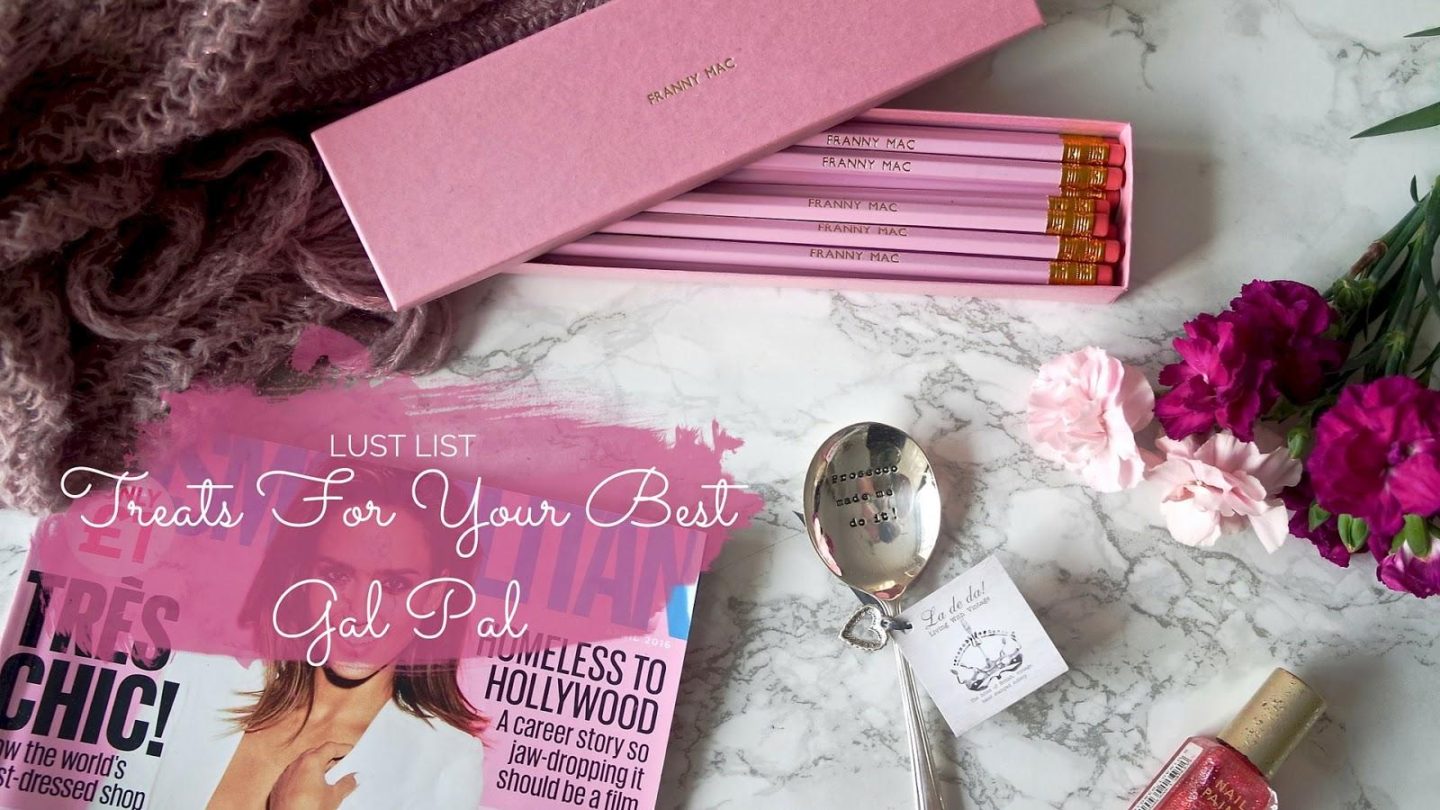 Everyone has at least one close friend that they can count on no matter what, be that giving spot on advice, cheering you up when your down or just being up for doing something fun with. For me, that is my best friend of god knows how many years Becky. So as Wednesday was National Best Friends Day and since my bestie is coming to visit this weekend it seemed the ideal time to share some cute ways to show your best gal pal that you care because hey, who doesn't love surprises?

1. Sweet Talk Pen Set – Ban.do. Sometimes, all you need is someone to give you a little support and with messages like "you're better than unicorns" and "you rule so hard" these pens are guaranteed to put a smile on your face every single time you use them.
2. Gigi & Kendall Card – Coconut Lane. We're all in agreement Gigi and Kendall at pretty much "squad goals" right?! The perfect way to show your sassiest friend that you appreciate her slaying everyday even if it's more down to the supermarket than opening for Chanel.
3. "Prosecco Made Me Do It" Spoon – I Just Love It. If your best friend is anything like mine, you'll have a few too many prosecco fueled memories. The age old trick for keeping it from going flat (if you have any left..) is to put a teaspoon in the bottle and this hand stamped spoon is a gorgeous way to do it.


4. Sterling Silver Arrow Necklace – JewelleryBox. As I mentioned earlier this month JewelleryBox is not only one of my favourite places to treat myself but as a gift their cute brown paper packaging is a sure fire winner and feels a special treat every single time.
5. Happiness Is A Little Note – ASOS. Sorry this list contains so much stationary, I just feel it's such a practical and thoughtful gift. These little notes are adorable and would brighten up anyone's day.
6. Things Are Totally Going To Work Out Notepad – Ban.do. I found out a few weeks ago that me and my best friend are not alone in being notepad hoarders and a few of my other friends are too. This would be a great addition to any collection and I think the quote is a fantastic thing to remind yourself of daily.


7. There's A Good Chance This Is Gin Mug – Etsy. Novelty mugs are always a winner and I couldn't think of a more accurate one to give your favourite gin buddy.
8. Personalised Pencil Set – I Just Love It. Because who isn't a sucker for anything with their name on?! If that's not your friends thing you could always add their favourite quote.
9. Favourite Person To Send Screenshots To Card – Etsy. If your shared media with your best friend isn't full to the brim with screenshots, well I don't quiet know what to think. Everything from "should I send this risky text" to "we should go here" to "oh my god have you seen" screenshots lie in that camera roll..
Aside from this, although everyone loves a gift to show you've thought about them, spending time and making memories is the most important thing. Go round, have a cup of tea or just send them a message to ask how their day is going, it'll mean more than you think!
Find me on;
Bloglovin' | Twitter | Instagram