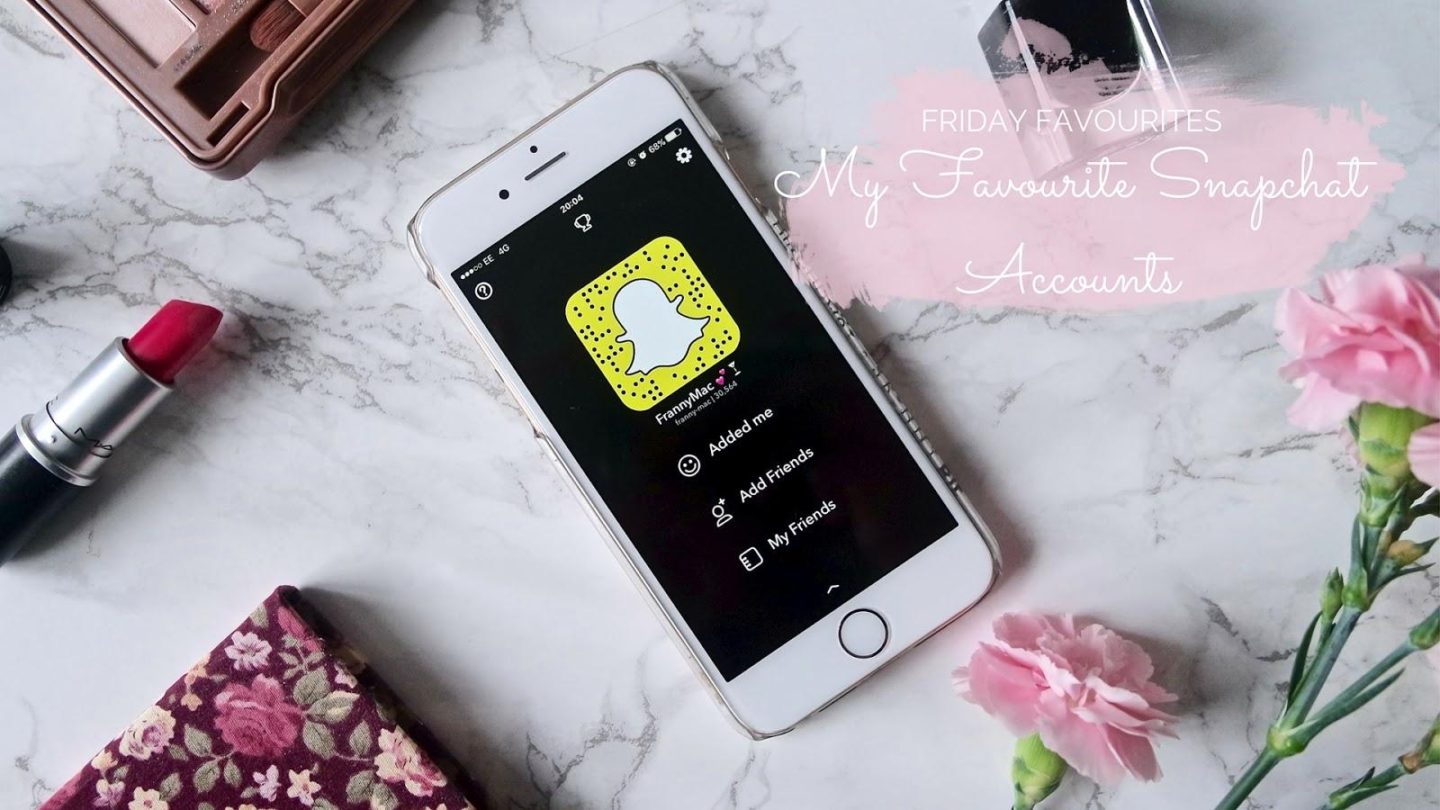 Snapchat is quickly becoming one of my favourite social media platforms. Being able to see 10 second snipets of someone's day in real time is not only the kind of technology that would be the stuff of Sci-Fi movies 10 years ago but injects that bit of personality that in the age of later-gramming and all together more polished polished sharing is a breath of fresh air. It's also a platform that I am trying to get better at using, so I thought I'd share some of my favourite Snapchat accounts;
Bloggers On Snapchat
DevotedToPink (Leah from Devoted To Pink) – It wouldn't be right if I did a list about Snapchat and didn't mention Leah, she's a big believer in the platform and even created of #SnapperOTW to share some love and help people discover new snappers to follow. Leah shares her makeup routine (including lots of tips and product reviews) and recent purchases along with what she's been getting up to.
MissChloeBrewer (Chloe from LadyWrites) – When it comes to "Blogger Mail", Chloe's snaps make my creditcard want to cry. Plus she's just such a genuienly lovely person and that shines through!
TheSheffielder (H from The Sheffielder) – One of my favourite things about Snapchat is being able to see places all around the world in real time. While Sheffield may not be exotic, H showcases the best bits of the area (amongst other places) along with insights from her day and outfit snaps.
L-BlondeVision (Lauren from BlondeVision) – Due to Lauren's job in events, she's often found snapping pictures of swanky venues and exotic places. When she's not travelling, she shares snaps of her newly renovated home which can only be described as #Goals.
AsYouWishUK (Georgie from As You Wish) – I made the mistake of following Georgie when she was away on holiday and being super jealous of all the sunshine filled snaps. When she's not away, her stories are filled with hauls and bits of her day.
BeckyBedbug (Becky from Becky Bedbug) – If you follow Becky on Twitter you probably know she is hilarious, and this carries on through her snapchat. Seriously, her witty observations are second to none!
EffortlesslyExc (Kirsty from Liffe In Excess) – Kirsty's blog name doesn't lie, her snapchats show the most beautiful and exclusive locations and make me want to jet away on a holiday just about every day.

Famous Snappers & The Best Of The Rest
JuniperFoxx (Juniper The Fox) – You may have come across Juniper on Instagram or on the viral video where she mistakes bedsheets for snow and I can't get enough of this adorable pet fox. Aside from "awwwww"-ing at the photos on Instagram, I love seeing little snippets of Juniper being cheeky on video and it never fails to make me smile.
jeffreedahmer (Jeffree Star) – Celebrity makeup artist, Youtube guru, designer and creator of an ever growing vegan cosmetics range, Jeffree Star shares his thoughts on new releases (including that infamous Kylie Lipkit snap) and previews upcoming products.
LACMA_Museum (Los Angeles County Museum of Art) – The LACMA museum's Snapchat story often has me howling with laughter. Think a funnier version of those ancient art memes, often recreating entire songs round the museum. Genius!
NickBatemans – You've probably seen model Nick Bateman on your newsfeed at some point or another, and I'm not going to lie he's one of my favourite Snapchat accounts purely because he's drop dead gorgeous. (Yup, No shame..)
MACCosmetics – While they don't have a story everyday, when they do it's showing what goes on behind the scenes at various fashion shows and sneak peaks of new launches which is dangerous for my bank account.
LittleMix_Offic (Little Mix) – Little Mix are what I'd describe as a guilty pleasure. All of their songs are catchy and make me want to dance along and the girls just seem genuinely lovely. This is why I love seeing the behind the scene snaps from the girls, which during shows often shows their flawless makeup routines.
So these are a few of my favourite Snapchat users, and if you want to follow me shameless plug alert then I'm at Franny-Mac. I'm always on the look out for new people to follow so please leave your username below (or some of your favourite snappers!) in the comments.