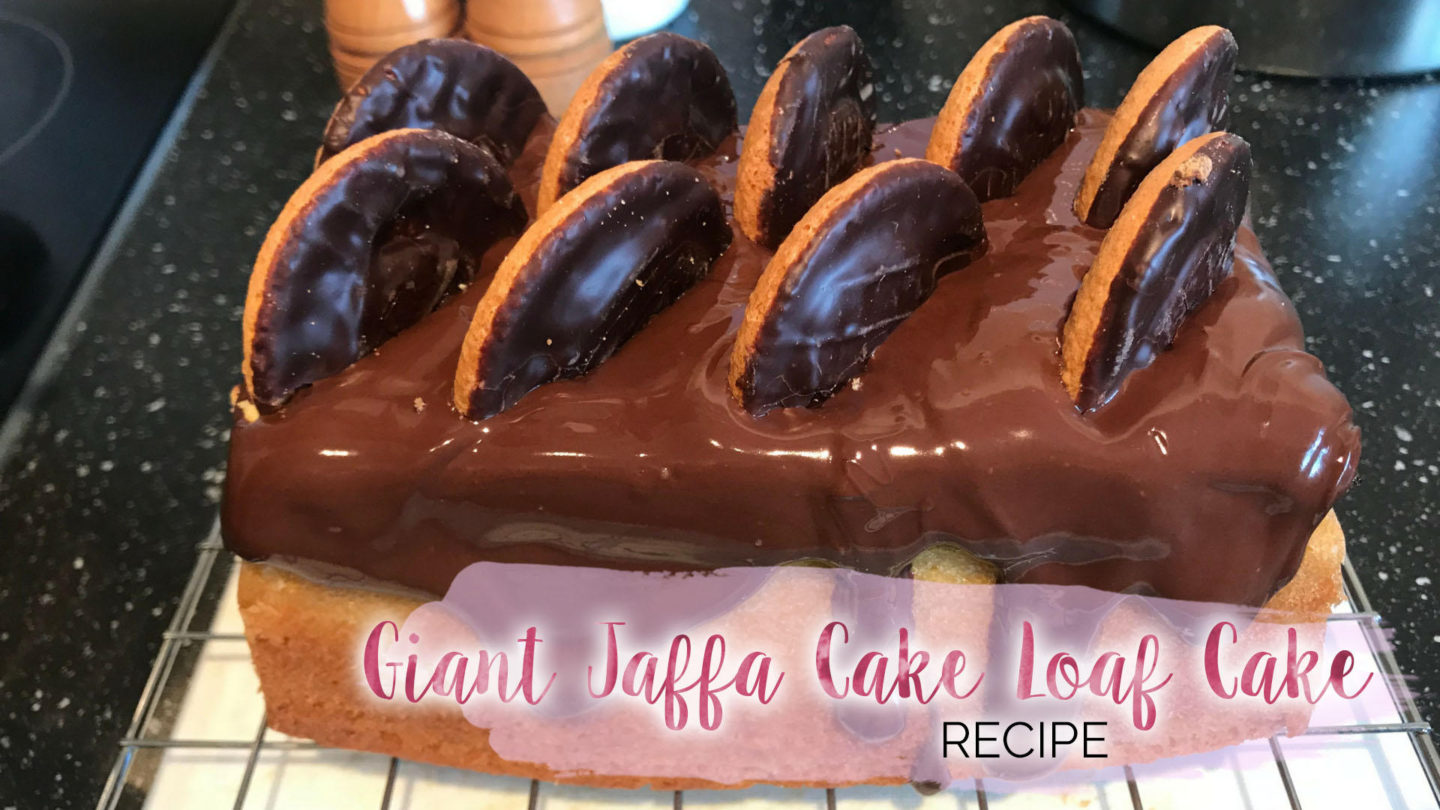 Since we've been on "lockdown", or whatever you're choosing to call it. I've seen so many people post that they've been passing the time by baking. And, although I initially managed to resist, this weekend found me bored and flicking through the recipe Filofax looking for something I fancied making. This one really stood out to me as an absolute winner. So, I thought it might be an idea to share this giant jaffa cake loaf cake with you lovely lot. If, like me, you could eat a whole pack of jaffa cakes in one sitting this is probably right up your street…
Giant Jaffa Cake Loaf Cake Recipe
Prep time 20 minutes & cook time 55 minutes. Serves 10.
Ingredients
For The Topping & Filling:
5 Jaffa Cakes.
1 Teaspoon Butter.
6 Gelatine Leaves.
350g Orange Marmalade.
125g Dark Chocolate.
For The Cake:
150g Caster Sugar.
150g Self-Raising Flour.
150g Unsalted Butter.
3 Medium Eggs.
2 Tablespoons Milk.
2 Teaspoons Vanilla Extract.
Method
First, pop your gelatine leaves in a small bowl of cold water to soak for around 5 minutes. While you wait, grease your loaf tin with the butter and line with clingfilm.
In a small pan heat the marmalade and keep stirring until it is melted and smooth. Add the gelatine leaves to this and stir over a low heat until fully combined. Pour this mix into the tin and freeze until set firm. (Around 45 minutes should do it!)
Take the tin out the freezer and gently remove the marmalade mix. Fold the edges of the clingfilm over to wrap it and set it aside somewhere at room temperature.
Using the same loaf tin, line with baking parchment and grease. Once done, preheat your oven to 180 degrees.
Put all of the cake ingredients into a large bowl and then use an electric hand mixer (or one of those free standing kitchen aid ones if you're fancy!). Beat it together until all ingredients are combined and the mix is smooth.
Pour the mix into the pre-prepared tin and smooth to a level. Then simply bake until golden and risen (around 45-50 minutes). After baked, allow it to cool completely before removing from the tin.
Remove the cake from the tin and peel off the parchment. Then, level off the top with a serrated knife. Invert the cake to a board (or serving plate) so that the bottom of the top becomes the top.
On the top of the cake spread a little marmalade to cover. Then, carefully unwrap the marmalade jelly and put it on the top of the cake. Press gently down and the marmalade should help it stick. If there's any overhang, simply cut it off. (& if you're anything like me, proceed to eat it…).
Put the dark chocolate in a heatproof bowl and set over a pan of simmering water. Stir until melted and smooth. (But make sure the bottom of the bowl doesn't touch the water!) Remove from the heat and add a little butter and stir.
Once the chocolate has cooled a little (about 5 minutes should be enough) pour on top of the jelly and spread evenly. Cut the Jaffa Cakes in half and stick on top to decorate. Allow it all to set and then slice and serve!
After asking mum where she found the recipe, turns out it was from Good Housekeeping – so all credit to them for creating it!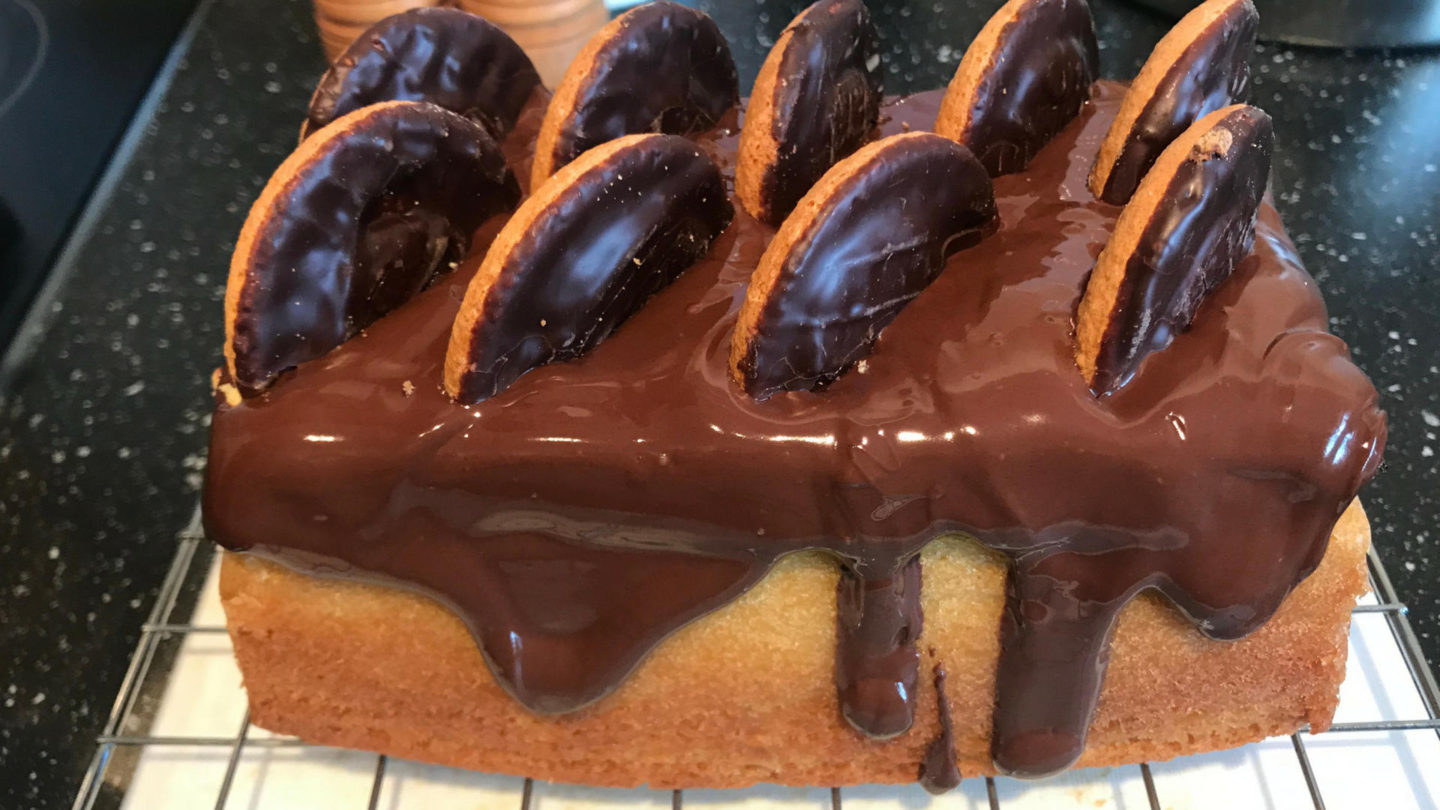 If you try this yourself, let me know in the comments!
Find me on;
Bloglovin' | Twitter | Instagram