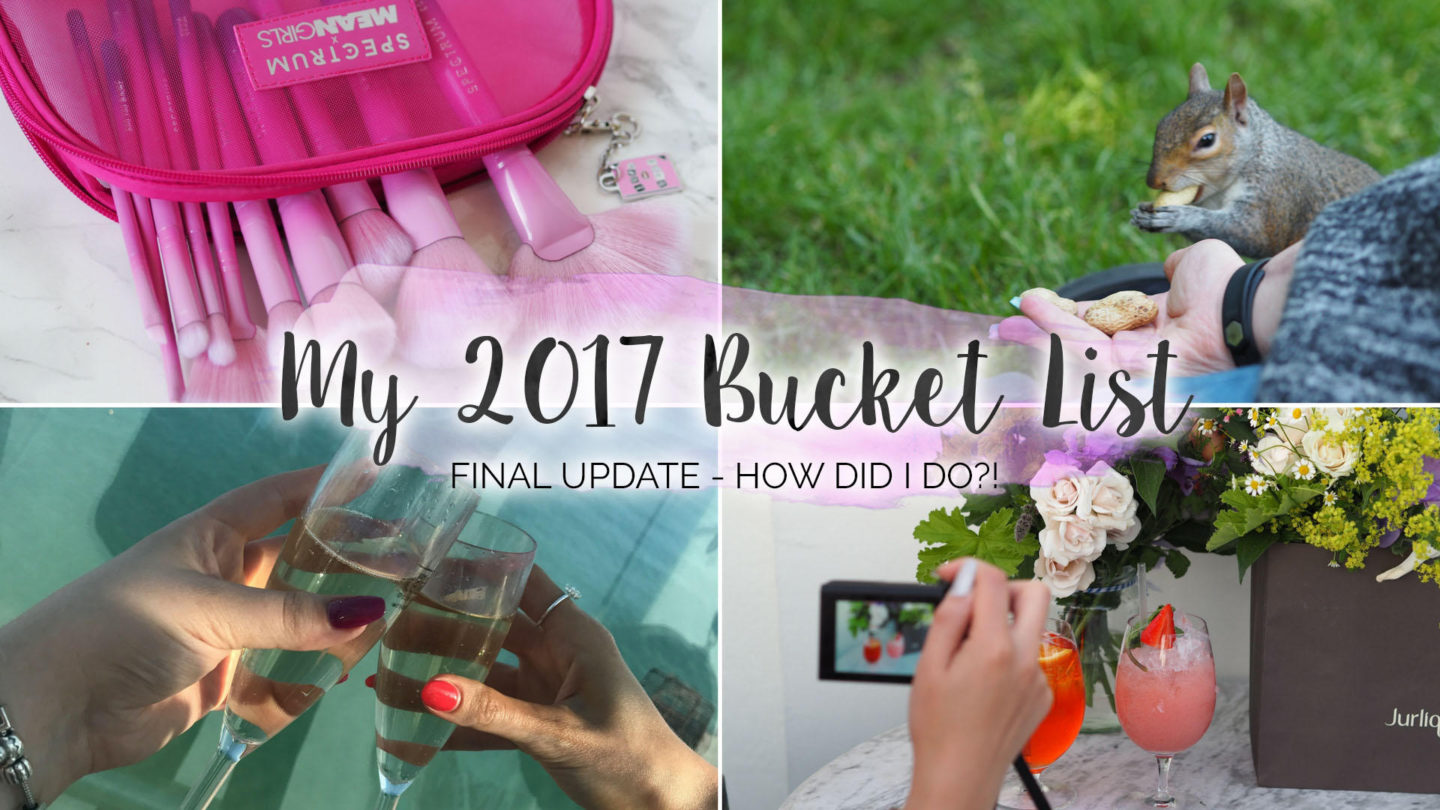 Back at the beginning of 2017, I decided to share my bucket list for the coming year online. The main reason being, in previous years I've written them in a notebook and either lost or filled that notebook and could not for the life of me remember what they were. That, or I'd had them on my phone and coming to the end of the year been like "not gonna happen but no one knows them, doesn't matter". So I thought I'd post them on my blog so that I'd feel a little more accountable. That, and I'm nosey and enjoy reading these kinds of posts.
On that note, here's how I got on with my 2017 bucket list;

Complete
Say "yes" more. & I've not regretted this at all, even if it has left me tired the next day in some cases!
Spend more time volunteering than in 2016. Not all of it was spent volunteering as such, but I did get involved in more charitable projects. So I'm counting that as a good thing.
Take more photographs. Although, as I'm sure I've mentioned before, I just need to get better at sharing them more…
Go on a trip to Brighton. I went with Leah and had an absolute blast! In fact, I have a half-finished blog post I really ought to finish. Better late than never?!
Take packed lunches into work more days than not. If you're looking at the year as a whole, this firmly should be in the "maybe next year" category. However, over the last two months, I've done loads more batch cooking which I hope to continue into 2018.
Cut down on using face wipes. And my skin feels so much better for it!
Eat less meat. I've cut down and managed to eat a mostly pescatarian diet for most of 2017.
See at least three musicals or shows. I saw School Of Rock, Wicked, Aladdin and an American in Paris. All of which were amazing!
Improve my photography. Well, I think it's got better anyway. Especially since getting my Olympus PEN.
Visit The Natural History Museum. I really don't know why it took me so long to take a trip!
Feel happier with my diet/figure. I was torn over putting this in the "almost" category, but actually compared with how I felt in January I'm counting this as a win.
Go to see a comedy show. Trixie Mattel "Ages 3 & Up" and it was bloody hilarious.

Almost There!
Complete a month-long makeup spend ban. Okay, so I only bought my foundation and a powder last month, which were running out. I'm gonna put this down as an "almost".
Keep my planner up to date (and utilise it more!). For most of the year, yes. For the last month and a bit, no…
Make my wardrobe more "me" and donate anything I don't wear. I've certainly started towards the first part, but I really need a wardrobe sort out. Maybe I can nail this over the next weekend or so?!
Go to Notting Hill Carnival. I didn't get to go for a full day, but I saw part of it at Holland Park…
Read at least 20 books. I probably managed around ten. Better than nothing though right?
Put a decent amount into my savings. I mean, it depends on how you define "decent" I guess…
Visit Copenhagen. I'm putting this in the almost just because I booked flights but I'm going in 2018. Plus I couldn't stand another travel one to be a complete fail!
Stop letting the idea of doing something on my own put a halt to something I want to do and be brave enough to go it solo. In most cases, I've managed this. But in terms of travelling not so much.

Maybe Next Year…
Go on at least five short breaks, preferably abroad. There's no "maybe" I'm already planning getaways for 2018. (Although I didn't get to go abroad, Mona and I did get to go to Moddershall Oaks which certainly counts. Other than that I had a few trips "Up North" and one to Glasgow, I'm not quite sure I can count those!)
Go to the top of Primrose Hill. I'm not sure why I didn't manage to do this?! I'm already noting down for next time I'm near Regent's Park…
Visit Kew Gardens. Much like with Primrose Hill, no idea why this slipped the net. It's literally a 20-minute bus ride away. Oh dear!
Take a trip to Paris. Not so funny story with this one, I was looking to book a payday weekend and go solo. The same day I went to book there was news of a potential terror threat and my parents said they wouldn't forgive me if I went, especially if I was alone.
Watch a tennis match at Wimbledon. Part of this was down to working in the Wimbledon area and now, well I'm not…
Go on a digital detox. Lol, next joke.
Complete a blog challenge such as "BlogMas". As above, lol, nope. I barely managed to post as much as I wanted to never mind more.
See a play at the Globe. One that just slipped my mind (I should have paid more attention to this list huh?).
Brave walking over the glass floor on Tower Bridge. I kept meaning to book this with Becky but there was never availability when she was down. *sad faces*
Finally go to BYOC. I really do need to plan this one for 2018…
In total, I missed off a third of my list. I could be disappointed with that but with some being just visiting places in London that it slipped my mind to do – well, I'm not going to beat myself up over that!
How did you do with your 2017 bucket list?
Find me on;
Bloglovin' | Twitter | Instagram