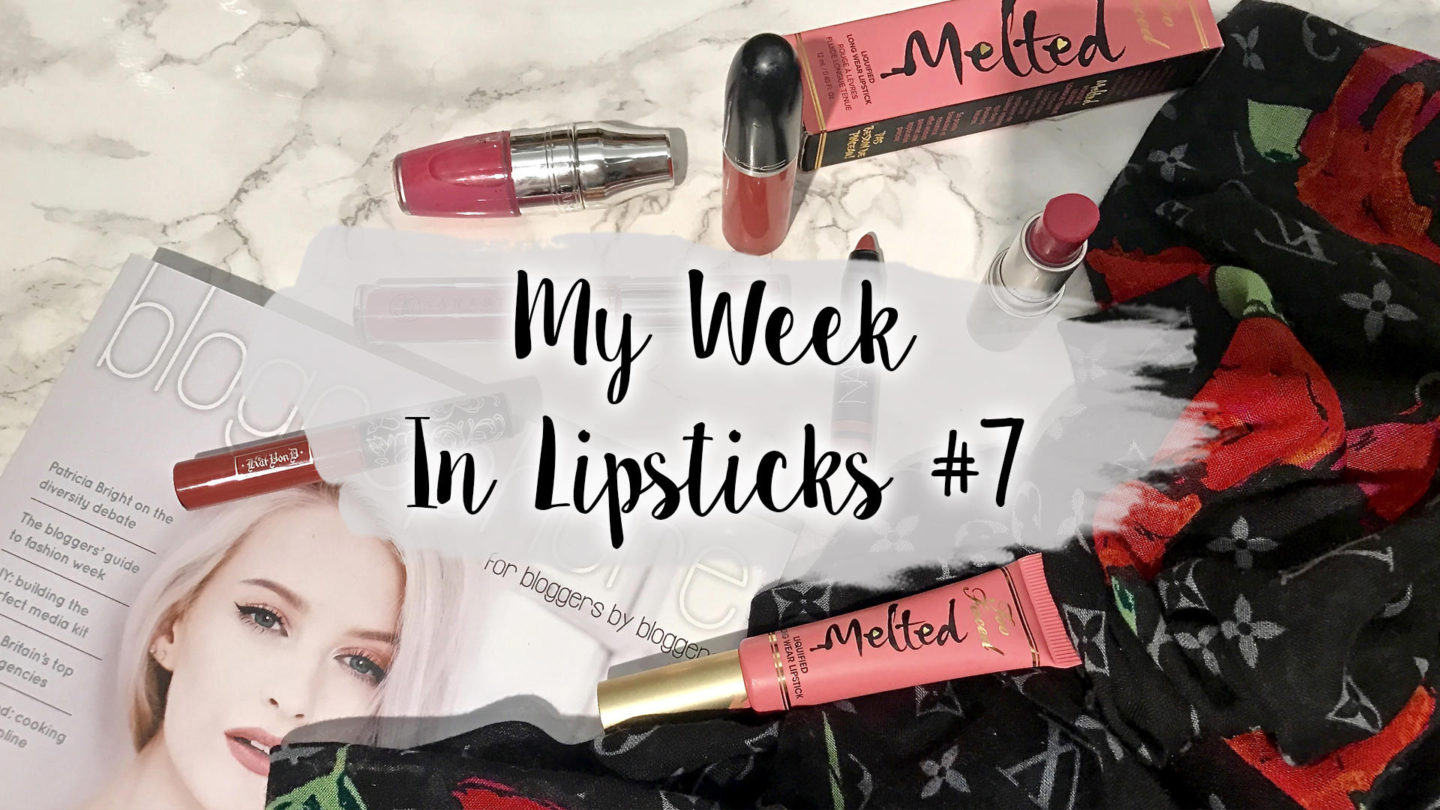 How have I been writing my week in lipsticks for almost two months?! I'm kinda proud I've kept this up, mostly because I've seen that I am actually a lot busier and more social than first thought. (Or than my Netflix account would lead you to believe..) This week hasn't been quite as hectic as ones past, but with a weekend away and Christmas getting closer and closer, I've been happy for the chance to catch up with my blog a little. Anyway, before I ramble on too much, there's my week in lipsticks;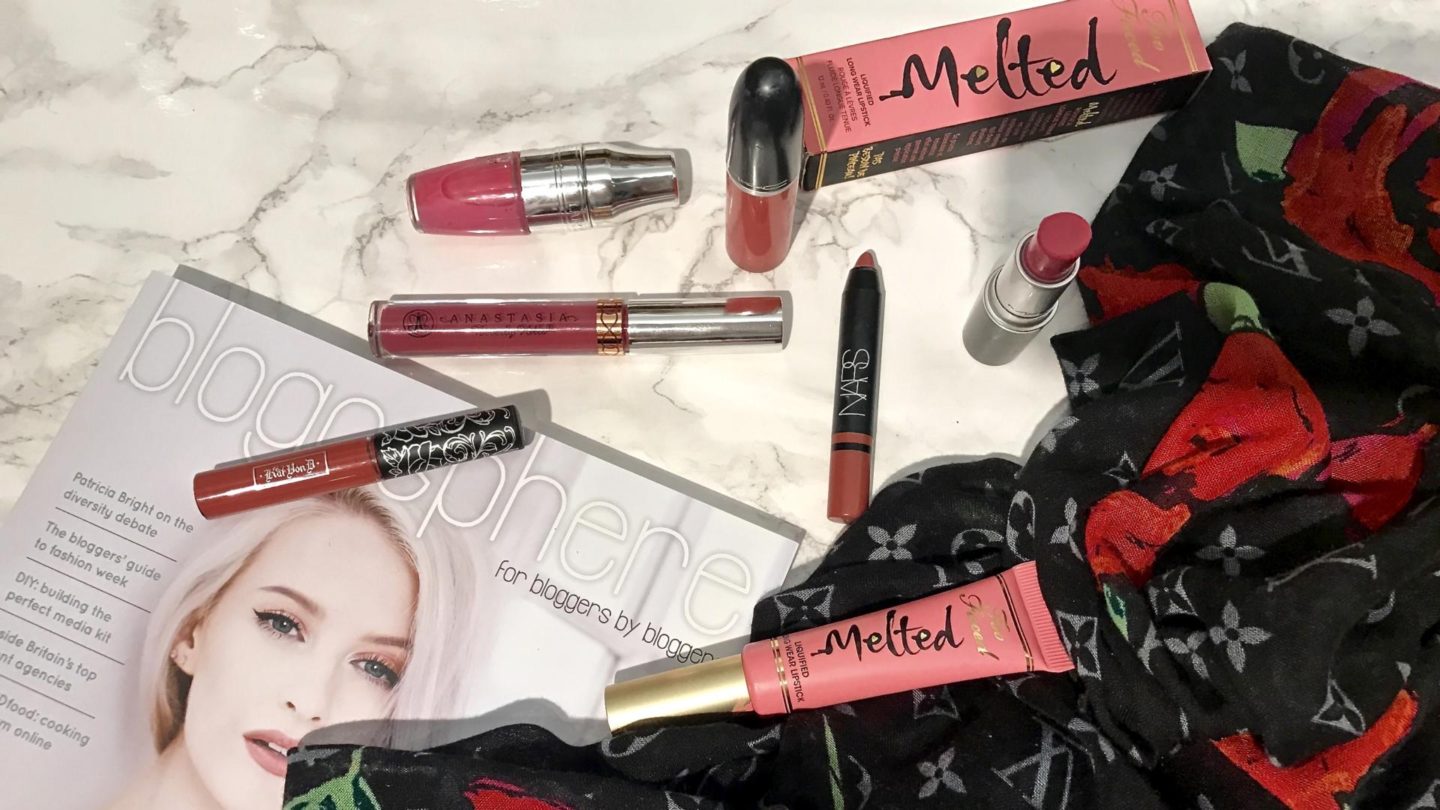 Excuse the photo quality, this lack of natural light when I get in is not the one.
Wednesday – MAC Amplified Creme Lipstick in Chatterbox. With the results of the American Presidental Election still being finalised when I woke up at 6am, I was so engrossed with the coverage and ended up running out of time needing to finish my makeup on the train. Luckily I had my old favourite, the red toned pink that is Chatterbox. This colour always leaves me feeling cheery, so with the whole of the internet going riot over Trump becoming the next President of the USA, this was a great companion. After all, sometimes you just need to put on your lipstick and smile.
Thursday – Lancôme Juicy Shaker in 313 Boom-Meringue. On Thursday I just felt drained, so in the morning I couldn't be bothered to do a proper job on my makeup. So I just grabbed my Lancôme Juicy Shaker to put in my bag. After so many liquid and matte lipsticks over the last few days, it was probably for the best.. Anyway, despite saying I wanted to start back on my diet this week, both Diana and I had a craving for a burger so went on a cheeky trip at lunch to GBK. Oops.
Friday – Anastasia Beverly Hills Liquid Lipstick in Catnip. After an early night on Thursday I was ready to boss it on Friday. I wanted something with great staying power that made me feel like a total #GirlBoss, so Catnip was the obvious choice. Despite ending up going for a few too many wines after work, with only a top up when I left the office. This little beauty saw me through the evening.
Saturday – Too Faced Melted Liquified Long Wear Lipstick in Melted Frosting. I'd promised myself last week that until Christmas, I wouldn't spend any more money on makeup. (Unless, of course I ran out of foundation.) However I made the mistake of popping into TKMaxx on my lunch break on Friday and coming out with this. As I was spending the day packing Christmas boxes for the #BloggerBoxAppeal, I thought I'd give this bubblegum pink it's first airing. Okay, so by the time we ended up grabbing food at The Dinner it had all but disappeared, it still put up a good fight. The Too Faced Melted formulas are fabulous and it was a reminder to add some to my Christmas list. (If you're reading this Santa..).
Sunday – Kat Von D Everlasting Liquid Lipstick in Bow n Arrow. With a few Christmas related posted in the pipeline, I decided to spend Sunday wandering down the Southbank with a glass of mulled wine from the Christmas market. It left me feeling super inspired and as I'd gone a bit ott bold with my eye makeup; I decided on Kat Von D's Bow n Arrow. One of her cult liquid lipstick colours, this fawn nude colour saw me through the day. Only needing a top up when I stopped for a cheeky Wagamamas.
Monday – NARS Satin Lip Pencil in Rikugien. I'll be honest here, Monday I was running late and I barely had time to do my foundation, never mind anything else. So I grabbed this lip pencil out of the "Gimme Some Lip Box" that was still on my desk. (From my latest Sephora Haul in case you're wondering!) So I could put it on while at the tube station. Thankfully the sheer finish meant I wasn't left in too much of a mess after applyning with my pocket mirror.
Tuesday – MAC Rich & Restless Retro Matte Liquid Lipstick. As, for some unknown reason, my body clock decided to wake me up at 5.30am – for once I had plenty of time to get ready. To forget about the huge bags under my eyes (albeit covered by concealer) I wanted to put on a bright colour that would make me feel more awake. Rich and Restless was just the ticket, the bright coral tones always make me feel a little more confident. Another reminder as to why I'll be asking for another of MAC's Retro Matte lipsticks under my tree this Christmas. Not to hint or anything..
Swatches
This week has been less about the matte look lip than previous lips, I guess my poor lips needed a break from using semi drying formulas huh? I got to try out a few colours I hadn't used in a while and they actually seem a little more autumnal than last week. Anyway, with a weekend away on the cards next week, I'm sure I'll be featuring some more bold colours next week..
What lipsticks have you been loving this week?
Find me on;
Bloglovin' | Twitter | Instagram