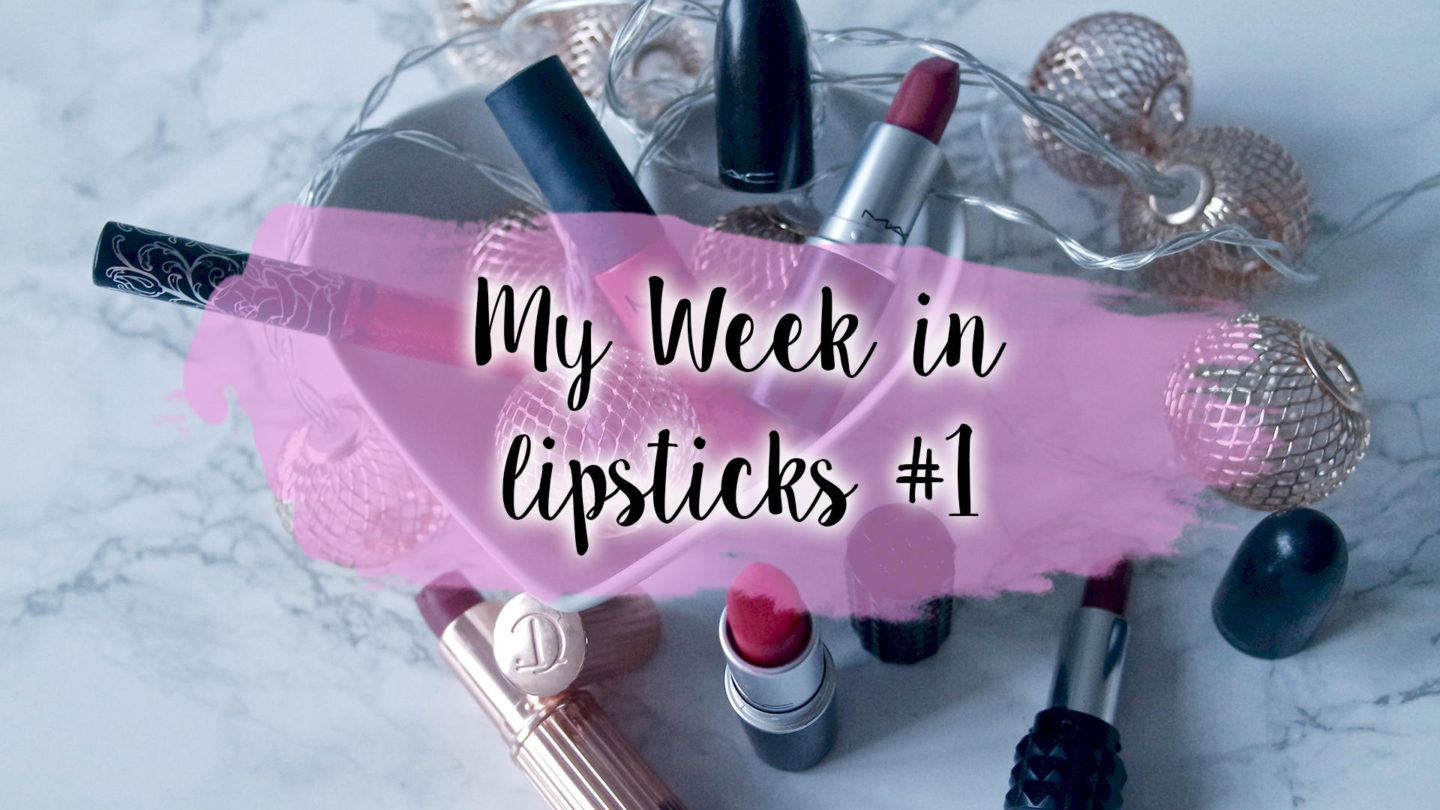 After seeing Laura from Lauzrah post about what lipsticks she'd been wearing over the last week. I thought I'd take her lead. After all, my lipstick collection is huge and always seems to be growing so it seemed like a great way to give some of the ones I don't reach for as regularly some love. It also gives me a chance to talk more about what I've been getting up to over the week.
Wednesday – Kat Von D Everlasting Lipstick in Jeffree. "On Wednesdays, we wear pink." I spent Wednesday evening at the "Big Hair Do" at Trevor Sorbie's Covent Garden branch. I wanted something bright with a lot of staying power, so Kat Von D's Everlasting Lipstick in Jeffree fit the bill perfectly. After quickly topping it up on the tube, this bubblegum pink colour lasted throughout the evening and was still in great condition when I returned home.
Thursday – Too Faced Melted Lipstick in Chihuahua. After picking this up in my latest Sephora haul this has become a firm favourite. I feel that I really suit this dusty mauve colour and, much like the previous evening, I needed something to last. My evening plans involved attending an event with Grow Gorgeous. As the email said the evening was to involve manicures, I thought I'd go for a nude tone so I could let Cheeky go more bold with my nails.
Friday – Charlotte Tilbury Matte Revolution Lipstick in Walk Of Shame. I treated myself to this back in January, I haven't used this as much as I'd have liked. I'm really not sure why, it leaves my lips feeling lovely and smells divine.. Anyway, I had my hair in a platted up do, so I wanted a colour that had an edge of retro glamour. This berry toned rose certainly fitted the bill. If you fancy a read, I did a full review here.
Saturday – MAC Matte Lipstick in All Fired Up. Saturday was spent at the bank. Not exactly glamorous or particularly fun. As my pass allowed me to visit on all three days, I'd planned to head to Olympia Beauty later in the afternoon. However, my appointment over ran and I didn't have time to go home and change, this didn't happen. As I wanted to have a professional air, I went for a classic red. Namely my old favourite MAC's All Fired Up which I hadn't worn for a few weeks.
Sunday – NYX Soft Matte Lip Cream in San Paulo. As I was doing a talk at the Beauty Blogger Awards at Olympia, I wanted something that made me feel confident. San Paulo is a gorgeous berry toned rich pink. Plus, the event was sponsored by NYX, it would have been rude not to represent them on stage..
Monday – MAC Matte Lipstick in Mehr. As I said in my post last week, Mehr is quickly becoming one of my favourite day time shades. As I was wearing minimal makeup, this gave me a little extra boost without being too wild. If you fancy a read of my full review, it's here.
Tuesday – Kat Von D Studded Kiss Lipstick in Lovecraft. I took an early finish at work to come home and work on some blog photos (like the ones on this post!) on Tuesday. So with the early start I found myself feeling a muted nude. With this in mind I grabbed my mini Kat Von D lipstick from the Sephora "Give Me Some Lip" collection I picked up last month. The mauve pink is just a great all round day time colour.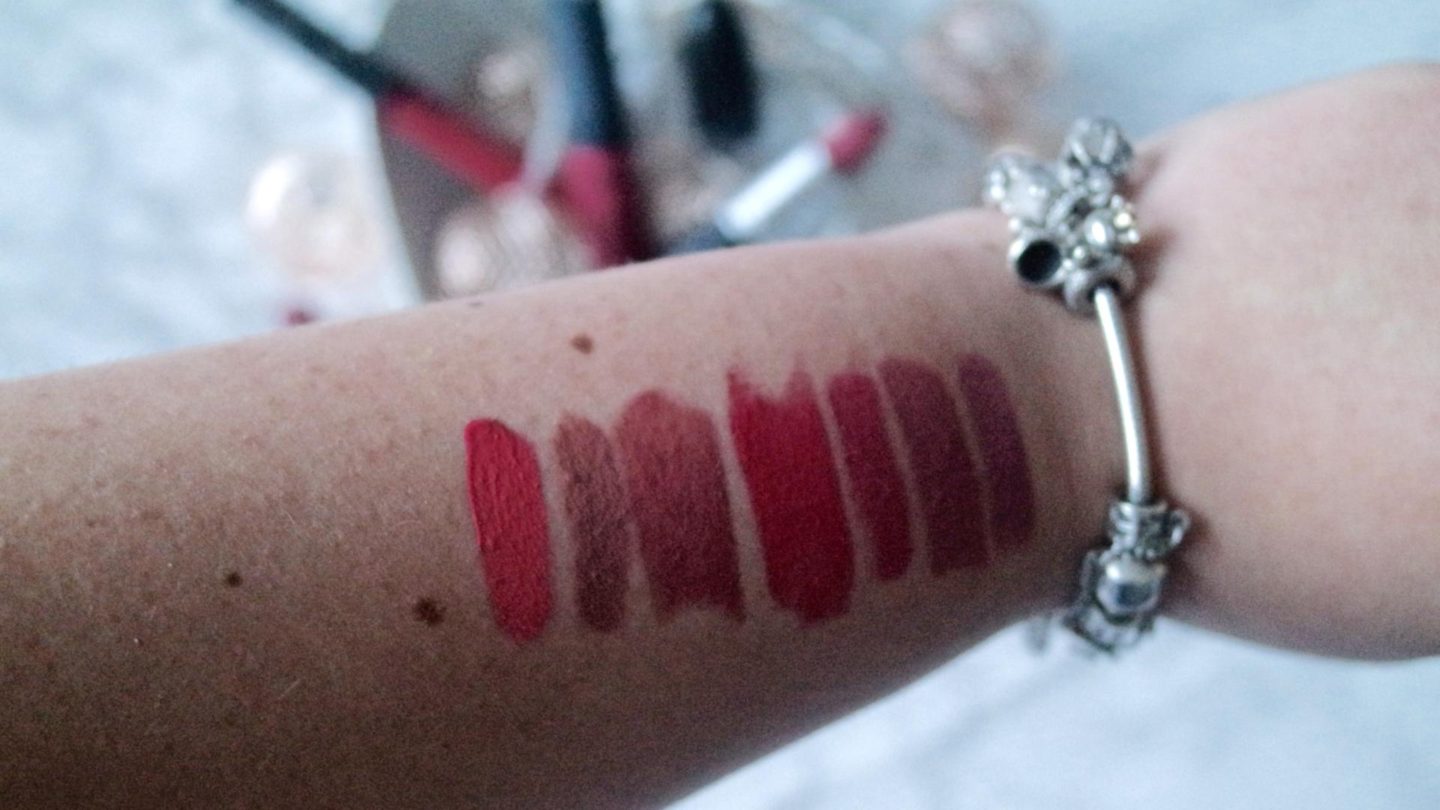 Swatches
Just in case you were wondering what any of these looked like on, I thought I'd throw in a swatch. It's been a crazy week this week. Between a lot of events and such, it seems like I've had a good combination of nudes and bold bright colours. It seems that when I want a confidence boost, I'll usually grab a bright pink or red. Over the next week and with winter approaching, I think I'm going to try and use some more autumnal shades. If you have any recommendations for a good berry shade, drop me a comment!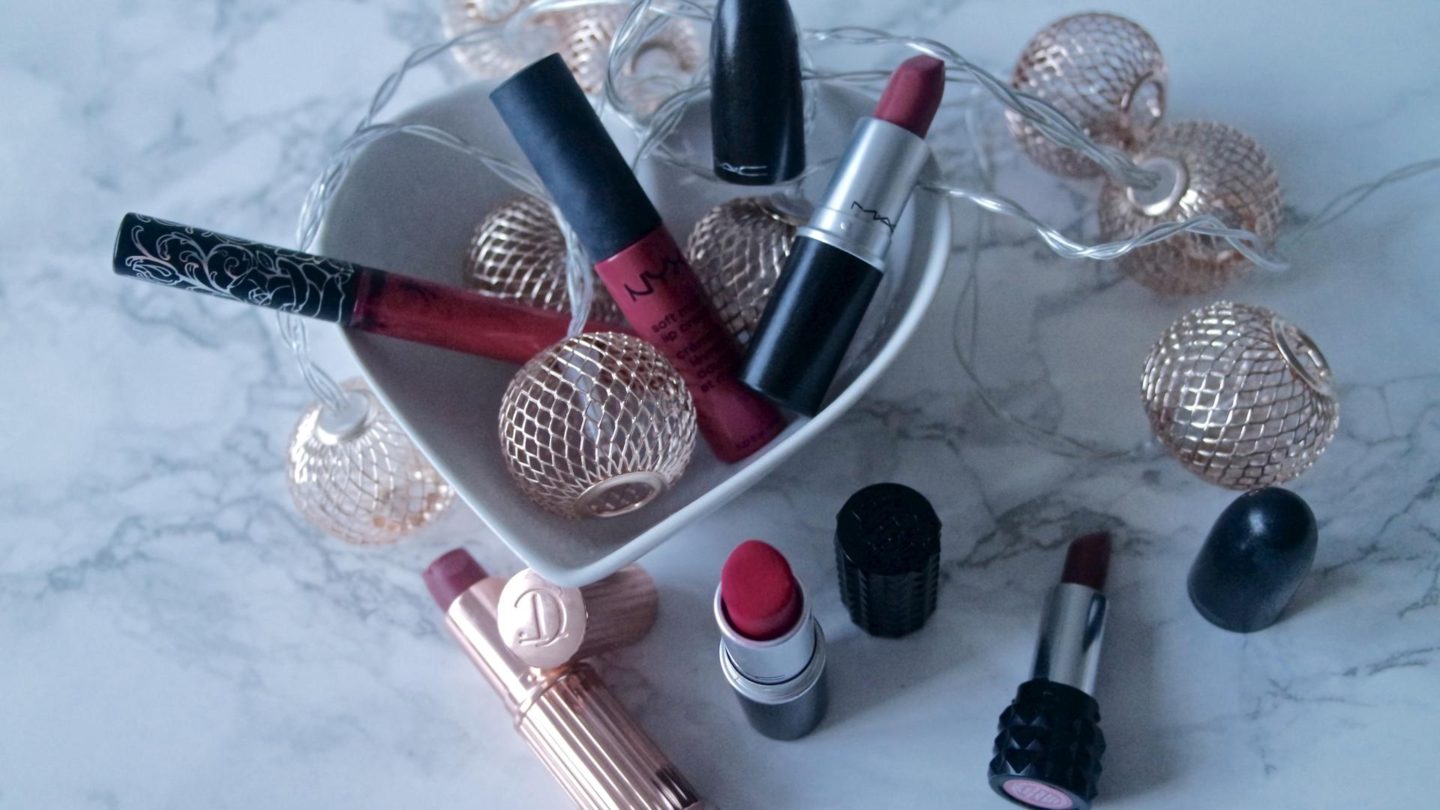 What lipsticks have you been loving this week?
Find me on;
Bloglovin' | Twitter | Instagram