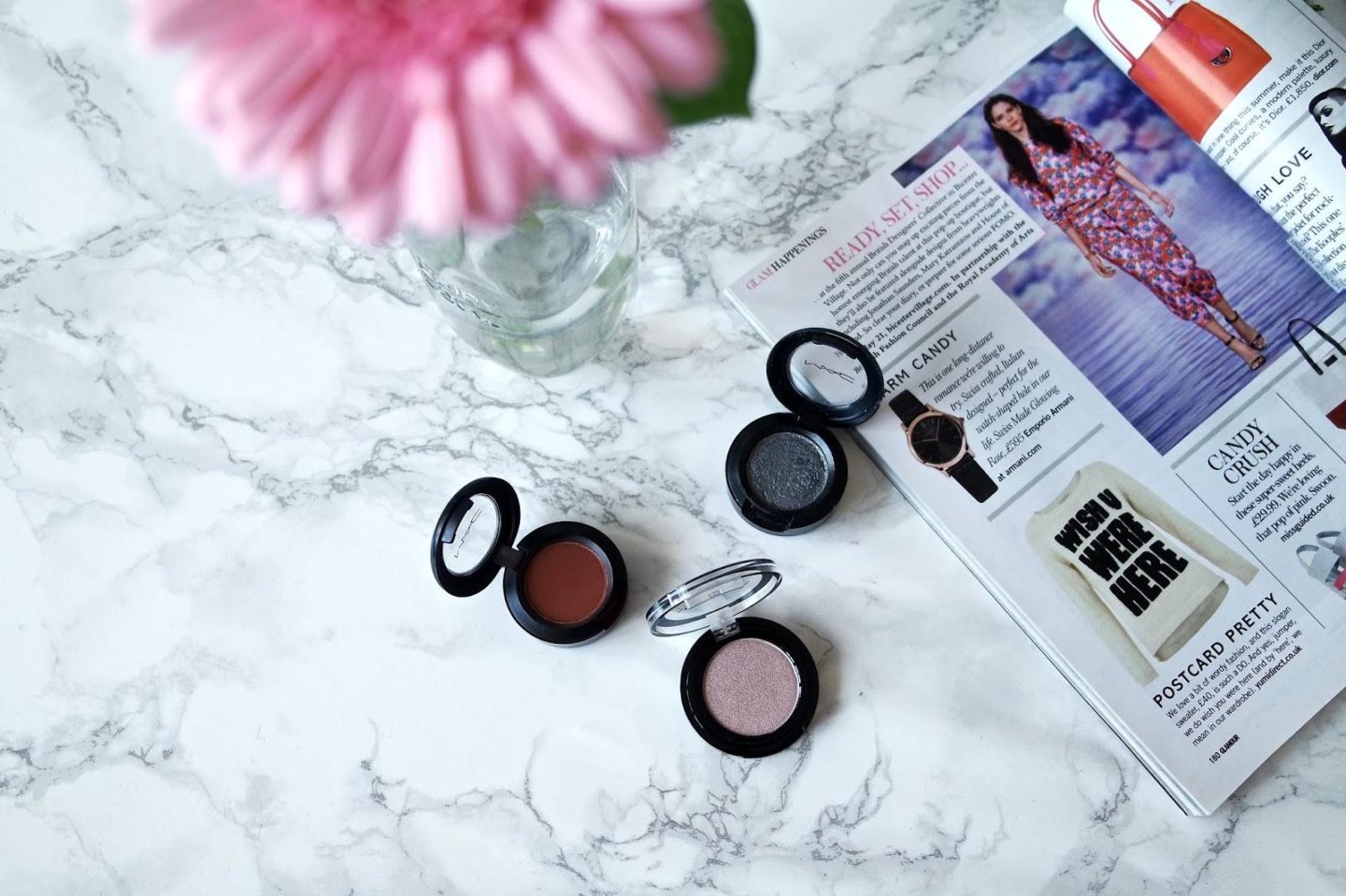 I am a self confessed makeup hoarder. When I see a new release I want, no matter what kind of spending ban I'm on, it's a given that I will likely buy it sooner rather than later meaning the amount of money I spend on cosmetics makes me blush (pun not intended but I'm embracing it anyway..). So I made myself a promise to try and rediscover some older favourites before I splurge on new pieces and shop my stash rather than ending up with my credit card out at the MAC counter. I started by organising everything and realised that, coming second only to my lipstick collection, the amount of eyeshadow palettes I have is a little out of hand. With so many palettes it's been easy to forget about some of the gorgeous single shadow pans I own, namely my favourite three Jupiter by Mesauda Milano & Say It Isn't So and Brown Script both by MAC.
Swatches taken without primer
Firstly, Brown Script by MAC, I picked this up early last year after having my makeup done in the Covent Garden store as a friend was running late on our dinner plans. The lovely lady in store taught me about the importance of using a fluffy brush above your lid and revolutionized the way I put on eye makeup forever, seriously. She used Brown Script, a warm brown with a matte finish, to create a warm smokey eye and I fell in love. A little goes a long way, making it perfect for building and creating all manner of looks. My most used of all my single eyeshadow pans, often along side the shimmers in the Naked 3 palette.
On the same trip to Covent Garden, I picked up Say It Isn't So which is a dark grey with pink sparkles. I bought this as part of the limited edition Le Disko range as the one used at the time (Boom Boom Room) wasn't in stock and I just couldn't leave without picking up one of the gorgeous glittery shades. Say It Isn't So very much reminds me of Armor from my Naked Smoky palette, however MAC's version is a little darker and pink sparkles make it a more iridescent than Urban Decay's edition. As with many limited edition collections, hopefully some of the DazzleShadows from Le Disko will find their way back to stores soon as there were so many other gorgeous shimmery colours that I need wouldn't mind adding to my collection.
Finally, Jupiter by Mesauda Milano* a delicate champagne shimmer. I sometimes find creating a smoky or bold eyeshadow look for work can be a little over the top, however this is perfect used on it's own to add a little bit of glam without much effort. As it's such a delicate colour, I've also found myself combining it with the "day" look Too Faced Boudoir Eyes palette, swapping it out for the matte "In The Buff" to give the look a little more shimmer.


I really enjoyed rediscovering these little beauties and they've fitted perfectly back into my everyday makeup routines. I think I might have to "shop my stash" and discover old favourites a little more often..
What are your favourite eyeshadow singles?
Find me on;
Bloglovin' | Twitter | Instagram