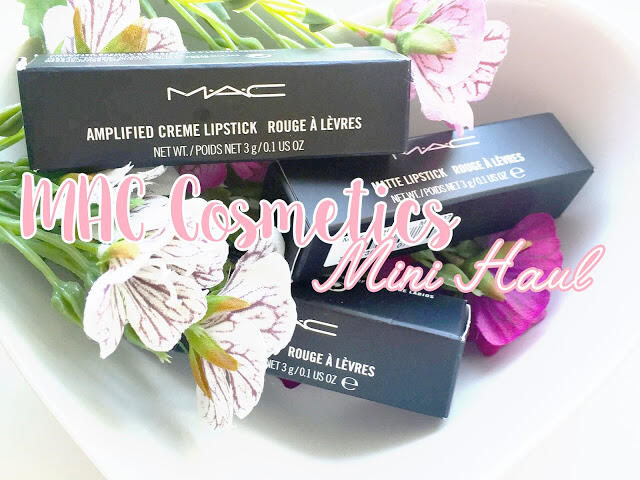 I'm Fran and I'm a self-confessed lipstick addict. So, the fact payday was spent at work on a rather rainy day I accidentally found myself on the MAC Cosmetics website and three lipsticks accidentally found their way into my basket. Accidentally of course.
The thing that really sealed the deal for me was that I spotted new MAC Is Beauty range and knew I had to own a few of these perfect spring/summer shades for myself! Don't they all just scream sunshine, cocktails and days on the beach?! There's a range of Matte, Lustre and Amplified finishes and they all have a hair, makeup or beauty themed name.
Swatches and Thoughts
Real Doll; This is a re-release from the Barbie range, which btw, I was extremely gutted to not get my paws on! The lustre finish light pink with lilac undertones doesn't have the best coverage compared to some others but personally, I find it really works for my skin tone and I don't mind having to top up after a few hours. This seems to be a common complaint with the lustre finish lipsticks, but I love how shiny they are so it's all give and take to me.
Reel Sexy; This is another one that had been released, and missed by me, previously! It was one of 4 in the "Reel Sexy" release from 2012. I adore the peachy coral colour and feel it's a perfect shade for summer. While any lipstick that has orange tones may seem a little brave, it's actually super wearable!
Velvet Teddy; I know this one isn't part of the "MAC is Beauty" range like the others I purchased but since all the hype around it being Kylie Jenner's favourite I knew I had to pick it up. The matte nude shade has a cult following but personally, I didn't feel this worked for my skin tone. However, as it's been hailed as the best nude lipstick out there, I will keep experimenting with this, perhaps with different lipliner colours or with pinky lipgloss on to as pink tones seem to work best for me.
Have you tried any of the "MAC is Beauty" range? What are your favourites?