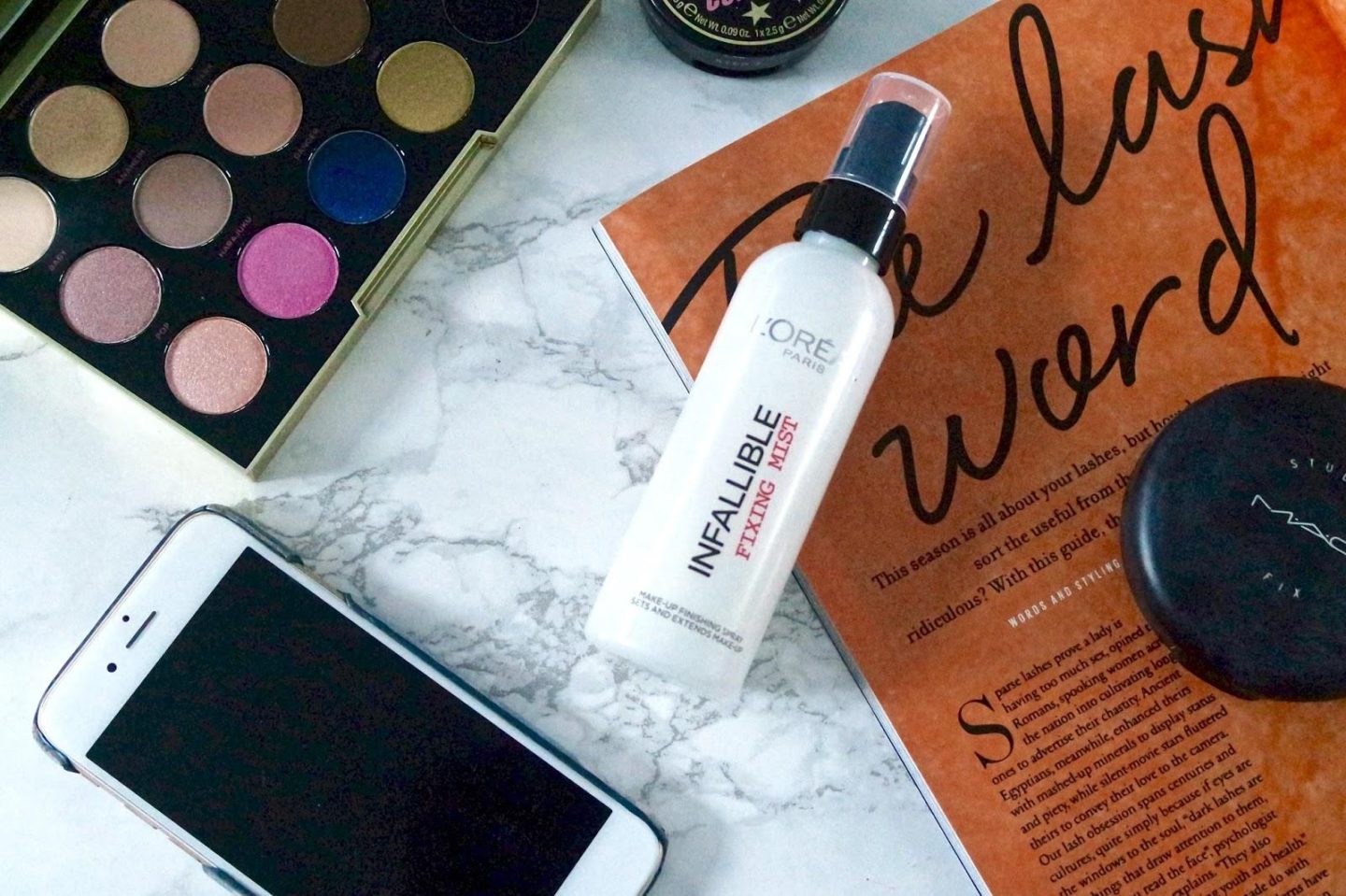 When it comes to my daily makeup routine, discovering fixing spray was a big revelation for me. Although at first, it did remind me of how as a teenager I used to spray my face with hair spray before a night out. (I shudder for my poor skin just thinking about it.) But, after suppressing that original hair spray thought, fixing spray quickly became a part of my daily routine. We all want our faces to look exactly as they did when we left the house by the time we get back. And, when you factor in battling an hours commute on a crowded tube before I've even got in the office. Well, mine needed all the help it could get!
Originally I picked up and loved MAC's Prep & Prime Fix + so for around a year and a half never even considered trying another spray. However, when I spotted a three for two offer on L'Oreal I thought it was the perfect time to give their Infallible Fixing Mist spray a try. (& to replace the powder I kept in my bag!).
The premise of the fixing mist is simple after you've finished applying your makeup; shake the bottle up and spray it over your face to set it. When you shake it, the ball bearing mixes the formula and causes it to foam, and is a key thing to remember with this Fixing Mist; if you don't then you'll be left not only with the spray not working to its full potential but will patchy white powder spots on your face. Not my best look, worse so because it was only as I ran out the house tired…
As much as I love MAC, L'Oreal's Infallible Fixing Mist has replaced their Fix + as the final step of my makeup routine. I find it really does prolong my makeup, has little to no cracking and feels light on my skin without leaving my face feeling dewy or smudging my mascara. To really tell you just how fab this setting spray is, I accidentally drank far too much wine a few weeks ago and fell asleep with a full night out face of makeup on. Although my skin hated me the next morning, my makeup still looked pretty much exactly how it did at the bar. Result! L'Oreal's Infallible Fixing Mist retails at £7.99, which I personally, with how well it shapes up to higher end setting sprays, think is a bit of a bargain.
Have you tried L'Oreal's Infallible Fixing Mist Yet? If not what's your favourite setting spray?
Find me on;
Bloglovin' | Twitter | Instagram